Today was an exciting day. Our southern neighbours in the US celebrated a shift towards getting back on the right track on the national scale, Toronto was in it's honeymoon night after the Blue Jays made one of the biggest signings in the team's recent history in George Springer, and to cap it all off, we were going to get a McDavid vs. Matthews spectacular! Goals, rushes, you name it!
At least, that was the thought. The reality was a mild, sloggy game with the energy of an unstirred container of vanilla yogurt, mixed with a couple crazy bits of fortune. That fortune went against Toronto more often than it didn't, however, and it led to a 3-1 loss against the Edmonton Oilers.
Highlights
A quick glance at the scoresheet after the first period would lead you to believe that the Leafs had a worse period than they did. After all, Kailer Yamamoto scored the period's lone goal at 10:42. But did he? Not exactly – what actually happened was a freak sequence of events where Jimmy Vesey attempted to clear a puck out of the slot, bounced it off of Jake Muzzin's skate, and while Frederik Andersen did seem to notice it in the corner of his eye, he couldn't get his pad across quick enough to stop it from going in. So really, the Leafs owned themselves, in a period where they owned the ice, taking 8 of the period's 12 shots and 12 of the 18 five-on-five attempts.
What came next can best be described as an unenthusiastic see-saw. A period where both teams got a chunk of shots towards the opponents net, but neither did much with them. Where interesting rushes were cut off and players with the puck were dragged and stripped a bunch. It felt very early 2000s, and not in a good way.
Six minutes into the third period, Auston Matthews provided the Leafs with a ray of hope – a bad angle shot that equally was a reflection of his talent, but also a goal that Mikko Koskinen should've problably stopped. It looked like something that would give them momentum, except, 58 seconds later, Jake Muzzin was penalized for, uh… this one's complicated.
https://twitter.com/LeafsAllDayy/status/1352076467501412355
It looks like the dirty work here is done by Yamamoto, with Muzzin not having too much influence on this play at all. But whatever the case, it stopped things in their tracks for Toronto, and Leon Draisaitl scored on the ensuing powerplay, putting Edmonton back in the lead. In the dying minutes of the game, Jason Spezza wasn't able to get all of his stick weight onto an open-net shot, and that was as close as the Leafs would get. Josh Archibald added an empty netter and that iced the game from there.
Numbers Game
This season, I'm going to showcase the stellar work of Hockey Stats Cards for post-game data, as Cole Palmer has done a fantastic job presenting a combination of data from Natural Stat Trick and Dom Lusczczysyn's Game Score model. Be sure to check out the site, which does cards for all games automatically and lets you subscribe to email pushes for your favourite teams.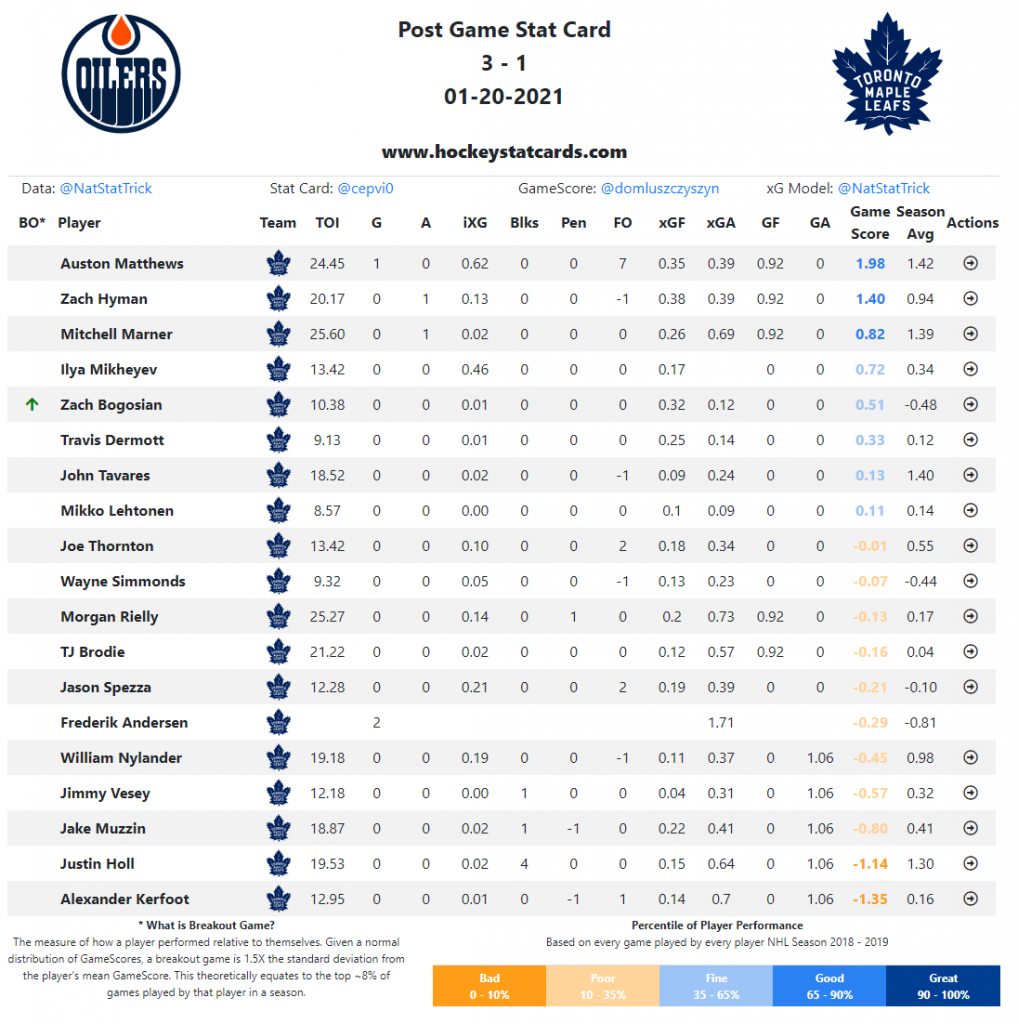 Notes
On the whole, you have to chalk a lot of this game up to misfortune (particularly if you're Jake Muzzin, who was on the wrong side of the two most unfortunate plays). An own goal off a well-intentioned clear attempt, a powerplay goal conceded off a phantom call, a missed open net, a ton of posts.. it wasn't Toronto's night. That's why seasons have these long schedules – to even out the results (also, in most years, to sell lots of tickets and broadcasts, but that's neither here nor there).
All that said, you can't shower the overall group with a ton of praise either. They were unlucky to lose this game. The sloggy playstyle of the opponents didn't help. They also didn't do a hell of a lot to break through it. It was a "shit happens" loss, but when only two grave misfortunes can flip the two points entirely, you didn't give yourself enough opportunity.
Justin Holl was fantastic again tonight, making a bunch of nice plays on the defensive end, including a few on Connor McDavid. I'm always quick to praise the guy, but he's playing the best hockey of his career right now and looks like a pretty undeniable Top-4 guy at this point, even just on his own merits. The stat card disagrees with me on this, but it also punishes him for the own-goal (which counts both as a goal and carried significant xG weight), and also dings him for McDavid rushes that he turned into low-quality shots that Andersen had tracked because of him.
Frederik Andersen deserved better. Another strong night on his end, and only one of the two goals he allowed was off a real shot – from the reigning MVP.
Joe Thornton was jammed up against the boards in the third period and left the game with an injury – Sheldon Keefe said that he expects him to miss some time, but didn't give an exact timeline.
Toronto's next game will come on Friday Night – they'll get another chance against the very same Oilers.