After a back-to-back weekend against a hard-and-grindy Ottawa Senators roster, one would hope for a little bit of R&R time. The shortened season doesn't afford teams that sort of luxury, though – Toronto doesn't get a two-day-off patch any time soon. Yesterday was their rest, and today was time for them to shift from more traditional rivals to new ones – the typically West-playing Winnipeg Jets. It was an unusual change of pace as well, as the battle of the 2016's couldn't even come to play with Patrik Laine out with an upper body injury, but Toronto shrugged off theatrics and decided to go for results instead – and found them in a 3-1 victory on Monday night.
Highlights
The game started at a decently brisk back and forth pace, with the two teams trading chances of equal quality but Toronto-led quantity. A skirmish between Kyle Connor and Justin Holl inside the Toronto goal (yes, literally inside) added some edge to the game, and Toronto briefly found themselves in some trouble with a late-period penalty kill, though a solid effort that they'd accomplish three more times throughout the night kept the score tied at zero through 20.
The second period was much, much more favourable to the Leafs, starting with decent pressure before exploding into domination after a Sami Niku penalty on John Tavares. It took Tavares 1:55 of powerplay time to get his revenge, but rest assured the time was not wasted – Toronto took nine shots on goal in that span. They shot at about a league average rate for all situations on a single two minute powerplay, and still scored – this time off a nice pass from William Nylander to his trigger-ready captain. Toronto kept the pressure on, at one point outshooting the Jets 19-1 in the second period alone, and a Mitch Marner rebound off a Justin Holl point shot looked to be the cherry on top of that period. That moment exposed a singular point of relaxation in this game, however, as Connor went back down the ice to re-tighten the gap just 30 seconds later.
The third period saw a trailing Winnipeg team get their first shot advantage of the game, outfiring Toronto 12-6 – no doubt helped by an early penalty to Jake Muzzin and a late one to Morgan Rielly. The penalty kill remained steady in spite of this, and so did Frederik Andersen, standing tall in a way that many wouldn't have trusted him to last week. The Jets pulled their goalie with two minutes remianing, and with 23 seconds to go, Marner was able to break away from traffic and snag his second goal of the game, pushing off Neal Pionk and chirping at him and Mark Schefiele in the process, showing a noteworthy bit of confidence from the young star. As he said of the situation after the game, "Who cares? We won the game."
That they did, skating away with a two-goal advantage at the final buzzer.
Numbers Game
This season, I'm going to showcase the stellar work of Hockey Stats Cards for post-game data, as Cole Palmer has done a fantastic job presenting a combination of data from Natural Stat Trick and Dom Lusczczysyn's Game Score model. Be sure to check out the site, which does cards for all games automatically and lets you subscribe to email pushes for your favourite teams.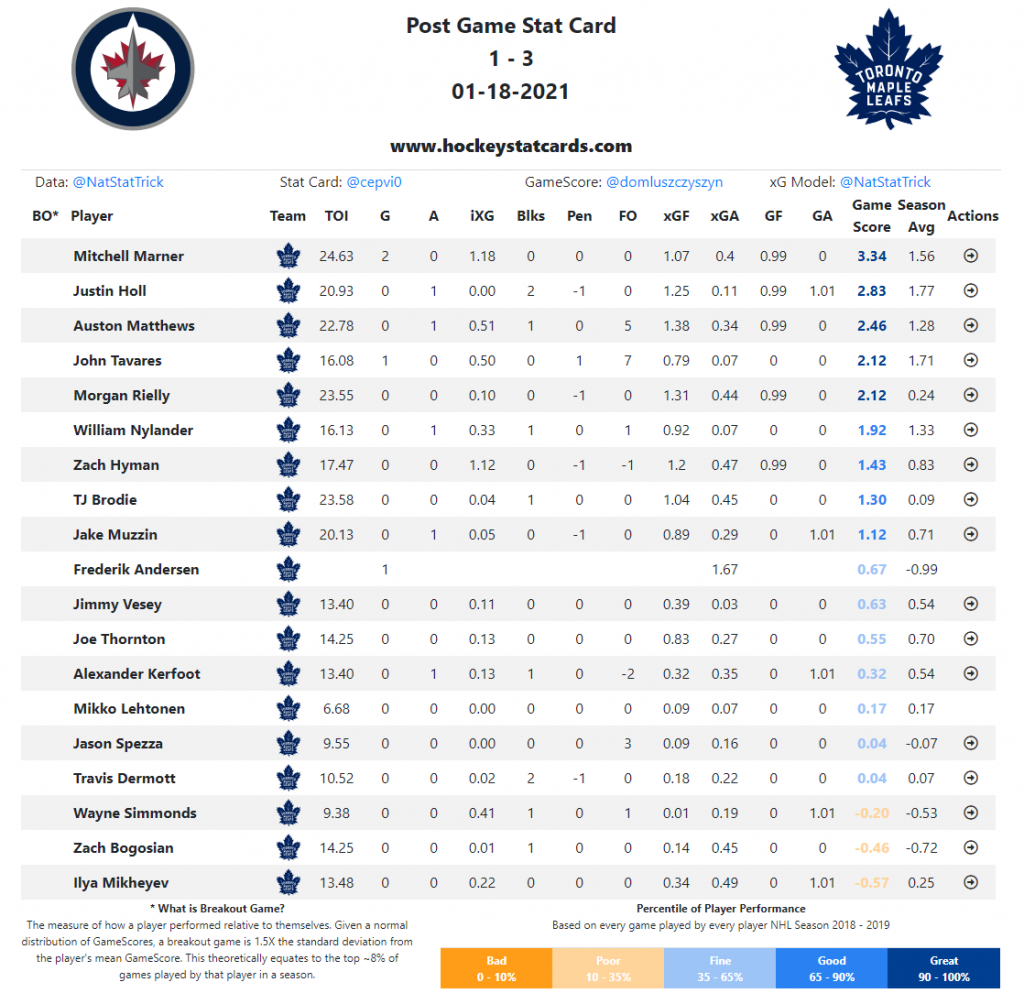 Notes
Tonight was Frederik Andersen's redemption night, after creating some nervousness in the first two games of last week. We know he's a slow starter, but there really isn't much time for the Leafs to find out if it's that or if he's lost the sauce – tonight looked calm, composed, came with some key saves and preventative measures even before the saves, and was the type of performance you want to see from him.
The game opened up with a special tribute to both Martin Luther King Jr. Day, and the anniversary Willie O'Ree's historic first game in the NHL, which broke the Black colour barrier. To acknowledge the occasion, the Leafs had Martina Ortiz Luis do her thing with the help of the Sole Power Choir, and it was incredible. One of the best anthem performances I've seen in an NHL game. So give them credit for the two points as well.
Mikko Lehtonen made his debut tonight. To be honest, he wasn't particularly noticable, and he played a whole seven minutes, but you know what? That's fine. At least he got to get a feel for the ice and the full-speed opponent level in this league.
Mitch Marner was money again tonight. All concerns had about him to start the year will vanish if this is the momentum he carries with him. I loved the bit of attitude he gave after the empty netter as well.
Justin Holl had another fantastic night tonight. I've beat this drum for a while, but it's going to be hard for people to deny he's earned his Top-4 spot if he has nights like this on a more consistent basis.
That second period, up until the last-second Connor goal, was one of the most dominant periods in Keefe's tenure, save for quantity of pucks to go into the net.
It really wasn't the best night for either of the fourth line vets, but given the emphasis on using the top chunk of the lineup, neither Spezza or Simmonds were really going to be make-or-break factors in this game anyway. Now, again, this is still a trend to keep an eye on for the next little bit, but in a situation where Toronto clearly went for the lean-in on players like Marner and Matthews with intent, it's not a huge concern.
Toronto's next game will come on Wednesday, against the Oilers at 7 PM. Catch it on TSN, and we'll see you again then!