A familiar phrase will come out of everyone in Toronto tonight: "That's better". After a somewhat embarrassing loss to the Ottawa Senators on Friday night, in what one could call a "Trap Game", a couple of noteworthy names led the Toronto Maple Leafs to a well-controlled, if still somewhat-tight 3-2 win against the very same Battle of Ontario opponents in their first Saturday Night matchup of the year.
Highlights
I kid you not, this game started off with the inexplicable happening again – a Nikita Zaitsev primary point, this time a point shot that didn't beat traffic but hit just the right person for the play, as Nick Paul picked up the rebound off his own body and beat Jack Campbell to give Ottawa an early lead. It was a worrisome omen for the team, but thankfully for them, Joe Thornton came to the rescue, courtesy of Mitch Marner corralling a stretch pass and setting the 41-year-old up for his first goal in Blue and White.
Seconds into the middle frame, Marner continued his bounce-back night, this time bouncing a shot off of Erik Gudbranson and beating Matt Murray for his first of the year. Toronto continued to press, widening the shot and shot attempt gap throughout the period, but couldn't spread the gap any further. This was until an early third period powerplay, when the first line finished their first-goal ritual, doing it in the reverse order of expectation. Auston Matthews was the last of the three to get his first tally of the season, wiring a shot on the powerplay to give Toronto some insurance.
It's a good thing they had it too, because with eight minutes remaining in the third, Tim Stutzle scored his first NHL goal, an extremely pretty one-timer from his off-side that was made easier by a miscommunication between Morgan Rielly and Zach Bogosian. The Senators began to gain some momentum from here, broken up by a very fortunate late-period penalty against Stutzle, which gave the team time to slide around the momentum before a flurry of final chances to close out the game.
Numbers Game
This season, I'm going to showcase the stellar work of Hockey Stats Cards for post-game data, as Cole Palmer has done a fantastic job presenting a combination of data from Natural Stat Trick and Dom Lusczczysyn's Game Score model. Be sure to check out the site, which does cards for all games automatically and lets you subscribe to email pushes for your favourite teams.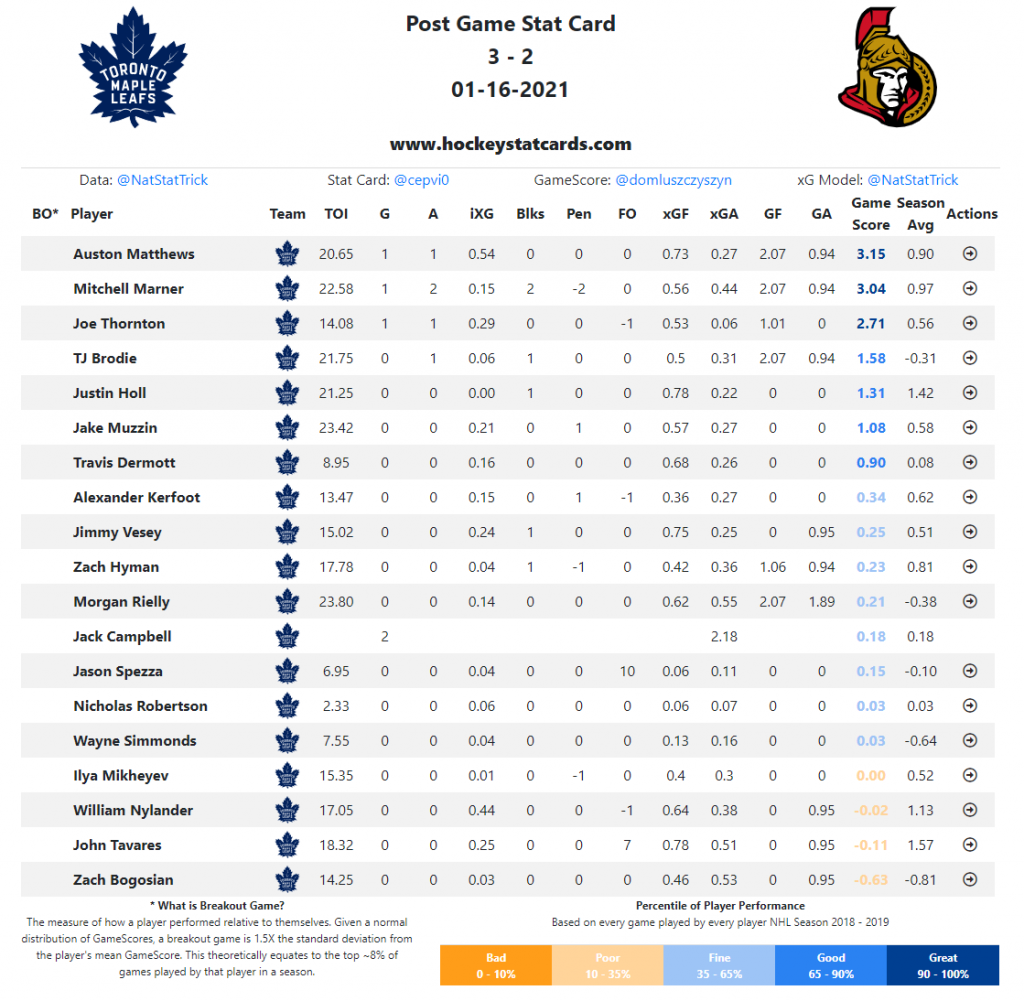 Notes
I mentioned last night that Mitch Marner really needs to get go of the "hero puck" and stop forcing plays. Tonight, it worked out for him – he played loose, he played familiar, and he had arguably his best game since before the pandemic started. His assist on the Thornton goal was gorgeous and even though Erik Gudbranson helped him out with the goal, it was still a better choice of shot than most he's taken to start the year. His net-front turnover in the dying seconds was rough, but it didn't cost him too much.
Speaking of the Thornton goal…  Joe Thornton scored! He picked up two points! Great to see him on the scoresheet, especially on a night where the broadcast was hyping his St. Thomas roots.
Auston Matthews also bounced back from a bit of a force-fed night, and you could really see the weight of the world come off of him as he scored. The floodgates are definitely not out of the realm of possibility there.
This weekend really was a good example as to why the team is experimenting with moving Zach Hyman further down the lineup. He has the ability to drive, not just accentuate, and he helped Alex Kerfoot and Ilya Mikheyev lay out pressure gain tonight. They've been steady throughout and I think we're going to see this group together more in games where physicality is necessary.
Nick Robertson left the game, his first regular-season appearance, after just two and a half minutes on the ice. He had a collision with Drake Batherson that appeared to injure his knee. There is no update yet on the length that this could take him out for.
Jake Muzzin and Justin Holl had another strong night, and TJ Brodie had an "answer" game after an outright bad result on Friday. That's two out of three in his favour so far, so I'm optimistic about his potential input still.
Jack Campbell was fine. Not amazing, but good enough to get the win, and maybe that calms down the panic about the Leafs' goaltending situation. That, or it causes a goaltending controversy. I'd still give Andersen his fair kicks at the can that a starter earns before calling it, especially since this wasn't an outright domination by the backup – though Campbell did have a couple of key saves throughout, including a bit of larceny on veteran incomer Evgeni Dadonov in the slot in the third period.
Toronto's next game will come against the Winnipeg Jets in just two days from now, starting a 3-game homestand. It'll be a 7:00 PM broadcast and you can find it on Sportsnet. See you then!