One of the beautiful things about hockey is, due to the amount of players involved, the sway of goaltenders, and all other sorts of factors of luck and skill, you never know who is going to win. All the same, a projected 1-seed taking on a projected bottom-seed should be pretty slanted. At least, if you've never watched the Toronto Maple Leafs. While you wouldn't rationally bet against them going into tonight, the fear always lingered – and ended up presenting itself in a 5-3 loss to the Ottawa Senators to kick off a pair of back-to-back games.
Highlights
I'm not going to spend a ton of time describing this one, as I doubt many want to consume this in both video and text. Toronto kicks this off with a nice baseball swing rebound by Zach Hyman, giving a sense of hope when attached to a well controlled beginning to this game. Similar to what they did to Montreal, however, they found themselves burned by a two-man disadvantage, including a second too many men call against in as many games as the result of a bad change. Thomas Chabot made the most of it, wiring a one-timer past Frederik Andersen with 44 seconds remaining in the period.
Midway through the second, Alex Kerfoot opened his season bank account with a long wrist shot that beat Matt Murray top-shelf, and optimism was high again. But that's where the wheels seemed to come off, and things got sloppy. Brady Tkachuk tied the game by deflecting a Nikita Zaitsev (!!) shot, Austin Watson gave Ottawa the lead by finishing off a nifty passing play, and with five minutes remaining in the period, Chris Tierney took advantage of a comedy of efforts from the Toronto defence. In the third, a rough turnover from TJ Brodie turned into yet another netfront scramble, with Derek Stepan being the benefactor this time. John Tavares did pull the Leafs within two with a gorgeous long-distance shot shortly after, but it was as close as they would get in a disappointing night.
Numbers Game
This season, I'm going to showcase the stellar work of Hockey Stats Cards for post-game data, as Cole Palmer has done a fantastic job presenting a combination of data from Natural Stat Trick and Dom Lusczczysyn's Game Score model. Be sure to check out the site, which does cards for all games automatically and lets you subscribe to email pushes for your favourite teams.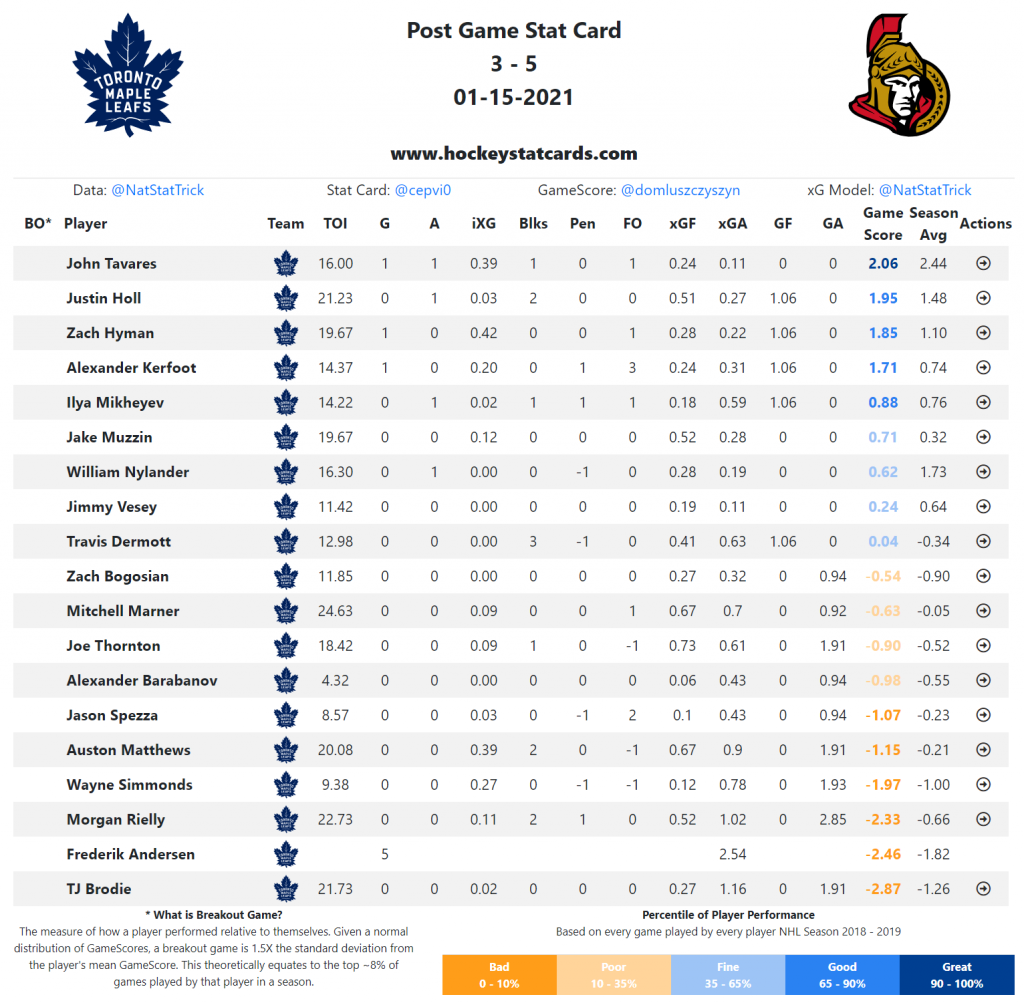 Notes
The above numbers are decently reflective of who the best and worst players on the ice were tonight. The most individually obvious choice for a standout player for me is Zach Hyman, who celebrated the birth of his son with a fantastic goal and was a consistent presence on the puck.
The rest of his line was effective as well. Not quite to the same extent, but they were engaged and quick and created themselves opportunities. Alex Kerfoot's goal may have been his best since joining the team.
TJ Brodie had an awful night – no one is going to deny that one. He got caught out of position several times and had multiple key turnovers. I wouldn't sound the alarm bells after a bad night, though, especially after he looked really solid in the debut – but this needs to be his floor rather than his pattern.
The Jake Muzzin – Justin Holl pair, on the other hand, was very good. The usual quick decisions, good puck movement, and solid defensive plays we've come to expect from them.
You can't blame every goal on Frederik Andersen tonight, but tensions are high and expectations for him are higher, and two rough starts to kick off the year is going to put a lot of pressure on him – especially if Jack Campbell performs well tomorrow.
I was surprised to see Wayne Simmonds' results look as poor as they did – I thought he made several good decisions with the puck, particularly moving it up the ice. With that said, two nights of the shot shares looking this rough is a trend to keep an eye on and maybe consider some adjustments on tomorrow and beyond.
Auston Matthews looked simultaneously good and bad. He was very clearly engaged but there was a degree of gripping his stick. He's never started a season without putting the puck in the net, and that's probably on his mind, so I assume it won't last much longer. But he needs to come into tomorrow more relaxed, and get this off his back in his own way.
Among the other big three: Mitch Marner still looks like he has the heropuck issue. William Nylander was fine but uneventful. John Tavares looked almost as good as he did yesterday, but it didn't amount to an amazing end result.
Toronto's next game will come against the very same Ottawa Senators, at the same time, on the other national broadcaster (Sportsnet/HNIC). See you then!