Folks, it's your favourite time of year – where I make a bunch of outlandish predictions before opening night and we see where it goes a bit later. Where I get smug about the hits and pretend the misses never happened. You know how it is.
For maximum effect, I'm going all in – short notice, right under the wire, relying mostly on memory and guts. Soon, we will either marvel, laugh hysterically, or both.
The Standings
Since I'm not using a model and I'm not strong enough at the mental math to make up proper standing points totals, I'm going to give an average of the fine work of Dom Luszczyszyn, Josh and Luke Younggren (the EvolvingWild twins), and Micah Blake McCurdy. Just so you know how hot the takes are.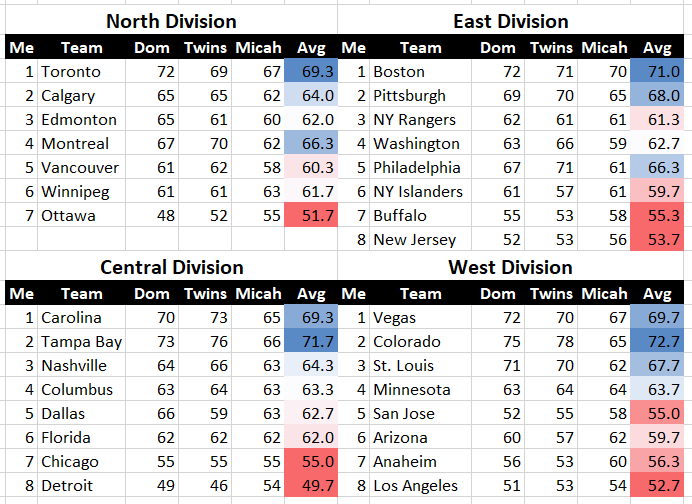 North Division: I'm just not there on Montreal in the same way that most are. The team has had success in shot differential but struggled with finishing, and the mainstream media talk about them seems to be rooted in expecting Carey Price to return to MVP form and almost every transaction they made hitting paydirt. With that said, their kids are growing up, Tyler Toffoli was a great add, and I do think that scraping the 23-seed last year was a little low for their talent level, so they squeak in. I don't like how the Canucks got rid of a ton of talent, and I do like how the Flames signed that talent. Edmonton goes as far as the goaltending supports them, and I'm not overly sure that Winnipeg's defence is any good. Ottawa, well, bless them. All of this said: I don't think the Leafs are a lock at the top seed, just the likely winner – and I think 2-6 will be very volatile, possibly even 1-6.
East Division: The models still like Boston, the people do not, but I'm expecting Tuukka Rask to have a great year to prove himself after the unfair crap he got for opting out of the bubble. The Rangers are going to be real interesting to watch with the injection of Alexis Lafreniere and others, and I can't imagine that Kappo Kakko doesn't have a better sophomore year than his rookie season. I think this division is pretty similar to the North in that there's a little room for chaos near the top, and a lot of it in the middle – even the Islanders (who are systematically great) and the Sabres (who have a franchise forward and defenceman who could carry significant  weight on their backs) are in the mix.
Central Division: I think Tampa Bay has a bit of hangover. Managing the cap on a daily basis to stay under is going to be very difficult if the roster ends up needing some tinkering, though the 2011 Canucks found a way to pull out the Presidents Trophy on a cap hair. Bigger for them is not having Nikita Kucherov available, and with Steven Stamkos' injury history, there's a lot riding on those legs. Carolina looks like the most likely team to take over the throne here – I think this division matches the numbers and ends up being traditionally tiered. If Columbus does move on from Pierre-Luc Dubois, the return they get for him will play a factor into their spot.
West Division: Colorado is the best bet to win this division. Honestly, I just really like what the Golden Knights have built and it feels like teams that have their hype shoot up this quickly tend to stumble a little, and the transition of the Avs into the Lightning's "they haven't won yet, but we'll pick them every year until they do" has likely begun this year. It very well could happen, and reflects the talent on the team – this definitely is a contrarian pick. San Jose I'm very intrigued by, insofar that key players are coming in healthy, and their goaltending can't possibly get worse.
The Awards
We'll mostly stick to the major awards here, and I'll give you a measured take and a hot take for each. Note here that these are the players that for my Hot Take picks especially, these are the players that I expect to play at that level – not that I expect to be voted for at that level.
Hart Trophy
Measured Take: Connor McDavid. Anyone who doesn't put Connor McDavid up as their MVP candidate at the beginning of the year is already searching for a narrative to not pick Connor McDavid for. Yes, he could stand to play a little more in his own end, but he's one of the greatest talents the game has ever seen, in his prime. Pick him to return to the mountain, now that he's had some time off.
Hot Take: Sidney Crosby. I don't know that he's even the second-best player in the league any more, but he's still close enough to the door to knock on it, and he didn't play enough games last year to garner Hart votes. Healthy Sid years pull in the eyes of the league – I reckon if the Penguins win the East Division, he's winning the MVP.
Art Ross Trophy
Measured Take: Connor McDavid. Don't make me type this out again.
Hot Take: Jack Eichel. He's consistently put up elite numbers, he seems due for an explosion, and he'll have Taylor Hall next to him with a team that still lacks depth. He's going to play a ton of minutes this year, especially if they're cramming them into a condensed season with slimmer playoff hopes.
Rocket Richard Trophy
Measured Take: Auston Matthews. He's consistently been the league's best 5-on-5 goal scorer since his first game, to a point where his comparables in the metric are in the Hall of Fame, or headed there. He's entering his prime, he's got Mitch Marner, John Tavares, William Nylander, and Joe Thornton and even Jason Spezza available to set him up, and he was fantastic in the bubble. If he carries, that, we could even see a 50-in-56 chase, but that's a stretch goal.
Hot Take: Alex Ovechkin. The man is immortal. After a tough bubble, I'm sure there's some hunger there. This likely requires a hot start out of the gate as the grind will pull him down, but the lack of camp will likely lead to erratic play and more penalties (and therefore, powerplays) in the opening weeks, so he might be able to build up a case.
Calder Trophy
Measured Take: Alexis Lafreniere. He's the real deal and he'll be learning the ropes from the best winger in hockey. They'll need his talent to get across the finish line, too, so he'll get plenty of opportunity.
Hot Take: Kirill Kaprizov. Generally, you need to really stand out to get a nod as a significant overager, and Kaprizov will certainly have to do that as a 23-year-old that will turn 24 by season's end. But he's been lights out in the KHL over the past four seasons, and has mobility that most KHL regulars who come across don't have. It's possible he pulls a Nikita Gusev and ends up just pretty good, but I'm eager to see where this goes.
Norris Trophy
Measured Take: Charlie McAvoy. I know what you're thinking – why is my measured take someone no one else has? It's because I'm going off the board with both, and feel this one is has a decent chance of actually happening. McAvoy has learned the ropes from Zdeno Chara, blossomed into a star defenceman, and now no longer has to carry the corpse of Zdeno Chara. He'll get all the opportunity in the world to display himself this year, and similar to the Crosby Hart pick, I think winning the division can push this one into existence.
Hot Take: Erik Karlsson. No matter how many injuries he suffers, I still can't bet against EK65. He seems to be the healthiest he's been in several years due to the stoppage, which is a huge plus for him – and the Sharks will require him to engage offensively now that the core is aging and some pieces have moved on. I think we'll figure out pretty quickly if this dream is viable – within the first 4-6 weeks we'll know if he's a favourite or a dud.
Jack Adams Trophy
Measured Take: Jared Bednar. Colorado are expected to be really good, and he's overdue for a win. Bruce Cassidy was overdue for one last year, and got it with the Bruins' Presidents Trophy run, so if the Avs are even in the running, I think he secures it.
Hot Take: Travis Green. He's really well liked, so if the Canucks manage to drag themselves into the playoffs – even if its on the backs of Pettersson, Hughes and goaltending rather than anything else, he's going to skyrocket up the rankings.
Selke Trophy
Measured Take: Mark Stone. He's "due", and deservedly so – he's been an elite two-way forward for the past five seasons or so. Now that he's the face and captain of the Golden Knights, who have established themselves as not just a meme team but a flagship organization, it won't require much more than keeping in the point-per-game range, playing some penalty kill, and staying near the top of the league in takeaways.
Hot Take: Phillip Danault. I'm glad he got himself some shine last year, as a player who hasn't gotten the love he deserves for his two-way play. He's officially graduated from "under the radar" to "everyone's hipster pick". If these Montreal predictions come to fruition, it'll have to come with a big year from him, and if he can get himself to 45-50 points in the shortened season with the Habs making the playoffs, I can see this happening.