Whew. That was sloppy, that was chaotic, that was nail biting to the very end, that was… a Leafs season opener. For the third time in the last five years, the first game of the season went to overtime, and for the fourth year in a row, the blue and white ultimate came out ahead, beating the Montreal Canadiens 5-4  in a game where they never had a lead, and trailed three times. Hey, you take them however you get them.
Highlights
Toronto started this game flat and a too many men miscommunication made matters worse, leaving Toronto shorthanded and susceptible to Nick Suzuki, who took advantage of a slow-to-react Frederik Andersen and slipped home an off-angle shot to give the Habs the first Canadian Division goal of the season. William Nylander responded a few minutes later with Toronto's first, but with 24 seconds to go in the opening frame, Josh Anderson executed on a nifty post-faceoff passing play to put Montreal back on top.
Zach Bogoisan's second penalty of the game – this time a makeup call for a missed high stick in the previous shift –  led to another Montreal powerplay early in the second period and this one led to a  fantastic stretch pass by Habs newcomer Alexander Romanov to find Tomas Tatar, who then beat Andersen five hole to add some insurance. This held up for them until late in the period, when Montreal found itself in penalty trouble to make up for opportunity gap. Nylander scored his second to close the cap, and after the Habs took two more penalties seconds apart, John Tavares tied the game with a net-front deflection, leaving things even heading into intermission.
Montreal seemed to once again assert control in the opening seconds of the third period, with Anderson giving Tavares one of his very own power moves to drive past him and eke yet another questionable goal by his near-namesake. Thankfully for the Leafs, they still had one more in their chamber before the end of regulation, and it once again came from the second line. This time, Nylander set up Jimmy Vesey, who was briefly demoted from the line after the first-period too many men error, to tie things. up.
This set up overtime, and after several quality back-and forth chances, a defensive zone chip from Auston Matthews, who found a pinching Morgan Rielly in the slot to put the game on ice.
Numbers Game
This season, I'm going to showcase the stellar work of Hockey Stats Cards for post-game data, as Cole Palmer has done a fantastic job presenting a combination of data from Natural Stat Trick and Dom Lusczczysyn's Game Score model. Be sure to check out the site, which does cards for all games automatically and lets you subscribe to email pushes for your favourite teams.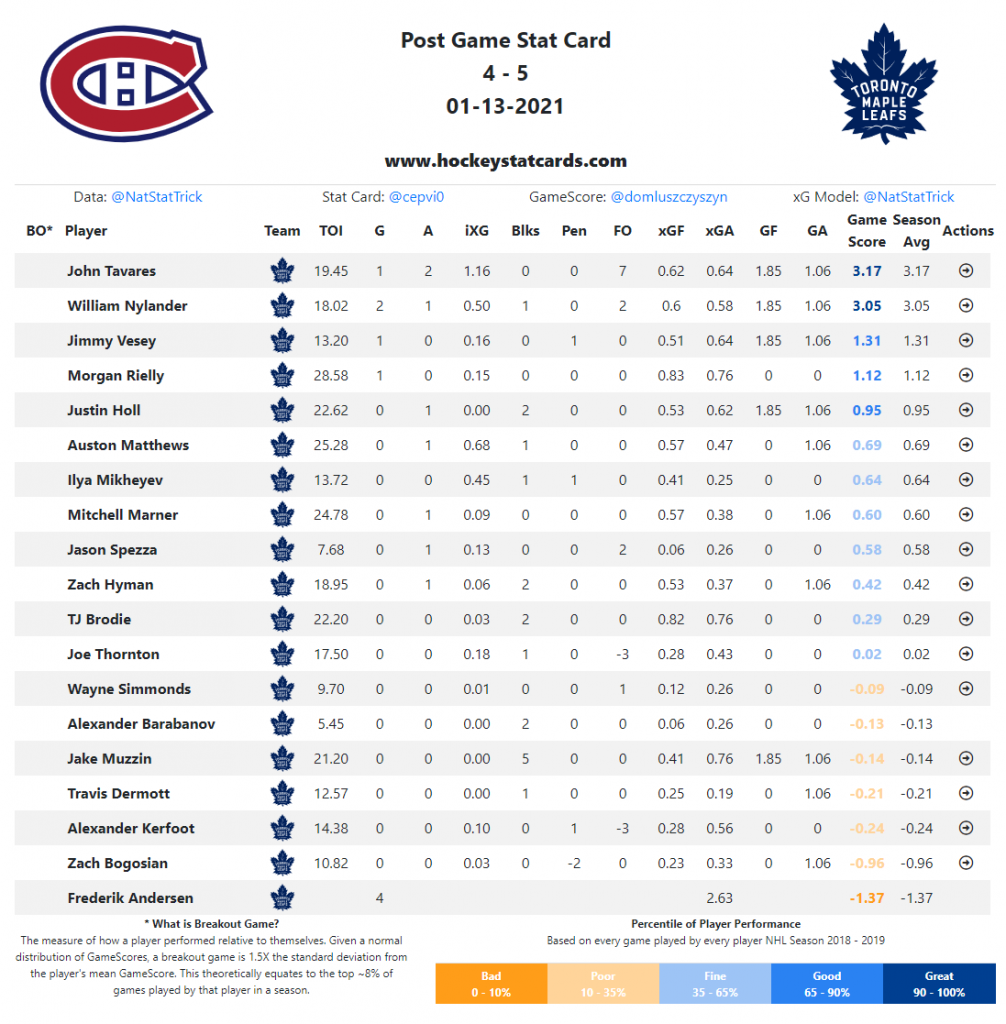 Notes
Excellent, excellent night from the drivers of the second line. John Tavares and William Nylander were lights out, and factored into the re-balancing of every single Leafs mistake tonight. Nylander looks in mid-last season form and Tavares seems to have turned new-dad-syndrome into dad strength on top of his previous John Tavares strength. Its's early, but if it's 2019 Tavares and 2020 Nylander that this line creates, we're in for a treat.
Jimmy Vesey was the third player on that line and got a lot of early grief, and it wasn't entirely undeserved.  It was a rough start, though he can get some grace as a player making his team debut. Not to mention, he did get himself in position to finish on the tying goal, and I think that's the hope there. Vesey isn't an unusually gifted player in most ways, but he does have good finishing touch, and if he can so much as keep up with 88 and 91 as they cycle and clean up the leftovers, it could give him some staying power further in the lineup. If not, Zach Hyman is probably happy to slide back into the Top 6.
Speaking of new guys: Joe Thornton was okay. Most noticable early on, but faded a little as the game progressed. TJ Brodie was stable, Wayne Simmonds was decent when in the play and really rallied up the troops with a second period scrap with Ben Chiarot. Zach Bogosian could've been better, but had moments of decency, and Alex Barabanov existed.
Morgan Rielly had a few plays where he was worrisome in the d-zone, but breaking up a two-on-one in dramatic fashion and scoring the OT winner is obviously going to make up for that and more.
Auston Matthews played some penalty kill. As pointed out by Justin Bourne, his first assignment was to face a Shea Weber point shot. Tough break, dude. Speaking of tough breaks – his streak of scoring a goal on opening night ends at four years. What a slacker…
Jason Spezza picked up his 600th assist tonight; a number that feels a little low given his body of work, but I'm happy he was able to achieve.
Frederik Andersen likely wants to burn the tape on this game. Or study it intensely. It wasn't his best, to stay the very least.
The Leafs return to the ice on Friday night to take on the Ottawa Senators. It'll be a 7PM puck drop and the first of a back-to-back. See you then!