After weeks of speculation and many scattered leaks, the National Hockey League and Adidas revealed their "Reverse Retro" jersey lineup today. Some looked exactly as expected, some had elements that threw us off, and all of them have created a ton of great discussion.
As a jersey nerd myself, this is essentially Christmas for me. As such, the below is an unscientific ranking of every sweater revealed today. My hopes for this initiative were that teams would find a way to throw back to some of the most unique cult classics in their history, while giving them a unique modern twist. Looking good obviously buys you some bonus points, but I'm not about to give too much praise to a lazy effort either.
I've sorted them all into A, B, C, D, and F tiers – in reverse order, fittingly. Note that the sweaters are not sorted within their tiers – I've instead opted for alphabetical order. Let's begin!
The F-Tier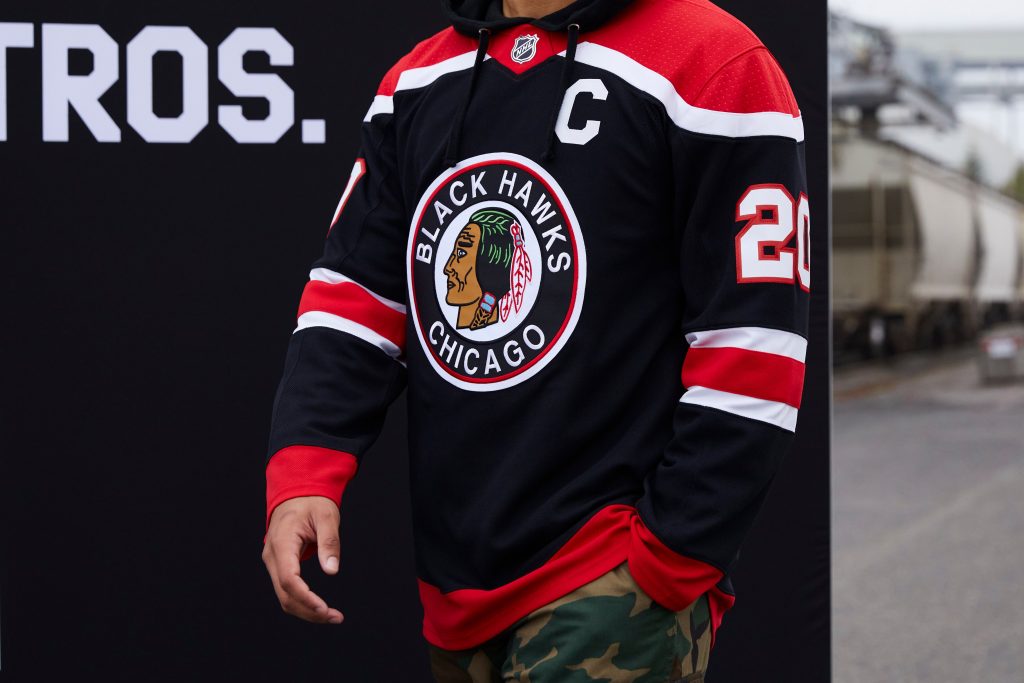 Chicago Blackhawks: On a purely aesthetic-driven basis, this jersey is fine. It's largely forgettable and lacks the iconic design of the home-away-alt trio the Hawks have had for decades, but the layout is simple and compliments the circle logo.
So how does this end up kicking off our F-tier? The logo is the key here. Chicago's crest has been the subject of debate over the years for it's appropriation of indigenous culture, and as teams with even more egregious branding move on from their looks or even names (see: Washington in the NFL, Edmonton in the CFL, Cleveland in MLB), there are a lot of questions about whether the Blackhawks will some day follow.
In this case, I'm not docking off points for the logo – it's still contested whether it falls under the same level of egregiousness as the other sports teams, even within native communities. What I'm docking it for is the fact that Adidas and the NHL clearly see some issue here, and made a point to obscure the logo in their release videos and graphics. If this is the case – almost a shame in showing the look – why approve it at all? If this was a concern, Chicago could have, for example, used a classic sweater template while experimenting with a fresh new logo. Instead, the messaging is along the lines of "don't look at this too closely, but please buy it" – that's a disaster on arrival.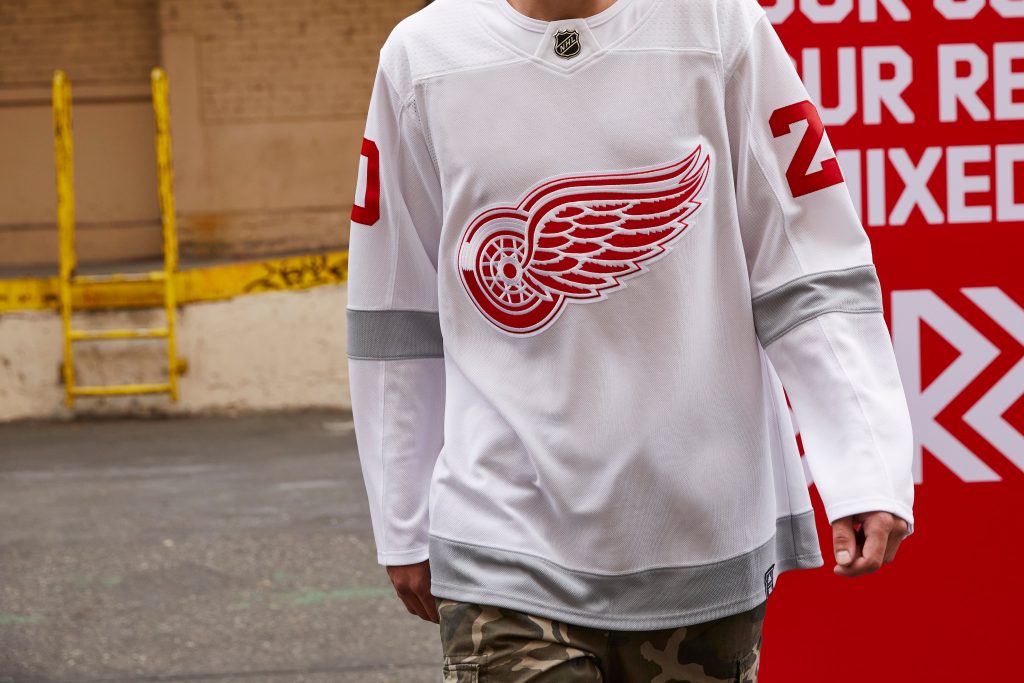 Detroit Red Wings: I understand that the Red Wings have a long, storied history which has led to them wearing more or less the same jersey for 70 consecutive years, and as such, they don't have a ton to work with here. At the same time, though – come on. The inspiration year for this is 1998 – if you can't see it, their "throwback" is putting silver stripes on to note that they won the Stanley Cup that year, which is how you end up with a Wings crest slapped onto a $10 practice jersey.
There were no doubt other routes. Their 2016 Stadium Series jersey was a great example of how a modern Reverse Retro could have looked. They could've flipped the colours on their 75th anniversary sweaters. They could've experimented with a black sweater. They could've done literally anything besides this.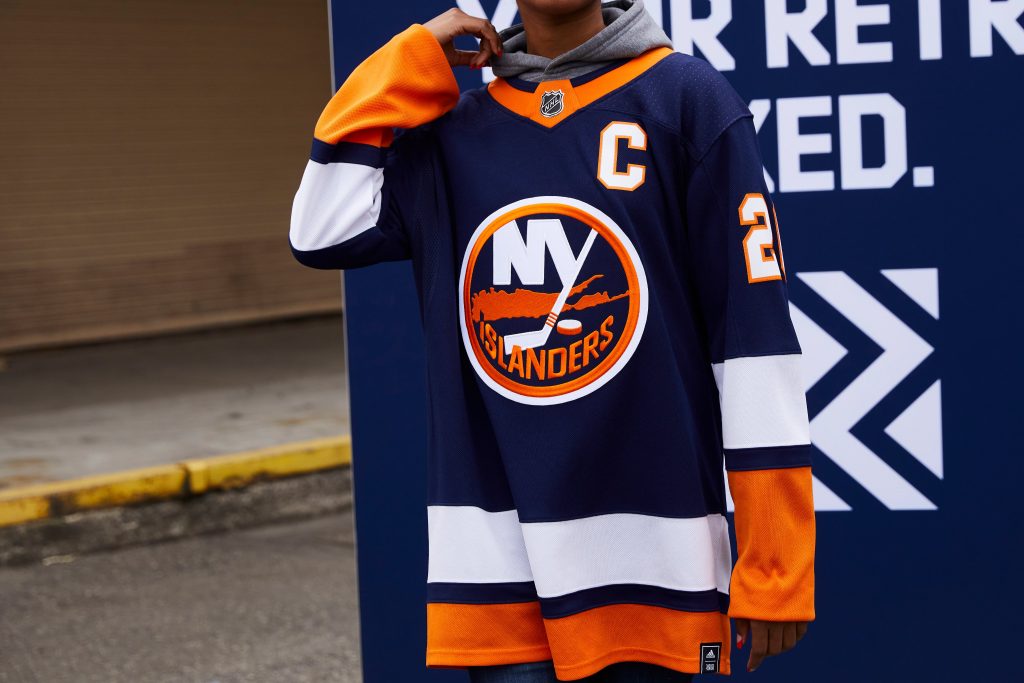 New York Islanders: Amazingly, though, the Red Wings were not the laziest team in the land. I know that we shouldn't expect Lou Lamoriello to ever allow anything that's fun – a great example of this came in New Jersey when their 2014 Stadium Series sweater was literally just their Heritage sweater with a slight metallic look in the crest – but come on.
This jersey looks really good. The Islanders have a great home and away duo and I respect that they've decided that this will likely be their forever-design. But this is literally just the home uniform in a slightly darker shade of blue. There is no reason to buy this, unless you want someone to think that you accidentally bought a knockoff. It's an especially wasted opportunity given the perfect opportunity to meet the demand for a Fisherman retro from the younger side of the NHL fanbase. Or release another orange or black jersey, I don't know. Anything but this.
The D-Tier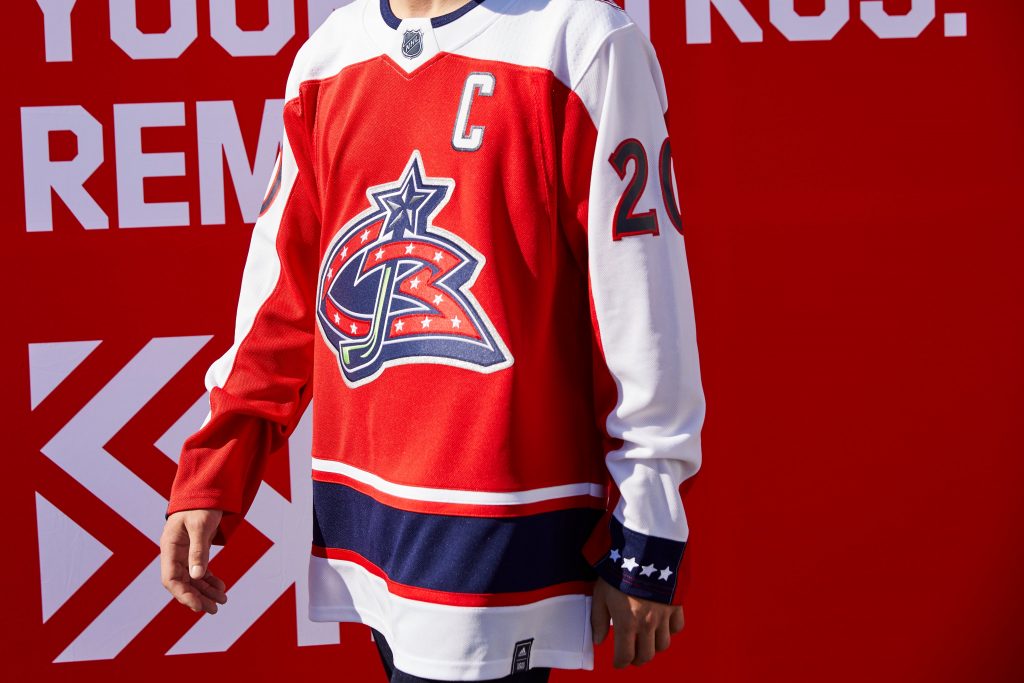 Columbus Blue Jackets: There are a few things to like here. For example, the fact that the Jackets brought their original "CBJ" logo out of retirement after 13 years of being locked in a closet – the current Ohio Flag design is a sharper overall look, but I liked the original mark more than most people. I also appreciate the fact that the team reached for something radically different in this design; their only real effort since that 2007 rebrand has been a sharp but ultimately uninspired throwback. This is their first red uniform, and it is, in fact, a palette swap of their original white sweater.
It just doesn't work super well in my eyes, and looks a little too much like the Washington Capitals alternate jersey. I get the feeling that this is going to be one that I like a lot more on the ice than I do on the streets, and in some glances upward at the look I'm finding redeeming qualities, but on a relative scale it doesn't do much for me.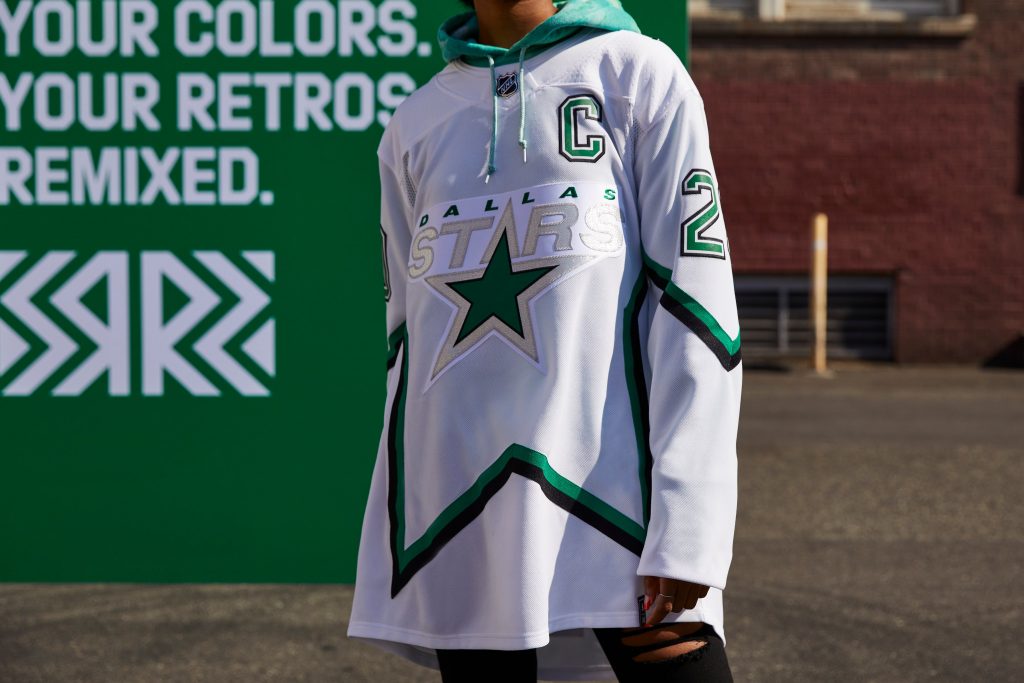 Dallas Stars: Great idea, questionable execution. While I love that the Stars committed to the Victory Green look in 2013, I do miss the original logo, which was based on the last Minnesota North Stars look. This is also, by a large margin, my favourite template for a Stars jersey – the shape makes it so when you lift your arms in celebration, you turn into a Star yourself.
The flaw is that it just feels a little empty as just a tracer; the outer white on the original retro was a dark green that really filled out the look. The gossip is that the Stars plan on going full weird with this and matching it with white equipment, creating a blinding look similar to the Maple Leafs in the 2017 Stadium Series. I'll give them credit for guts on that one, but as a standalone sweater, you're best off just tracking down some vintage 90s threads.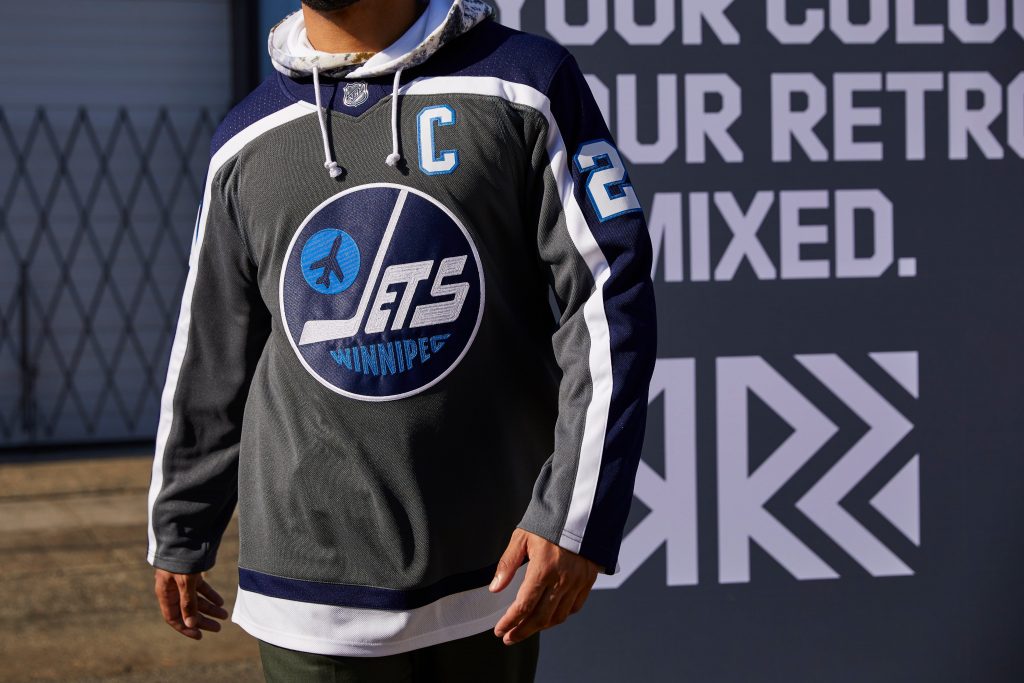 Winnipeg Jets: Speaking of the 90s, the Jets know that there are multiple decades they can throw back to, right? This is now the third time in five years that the Jets 2.0 have retroed the original logo of the Jets 1.0; a design that they only wore for 11 years in the NHL to begin with. Yes, the second 1.0 logo only lasted for four, but it makes more sense to go that route instead of destroying the colour scheme as you see above. The template matches the original Jets 1.0 sweaters, which were themselves lifted from an ill-fated New York Rangers design, and I suppose that's fine, but when you still have a logo on the table, and your primary logo is soon to become the longest-used logo in Winnipeg NHL history, and you also have the Thrashers to draw inspiration from if you want to get really weird about your current franchise's history, you can't come up with another Zellers clearance bin classic like this.
The C-Tier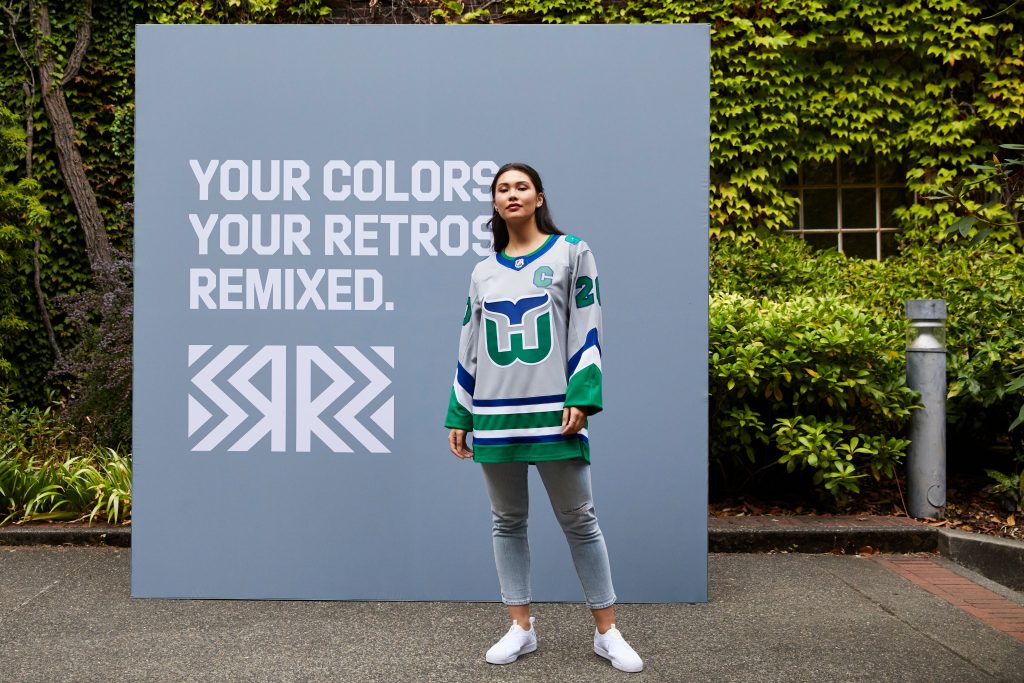 Carolina Hurricanes: When the Hurricanes brought the Whalers' original NHL look back into the fold in 2018, I was not a fan, for a myriad of reasons. It seemed like an appeal to 30 other fanbases rather than their own, a cash grab for the league to get their highest-selling vintage brand back on the table while Adidas continued to work on rolling out a series of vintage wear. Previous ownership in Carolina had clearly moved on from their Hartford past. It just didn't fit for me – I'm also of the belief that the navy jerseys were better than the green ones.
This, I like a lot more. The appeal-to-the-rest factor still makes it tough for me to truly enjoy the Bunch Of Jerks using the team of the past in their branding, but this jersey looks aesthetically better than the full throwback, and they actually put an effort into experimenting with this one, giving the Whale a new template and a new primary jersey colour that they didn't have in the 70s, 80s, or 90s. If Carolina continues to heal the bridges of their past this sweater may age gracefully – but for now I'm sticking it in the middle-tier.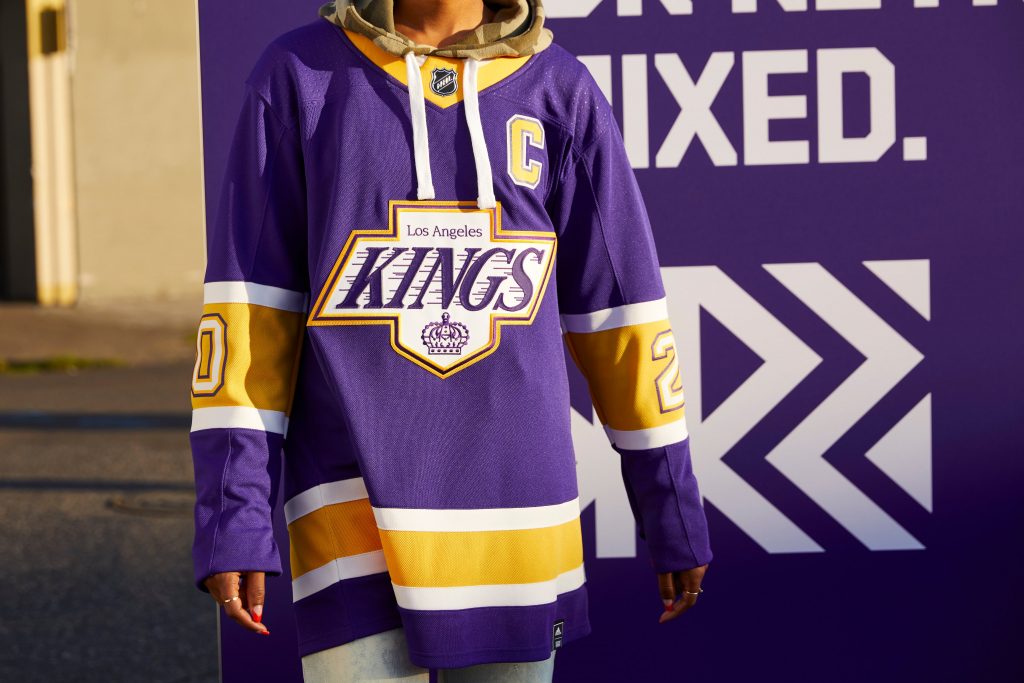 Los Angeles Kings: Aesthetically, this is a straight A. It absolutely pops and is going to be a really popular jersey, particularly as streetwear, especially as the Lakers reign supreme in town.
So, why a C? Because they could've had an even bigger success going the exact opposite route – instead of the "original crown" colour scheme with the "Chevron/Gretzky" logo, they should've went with the Chevron/Present Day colour scheme on the crown sweaters.
The reality of the Chevron logo is that what put it on so many hats and jackets and sweaters back in the day wasn't it's brilliant look – though it is nice, particularly in the font – but it's black and silver colour scheme, which gave it neutrality in the streets, in the hop hop scene, in all of that. Especially now with the Raiders moving out-of-state, this was a great opportunity to harness that. Instead we get a jersey that's still gorgeous, but isn't quite as likely to be a sensation.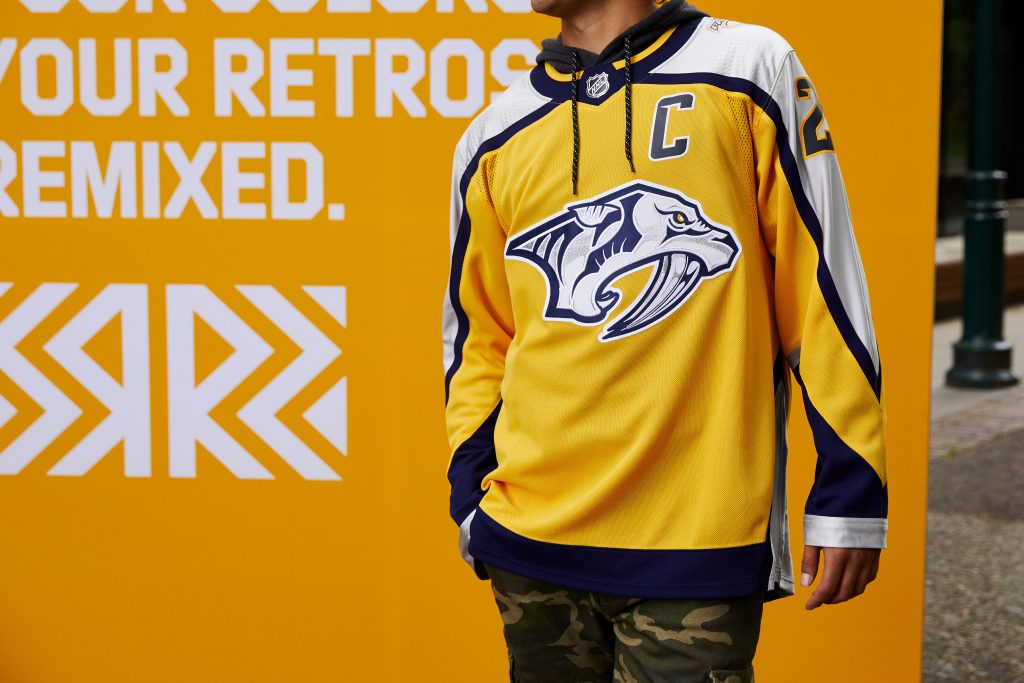 Nashville Predators: I think the Predators had a bit of a ceiling as to how nice they could've made these sweaters, and they've done a pretty good job with what they've got. This is, in essence, their original template with the current colour scheme, and it comes off well – I'm just not as big on the white arms. There's nothing wrong with this sweater, it just isn't abundantly right.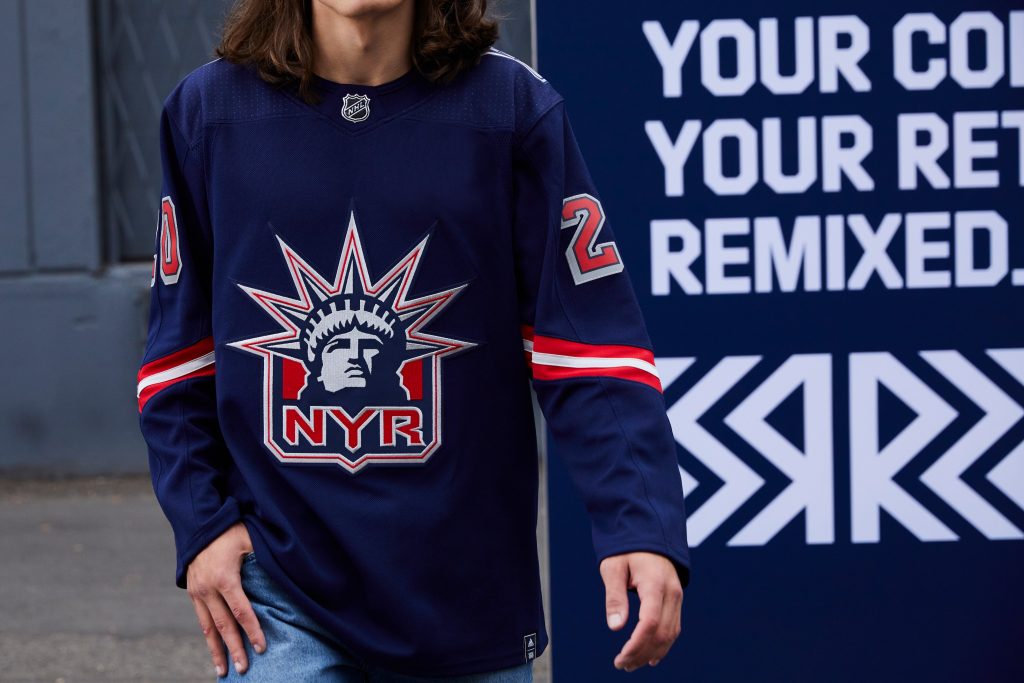 New York Rangers: This was dangerously close to falling into the Detroit tier of "how lazy can you be?". The template of the jersey looks like a long-sleeve t-shirt and the 3D block lettering pattern is more predictable on the Rangers than any other team.
On the other hand, the team did bring "Lady Liberty" out of retirement for the first time since 2007. This stylized crest could never replace the iconic look of the home and away jerseys the team has worn for the better part of the last 90 years, but was probably the best modern overhaul of any original-six team's brand when it was introduced in 1996. It made for a perfect and beloved alternate jersey.
Getting that logo back into the mainstream is great news – I just wish it was on a better template.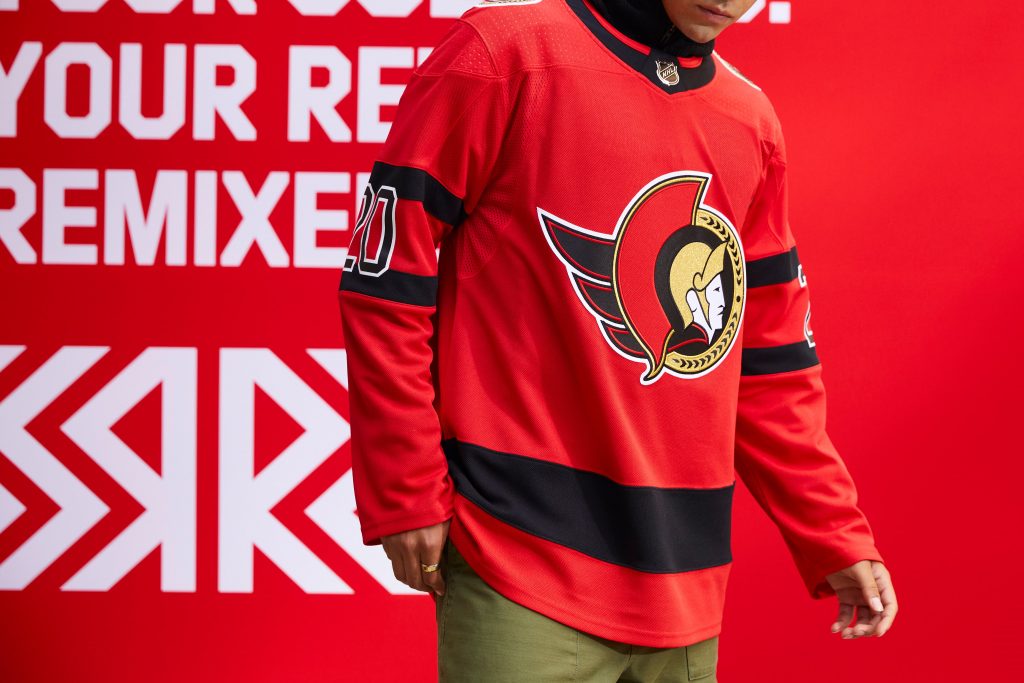 Ottawa Senators: Similar feelings can be had here, in the sense that something was definitely done right, but just a little more could've been done to make it great. The Senators made the correct call this off-season in permanently returning to their original crest, and it's spectacular to see that crest on a red uniform for the first time.
I can't help but feel, however, that they got a little lazy with the template. Yes, it's very obviously a palette swap of the black jerseys the team wore between 1992 and 1995, but the same can be said for the new home and road uniforms. Frankly, I think the added white accents that came into place in the mid-late 90s rounded out that look, and had it been added to this one, it would likely have catapulted it to near the top of the list.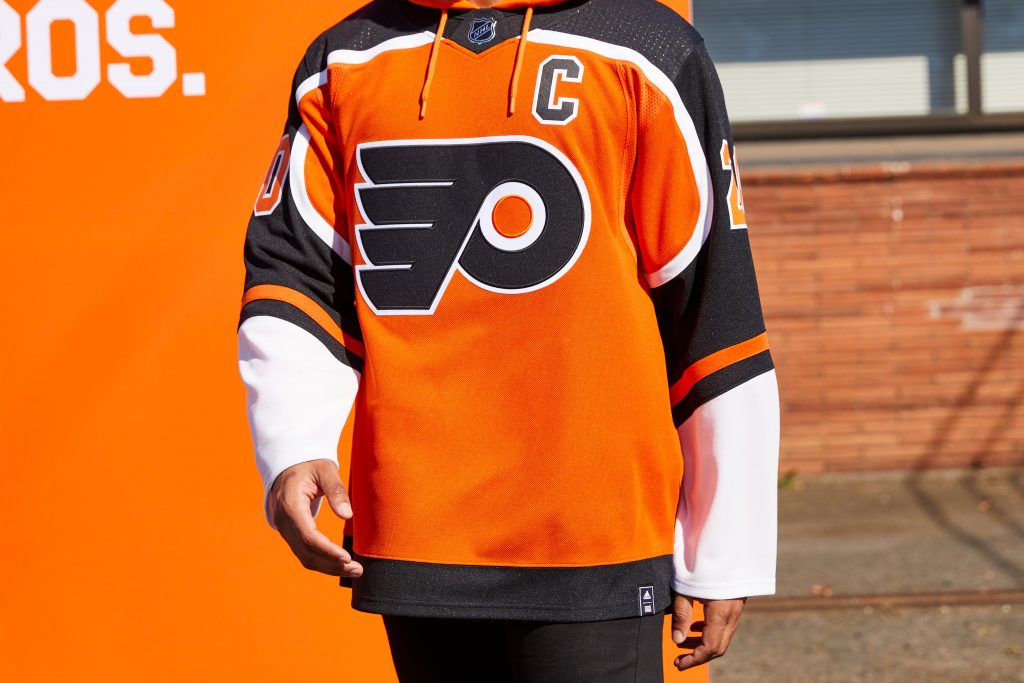 Philadelphia Flyers: I can't quite put my finger on what it is that takes me aback with this sweater. It's a pallette swap of their 1980s and 90s look, but only in certain parts of the uniform – the black and white touches have swapped while the orange stays in place. It kind of gives it that "uncanny valley" feel – it feels less like a Flyers jersey, and more like a jersey trying to be a Flyers jersey, if that makes sense. It looks good, but it also looks like the almost-sweater you'd buy at Walmart for $50. I don't think anyone messed this one up – it's just going to take some getting used to.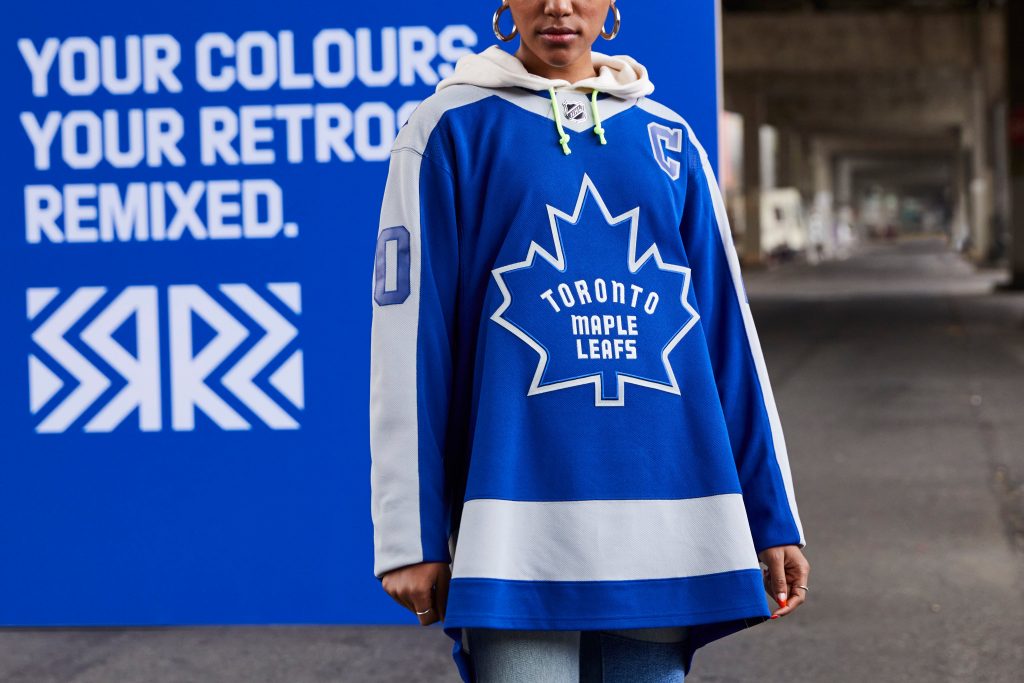 Toronto Maple Leafs: The Leafs were in a pretty unenviable spot here. The team cut rebranded away from their Harold Ballard-era, art-deco inspired logo in 2016, so four years seemed too soon to re-release it. However, outdoor games and 100th anniversaries had exhausted just about every other logo and template the team had other than this one. The team hasn't touched used the opposite-colour arm template since 1992, making it the easiest candidate for the sweater's shape.
I like the idea of substituting the logo with the 1967-70 design; aesthetically close to the abandoned brand, but not identical – though I'm not sure about using a blue leaf on a blue jersey. The dulling from white to silverish-grey is a little odd too. I suppose my issue with it is that it's trying to do too much with the limited amount of retro juice they still have left to squeeze.
A better idea for next time? Give us the red text of the mid-40s.
The B-Tier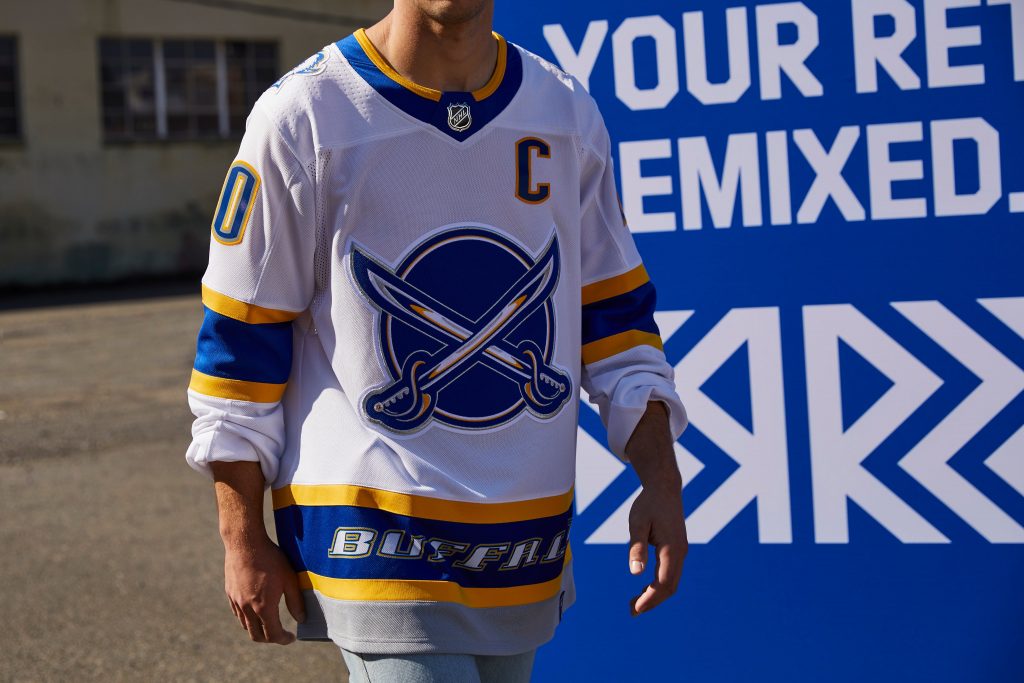 Buffalo Sabres: This was about the best possible throwback that we were going to see in Buffalo, given their current branding efforts. I would've loved to have seen a full-lean in towards the "Goathead" design made famous by Dominik Hasek's peak, but going for alternate from that era, referred to lovingly as the "Butter Knives", is a close second.
In fact, they've improved on the original with this one in my eyes. The overwhelming red nature of the original release of this sweater just wasn't my thing, though collectors have driven up its value in the present day. With the Sabres finally committing to Royal Blue and Yellow as their colour scheme this summer, matching this sweater up with their home and away threads was a near-lock, and the result is really nice.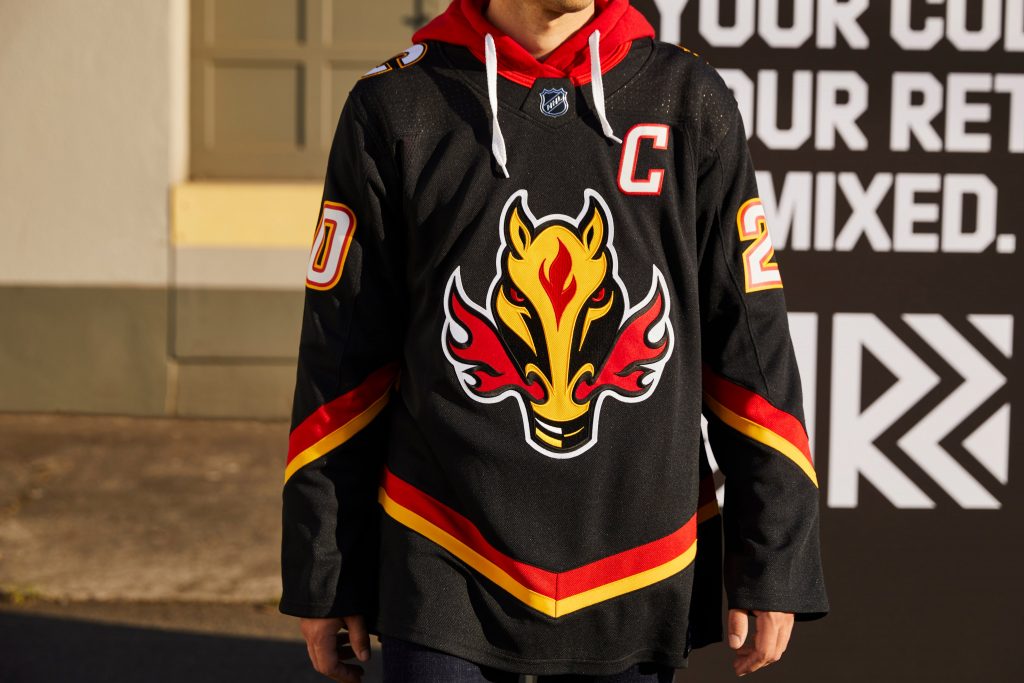 Calgary Flames: "Blasty" will always be controversial among hockey fans. The Flames' standard crest is a classic, and this alternate one is very of-its-time, with flames shooting out of its nose in extremely 90s fashion.
I'm forever partial to it, though, as this was also the crest of the York Memorial CI Mustangs – aka, my high school team. So that nostalgia holds strong for me. They got a little lazy with the sweater template like the Rangers did, but at least bothered with stripes on the bottom. Plus, I find it pretty hilarious that after stealing half the Vancouver Canucks roster, they've also managed to steal the look of their flying skate throwback jersey.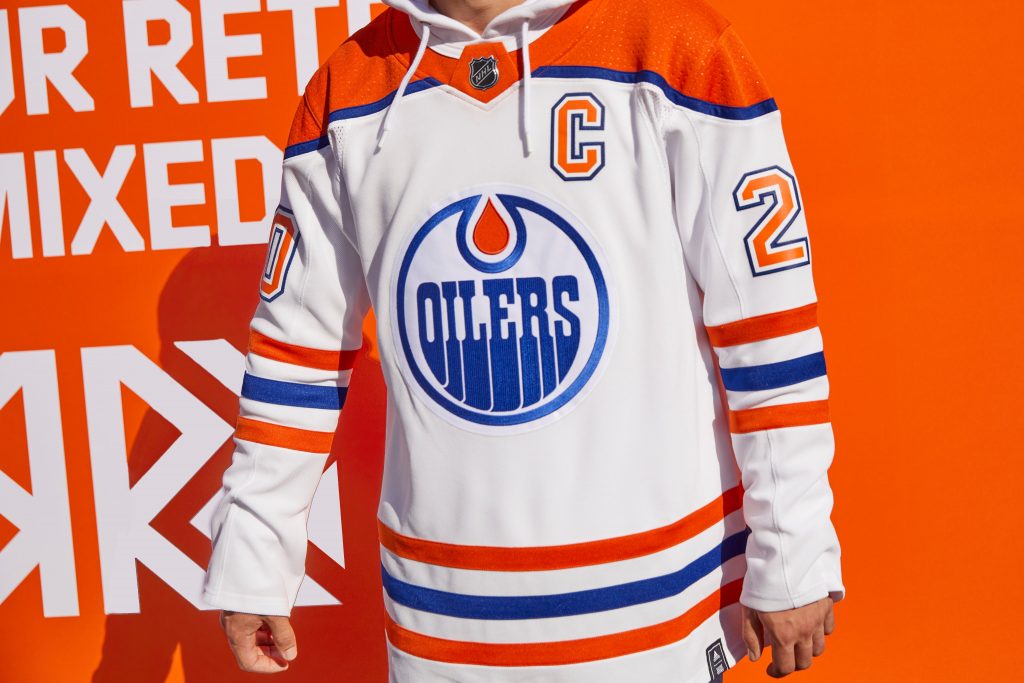 Edmonton Oilers: If we want to talk about teams over-performing their leaked looks, the Oilers are right up there. The fact they stuck with the traditional crest instead of the blood-orange of the WHA years is a huge relief, and makes this look about a hundred times better. The Oilers have tried far too hard to make orange happen over the past few years, especially with their fanbase being perfectly happy just sticking to the Gretzky era, but this is the best attempt so far.
With that said: A white version of the Todd McFarlane "Robosperm" look would've also ruled.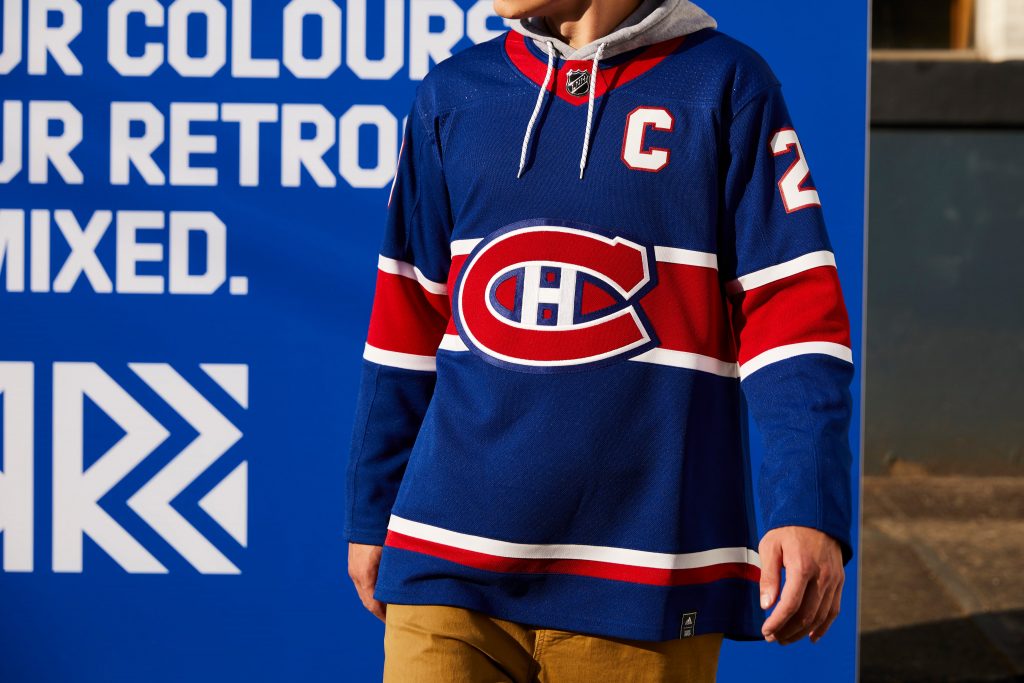 Montreal Canadiens: The jersey community has gossiped for decades now about the chance that the Habs may one day reveal a jersey like this, and it's finally happened. A palette swap of the iconic home design, Blue becomes the primary colour of a Habs jersey for the first time in over a century. Yes, it's a little sacrilegious, but it still follows their colour scheme and it looks really nice. There isn't so much to say about this one because the possibility has been broken down so many times, but I will say that I'm really excited to see it in the flesh.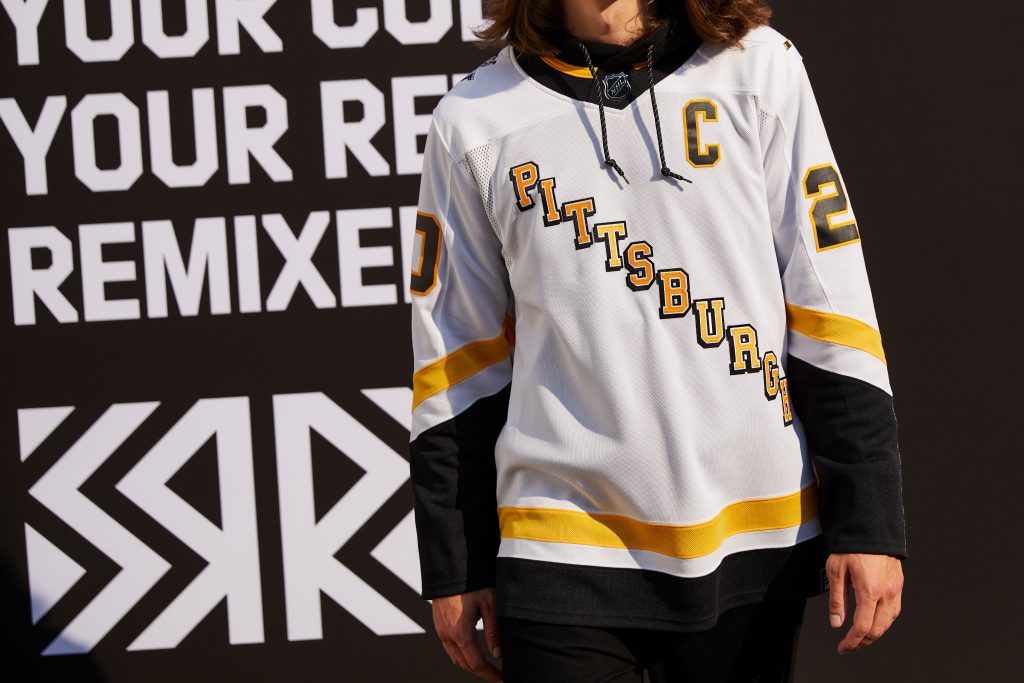 Pittsburgh Penguins: Perhaps made more famous by Snoop Dogg than any players who actually wore it on the ice, the black version of this Penguins jersey is a staple in many collections (mine is a Jaromir Jagr). It doesn't look quite as nice in white, but it's still a solid look – particularly from an off-ice perspective.
My hope is that going with this design is a toe-dip towards wearing the "Robo Penguin" look the team had between 1992 and 2002. I know the organization likes to pretend that such an era didn't really happen, and the fact that they won championships before that crest and after, but never within, makes it a tough sell. But it's such a great look that would've fit in amazingly with this retro series.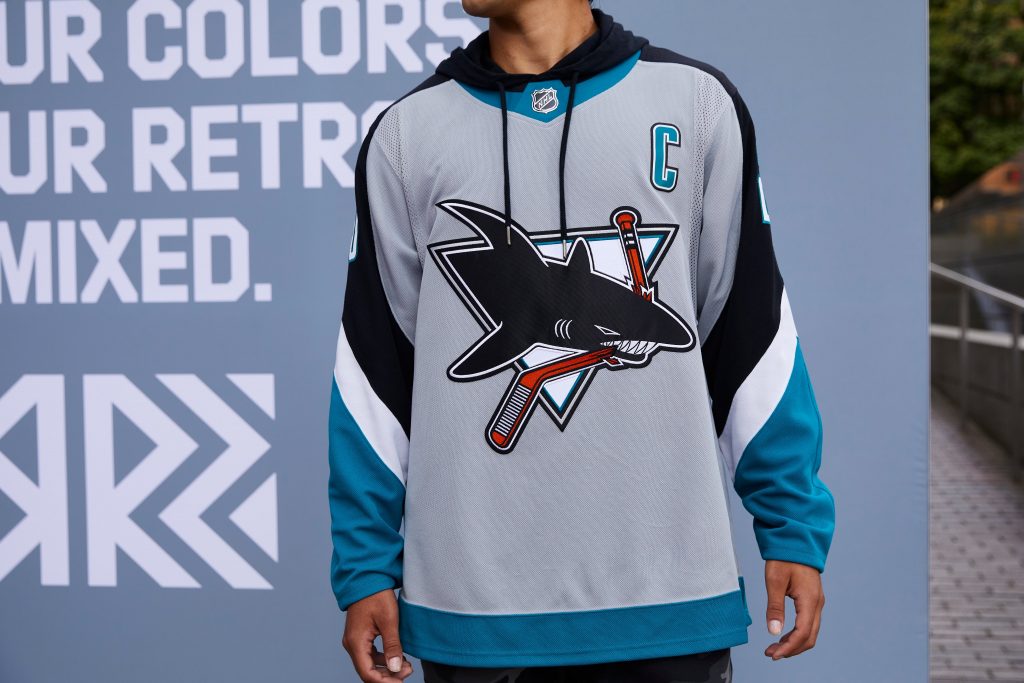 San Jose Sharks: This is the worst jersey the Sharks have ever worn in their history. Straight up. Every single other sweater they've worn is nicer than this, it's a downgrade on anything else they've ever put on.
"You're in the B-Tier, you know that, right?"
Yes. That's a testament to how fantastic their colour scheme and branding is. The Sharks took their worst sweater template, their worst lettering template, made it a drab grey, and it still looks great. The least great they've ever looked, but the teal still pops, and the original Sharks logo remains one of the very best that hockey has ever had.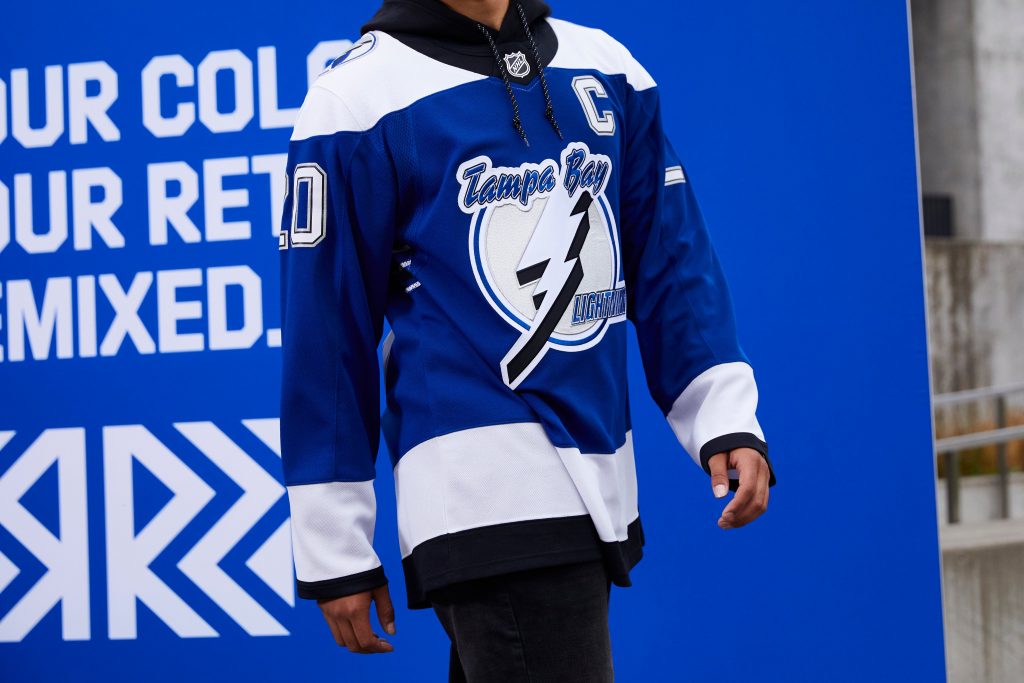 Tampa Bay Lightning: I really wanted to see the Stanley Cup Champions bring back a black sweater, but at the same time, a teenage me always wanted to see this exact sweater, a palette swap of their original black design. In a sense, it combines both of their Stanley Cup championship looks – the template of 2004 with the colour priorities of 2020. The victory stripes were kept, the original logo is back, the font seems a little closer to the current look.
Something about the white shoulder bar on a blue jersey does feel just the slightest bit off, but I have a feeling this is going to be one of those that grows on me. For now it's a B, but I wouldn't be shocked if I have it in the A's if you ask me a few months from now.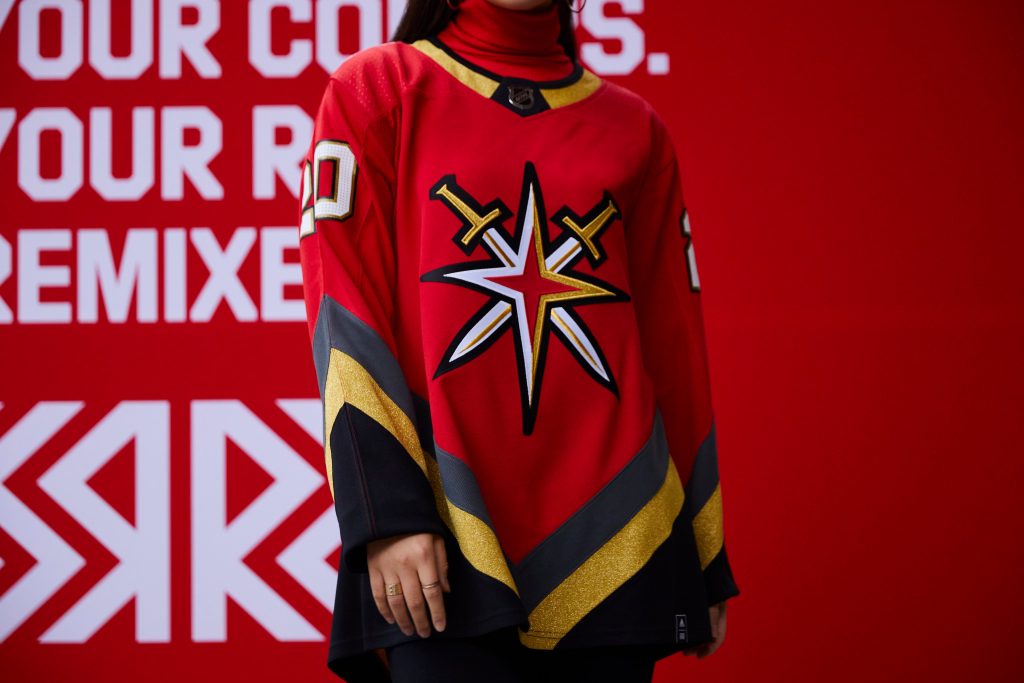 Vegas Golden Knights: Vegas had a really tough challenge on their hands with this one, with only three seasons of history to draw from, and the obvious idea of "make a gold jersey" taken by their new full-time alternate. But they pulled it off, by taking template cues from the Las Vegas Thunder of the defunct IHL (something Detroit could've done with the Vipers), giving their secondary logo some spotlight, and throwing a steep curveball by using red as the primary colour.
The biggest knock you can give this jersey is that it looks a lot like the Calgary Flames' jerseys from the mid-2000's – a mistake that I noticed a prominent Canadian radio station make today when including this instead of Blasty in their Canadian team roundup. But the overall look is bold and a great effort from a team that didn't have much to work with.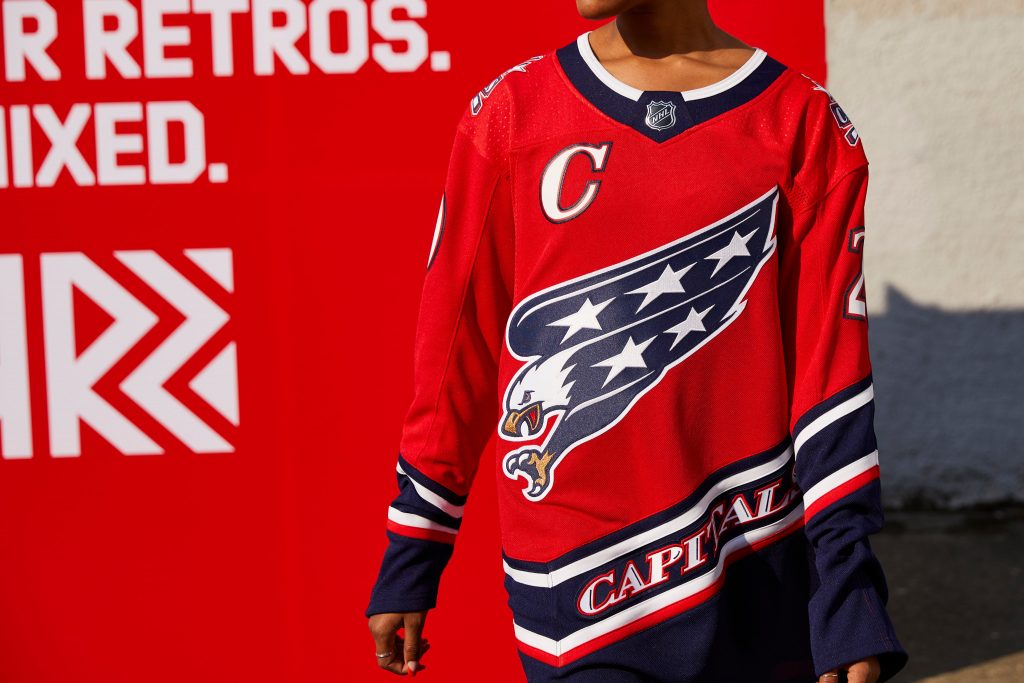 Washington Capitals: I was not expecting to give this look this much credit. I enjoyed the "Screaming Eagle" Capitals sweaters as a kid – my Peter Bondra sweater hangs proudly in my closet. But it definitely looked better in white than it did dark, something I attribute to the diagonal sash breaking up the bright navy on the original design instead of transitioning to a different colour.
Still, when I heard they were going to make a red version, I expected an abominaion. But somehow, this pulls two distinct eras of the organization together; the area under the sash having its own colour fills out the jersey a lot more, and the distinct, bright white accents make the jersey "pop" more than the original did – particularly on the logo. I have a feeling that this is going to be one of the sharpest looking ones on the ice – the only thing keeping it out of the A-tier for me is that I would've done without the "CAPITALS" in the sash.
The A-Tier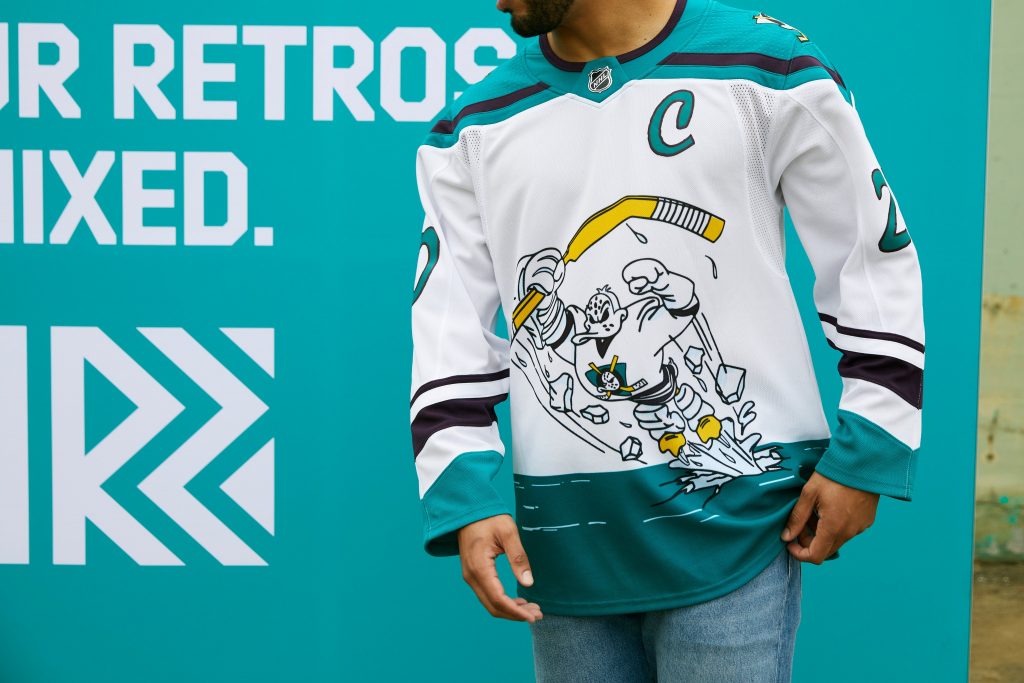 Anaheim Ducks: It takes guts to hold one of the most controversial uniforms in the history of North American pro sports in your back-catalog and run with it, but that's what this reverse retro initiative is all about. The "Wild Wing" sweater was one of the original alternate jerseys, introduced in 1996, and contains elements of both the Mighty Ducks movie look, and the animated TV show. It's hilariously unprofessional, and the fonts are a nightmare to read.
But it's firmly in "so bad it's good" territory. It's campy and kitschy and has built a massive cult following over the years. Unlike the Islanders, who were scared of releasing the Fisherman, the Ducks went head on, making a white jersey to match the dark they wore 25 years ago. This one is going to fly off the shelves, especially if any player on the roster has a big 2020/21 season.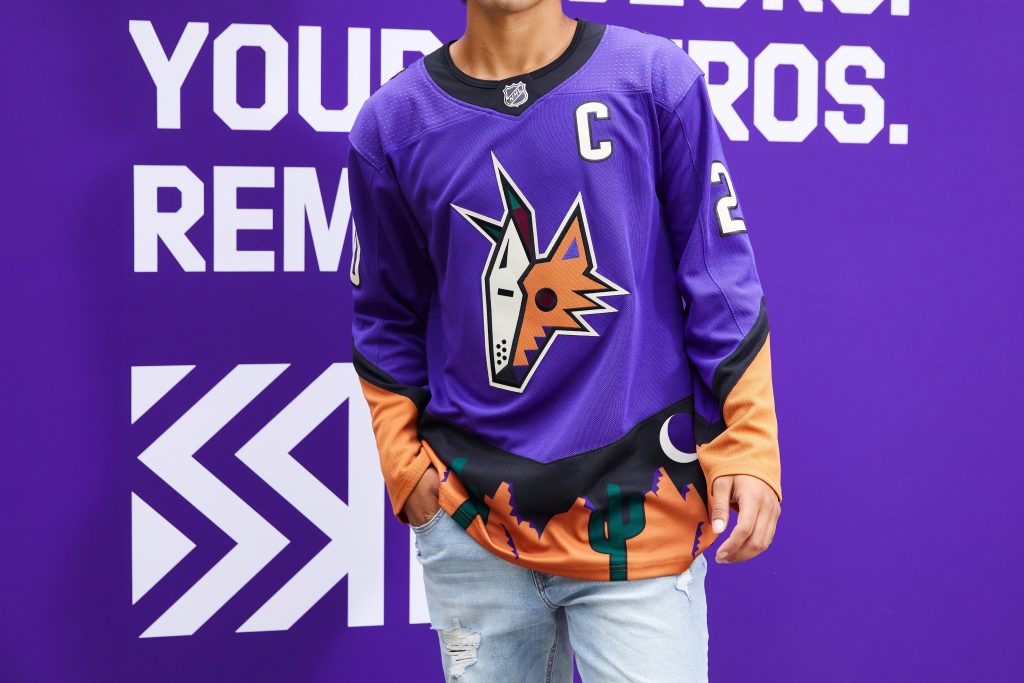 Arizona Coyotes: I think this is the winner of this entire series, truthfully. Sort of similar to the Wild Wing, the "Peyote" variant of the original Coyotes lineup has developed a cult following after being lambasted in its time. The sublimated desert is just a little too weird to wear full-time, and harder to justify than the now iconic "Kachina" look. But alternate jerseys shouldn't have the same standards of traditionalism that home and roads do – they should be canvases for experimentation.
The Coyotes took their Peyote jersey and shifted the background from a green that matched the home and away scheme of the time, to a purple that feels more like a night sky for their night scheme. On arrival, it's one of the best alternate jerseys in NHL history. It is everything this reverse retro initiative stands for – taking something weird, campy, and sought after and making it better and more accessible.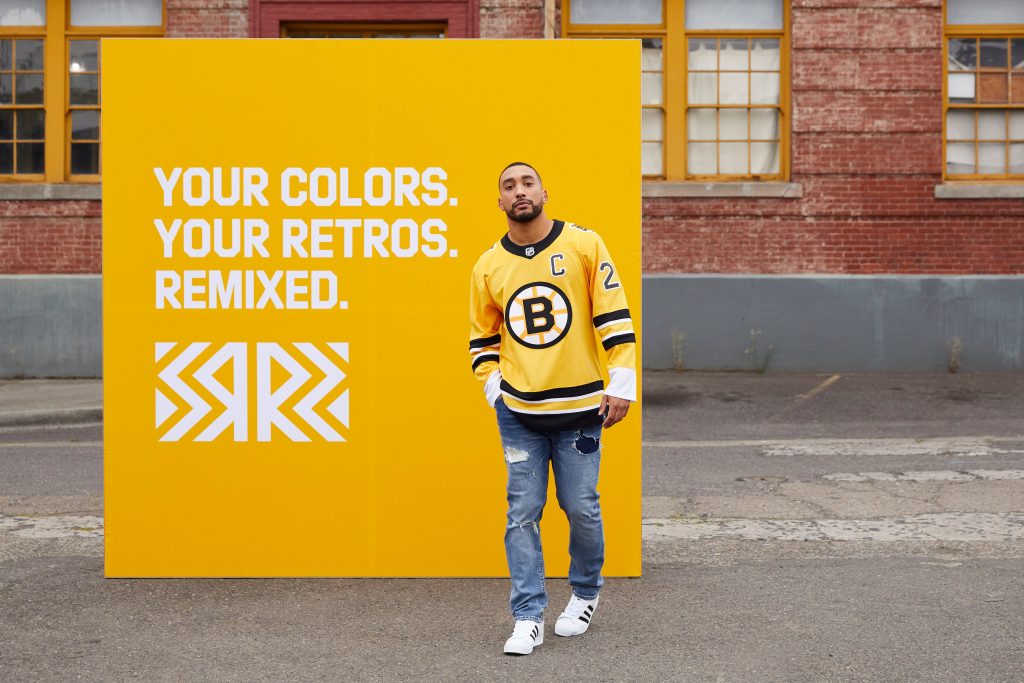 Boston Bruins: It's rate that an Original Six team is able to successfully re-invent the wheel this late in their game, but the Bruins hit a grand slam here. This is one of the best sweaters they've ever worn – a black/yellow swap of the Ray Bourque / Cam Neely era look that was, in my opinion, the best lineup they've had. It's less busy than the patch and stripe-heavy designs of recent years, the logo looks better without every element having an outer stroke, and it's just plain cool when the Bruins have a gold jersey. If there's any justice in this league, this will be their full-time alternate for years to come.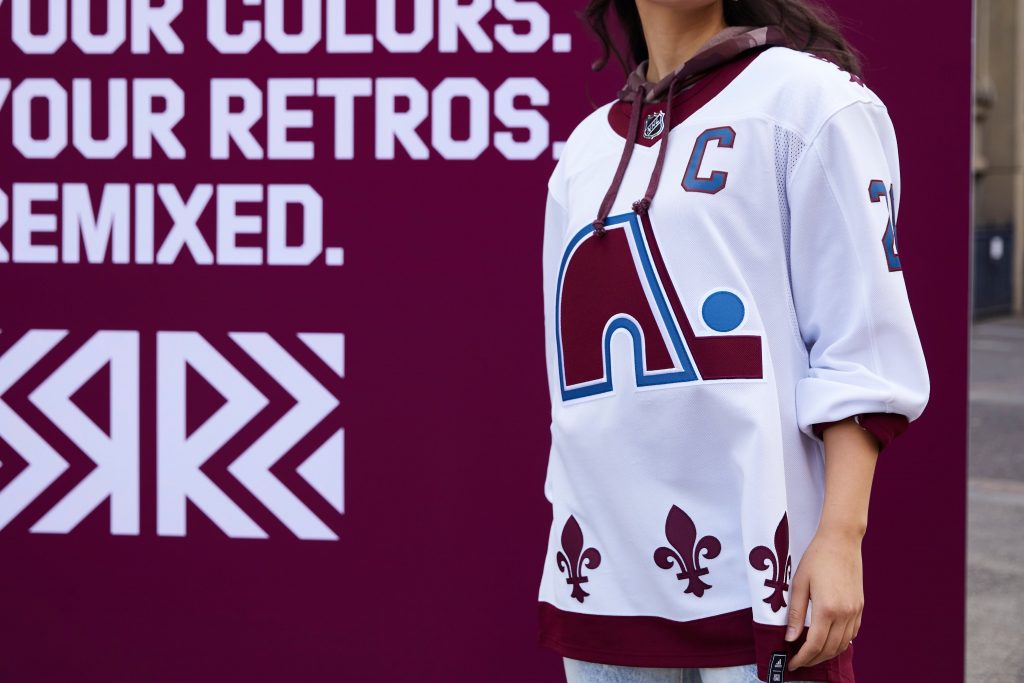 Colorado Avalanche: This jersey is among the most polarizing of the release cycle, and I get it. Much like the Hurricanes/Whalers, it feels a little weird to see the Avs lean into the Quebec Nordiques. To their credit, the team has embraced their past a little more than their Eastern Conference friends over the years, including playing multiple exhibition games in their former market and acknowledging players' contributions in Le Colisée.
I do feel they could've changed what items they swapped and made this jersey even better – say, using the Avalanche logo on a Nordiques colour scheme instead of the inverse. But that's the difference between an A and A+; both brands are iconic and any cross-over that made an attempt at keeping historical precedent was going to be great.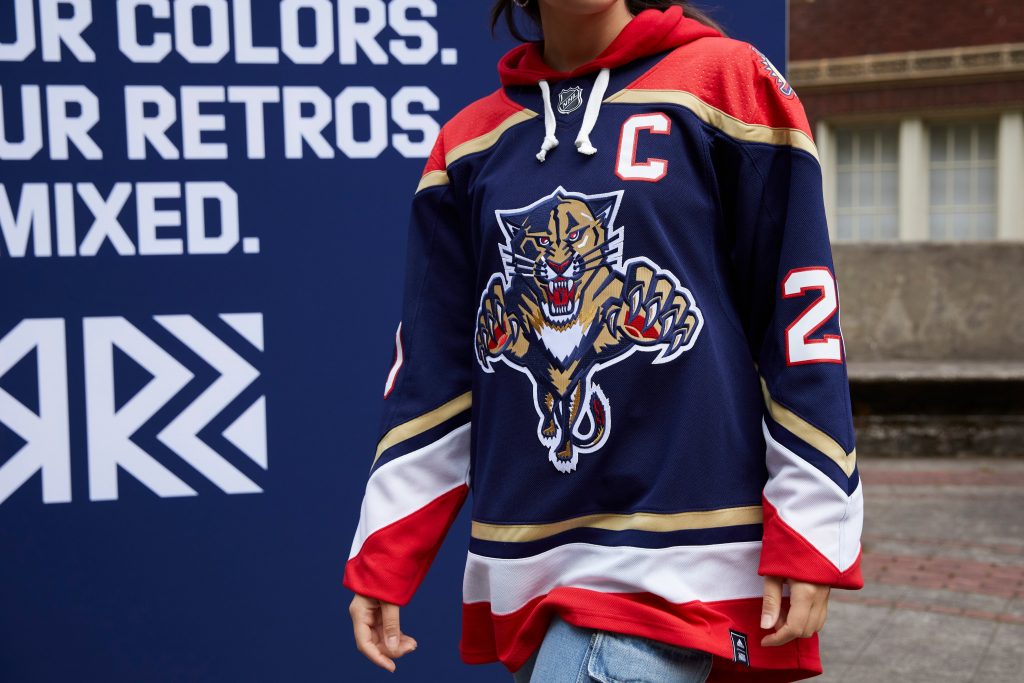 Florida Panthers: The Panthers did too well here. Like, it's legitimately going to be a problem for them. This sweater, which pays tribute to their 1996 run to the Stanley Cup Final, is without a doubt the nicest that they've ever worn. Period.
So what's the problem? The Panthers rebranded away from this logo just four years ago, and while the current home and aways are still pretty nice, they're not close to these. The demand to go back, from their fans and the whole league, is going to be very real, and I'm not sure they're ready for that. At the very least, though, sales of these will surely boom in the short term.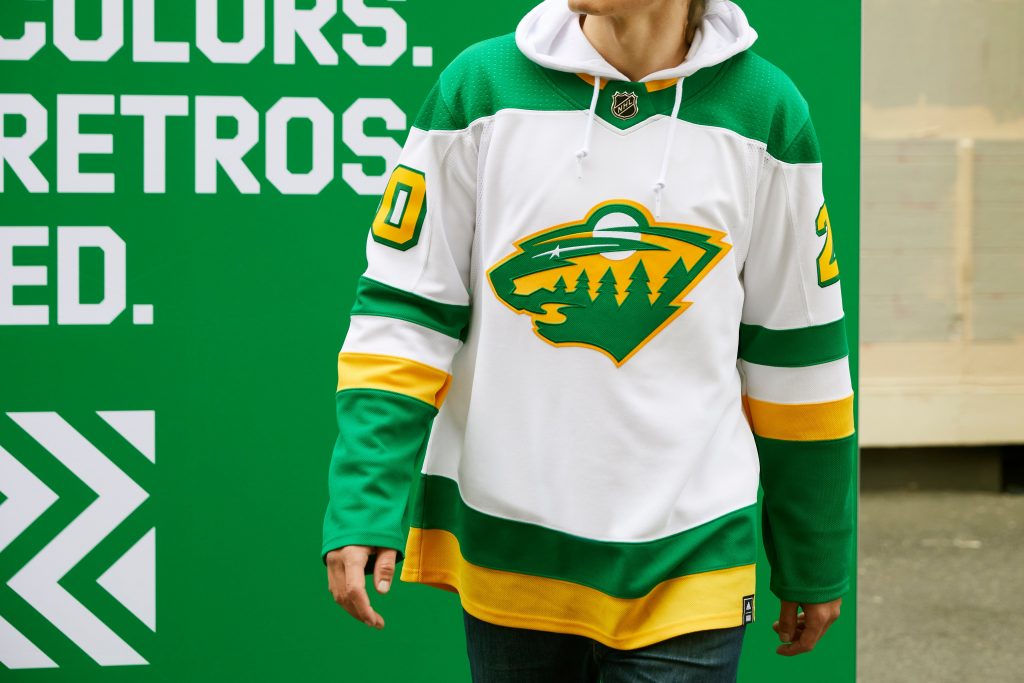 Minnesota Wild: This is right up there for "most pleasant surprise compared to the leak". We all expected the Wild to go with North Stars colours – their first true call back to the original Twin Cities franchise in their 20-year existence – but most rumours had them either going boring with a full throwback, or using their "M" logo on the front instead as a "close enough" effort.
Instead, they've coloured their bear-in-the-forest primary logo to match the North Stars template – a decision few expected them to make, but absolutely the correct one. It brings this look together and makes it something that is going to look amazing both on the ice and off of it. It's equal parts throwback and modern. As someone who feels that the Wild's "faux-back" designs have gotten drab and boring over the years, I'm thrilled with this one – it might be the best white jersey in the NHL today.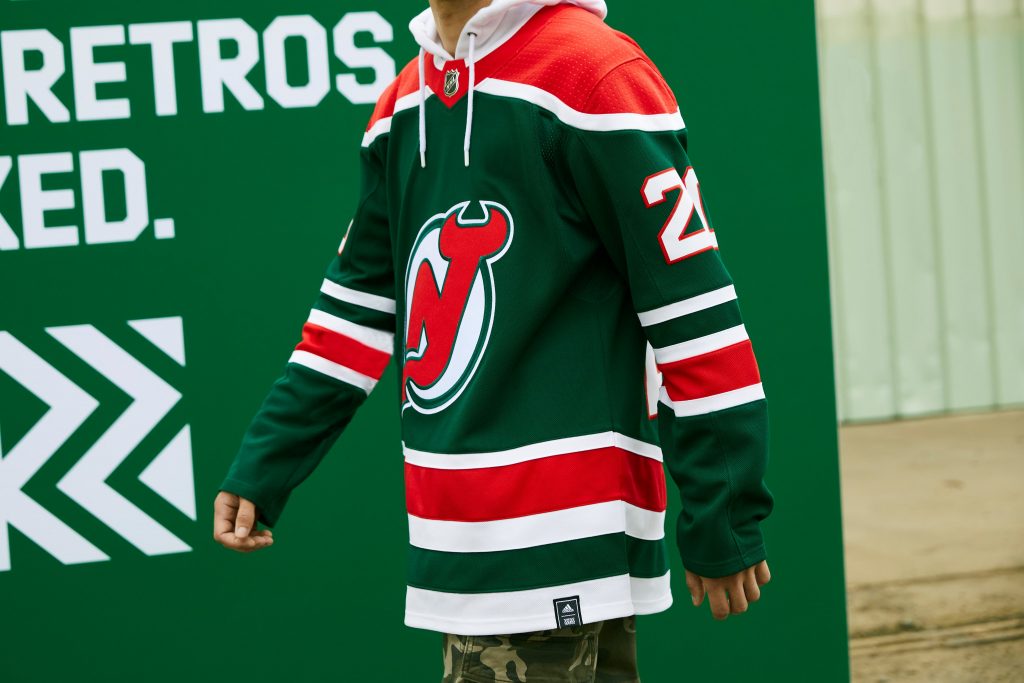 New Jersey Devils: Going back to the Islanders point, it's a good thing that Lamoriello wasn't there for this one, because this likely doesn't happen under his watch. Which is funny, because it's the very definition of "reverse retro" – a clone of a past jersey with two colours switched around.
The Devils are in the Sharks territory of a modern team that nailed their idenity and can't truly screw up their design. New Jersey probably had the steepest uniform downgrade of any team look during the Reebok to Adidas transition, and still look pretty sharp on the ice. These sweaters truly live up to the "Christmas Tree" moniker, and while the white's and reds with green accents are still better, it's hard to compete with two of the best sweaters ever – this one is a three run homer to their grand slam.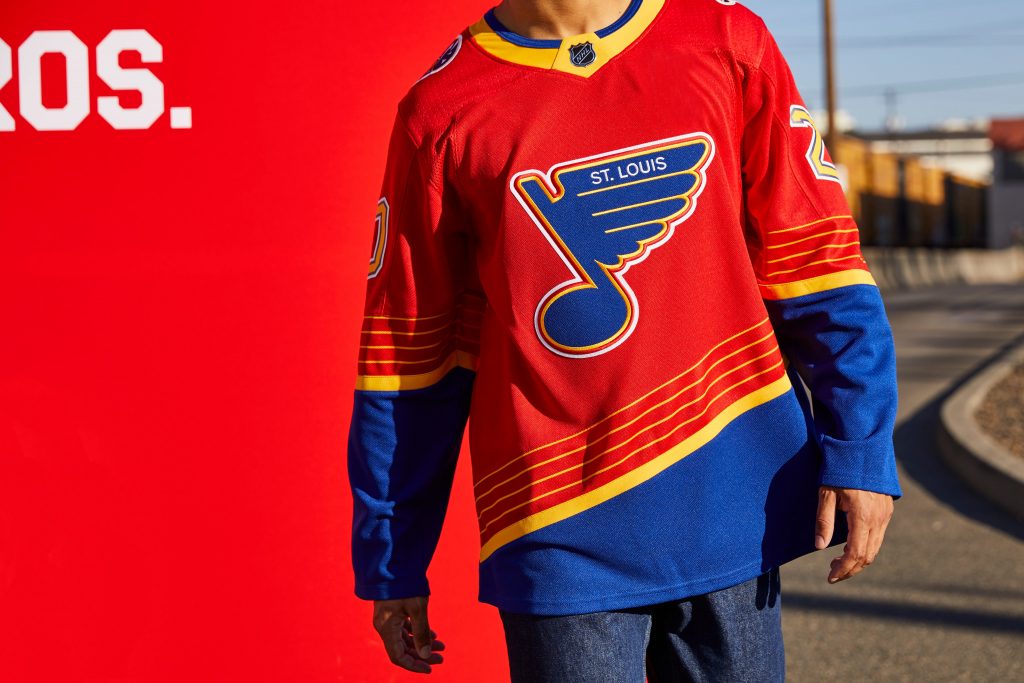 St. Louis Blues: Like the Devils, the Blues kept Reverse Retro literal, and the result is fun and good. I'm a bigger fan than most of their 1990s look – the one Brett Hull made famous, and Wayne Gretzky wore for about 20 minutes. After winning the 2019 Stanley Cup, the team brought back the Blue version of this sweater as a throwback. While it would've been easy for them to just release the white instead, St. Louis went full chaotic good and introduced their first primarily red sweater.
It's not as nice as the blue or white, but it understands what this project is going for, and it still looks sharp. This will probably be a one-year wonder, so you'll likely want to snag one before it goes away, but I love it all the same.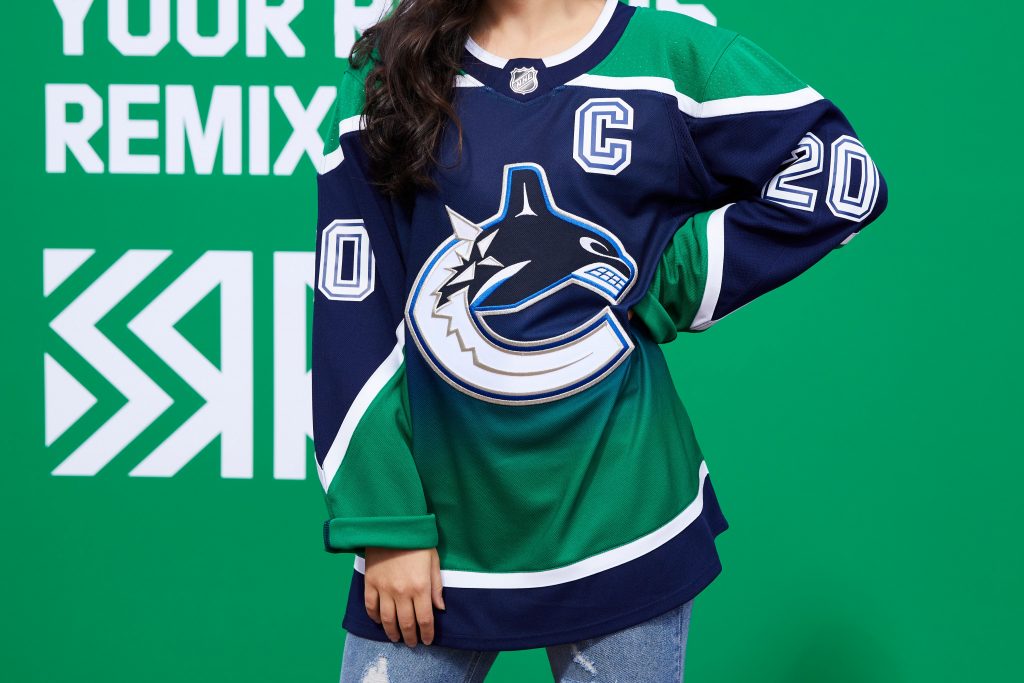 Vancouver Canucks: Exactly what I was hoping for. That sounds a little weird coming from me – someone who's on the record as a "Skate" apologist – but this fits the actual history of the team best. Vancouver were one of the first teams to release an alternate jersey when the league revealed the program in 1996, and the goal – like the Wild Wing and the Peyote, was to push boundaries a little bit. The Canucks took advantage of jersey sublimation technology and created a colour-transition jersey with the Skate logo, which has become a collectors item in later years. When they changed to the modern Orca logo, they brought out another transition sweater, which went from Navy to Maroon.
That jersey is what inspired this one, swapping out the navy for green, finally giving the longest-lasting colour scheme for the organization it's gradient moment. As someone who owns the original and the sequel, I'm looking very forward to completing this trilogy.
Overall Impressions
The NHL did a much better job with this than expected. While a couple of teams missed the mark entirely, and some could have done better, I truly appreciate how many embraced the opportunity to get a little weird with their history, making campy and modern interpretations of their past. I've felt for a while now that the NHL over-corrected towards traditional design a little too much over the past 15 or so years – particularly as alternate sweaters became the testing ground for these basic throwbacks instead of places to experiment.
While the Reverse Retro line is clearly a cash-injection effort, I think the league should keep a fourth jersey program like this moving forward, perhaps with a little more leeway than they have with their home, away, and alternates, which need to be planned out years in advance. Every other sports league allows teams to switch things up frequently, and while constant overhauls of the home and away sweaters may be anti-consumer, having a back-pocket option for collectors and people who appreciate unique looks seems like a great idea to move forward with.