There's a perfect storm brewing in the Unrestricted Free Agency market this fall, at least in theory. St. Louis Blues captain Alex Pietrangelo has made public that he plans on testing the waters when things start to open up on October 9th, leaving many in Toronto salivating at the thought of adding a "big ticket" in free agency for the third time in four years.
After all, he's a match made in heaven, at least on the surface. For years, fans and mainstream media types have made it known that Toronto's biggest perceived weakness is on the blueline, particularly on the right side. Pietrangelo, of course, is a right-handed defenceman who just led his team to a Stanley Cup last summer – and hails from just out of town in King City, no less. How do you not pounce all over this opportunity?
I get it. I understand it. But it's a little more complicated than that, and in my opinion, pursuing the 30-year-old would be an unwise decision for the organization. I've broken up my rationale into core points, as I often do, and you can find them below:
Fighting The Fountain Of Youth
While watching Toronto's relatively young core not get very far in the last few years has made many crave the idea of veteran presences, age is a factor that the team needs to be cognizant about in a couple of different ways.
The first of which is one that is heavily associated with free agency, and that's decline. By the time most players become UFA's for the first time, they tend to be in their late 20s to early 30s. This is past what data has suggested to be the "true" prime age for players, which is about 22 to 25, and into the age bracket where wear and tear start to turn "not peak, but still great" into all-out decline.
This argument is most used against mid-range players that are signed to bring toughness – think your David Clarkson, Milan Lucic, David Backes types, who all fell apart pretty soon after getting massive long-term deals that put them on the cusp of star income. But wear and tear impacts every player type at some point, and it stands to reason that big-minute, big-matchup, big-usage defencemen like Pietrangelo would be at risk for similar.
| | | | |
| --- | --- | --- | --- |
| Alex Pietrangelo | Duncan Keith | Keith Yandle | P.K. Subban |
| Brent Burns | Dustin Byfuglien | Kris Letang | Ryan Suter |
| Brent Seabrook | Erik Karlsson | Marc-Edouard Vlasic | Shea Weber |
| Drew Doughty | John Carlson | Mark Giordano | Victor Hedman |
The above group of sixteen players, Pietrangelo included, are a handful of most discussed and most deployed defencemen of our generation – a group that has defined an era in the mainstream, so to speak. Using Evolving Hockey's "Goals Above Replacement" model, I mapped out all of their careers by age, and found the following patterns: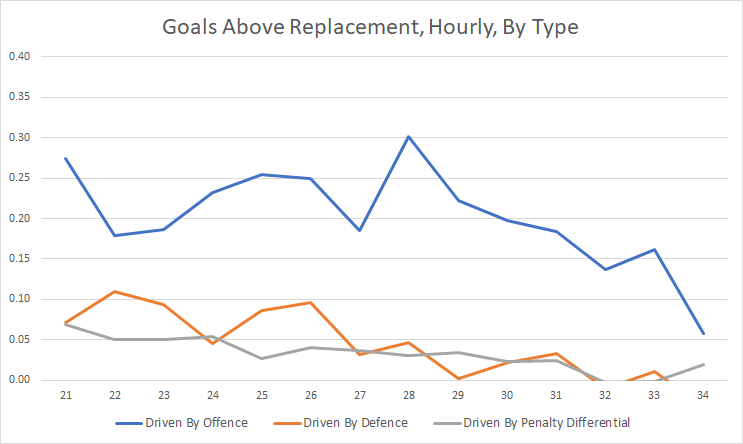 The offensive "prime" of this group came from Ages 21 to 28
The defensive "prime" of this group came from Ages 21 to 26
The penalty differential "prime" of this group came from Ages 21 to 25
The overall prime of this group came from Ages 21 to 28
The biggest impacts of defensive play on the overall number came from Ages 21 to 26
Offence declines the slowest of the three factors for the group, and therefore becomes the most valuable part of their games in nearly all cases, even as their value in that regard dips
This obviously isn't a completely scientific look, nor is it a clear prediction of what Pietrangelo will do in his future. I think that there are some factors at play here that fudge the numbers; the prime results start a little earlier than their actual primes due to facing easier competition when no one suspects their talent, and they end a little earlier because of the emphasis that they do end up facing. At the same time, offence likely lasts a little longer than their actual ability due to seniority earning them time with top teammates, and time on the powerplay.
But as we're already seeing with some of the biggest names of the era – Erik Karlsson, Drew Doughty, Duncan Keith and PK Subban, for example, Father Time does find a way to hit the players with a bunch of mileage – maybe more so than ever in a younger, faster game.
That last point is an important one too, though the unpacking of it may be a story for another piece. As Quinn Hughes and Cale Makar reminded us this year, another revolution in the trust teams give their defencemen is coming – not unlike the wave that Pietrangelo rode at the start of the last decade, led by Karlsson and other contemporaries. This new group skates even better, joins the rush even more, and are essentially third wingers who's goal is to move the puck upward and cut it off before it gets back, rather than letting the play come to them and trying to solve an invasion once the territory has already been claimed.
In the first five years after the lockout, Over-30 defencemen averaged 25 of the Top 60 spots in Point Shares, along with 14 of the Top 30 and 6 of the Top 10. Over the past five years, those three numbers have shrunk to 14, 8, and 6 respectively. Conversely, Under-25 defencemen are more likely than ever to rank near the top of these charts. I suspect this trend will continue, which makes betting on someone to succeed in their Age 31 to Age 37 years at an elite cost a very risky proposition.
The Upside Isn't Quite There
Typically, when you're paying substantial amounts of money to acquire talent, you want to make sure that the player is a game breaker to the degree of their paycheque. John Tavares made a lot of sense for the Maple Leafs in 2018 as one of the best finishers and smartest overall players of his generation. Artemi Panarin made a lot of sense for the New York Rangers last year as arguably the second best player in the world today, and the best winger on the planet.
As much as we like to believe in the idea that offence and defence are equal, they aren't; in a game where you win by goal differential, offence has a much easier time doubling as defence, than defence has doubling as offence. Offence is the role you want to play 100% of the time, while defence acts more as crisis management. It's no shock that both objectively and subjectively, the Top X players lists tend to be much more forward-dense, with very few defencemen truly making their way into the best overall player discussion.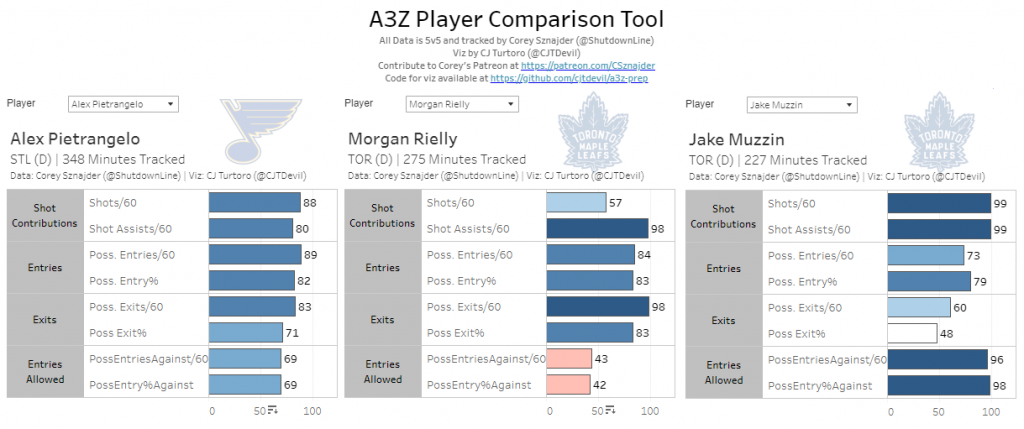 If we're being honest about Alex Pietrangelo, he's not one of those guys. That doesn't mean that he's not great at what he does – over the past five years, he ranks 7th in both Point Shares and Goals Above Replacement for defencemen. But a lot of that is driven by the fact that he's played the sixth-most minutes in that time; a valuable trait, but one of the ones you can't rely on as much once a player hits their 30s. In terms of results on a rate basis, Pietrangelo drops to 16th and 18th in those "one number" metrics.
Obviously, one-number metrics aren't the only way to gauge a player, but a general pattern can be seen in where he trends – he's a mid-range #1 defenceman who gets played like an elite #1 defenceman. That's still very good, but is it worth the contract he'd likely seek from a non-St. Louis team – along the lines of $63 million over 7 years? That I'm less sure of – what we're looking at here is a hybrid of Morgan Rielly and Jake Muzzin's traits with a right handed shot, for almost as much money as the two of them combined.
The Residual Cost
The Leafs have approximately $3 in Cap Space. Okay, the real number is about $6 million, but it feels like three dollars, especially when you consider that Jason Spezza, Ilya Mikheyev, Travis Dermott, and a few other fringe players need new deals.
One would imagine that a Pietrangelo signing would mean that Dermott is moved, and that the other two players will combine for about a $3,000,000 cap hit. Add two league minimum forwards to get to a full roster, and you're looking at about $1.5 million remaining to sign the player.
To repeat the above, we're likely talking about $9 million per year to get Pietrangelo as a free agent, if not more. So Toronto would have to clear $7.5 million – not just outright, but while replacing every roster player that moves out with at least a league minimum player.
In other words, Dermott, Andreas Johnsson, and Alex Kerfoot wouldn't be enough. Dermott and William Nylander wouldn't be enough. You're either talking about moving 3-5 roster players to make this work, or giving up one of Auston Matthews, John Tavares, or Mitch Marner to make the balance sheets work. This also puts you in a tough spot next year, when you need to find new deals or replacements for Zach Hyman, Morgan Rielly, and Frederik Andersen.
Trying to fix your depth in one position while destroying it in several others seems unwise, trading Matthews or Tavares to make room for a veteran defenceman would be absurd, and while I was one of the most vocal critics of Mitch Marner's contract as he negotiated it, I would much rather bet on a 23-year-old with back-to-back 90 point paces than a 30-year-old who's peak was great but not elite, and is likely getting close to ending.
One could point out that the Leafs would get assets for the players they shed, but given that the window to make this pitch is about two weeks wide, and that Toronto wouldn't be able to take any salary back in a situation like this, you're likely not going to get sufficient picks and prospects for the players. This would be a situation that looks less like cashing in your casino chips, and more like desperately selling your heirlooms to a pawn shop.
Conclusion
Alex Pietrangelo is a fantastic player, and in a cap-free world, I would be fully, sincerely on board with adding him. He would be the best right-handed defenceman the Leafs have had since Tim Horton. He would be the best partner Morgan Rielly has ever had at the NHL level. It would be a great story and he'd make the team better.
At the same time though, this isn't a cap free world. His best years are likely behind him. As a veteran, he likely won't be able to make the d-zone impact people hope for when they talk about defencemen, and he won't put up the offensive numbers without taking them away from the current top-two, similar to the Tyson Barrie powerplay conundrum. Acquiring him would likely force out not just one, but multiple meaningful players out of the roster.
Even in the most optimistic sense, it would be a seven-year commitment that feels marginally better for one or two years before looking like a big mistake – not because there's anything wrong with him in particular, but because that's how the game generally works these days. This isn't a case of a player costing more than market value, but market value for his archetype being fundamentally against the best interests of a team building like the Leafs.
Toronto's defensive growth will likely have to come from value finds and player development, along with their team tactics. An honest look at the team's defensive results shows that they've made progress already under Keefe in that regard; some in the regular season, and a lot in the playoff series against Columbus, where finishing was a much bigger issue.  Having one more high-end player on the back-end would obviously make this gradual improvement both easier and faster, but only if the ends justify the means. I don't think they do here.
Besides, I don't think Pietrangelo goes anywhere. This is a fun exercize, but a read of his interview with The Athletic this week suggests that his "break" with the Blues is on the final 10% or so of salary, and a few things to do with structure. With a cup in his hands, comfort and securing the bag are going to be bigger factors for him than taking a discount to win – I imagine this is all just posturing for the last paragraphs, and that he'll end up sticking with the Blues, making this whole conversation irrelevant in two weeks. But I guess we'll see, right?