In hockey, having a big three – like the Auston Matthews, Mitch Marner, and William Nylander trio that the Leafs debuted in 2016/17 is a great luxury. An Elite Four, like they formed when John Tavares signed? Seems like something out of a video game, but okay, I can suspend belief a little. A fantastic five, though? That's just too insane. Such a thing just can't happen in today's hockey world, right?
Generally, yes. But there might be something in Nick Robertson.
Nick Robertson with a shorthanded goal gives Team Matthews a 3-1 lead midway through the first period of #Leafs scrimmage pic.twitter.com/SwTSZlSChC

— Kristen Shilton (@kristen_shilton) July 18, 2020
It always feels early when you anoint a player before their first game. That intuition is often true; we see them like mystery boxes, always betting on potential, always taking each point in the scouting report and replaying it in our minds as the best case scenario for the player. At the same time, we have a pretty decent understanding, of the value of tangible results in projecting a player's upside. When players put up numbers that align them with the top of the history books, surrounded by others who turned out to be great, their odds of success tend to be higher.
Robertson, coincidentally, just put up one of the most impressive goal-scoring seasons in the history of the OHL. This year, a Draft+1 year for the youngest player taken in the 2019 draft, Robertson put up 55 goals and 31 assists in just 46 games, placing him first in goals per game and third in points per game among players who played at least half the season. Not only that, but Robertson's goal rate ranks as the third-best in OHL history, trailing only Eric Lindros in his draft year (1.25 in 1991), and Tony Tanti in his (1.21 in 1981). Lindros had one of the greatest peaks in NHL history before injuries slowed him down, while Tanti was a very lethal player for the Canucks in the mid 80's. The players just below Robertson, John Tavares and Patrick Kane, are currently NHL superstars.
We can also look at Robertson's performance from a more recent lens. Using resources from Pick224, I built a list of the best OHL goal scorers since 2008, the furthest back the site's database goes, of players with 0.5 or more even strength goals per game. This gave me 50 players, and 24 players under 20.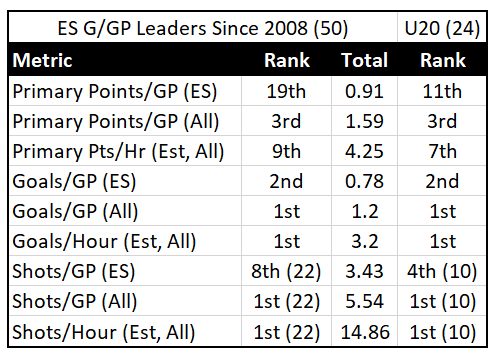 Of this sample, Robertson stacks up with the most frequent shooters, the top scorers, and post productive point-getters. The only players who have produced primary points at a higher per-game clip than Robertson did from this group of goal scorers are Connor McDavid (Draft Year) and Alex Debrincat (Draft+1). Focusing just on even strength, the majority of players above him who did so in their Draft or Draft+1 seasons went on to be good to great NHL contributors, or, in the case of Quinton Byfield and Marco Rossi, are expected to be top picks in this year's draft.
Robertson himself likely would been have up near the top of the 2020 mock drafts with that pair, had he not been born three months premature. Instead, the undersized winger, with his mid-September birthday, just barely made it in last season, to the Leafs' benefit.
Nick Robertson had a successful turn at "Rebound" against Frederik Andersen after #leafs practice.

Andersen: "It looks like he can score." pic.twitter.com/DtL6MlLePB

— Chris Johnston (@reporterchris) July 14, 2020
Early indications from camp show a player who looks like he belongs. This shouldn't be all that surprising when looking at the names that the data aligned him with, as most transitioned to be contributors right away. Debrincat is a good player to bring up here; he's similarly small, pesty, and goal-leaning, and 2017 Draft+1 season is likely the most comparable to Robertson's 2020; within 0.04 even-strength goals per game, within 0.02 primary points per game, and within seconds of estimated average ice time. Debrincat had this season after falling to 39th overall in 2016, despite great pre-draft production, due to concerns about his size translating.
Since then, he has put up 173 points in 234 games with the Chicago Blackhawks, producing at a 50-point pace or higher in all three seasons while putting up positive play-driving numbers. It's worth noting here that Debrincat is two inches shorter than Robertson, and is a December birthday, giving him nearly nine months of edge when comparing the two. When you put all of that together, it's hard to imagine that a player like Robertson couldn't add to the Leafs roster, particularly one that is missing another tenacious, smart, goal scoring winger in Andreas Johnsson. In a playoff format that will be more determined by fortune than any post-season in the modern era, it's important to have as many weapons who could get "hot" in your lineup as possible. Robertson might not yet be able to bring that to the same tier as his already-developed star teammates, but there is ample evidence to suggest that he can give flashes.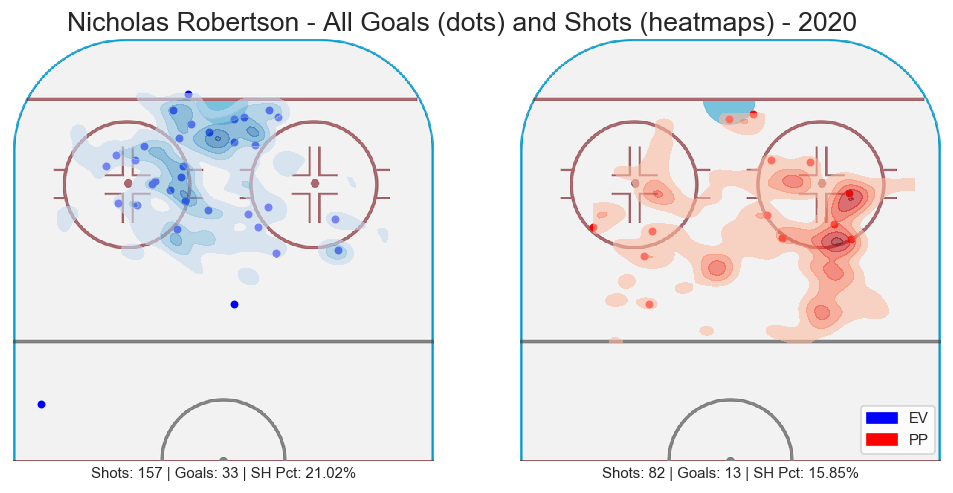 The biggest concern about such a move, interestingly, would be off the ice rather than on it. Specifically, that playing Robertson would burn a year from his Entry-Level contract, forcing Toronto to extend him after 2021/22 rather than the following year.
The first and most obvious point to be made here is that the object of this whole operation is to win the Stanley Cup, and the Leafs are a potential contender who might stand to gain significant depth and talent by bringing him into the fold now instead of later. You build your roster to give yourself a window to win, and Toronto is firmly in that window.
Abstaining from burning a cap year while competitively is kind of like punting on fourth and inches, on a key drive, when you've got a reasonable shot at getting the go-ahead touchdown if you get across. Instead of trying while a good opportunity is there, you opt to put yourself in slightly better scoring position three years from now, and specifically only three years from now.
There are only two reasons to push forward an Entry-Level year: You don't think your team has a chance in Year 1, or you think your team will really need the money in Year 3. The Leafs absolutely have a shot to win this year, and while having Robertson line up at the same year as Timothy Liljegren and Rasmus Sandin (who were also "pushed forward" this year) isn't super optimal, it also sets the course for all of them to be pitched on discount deals – and also takes away a year of development before they can show their work.
Look at Mitch Marner, for example. Toronto sent him to London for an extra year, slid his contract, and he had three great seasons once he came up. But there was a significant leap between years two and three, from 69 points to 94, that allowed him to push for his roughly $10.9 million cap hit. Had the discussion come a year earlier, the talks are likely closer to "wanted 8-8.5, settled for 7.5" rather than "wanted 11-12, settled for 10.9". With Toronto's first wave of top talent already locked up, getting the second wave locked up at a good before they break out will be key, and if you trust the player to break out, you should get to the negotiation table for their second contract as soon as possible, which this facilitates.
Like with the two Swedish defencemen, another advantage here is that even if the contract year is "burned", because Robertson did not play 40 regular season games, it doesn't count as a year of service time accrued towards unrestricted free agency.
In summation, while we all aspire to keep our expectations tempered for unproven players, and while the Toronto market is one that often gets mocked for it's inability to do that, there is plenty of reason to believe that Nick Robertson is another special talent in the Leafs' developmental pipeline. His ability to produce at his age is matched by few in the history of his elite developmental league, and he compares to quality NHL players who had little problems adjusting.
So long as the Leafs believe he is one of the 12 best forwards they can put on the ice, the team should absolutely use him in this year's playoffs. He makes a competitive team better, and while that pushes next contract a year closer to the present, such a thing might actually be a positive for the Leafs. Should they not find him good enough to keep up, then leaving him in the press box is acceptable, but if he's there – let's not talk ourselves out of it. Let's get excited for the chance that the mystery box might, in fact, be the secret weapon.