The NHL is taking it's sweet time to announce it's hub cities for the 2020 Stanley Cup Playoffs. Perhaps that's for the best – maybe it means they're taking precautions seriously. Or at least, a little bit closer to seriously than they were when they started the chase favouring a hotspot in the middle of a pandemic.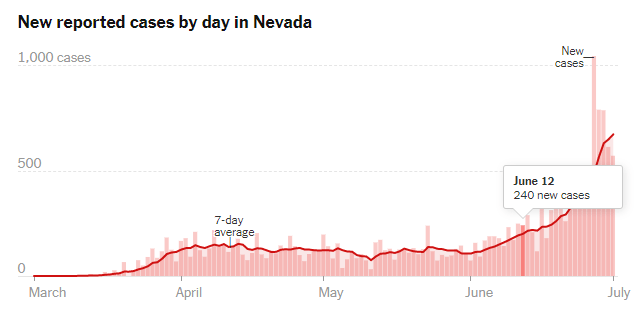 It seems all but confirmed, though, that the hub cities will be Toronto – specifically, the Exhibition complex and Scotiabank Arena, and Edmonton – specifically, uhh, who knows, but likely relying heavily on the ICE District. While I'm firmly on team "why are we doing this at all, cancel the season", this seems to be the most logical outcome available – neither Alberta nor Ontario is out of the woods with this virus by any means, but both appear to be in better shape than any of the American states associated with hub bids, and while Vancouver was another Canadian favourite earlier in the process, government officials have decided to play it safe rather than sorry, to the point of the NHL backing out. Both Edmonton and Toronto can provide amenities and facilities that are either attached to the main arena, or in their own bubble, which again, isn't a perfect solution, but is preferable to the alternatives. Both cities are expected to exhibitions, play-ins, and rounds 1 and 2, while the Conference Finals and Final will likely be played in Edmonton.
Another revelation that's come with the news is that the conferences won't cross over in terms of who they host – previously, it was thought that the Western teams would play in the East, and vice-versa, in order to eliminate a potential "home-ice advantage" for the host team.
While home advantage is likely overstated to an extent in the sporting world, there are definitely factors that can give the local team the advantage – some of which are cancelled out by these circumstances, some of which can be cancelled out if the league "schedules" things fairly, and some of which are unavoidable.
The most obvious loss comes in the stands, via the fans. No, the guy in Section 318, Row 10, Seat 6 hasn't been controlling your team's powerplay by yelling "shoooooooot" at the right moments over the years – no individual carries the weight here – but there is undeniably a psychological benefit to knowing you've got people in the crowd rooting for you. An early look at the German Bundesliga (their top soccer league) suggests that empty stadiums have had a significant impact on the performance of home teams, ranging from win percentage, to goal rate, shot rate, to expected goal quality, and even fewer attempts at dribbles (similar to dekes in hockey).
The sample is small and correlation doesn't always equal causation, but it makes intuitive sense. As that Times article dives into It's not even just the support, but the absence of a tense atmosphere. It's easier for players to hang back if they don't feel under pressure, and they're less likely to try something flashy if there isn't a crowd to entertain.
Another big local edge comes in terms of travel and amenity. Home teams are presumably better rested and better mentally prepared, being the game's hosts and communicating from their house or condo, not another state or province. That also gets mitigated by the Hub City plans – the Leafs and Oilers will be members of the same complexes as every other team. Competition is actually a very significant factor in that decision – while it might help make the argument, the real reasoning that the hosts must join their opponents is because anything else would disrupt the "bubble" that the NHL is trying to build here, separating the players from society so they don't bring in or spread out a COVID-19 outbreak. One team being able to go from the rink to their house invalidates the entire purpose of a bubble.
From there, we move on from the intangible to the tangible, and the tangible suggests that home teams do, in fact, have a little bit going in their favour. A quick sweep of 5-on-5 data this year shows that home teams in the NHL enjoy a 0.597 points percentage, with only Montreal (0.459) and Detroit (0.351) not at least punting at home. Moved to win percentage, and that number shrinks, but still remains at 0.533, with 21 of 31 teams having won at least half of their home games (Toronto and Edmonton among them, but closer to the bottom than the top).
The impact goes beyond record, though – the home team got over 51% of the shots (both attempted and on goal), 52% of the goals and expected goals, and 53% of the high-danger scoring chances. Maintaining that slight but solid amount of control over the game is important – 18 of 31 teams had positive Corsi differentials at home at 5-on-5, as did 21 of 31 for Expected Goals – and some of it can be more tangibly tied to being the home team, and more specifically, due to the way the sport works:
Due to hockey's ability to change on-ice players on-the-fly, and the off-centre, side-by-side layout that most arenas build for team benches, the home team is typically closer to the offensive zone for two periods. Given that you are more likely to make a change while you have possession, this requires more patience and distance travelled for the opposing team to change on-the-fly over the course of the game, by having to "long change" for two periods instead of one.
Similarly, home teams also get to send out their players after a whistle after the road team does. This allows them to see what players are being sent out and "match up" in ways that they believe to be favourable, be it stylistically, in terms of stamina, or just a hunch.
While the rule isn't as encompassing as it was a few years prior, there is still a degree of favorability towards the home team in terms of taking faceoffs, as they get the last placement of their stick before the puck is dropped. This rule is mostly enforced in the neutral zone these days, but still remains as a general practice. A look at this year's data shows that the home team has a 51% faceoff victory rate at home, with 23 teams winning over 50% of their home draws.
One last on-ice advantage that the home teams have is a particularly interesting one, because its one that none of us likes to admit. That would be the tilted ice that comes from officiating – while they do their best to keep things even over the long run, very likely to an exploitable fault, home teams tend to be given fewer penalties than road teams, across all sports. The Bundesliga data shows that this phenomenon has changed significantly without fans, perhaps suggesting that officials are just as prone to psychological impact from the home crowd – in their case a negative pressure – as the players are. Not needing to please an audience may lead to a better-called game come the postseason.
All of this is to say that a lot of these advantages seem to either go away without fans (psychological edge, officiating bias), won't be actionable (travel & accommodation), or are more geared to the game sheet designation of home and away than the geographical designation (long change, last change, faceoff rules).
That isn't, however, to say that there aren't short and long term advantages for Toronto (and Edmonton) to be the hosts here. The host teams will be able to "control" the amenities, so to speak, making sure that their players get to use the equipment that they're used to, roam the halls that they're used to, play on the ice that they're used to, get the meals that they're used to, so on and so forth. Some of that will get cancelled out quickly as teams acclimate, particularly the in-conference ones who have been in your rink before, but even if it just gets the snowball rolling, that can be a difference-maker.
Long term, and thinking more from a Toronto perspective, this is a great opportunity to pitch the experience of being in the Leafs organization to opponents. Deep down, I think that's the edge that MLSE is looking the most at while putting this together. The Maple Leafs are headed to a stage in their build where talent acquisition won't be done through pitching the highest salary, but by pitching the most rewarding experience; a strategy that won them the John Tavares sweepstakes two years ago yesterday despite the Islanders and Sharks pitching higher salaries.
A good way to plant the seed with players who might have a decision to make down the road is to treat them well in a situation like this Pandemic Tournament – make sure they're protected, make sure their family is taken care of, and make sure the bubble gives them everything they can muster up. The Exhibition Grounds bubble gives them a lot of flexibility to "tamper without tampering", with the vast majority of the complex being run by either the City of Toronto or MLSE themselves, including three MLSE-run sports facilities that will likely be made available to the players for training and leisure (BMO Field for Soccer & Football, Coca Cola Coliseum for hockey, and the OVO Athletic Centre for basketball).
At the end of the day, I still have serious doubts that this should all be happening, and at a personal level, I couldn't care less about Toronto being a Hub City; my only priority on that front is that the players don't cause another outbreak. But it's fascinating to think about what advantages the team may have, and which ones will be minimized either subconsciously or intentionally.