Today marks the seven-year anniversary of one of the single worst contracts ever given out in the history of hockey. On July 1st, 2013, the Toronto Maple Leafs brought Mimico native David Clarkson back to the city he calls home with a 7-year, $36,750,000 contract. It carried an annual average value of $5,250,000, had unprecedented protection against a buyout integrated into its bonus-vs-salary structure, and gave a forward with 170 career points at Age 29 an unprecedented amount of control over his destination.
It was an insane overpayment by a team desperate for a specific identity, and technically speaking, it should have ended today. For all intents and purposes, it probably has; the signing bonuses area ll paid, base salaries are based on a completed regular season, and to my knowledge, if Clarkson were to announce his retirement now, it wouldn't create much cause for concern from a salary cap perspective. Of course, the COVID-19 related pause to the NHL season has pushed this year's contract schedule back several months, meaning that the symbolism behind seeing that contract expire will have to wait.
Pretty funny, really, when you consider Dave Nonis' quote when asked about the signing. "I'm not worried about [year] six or seven right now," the then-GM of the Leafs said. "I'm worried about year one, and year one, I know we're going to have a very good player. I believe that he's got a lot of good years left in him."
In the end, Year 1 was a disaster from before it started – Clarkson was suspended for the first ten games of the year for leaving the bench in a pre-season brawl – and his production fell off a cliff from already middling results. By the middle of year two, he was traded for Nathan Horton, who's career was over but who's contract could be used as a salary cap loophole. Horton shared a similar contract signed on the same date for the same amount of time, and soon Clarkson's similar chronic back issues led him to an identical fate. Clarkson then became the LTIR contract who didn't play, "moving" to Vegas at the end of Year 4, and "returning" to Toronto at the beginning of Year 7.
Now we bear witness to this weird moment of hockey purgatory. Clarkson had zero valuable years out of seven, ended up with just 17 goals and 30 points in that stretch, and now, due to a completely unforeseen sequence of real-world events, enters "Year 8" – not according to the NHL schedule, but the calendar.
Honestly, It's a pretty fitting end to the whole saga, that he would come back, and that the world would keep him around for longer than expected. In a weird way, in fact, I kind of like it. Not the circumstances that led to the outcome, obviously – but the outcome itself.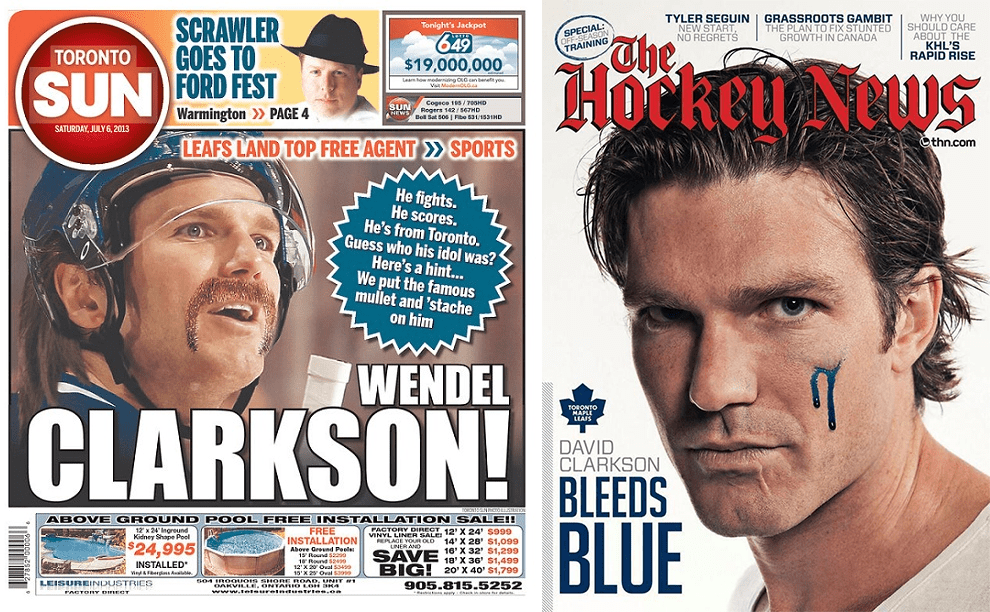 Again, it cannot be overstated how bad this contract was from day one. While the analytics movement was still far from mainstream in the summer of 2013 – in fact, probably at it's most polarizing within the context of the Toronto market at that point – most who were on board with the numbers were keen to the fact that Clarkson didn't seem like a wise bet. As my Managing Editor at The Leafs Nation at the time, and long-time-since Leafs R&D staffer Cam Charron put it at the time, Clarkson was a good hockey player with positive traits both tangible and not, but was likely to fall apart with age due to his style of play and the team was likely best served by taking a player they already had and evolving their playstyle.
Free agency is difficult like that, and it's important to remember the risks involved, especially when talking about physical players. Injuries beget injuries, as does age, and it's really not a good idea to give a long-term deal to any player on the open market who isn't a bonafide star. There is a difference between John Tavares two years ago, a superstar talent who has stayed healthy for most of his career, and Clarkson, a support player who was already showing signs of a degrading back while he was in New Jersey.
Philosophically, it was a massive miss by Leafs management, and in a weird, twisted way, that may have been to the team's long-term gain. Several years of a shift away from the skilled nucleus of Toronto's roster, who had inched the Leafs back towards success, had been thrown out the window in hopes of creating a poor man's version of the 2007 Anaheim Ducks – with all the character and intimidation but significantly less Hall of Fame talent. An unlikely, percentage-driven and half-season aided qualification for the 2013 playoffs gave the impression that the shift towards brawns was working, even when it lacked the talent to match, and losing their first-round series in dramatic fashion inexplicably led to the conclusion that they were still right, but needed to get even grittier.
Many decisions were made that offseason to double down on that image, including a six-day run in June that might be one of the most incompetent stretches a management team has ever had. On June 30th, the Leafs traded three draft picks to the Chicago Blackhawks to get David Bolland, who played 23 games for the team. They used a first-round pick to draft Frederik Gauthier, knowing his ceiling was likely on the third line, and while the Goat remains a cult-hero in Toronto, we can all acknowledge the fact that he has yet to clear 15 points in a season and will be shown the door the moment he makes a penny more than the league minimum. Four days later, they used a compliance buyout on Mikhail Grabovski (who managed to get an identical contract to the one he lost a year later), instead of John-Michael Liles (who had concussion issues while he signed his contract extension, and would go on to be traded for a worse player and contract in Tim Gleason). The next day, they re-signed Tyler Bozak for five years (which admittedly went better than skeptics expected, but still not as good as the team did), and Clarkson, while Clarke MacArthur, another piece of the "MGK" line that was being broken up in the plan to go from controlling the ice to controlling the hit count, went to a division rival for free.
A week before this six days of terror, the Leafs traded two prospects and a 2nd round pick for Jonathan Bernier – a perfectly fine goalie who was plenty serviceable for 2 of the next 3 years, but a curious choice given James Reimer's fantastic prior year, and the reasoning given of the new CEO liking Bernier's mental makeup.
Astonishing, really. But that was the state of the Leafs at the time, and the Clarkson deal was their crown jewel, to show that they could get the big fish – even if in one of the smallest ponds in years – and that they'd play the game their way. We all know what came next; the 2013/14 Leafs started strong, but being one of the worst defensive teams in NHL history was only going to overlap with wins for so long, and a crater that would last the next three seasons began.
There's perhaps a benefit to that, though – that a signing like Clarkson's was such an explosive exclamation point on disastrous direction, that it caused the reflection and re-imagination in the organization a lot faster than advertised. It's one thing to go back to losing after a fortunate season – it's another to do so in a way that shorts your available assets, costs you tens of millions of dollars in cash, and burns trust. Clarkson became the main symbol of a failed regime, in that regard.
Interestingly, though, the collateral damage wasn't much to the Leafs in the end. One disastrous season, a relatively decent half-season, and from that point on, the remaining five and a half years, be it via Horton or via bringing his contract back, were mostly just an accounting pain in the ass. You could almost argue that the deal worked out to their long-term benefit, as it became a warning sign when it was time to talk about extending Bolland (who went to Florida and was a similar disaster) or other players of his ilk. Clarkson's contract became both a warning shot and a roadblock to making another mistake in the middle of the lineup, that lasted until a front office that seems to be more cognizant about what tiers and traits you pay premiums for was in place to avoid a repeat without needing the reminder.
In a weird way, we can almost thank Clarkson for signing the deal, and maybe we should. Now 36 years old, Clarkson's name has become toxic in this city, but really, that's by no fault of his own. Clarkson really, really wanted to be a Leaf – the "tea leaves" in town suggested he was circling the signing date for years prior – and it's been reported on several occasions that the Edmonton Oilers offered him an even more ridiculous deal on that day, that he rejected to go home.
David Clarkson really did "bleed blue", and he really did want to live up to the idea of being a replica Wendel Clark. Perhaps that was why it didn't work out for him on an individual note on the ice – a lack of effort never appeared to be the problem, but rather that too much expectation was placed on him, and he felt an obligation to try to live up to it. To the bench incident to the countless near-missed shots to the tripping over himself while trying to bag skate to the next zone, it always felt like he was overwhelmed, rather than mailing it in.
In that sense, Clarkson taught me to start looking at contracts more from the perspective of management, rather than blaming the players. This was simply a guy who wanted to live out his dream, who was given too much of the pie for him to chew on his own. But he still tried his best to do so, and left when it was clear it wasn't going to work out, and while the team could still find a way out.
After that, the team appeared to learn their lessons, and moved forward to build one of the organizations best assemblies of talent in the modern era almost fast as they gutted their previous core, boosted further by pulling in "big fish" in free agency in consecutive years – something that Toronto had struggled with for years before that day in 2013. Clarkson proceeded to play 26 more games and score 2 more goals in his NHL career before his body gave up on him, as originally feared.
Now, he gets to retire as a Toronto Maple Leaf, and Year 8 is an inconsequential technicality. So let's let him have it, and, while never forgetting the incompetence of his bosses, raise our sticks to a player who came back to his hometown in hopes of changing the fabric of the organization, and in a very convoluted way, did just that.