The National Hockey League doesn't exist anymore. Hockey is a social construct, and our only reason for our continued survival is to map out proposals for playoff formats when the doctors give us the thumbs up for sports to resume again. Or something like that.
Look, it's been a long few months, where the actual game has been the least of our concerns. So forgive me for being a little stir-crazy about it. But over the past few weeks, we've started to get a pretty good read for what the NHL wants to do to get back on the ice. Chaining together reports – particularly from Sportsnet Insiders Elliotte Friedman and Chris Johnston, who have been great on this beat, it's safe to assume that we're going to see something along these lines:
Two or four, likely two, host cities, where players will congregate on an area that's been closed off as much as possible to the public.
A 24-team playoff format to allow for teams that are just out of the playoff picture (and also Montreal and Chicago) to get a chance at post-season glory
A first "play-in" round where seeds 5-12 in the conference play a Best-of-5 series for the rights to play in the first round
The 1-4 seeds in each conference will get some sort of exhibition-like, but also seedings-tied (?) action in so they don't come in cold
The playoffs push forward as a 16-team format from there
I'm not going to go into too much detail here, because I've given this rant a thousand times over the past few weeks, but my general opinion remains that the proposal is too open-ended and further dilutes the value of being the "better team" in the postseason. Hockey is already one of the most luck-driven sports out there, and a playoff series is already typically decided by which combination of a starting goalie and handful of shooters go hot for two weeks. We're a year removed from one of the best regular-season teams of all time getting swept in the first round, and three years removed from a team being an overtime goal away from winning the Eastern Conference with negative goal differentials in both the regular season and playoffs.
In other words: The sport is already a slightly weighted coin toss on the best day, and now we're opening up the luck spectrum even further, equally throwing months of success and failure by certain teams out the window to give all but the seven worst teams in the league a chance to win the Stanley Cup. The 5v12 play-in in the Eastern Conference has the Pittsburgh Penguins, who are 4 points out of the Metropolitan Division lead and 6 points out of 3rd overall, against the Montreal Canadians – who have played the most games in the NHL and are still 10 points back of the final playoff spot.
All the same, the league is in the business of making money, and as such, they see the value in having another 12-20 play-in games per conference, plus a handful more for the warmups of the top teams. This means somewhere in between 36-60 extra games will be created with a 24-team playoff, fulfilling whatever TV deal obligations need to be made while pulling in some side revenue and getting teams back into game shape.
That's well and good, but what if we could do something that's very similar on the surface, without punishing teams that had five better months, without stretching a fortune-driven sport even further into randomness, and without creating a format worthy of an asterisk?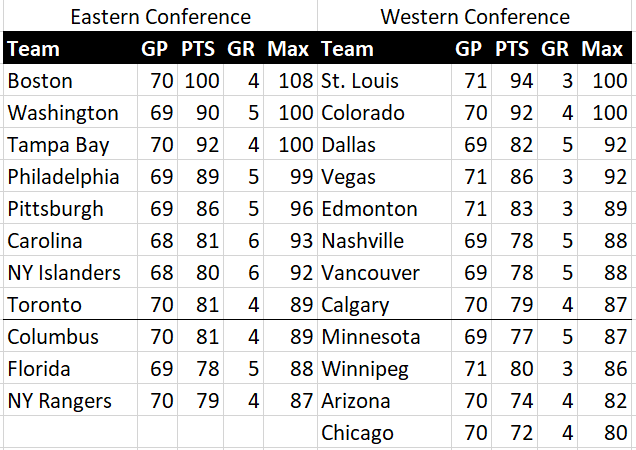 In my proposal, 23 teams play out a few more games in their regular season before we get the playoffs going, to get to a total of 74 apiece – which can be marketed as a nod to the schedule used for the first post-Original 6 season in 1967/68. The schedule for this would have to be re-generated by the league to be in-conference and weighted as evenly as possible. I don't have the modelling chops to generate one for them, but glancing at the total games remaining for each conference, it appears to be doable; there are 26 surplus games remaining in the East, and 24 in the West, for a total of exactly 50 remaining games to be played in the regular season. Assuming each conference host city can take in three games per day, the regular season can be finished in about 9 days at the fastest – though something closer to two weeks would likely be ideal so that the teams with 5 and 6 games aren't alternating between back-to-backs and single days off.
We use 23 teams, in this case, to only bring teams that are still within reach of the minimum points required to finish 8th in their conference (currently 81 in the East, 80 in the West). This pulls Montreal out of the equation (sorry!) but includes everyone else as they try to make one last push to earn their playoff spots.
This gives the teams that are hanging by a thread a chance, but closer to the teens and 20's in terms of percentages rather than the 40% that you have to spot any NHL team in any given playoff series. It gives teams like Pittsburgh some additional security that they've earned by being a better team throughout the course of the season. It gives us definitive seeds to use when everyone gets to their magic number, and it creates a nice, round, marketable number of pre-Round 1 games to play that's right in the middle of the variable number that the play-in creates.
In other words: It gives most of the teams the opportunity that they've earned thus far. It includes a near-identical amount of teams and games with a lot less confusion and a much lower risk of freak upsets and asterisks. It makes all the sense in the world – which is why it probably won't happen. But a blogger can dream, right?