Just because we don't have hockey to watch, doesn't mean we don't have hockey-related things to debate about. News, transactions, and the like still exist, though admittedly they're sporadic and scarce. This has led to various platforms coming up with throwback content, and one of the most interesting variants of that is TSN's "All-Time 7" series, where their panel of experts goes over the history of all seven Canadian NHL teams and attempts to derive an All-Time roster for them.
The approach that TSN has taken is interesting, though, in the sense that they're actively pursuing "imperfect" lists, by creating caveat rules. The criteria that they've chosen to go with is as follows:
Team: two goalies, six defencemen, 12 forwards and one foundational player
Members must have played at least 225 games with the team
At least one member of the all-time team must be from the 2019-20 team
Players are slotted in positions they played with the team
One line must be comprised of defensive standouts, aka a checking line
One pair must be comprised of suffocating defenders, aka a shutdown pair
Lines and pairs are put together because they fit together, not because they are necessarily the first, second and third best at their positions
Foundational players are defined as players part of the fabric – the DNA – of a franchise
Last cuts by position are exactly as advertised, the players who just missed selection to the all-time team
These rules come into place to try to mitigate small-sample bias, stacking of overloaded forward positions, and, quite frankly, not just outputting a raw list of players who can't be argued. It's designed to be unique and to create conversation.
Now, that doesn't mean it's a great ruleset. For me, there are a few of these stipulations that I disagree with. For example, the "must be from the 2019-20 team" rule appears to cause more trouble than benefit. Six of the seven teams have at least one current player that makes the list on merit – the rule didn't do much besides knocking Patrick Roy off the Canadiens' roster in favour of Carey Price, which even the biggest fan of Price's can agree is absurd.
I'm also not big on the "checking line" and "shutdown pair" stipulations, as they allow wiggle room for players who are steep downgrades from the first three lines and first two pairs to make the teams. Thankfully, this hasn't caused a huge problem, as a lot of teams have sufficient two-way weapons to create high-quality bottom groups. I would probably push the boundaries on this more, and lean "scorers with a dash of defence" over "defence in the absence of offence", but this isn't as bad.
With all of that out of the way, the list that I can speak the most to came out today, and that's the Toronto Maple Leafs. Toronto is a very interesting team in the sense that they have one position that's overflowing, one that's got just enough talent to be inarguable, and then four others that are a bloodbath entirely because the lack of high-end depth doesn't really match up with 100 years of history and 11 Stanley Cups. TSN's list looks like this: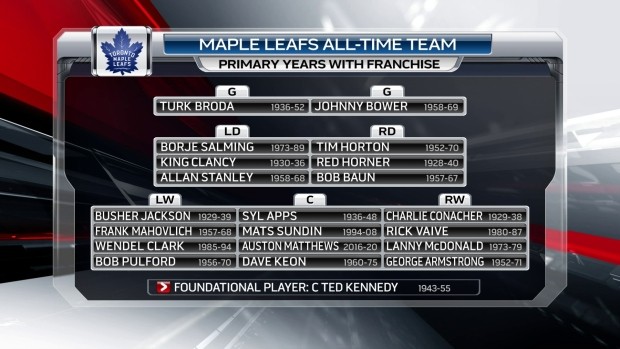 You can read TSN's full explanation and layout of their thought process here. After being given the heads up from Bob McKenzie that this was going to be a very interesting roster, I made my own over the course of the weekend to compare to the final one. Doing this early was important to me in the sense that it meant that I wouldn't be "anchored" into players by the TSN list, nor would I be able to nitpick if it turned out that we were close or identical.
In the end, we agreed on 8 of 12 forwards, 2 of 6 defencemen, and both goalies. Not bad! I'm not surprised that the spread of difference broke down this way either, given my more counter-attack driven approach to defensive play. But rather than just leave it at a number, let's actually compare notes.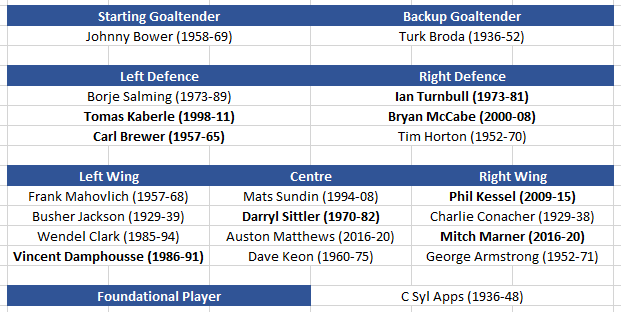 Left Wing: Vincent Damphousse in for Bob Pulford
Let's start off with a tricky one. Most remember Damphousse as a member of teams that were very much not the Maple Leafs. I was a fan of his as a kid, but knew him mostly as a Shark, a little bit as a Hab, but given that the Leafs traded him when I was in my mother's womb, I can't say that I have memories of him playing for the Leafs. He played just five of his eighteen seasons here, so he's not difficult to dismiss. He is also mostly remembered as a centre, as that's where he drew in once he left Toronto, but he spent a significant amount of his time with the Leafs on the wing.
Frankly, I wouldn't blame you if you had him off your list either, but Toronto is pretty weak on the left side. How weak are they? Well, the amount of consideration I gave James van Riemsdyk and Zach Hyman were both more than 0%, and as good as those two are respectively, that's not something you expect to say about a team that's been around for a century.
Pulford isn't a bad pick, particularly when you consider the push for "fit" and the fact that he would have played with Keon and Armstrong (who both TSN and I had as the other 2/3 of the checking line). There's no second-guessing whether it would work – it did. As well, Damphousse was an exemplary offensive player in Toronto, but wasn't quite known for his two-way game at that stage of his career.
With that said, he wasn't lost in his own end and did develop into a guy who got Selke votes in Montreal. The fact that he developed into a strong two-way centre makes you think that he could have done the same in his early Prime in Toronto, with the right focus. There appears to be an offensive benefit in going with him, and I imagine playing with Keon and Armstrong instead of on the late 80's Leafs would be a better environment for playing in his own end.
This is very much a "personal preference" pick – I don't think going with Pulford is a mistake, just not my personal choice.
Centre: Darryl Sittler in for Syl Apps
This is the position where you're going to have the most arguments, and that's because there are so many players to work with here. Put it to you this way: Toronto's "B" team at centre would likely include Syl Apps, Teeder Kennedy, Doug Gilmour, and John Tavares. Contrasting that to the wings and defensive corps is incredible – you've got about eight guys here that can be boiled down to preference in some way, shape, or form.
Like the Pulford pick, I can understand the idea of going for fit here, though Apps only played with Jackson (a worthy left-wing choice), and Conacher (for my money, the incumbent Greatest Leaf of All Time) for two seasons. This leaves me a little more open to picking the player who had the best career as a Leaf out of the remaining five. Gilmour had a crazy peak, and Tavares is off to a historically good start, and Kennedy had his share of amazing moments for the team (and, given the players who were on TSN's roster, was their logical pick for a foundational player).
Sittler gets my nod because he combines a dominant peak (Hart votes in six of seven years between 1974 and 1980), with a strong overall body of work (second in all-time scoring for the team, only surpassed by Sundin since), and an unforgettable moment that lives in even current fans' minds (the 10 point game). He's got a resume that covers all the bases to some degree minus a championship – and given the era he played in, both in terms of team management and opponent dominance, it's hard to blame him for that.
There is some debate about Auston Matthews being on the list. TSN put him on as their current player representative. I have multiple current players, so for me, it's truly about the upside here: Matthews is the most dominant player Toronto has had, arguably, since Conacher – putting up goal totals that are among the best in NHL history for his age, and currently projects to rip apart the record books if he stays a Leaf for the majority of his career.
Right Wing: Phil Kessel and Mitch Marner in for Rick Vaive and Lanny McDonald
One of these will anger many, and one of these will confuse many. Let's kick off with the confuse: This site has been host to some skepticism as to what Mitch Marner's upside and value is over the past year or two, which many have correlated with a dislike for the player. Heck, I just wrote an article exploring trading him yesterday.
That has more to do with how he is talked about and the price tag he set for himself in contract negotiations, more than it does to do with concerns about his actual talent level. Hockey has evolved a lot in even the past couple of decades, and "building the best team" doesn't necessarily mean "get the 20 best players you can" anymore. I also don't think he's the second coming of Wayne Gretzky. I do, however, think he is an absolute superstar, one of the most dynamic players the Leafs have had in my lifetime, and I firmly believe that, should he remain a Leaf for the long haul, that he will take a serious run at being the best winger the team has ever had.
I mean, it's pretty hard to argue against a guy who paces for 90 points in back to back seasons, has decent enough possession numbers, has an ability to kill penalties, and has elite tools, right? He's already put up some of the best seasons we've seen from a winger; his biggest weakness here is a small sample, which is where I can see someone wanting to put McDonald on the roster instead – particularly if you're lining him up with Sittler for "fit", though TSN's list doesn't do that.
Kessel is the lightning rod here, as he was an immensely polarizing player in Toronto. I don't think that's in any way fair to him – the Leafs were, quite frankly, terrible and poorly built for almost the entirety of his time here, his shows of frustration were mostly manufactured by the media, and when he did seem legitimately peeved, he was right – and that was usually in defence of his teammates.

He also was really, really good as a Leaf. Like, we forget just how good. He scored 25+ goals in every full season he played in Toronto, still scored 20 in the 48-game lockout season, and developed a talent for playmaking as things progressed. Had the lockout season been full, he was on pace for three consecutive 80+ point seasons – and that's with the same wingers that even Marner was capped in the 60ish point range with. In his time in Toronto, he was 5th in the NHL in goals, 16th in points, and 19th in Point Shares. He also didn't miss a single game from his Leafs Debut to his final appearance. He deserves way more respect than he gets.
Vaive is my "thanks, but no thanks" on this list. He was a quality NHL player, and is best remembered for having three-consecutive 50 goal seasons in Toronto, including a 54-goal year that currently stands as the team's single-season record, tied with Dave Andreychuk in 1993/94. But his peak output came in the highest-scoring era in NHL history – none of those three seasons peaked higher than 5th in NHL scoring. A high bar here, but when he was averaging 52 goals for a three-year span, the league leader (some guy named Wayne) averaged 83.
Hockey-Reference's era adjustment tool puts Vaive's three-year run at 39, 41, and 41 goals in neutral years. By comparison, John Tavares' 2019/20 output of 47 goals adjusts to 48, and Auston Matthews' pace this year (55, which would break the record) adjusts to 58. Kessel's best three year run in Toronto gives him 2 more adjusted goals and 74 (!!) more assists. You have to go with Phil – the teams he played might have sucked, but the same goes for the player he's knocking out. Marner for McDonald I'll leave to you – though I stress that if you defer to Lanny now, you probably won't in a year or two.
Left Defence: Tomas Kaberle and Carl Brewer in for King Clancy and Allan Stanley
Again – we were never going to agree on defence. Very few people will probably agree with me on defence in general, but especially people looking to factor as much as possible for history, and for the old-school style of play. The reasons for selection just become so subjective if you're looking solely at the defensive side of the game – you can look to points for offence, but without data and really without much video, you're relying on second-hand stories, distant memories, and maybe wins, Plus/Minus, penalty minutes, and if you're trusting of the opinions of the time, Norris Voting.
I tend to lean towards the tangible, particularly because I think being a defensive specialist is a historically overrated role the game – like the Kent Wilson blocking shots adage goes, I'm delighted when someone kills a rat but worried when I see that their time is largely spent on extermination. I'm looking for players who push the puck up the ice and eliminate goals against by eliminating defensive zone time – something you can also find via some of the above information but can also lean a little more into production with.
So, different playstyles, different tools. I'm also of the opinion that the game has significantly changed, and that pre-Bobby Orr defencemen need to have shown steep levels of dominance to really make it into an all-time conversation, akin to pre-Patrick Roy goaltenders having to do the same.
Even if I wasn't all of the above, though, I'm still a little perplexed by Tomas Kaberle not making the list. I don't think there's an argument for him that puts him any lower than the third-best defenceman in Leafs history. Let's take a look at the Leafs resume:
3rd all-time, Point Shares (2nd offensive, 6th defensive)
2nd all-time, points (4th goals, 2nd assists)
2nd all-time, era-adjusted points (4th goals, 2nd assists)
3rd all-time, points-per-game (14th goals, 3rd assists)
3rd all-time, games played
Kaberle had a 5-year run where he received Norris votes in 4 of the 5 seasons, despite a more "aggressive" perception to what the average defenceman should be, and despite him getting Lady Byng votes in 2 of those years. In the time he was a Leaf, he ranked 11th in the NHL in point shares, 4th in points, and played the 6th-most minutes of any defencemen in the NHL. He was Toronto's offensive sparkplug, and also one of their defensive crutches. A list without him is an incomplete one, and he replaces King Clancy – who is known in hockey lore as the first "big money" acquisition by Conn Smythe in 1930 ($35,000 and two players were his price – chump change today, but gigantic then). Clancy was great for his era, but the position has changed so much, and he didn't have the longevity with the team, at least on the ice, to supplant Kaberle's efforts.
Choosing between Stanley and Brewer is a little bit more difficult. Both were fantastic defencemen for Toronto in an era where they had a lot of success and played together. Stanley's Hall of Fame induction makes a good case for giving him the tiebreaker, but that also includes half of his career played outside of Toronto, including his athletic prime. Brewer played his prime in Toronto and got Norris votes in more seasons. Point Shares are reasonably close as well, as is their production. I leaned towards Brewer in the end but can respect either choice. Also, I'll never say no to including more Timmins-born players, as the son of a Timmins-born father.
Right Defence: Ian Turnbull and Bryan McCabe in for Red Horner and Bobby Baun
The biggest thing for me when building my defence was finding the three anchors in Leafs history to give a pair to, followed by finding each of them a complementary partner for the sake of "fit", as the second tier of talent is a bit more subjective than the first. For me, those three players were Borje Salming, Tomas Kaberle, and Tim Horton. Loaded up and put Salming and Horton together, which isn't a bad strategy either, but I saved Horton for my shutdown pair and decided that my Top 4 would be a little more wild-west.
As described above, Brewer becomes Horton's partner, since the two of them are the same era of the team. I would imagine that era played a big part in the selection of Horner and Baun, who were best known as defensive specialists. As you can imagine, I'm a little hesitant to use one-dimensionally defensive players on my non-shutdown pairs, particularly because I don't think that "compliments" and "balance" are necessarily the same thing. Sometimes, you want to double down on a strength rather than diluting it – mixing similar colours together for the perfect shade rather than a yin-yang approach.
https://www.youtube.com/watch?v=0bK2ck1wKD0
Thankfully, Salming and Kaberle regularly played with two of the best offensive defencemen in team history, which makes the "fit" part very easy. Salming gets Ian Turnbull, who played 9 years in Toronto and put up pretty insane offensive numbers, including five seasons in the 55-80 point range in a span of six years between 1976 and 1981. He was Toronto's first crack at a post-Orr offensive defenceman, and he was electrifying – hitting his absolute peak with the most goals in a single game for a defenceman in 1977.
McCabe is a funny one for me, of all people, to bring up – given that my first fifteen minutes of fame as a teenager involved creating a website to explain how bad he was. The truth is, 15-year-old me was wrong – something I outlined in an article where I debunked myself and interviewed him in 2014. McCabe was one of the league's most productive defencemen in his time in Toronto, received his share of Norris love, and at the start of the Real-Time Statistics era, we didn't quite know for sure what stats like giveaways, takeaways, blocked shots and the like all really meant. He ranks in the conversation among the great Leafs defencemen in many key statistics, and he was the favourite partner of an automatic inclusion on this list, so that puts him in for me.