Within NHL circles, the buzz around the Entry Draft has hit its high gear a little early this year. Or a little late in some respects, depending on how you look at it. The postponement of the season due to the COVID-19 epidemic has pushed back the Draft Lottery, which would have typically happened 2-3 weeks ago, but several reports indicate that the Entry Draft might be the first league event that makes its return.
This, combined with the expectation of a revised lottery format that essentially guarantees a Top 2 pick to the Detroit Red Wings, and two Top 4 picks to the Ottawa Senators, has lit many conversational fires. Within that comes an explosion of talk about the players presumed to be at the top of the rankings, especially on social media, where Sudbury Wolves forward and presumptive second overall pick Quinton Byfield was briefly a Twitter trending topic in Canada. Within that, came a very fun question, that we'll try to answer here.
Marner for Byfield who says no.

— Quinn (@KwnStorm) May 2, 2020
It's a crazy-sounding thought exercise, given the Toronto Maple Leafs' aspirations to be contenders at this stage in their build. Marner has established himself as a high-end NHL star, so to trade him for an unknown is a tall order. Let's evaluate the two sides of the coin.
The Argument Against The Trade
Given that Marner does not appear to actually be on the trade market in any way, and he is the boat to Byfield's mystery box, I think it's only fair to make the argument against the trade first.
The primary argument here is pretty simple, and it's that Mitch Marner is really, really good at hockey. This is a thing that I feel like I specifically have to stress, given that most of the posts I've written about him on this website involve concerns about his contract negotiations last summer, and now we're talking about trading him for a rookie.
This is more of a product of circumstance more than anything; previous writing venues have seen me speak more to Marner's extremely high-end talent because, at the time, that was put into question. Last year, the climate was much different, and rather than a lack of confidence in the player's abilities, there was too much confidence in the player's abilities.
Trying to figure out the climate on Marner at this second is difficult; many fans feel burned by last year's negotiations, while some forgave quickly. It's hard to blame either side; Marner's comparables all took much more team-friendly deals, but he once again put up the volume of production that you'd hope for from a player like him, tallying 67 points in 59 games before the season paused, which paces to only a one-point drop over the season prior.
Since debuting in 2016/17, Marner has put up the 21st-highest points-per-game total in the NHL – ninth among full-time wingers. Focusing on the last two seasons, Marner climbs to 12th on the list, and 6th among full-time wingers, behind only Nikita Kucherov, David Pastrnak, Patrick Kane, Brad Marchand, and Artemi Panarin. Hockey-Reference ranks him as 30th in point shares over the past two years, and Evolving-Hockey ranks him 23rd in Goals/Wins/Standing Points above Replacement in that time.
There's no denying at this point that Marner is one of the best wingers in the NHL, particularly if you're looking for point production, and especially if you're looking for players who can be directly involved in scoring plays. While the arguments about where exactly he ranks in Toronto's "big four" forward core remain one of the most obnoxious and least fun things about following this team, there is no denying that the team is better with him than without him and that a player like him would be very difficult to replace.
Even with Marner's contract ultimately coming in at a decent chunk above market value (my "fair offer" to him in my salary projection article was about $1.8 million per year under what he actually got), his overpayment is not in the realm where I'd consider his presence a detriment. I'm a big believer in a development-heavy "Stars and Scrubs" model; in a game that is heavily driven on uncontrollable fortune, you want players who have the talent to break the mean, and can play big minutes when they're hot.
Throughout hockey's history, the key to winning in the playoffs has routinely been "good goaltending and a few hot sticks", with the underlying process being beneficial but not game-breaking. It's unfair and makes it so the best team doesn't necessarily win in the postseason, but adds to the excitement level, and the best way to combat against that is to have players who can push back on the odds. Marner absolutely does that, and an extra $1.8 million on him is a lot better than paying $5 million for a $3 million player, which is a much more common method of cap mismanagement that Toronto will appear to be clear of at the end of this summer. Like the rest of Toronto's stars (Auston Matthews, John Tavares, and William Nylander), you would have hoped for more team-friendly deals given that other stars have conceded money for their teams, but you'd happily, unregretfully give those contracts up to sign the players in the open market.
This all goes to say that, with all the frustrations about contracts and people incorrectly thinking that he's the second coming of Wayne Gretzky, Mitch Marner is the type of player that you'd like to keep on your contending roster if you're pursuing a championship. There is no reason to want to trade him at this time. The offer would have to knock your socks off, and convince you that it gives you a better chance of winning. To me, exploring a Marner trade is not a case where you identify that you want to move him, and then negotiate the price, but rather one where the incoming pieces are established and he happens to be the price. You move him for a specific improvement, not just to move him, and it would be colossally dumb to say otherwise.
Some would argue that Byfield isn't established enough to be a fitting incoming piece. Ultimately, he hasn't played a single NHL game, and with that in mind, it's hard to give too much certainty on what he is. High-end prospects are great to have in your system, but they aren't sure things. Marner, on the other hand, has given you back to back 90-point-pace seasons, which might not mean as much as it did five years ago, but is still the mark of a superstar winger. It's a hell of a sure thing for a contending team to give up.
The Argument For The Trade
(Kevin "CambieKev" Wong is a great, underlooked Twitter Follow and Youtube Subscription)
With that said, I'm pretty confident about Quinton Byfield. I think he has all the makings of a player who can be just as good, if not better than Marner – a tall task, but one that there's encouraging evidence for.
One great thing for this comparison is how similar their development paths have been leading into their draft years. Both players are suburban GTA products; Byfield from Newmarket, Marner from Markham. Both played their minor hockey in the GTA – Marner getting his early touches in the GTHL with the Vaughan Kings and Don Mills Flyers, Byfield getting his in the ETAHL with the York-Simcoe Express. Both were Affiliate Player call ups in the OJHL in their Minor Midget seasons (similar to ATO players in the AHL), though Marner's look with St. Michaels involved being a semi-regular in a championship playoff run while Byfield played just one game for Newmarket in his AP call-up. Both were drafted into the OHL and played right away; fittingly, Byfield once again went Northbound to Sudbury, while Marner went southbound to London.
Combine this with the fact that they're only five years apart, we can compare the two pretty directly. So let's do that.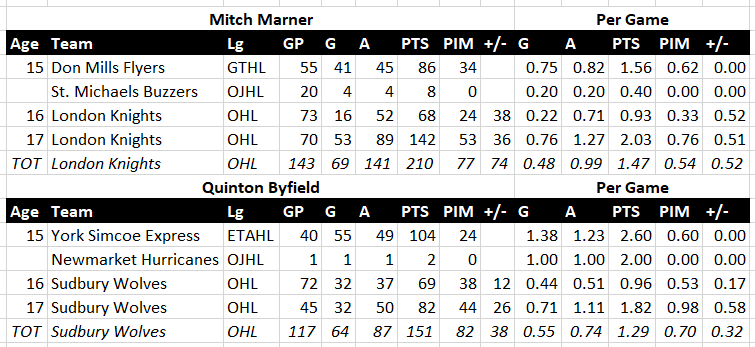 Byfield's Minor Midget numbers are significantly better than Marner's, though the ETAHL is a weaker league than the GTHL is, making it easier for stars to feast. CJ Turtoro just released a great new Network-Based NHL equivalency model two days ago, and his results suggested that an ETAHL point is worth roughly 70% of a GTHL point at the Minor Midget level. Balancing this out brings Byfield's "GTHLe" to about 1.82 points per game – which still exceeds Marner by about 17%.
I wonder a little bit about usage context there, given that Byfield has had an adult build since his early teens, and Marner was a late bloomer in terms of physical stature. All the same, Marner led the Flyers in points by nearly double, so it would be safe to assume that he was getting all the minutes and opportunities that a player of his build normally wouldn't. Therefore, I'm giving Byfield the edge here overall.
The AP call-ups are extremely difficult to compare given the sample sizes and the contexts of them, to the point where I'm presenting them but largely throwing them out the window. Byfield only played a single mid-season game for Newmarket, though it's very impressive that a Minor Midget player would pick up points on 2 of Newmarket's 3 goals in a game on the younger side of 15 years old. Marner's call-up was much more significant, involving six regular-season games, 14 playoff games, and 3 provincial championship games on a contending team that historically doesn't look to Minor Midget for APs.
Moving to the OHL is where this gets really interesting. Byfield has a slightly better rookie season, while Marner has the better draft year. Each has benefits going their way. Again, the 6'4 Byfield didn't have as much to worry about physically, though the leap in talent level was probably more jarring to him than it would be for Marner, who had to play above his weight class for most of his youth. Marner benefits in his draft year from playing with a deeper roster, seeing lots of time with players like Max Domi, Christian Dvorak, and Victor Mete, who are all regular NHLers. Byfield's support system, on the other hand, consists of over-agers who are have gone undrafted or been drafted very late.
A great example of that gap in support comes within their rookie seasons. Marner's 0.93 pt/game effort ranked him 6th on the Knights in scoring, behind Domi, Chris Tierney, Bo Horvat, and the Rupert twins, and was ultimately 34 points from the top. Byfield's 0.96 pt/game effort, on the other hand, led the Wolves in scoring by 7 points.
You can also look at the leads they've established in their sophomore/draft seasons to control for support. Marner scored 16% more than the second-highest point-getter on the Knights in his second year, while Byfield's lead is by 12%. Interesting, though, is that Marner played in 93% of London's games, to Byfield's 71% of Sudbury's.
One other control you can do here is to look at their total contribution to their team's offence over the two-year span. Accounting for games missed, Marner contributed to about 32% of London's goals when available, while Byfield projected to about 33% of Sudbury's.
What we essentially get at here is that, from a productivity standpoint, Byfield matches up well with Marner's minor and junior career arc and even comes out slightly more impressive in a few areas. He has an advantage in size but a disadvantage in support and age – both land in the "young" half for draft age, but as a late August birthday Byfield will be one of the youngest players in the entire draft this year. These numbers were the same ones that many of us used to project Marner's superstar upside with reasonably strong confidence – the fact that Byfield can go toe-to-toe with him bodes very well for his odds.
The bust concern is the next one on the list. I don't think that it's unfair, though I will note that we do a pretty good job at evaluating the highest-end players in the draft these days. It's less of a crapshoot than it's ever been, and that's especially true when it comes to forwards. Data informs the scouting process more than ever, and as it turns out, putting the puck in the net is pretty transferable, which had led to fewer crashes and burns when picking high-end forwards. The only definitive "misses" we've seen for forwards in the Top 5 in the 2010s are Nail Yakupov and Michael Dal Colle; the former coming with concerns about foot speed and compete level even before draft day, and the latter being a last-second riser due to a big playoff run in his draft year. Even players who looked like they were going to stumble at first have found new life after changes of scenery, such as Dylan Strome and Nino Niederreiter.
Forwards who have been pegged to be can't-miss at an early age, something Byfield has to his credit, have by and large lived up to their expectations as well – even the ones who started slow. Sean Couturier fell from a sure-fire 1st overall pick to 7th in his draft year and has since grown into one of the best two-way talents in the league. Nathan MacKinnon initially looked like 1st was maybe a little high for him, and is now a Top-5 player on the planet. Not to appeal too hard to authority here, but when evaluating risk, a player who was identified early for their qualitative exceptionalism and matched it up with quantitative dominance in their youth career is probably a little more than a mystery box.
There is a pretty safe bet here that Byfield is going to be a superstar forward in this league, and his style of play matches up with the sort of developmental DNA that Toronto has applied to their program. He's not a physical initiator, which has let people down given his build, but he isn't scared of the boards or clustered areas and he is intelligent in terms of protecting the puck. He's got great speed for his build, and has a level of hockey IQ that puts him in scoring position frequently and helps maintain puck possession. He's not afraid to shoot and he has great reach. These are all elements that we've seen in one or both of Auston Matthews and John Tavares respectively, which makes a player like him feel a bit redundant, but they're also the types of elements that you wouldn't mind all 12 of your forwards having if you could.
Toronto believes in this enough that they've made repeated efforts to develop their lower-end, larger forward prospects to build their IQ and skating ability, in order to make them more likely to be professional successes. Byfield would be tantalizing in the sense that he already has all of the tools and traits that they would want, and the focus would be on developing his strength and intensity, which aren't easy to do, but are less difficult than teaching someone like him to be as smooth with the puck.
This all sounds great but misses the inescapable point that, while can reasonably expect good odds that Byfield becomes as good or perhaps even better than Marner, you're still punting backwards to an extent. Marner is, after all, five years older and has had an extra OHL season and four NHL seasons to develop.
The good news there is that I don't think we're truly talking about a five-year gap in development time here. Especially now that we know that most superstars hit their primes in that 22-25 range, it's likely that you can rush the clock a bit on impact players like these two. The Leafs didn't rush the clock on Marner, however – they sent him back to avoid putting him through what was expected to be a tank year, and he was largely used as a sheltered minute, low-defensive responsibility forward for his first two NHL seasons, for better or worse. To me, it's likely that Marner could have been used in the NHL sooner if Toronto wanted to do so, and that he could've been used for higher leverage minutes sooner as well.
With the team in a better position now, it's likely that Byfield would come straight into the NHL, and probably get some reps on the wing to start off, with either Tavares or Matthews to both keep the top two lines as multi-threatening and give him someone to learn from. I wouldn't be shocked if we were talking much closer to 1-2 years to close the gap here, rather than 4-5; and this likely still applies with most other organizations. Toronto took it slow with Marner and that made sense at the time, but it wasn't a typical situation.
For that year or two, the gap would be tough to swallow, but where this is made back up is in the roster flexibility it provides. One would safely assume that Byfield would get a maximum entry-level contract for a North American, which comes in at a base AAV of $925,000, that could go up to $3,775,000 with Schedule A and B bonuses. This gives the Leafs a minimum of $7,118,000 in cap benefit for the next three seasons, with a maximum of $9,968,000 in annual benefit in the unlikely event that he is a complete dud in his entry-level deal. Realistically, it's safe to bet on it being near or at that minimum number.
That's a lot of money to work with, especially if Byfield is a star forward out of the gate as expected. It's enough to make you an Alex Kerfoot or Andreas Johnsson trade away from being able to go big game hunting to get Alex Pietrangelo, who is locally developed, and expected to be leaving St. Louis to test the market. Or maybe you cover your bases on the wing and see what Taylor Hall is looking for. Or you look at the second rung of talents, such as keeping Tyson Barrie, or taking a run at someone like Torey Krug, Sami Vatanen, Justin Schultz, TJ Brodie or Chris Tanev; defensive additions who should leave you with some surplus to spare, or bolster the bottom half of the forward lineup with someone like Mikael Granlund. Maybe you save it to make sure that you can retain all of Zach Hyman, Morgan Rielly, and Frederik Andersen instead of having to play FMK with them or move even more salary out to keep them all?
Free agency is a risky game, and I wouldn't want to give much term to the players that are on the second and third tiers of it, but the underlying point here is that there are many, many routes to flipping that surplus cap space into something that exceeds the short-term gap in talent that we'd expect to see between Byfield now and what the Leafs currently get out of Marner – particularly if they can parlay it into a big game hunt.
You also have to imagine that, if this is the sequence of events that leads to the acquisition of a talent like Byfield, you're likely going to have better luck with his second contract than you did with Marner's. There are lessons learned in controlling the message, and it's unlikely that on a team where John Tavares is the captain and Auston Matthews is shaping up to be a perennial Rocket threat and potentially even an Art Ross & Hart Threat, that Byfield will be able to steal the show to the outside world – external pressures and message-shaping were Toronto's biggest failures in negotiating with Marner, as they allowed for his camp to spend multiple years setting media and fan bars that escaped common sense. One would hope that Kyle Dubas and company have learned from that, and would be able to get a more team-friendly deal three years down the line with their new prodigy; especially when the most "overpaid" of the prodigies would be shipped out less than a year after explicitly chasing the payday (which, as said before, is 100% fair and his choice – but it is the choice he made).
So Do You Do It?
First and foremost – this trade isn't going to happen. Let's make that part perfectly clear – this isn't a legitimate rumour, but rather a spitball on Twitter that I've decided to morph into a thought exercise. I don't think Toronto is in a rush to trade Marner, and I don't think whoever gets Byfield will be in a rush to trade him. The presumptive teams don't really do many favours in this scenario either.
I feel like the Senators would philosophically prefer to develop their answer to the Leafs, though having a Leaf-killer come from the inside is a fun timeline. More importantly, they're an internal budget team that's not pulling in revenue in a pandemic, and I can't imagine that $15 million US signing bonus that Marner gets on Day 1 of Year 2 of his contract is going to be intriguing to them; they could always wait until after that, but then risk seeing "Drafted By Ottawa" on the byline of a Toronto superstar's info sheet – and given what we know about those in charge over there, I feel like they wouldn't be too thrilled with that optically.
As for Detroit, they're in no rush to accelerate the development cycle, meaning that Byfield being behind Marner in the process is something they'd prefer, not discourage. That's if they're even interested in Byfield at all – there's a fair bit of gossip that they're intrigued by the idea of picking Tim Stutzle instead if they don't end up with the 1st overall pick (in which case, everyone is taking Alexis Lafreniere, who looks to be even better than Byfield).
What this is, more than anything, is a thought exercise to address what we know about player development, scouting, and roster management. This isn't as simple as "which one is going to be better" – there are layers at play, and I hope that you've enjoyed exploring them with me. Given that you've survived 3600 words at this point, I assume you did, and I thank you for your patience.
All said, gun to my head, in a world where this trade is actually offered to me, I probably do it. It's not one I'd do lightly, even with Marner's contract not being optimal for the roster build, and even with high confidence in what Byfield will be. You have to spend a lot of time weighing whether the potential upside exceeds the potential downside. I ultimately think it does, and that we're talking about an equally special if not more special player coming in within this scenario, and that the surplus in cap space can be very beneficial in this window of opportunity. But I also wouldn't fault anyone who would say no.