The temperature in Leafs Nation is at an all-time high. Now, I haven't been here for all 103 years, obviously, but I firmly believe this to be true. Given how social media and the internet have amplified and accelerated every conversation and allowed us to turn water coolers into global echo chambers, the recent years have an inherent advantage, and in recent years, nothing has topped this in a general sense.
Sure, there have been pockets following certain moments; playoff defeats, big transactions, that time we got really upset about not being saluted to, but never have I seen regular-season games come with this much emotional charge. Every weekday matchup carries the weight of a Game 7, wins come not with joy but with relief, and the reaction after losses has become toxic.
So when Toronto came out flat against Pittsburgh earlier this week, things exploded, among fans and media. #FireDubas was the top trending topic in Canada on Twitter. Frederik Andersen had lost his proverbial starting job. Martin Marincin had been cancelled for the 3650th consecutive day. People were talking running not one, not two, but any combination of the big four out of town to get players who actually know how to win. Michael Hutchinson was trending despite not even being on the roster any more, for some reason.
It was an ugly night for the fanbase. It was a very, very hot-takey couple of days from the media, picking at everything from music during practice, word choices in scrums, and most above all, whether this team fundamentally knows how to play the "right" way, whether it was constructed the "right" way, and whether it was made up of the "right" people.
It's the same referendum that at a person has to go to create evolution in their industry, be it hockey or elsewhere. They want to do something new, someone yells "why change it if this already works", they say this new thing might be even better, and people scream at each under until the new thing takes eventually takes hold, at which point it becomes the old thing and flips the tables on the next person.
It's a much slower process than that, obviously. The idea needs to get fleshed out. It needs a couple of drafts before it gets its first test, usually in a smaller environment. It needs to climb up the ladder and be asked the same questions from different people, getting adjusted along the way. Typically, it needs to battle through the same natural adversity that every other idea has, but with a bigger microscope attached due to its uniqueness. It needs some success, and then it needs adoption.
It's going to get put under a lot of rigours. In a world where autonomy is constantly dwindling, your opposition and questioning might sit next to you in the boardroom, leaving you a ladder within another ladder to scale. It's going to blemish you really, really hard if you're wrong, or even if your environment never lets you find out "fairly" if you're right.
But what drives these ideas to their fruition isn't immediate support. Immediate, unanimous, unconditional support never happens in this life – if you have it, you just haven't pitched your idea to enough people. It's stepping up to the podium when someone questions you and asking yourself – do you believe in this thing or not?
I think that's the question that every individual in this market, from the fan at the watercooler to the AM radio show hosts to the people who are part of the process, should ask themselves before they start talking about making big changes that go against the process that has been worked towards over the past six years, and finally put into full motion over the past few months.
Do you believe in Stars and Scrubs?
This term mostly exists in fantasy sports, but it's a strategy that has been in regular sports for years – teams just don't always realize that they're doing it as they're doing it. The Leafs have made it pretty clear that they're aware of it, with so much of the cap being devoted to their top forwards (Matthews, Marner, Nylander, Tavares). It's not new to the game by any means, though – devoting a large chunk of the cap to your top players and making the fringes replaceable is what has helped teams like Pittsburgh and Chicago dominate the 2010s, and kept teams like Boston and Tampa Bay perennially in the conversation. The most difficult step in Stars and Scrubs is obtaining stars, to begin with – and Toronto has at least four locked up for at least four and a half more years.
Do you believe in stepping around the grenades?
The other half of stars and scrubs is making sure that you're not investing too much of the share to scrubs – that will burn you more than what you pay to your stars. Toronto didn't get the discounts on the Big 4 that most other teams do, but given that hockey is the worst at giving their top players their deserved chunk, that's more sub-optimal than it is bad.
Bad is dead weight on the fringes, and I'd believe in the present group to avoid that. Moving out Patrick Marleau and Nikita Zaitsev this summer were both big steps for the team in this regard, shedding $6.25 million in cap space for this year and $4.5 million for the upcoming four seasons. The Nazem Kadri deal, as much as my heart still hates it, was a creative way to turn an elite 3rd-line option into a good third-line option and a good Top-4 defenceman for about $1.1 million in surplus cap space.
When the LTIR gang and Cody Ceci move on at the end of this season, one can reasonably say that Toronto will have no bad contracts to their name, and that anyone still on the books could be easily moved. There is an implicit difference between a cap crunch and merely being at the ceiling – contenders are always at the ceiling, and a cap crunch is only a crunch when you're unable to move the hurdles out of the way.
For example – a lot of focus has been put on acquiring certain player types, such as brand-name toughness and shutdown defence. These player types tend to come at a cost premium when they end up on the market, and tend to physically slow down the fastest, making them hard to get, expensive to retain, and difficult to move when they lose effectiveness. For all the talk of the organization "hating" tough hockey, they've put a large part of their focus into trying to develop their own physical players internally and taken advantage of opportunities to add them on the cheap when possible – such as Kyle Clifford two weeks ago. Examples like this are about bang-for-buck more than they are about being against certain types of players – and they're a big reason why I'd believe in the teams' cap management moving forward.
Do you believe in the Big 4?
In between the loss to the Penguins and last night's statement grudge match victory, there was more talk questioning the team's top quadrant as a sum than I've ever seen. We've seen individuals from that group come under fire (particularly William Nylander), but all bets have been off recently for the whole group.
Steve Simmons of the Toronto Sun got what was most likely the most consumed shot at them on Wednesday:
At the end of the season, and sometimes during the season, the numbers look fine. But when it matters — when it really matters — where have Auston Matthews and Mitch Marner, John Tavares and William Nylander been? Are they changing games the way Sidney Crosby changed that awful game in Pittsburgh — awful if you're a Leafs fan — on Tuesday night?

Crosby scored the winning goal at the 2010 Olympics in overtime and scored a goal in the gold medal-winning game in Sochi four years later. That wasn't accidental. Nor was it accidental when Jonathan Toews scored the first goal in Vancouver and Sochi in the gold-medal games. That's what winners do. They change games. They don't leave it to anyone else.

What kind of superstars is Dubas paying for and banking his reputation — and maybe his future — on?
The overall feeling is one of "They haven't accomplished anything yet, so why assume that they will accomplish anything later?" and I don't think it's a fair one. For one, you don't become a superstar in the NHL without having moments of decoration along the way, be it within our outside of the league. Simmons uses international examples here for Crosby and Toews – Tavares has a case for being one of the best Men's Team Canada players of all time, while Nylander's heroics in the last two World Championships have earned him admiration in Sweden and an odd amount of mocking in Canada. Marner went on one of the most decorated runs of junior hockey ever in his last season before jumping into the NHL, and Matthews has been the poster boy for unconventional excellence since his early teens.
This, of course, ignores that they've all played like stars, if not superstars, at the NHL level since arriving. Tavares' youth was largely wasted by poor management in Long Island but still peaked with him being the hero to give the Islanders their first playoff series win in 23 years. The other three have had less time to work with, and while they haven't gone on a deep run yet, have all shown moments in the post-season that give you reason to believe that they'll be able to come through as heroes once the supporting group gives them the room to do so – something I'm more confident in now that the team has a coaching staff that might actually make an adjustment or two in the playoffs.
Crosby and Toews, of course, didn't immediately win out of the gate either. They were very fortunate to win for the first time while young and within their entry-level contracts – which meant more money could be spent on support for the first journey and meant that fewer were worried about paying for their talents afterwards.
But they still had to take their lumps for a few years prior, and in years following – that adversity and how you learn from it is part of what makes great players great. People had the same reservations about Alex Ovechkin as they had about the Big Four until he finally won the Stanley Cup at 32 – playing largely the same way as he did his whole career – and now he's a proven winner. Phil Kessel was a "team killer" until he was a back-to-back Stanley Cup champion. The St. Louis Blues were the most disappointing hockey team in the world for years, until they won last year – now they're proven winners. This is the cycle that everyone goes through in their careers, and, as frustrating as it is, everyone's pathway to the destination is different.
The reality is that Toronto hasn't had a four-headed beast like this in most of our lifetimes. As the Mats Sundin era came to an end, we clamoured for the team to get just one player like this, let alone enough to bear the responsibility for an entire top six. It came via three of their own draft picks and a generational free agent signing that cost them no assets. Toronto is lucky to have them, and the second they even make it to the conference finals, let alone winning it all, most of the doubt will go away.
Do you believe in the offensive mindset?
This has been the hardest sell to the average fan, because when spoken of, it sounds like it goes against everything hockey stands for. In reality, it's a bit of a generational thing, and the attempts to quantify it create an even further divide, as the people who disagree with the concept are not likely to be swayed by math.
But the math is true, and it tells us what history already knows – if you've got the talent to do it, focus on offence. Besides the objective fact that you can't win a game 0 to -1 (sorry Babs), it just makes sense to push for higher scoring games if you're the better team.
Think of it this way – let's say you have a six-sided die. Someone gives you numbers 1 through 4, they get 5 and 6. Most landings on your number pool wins. Would you rather roll the dice once, five times, or ten times? In fact, let's use Random.org's dice roll generator, and roll ten dice ten times. These were my first ten results: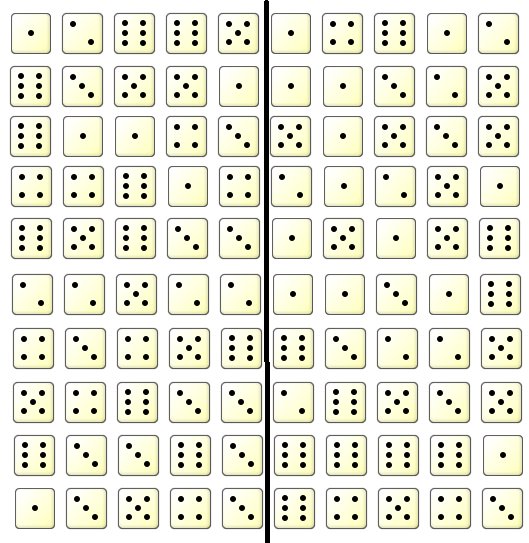 Overall, the rolls slightly underperform the odds – a 66% chance of getting your numbers, and they landed 60 times out of 100. But it's enough to get the job done for you. What's interesting is that your bet gets safer as the dice keep rolling.
If you were betting on the first roll of every pocket of 10? You go 5-5-0, or 11-9-0 if you bet on the first roll of every pocket of 5. If you were betting on the pockets of 5 as a whole? 13-7-0. Pockets of 10? 7-2-1. Pockets of 20, 50, or 100? A perfect record (5-0, 2-0, 1-0).
If you have the upper hand, the best thing to do is to add to the pool. Look at the first roll as your next goal, the pockets of 5 as lower scoring games, and the pockets of 10 as higher-scoring games. If you're the better team, you want to trade as many chances as possible, and make games about who can score the most. Obviously, we're not going to get to basketball-level scoring in our game, but there's a reason why the best teams usually win in the NBA, and why most of the innovation in recent years has come in the offensive end – scoring is the object of the game, defence is risk mitigation, the best players are often the most offensively capable, and when you increase shots, and increase those dice rolls, luck becomes less and less of a factor.
If you're a team that can score six goals per night, you're just as likely to win first to five game as you are a first to three, but the consistency in those odds will be better reflected in the former. Hockey isn't math, but the math itself says to focus more on the main objective of the game, and that the best teams should focus more on doing what they're best at, rather than sacrificing that to be ready if things go wrong.
When you look back to the dynasties of old, this is is how they played – the 80s Oilers dominated teams offensively. The 70s Canadiens and Islanders dominated teams offensively. The production line Red Wings, the threepeat Leafs. The late 90s/early 2000s Devils are talked about as a defensive team because of their use of the trap and the fact that it led to worse teams decimating their own offences, but had a three-year run where they were Top-2 in goals for every, won a Stanley Cup, and went to Game 7 of the Finals. The Pittsburgh Penguins of 2016 and 2017 had almost nothing to point out in terms of top-end defence, and half of what they did have was constantly injured, but they played some of the highest event hockey in the NHL and won the only back-to-back pair of cups in this century.
Obviously, Toronto can and should continue to find ways to improve their play in their half of the ice, but that's more about internal teaching, strategy, and development to augment the current group than it is about replacing large chunks on the ice and on the bench with players who can't make passes but can finish checks, or coaches who want to dump and chase. For me, I believe in doubling down and playing the odds while the firepower is at the team's disposal. It looks rough when the team rolls a 5 or 6, but in a game where perfection is impossible, I'd be more focused on maximizing my chances than I'd be worried about how it looks when I fail.
Do you believe in those at the top of the helm?
This is the million-dollar question at the end of the day, right? The thing that ties it together – do you trust that the group proposing this "new idea" – which again, is a collection of ideas that have already worked in other markets and in other leagues – to see it through?
Note that this isn't the same as thinking that everything that everyone has done is good.
I think Sheldon Keefe is the right person behind the bench, but that doesn't mean I haven't disagreed with lineup decisions he's made at both the AHL and NHL levels in the past. I've wondered at times if he's too worried about faceoffs (though that's been less obvious at this level). I still kinda wonder what he's seeing in Frederik Gauthier right now, and I've had deviations on how the goaltenders have been deployed at both levels (not to say I'm necessarily right about any of these things either – the fact I wanted Jack Campbell last night and instead got a Frederik Andersen shutout is a good example). Ultimately, though, he's had a ton of success at every level that he's coached, the players enjoy playing for him, he's willing to adapt his strategies, and the style of play complements the group.
I could list off all sorts of transactions where I've felt Kyle Dubas has messed up, either in the moment or via hindsight. I wish he managed the optics of the Nylander negotiations better. I wish he got more years out of the Matthews deal. I wish he didn't let the Marner camp do the majority of the leak manipulation until it was too late to get a market-value deal. There are prospects I wish they cut ties on earlier, and some who I think got short leashes. I will forever support the Kadri for Barrie and Kerfoot trade making logistical sense (and that both returning players are underrated by the fanbase), but still dislike it from the gut. I would've fired Babcock almost immediately after coming in, regardless of optics, as a lot of the writing and open secrets were already on the wall. I think he made the sensible decision with his backup goaltenders in at the start of 2018/19, but everything in the situation that came afterwards has been handled poorly, leading to a Jack Campbell acquisition that has started off well, but still seems like an unforced risk. I still don't know how he ended up retaining salary on Phil Kessel. But the overall vision is there, and the misses have been countered with hits, and the total sum roster is the most talented the team has had in recent memory, and is in good shape headed into the summer despite the ebbs and flows of the on-ice play.
I think Brendan Shanahan has had times where he's been a little too openly involved – the oddity of him hopping on the ice in a full suit to give practice tips a few years back is still burned in my mind, and the open pitch to his players to take hometown discounts when the Big 3 started to negotiate probably did more harm than good. I also think that, if it's true that firing of Babcock was initially pushed back upon in the summer, even if was by someone above him, that it reflects poorly on him. But he's been very clear about having a pathway to success, and an ambition for it to be sustainable, and that matters more than anything from a team president.
You can do these sorts of pushes and pulls with every other part of the organization as well, from support staff to players to the guy at the Scotiabank Arena concessions who is usually good but accidentally dropped your bottle of diet coke last week. But that's the overwhelming point here – it's easy to look at a lot of this stuff in a vacuum, and in the heat of the moment, and have brash feelings about it all. The key here is worrying about the body of work, how it fits into the process, and what you think the process is.
Toronto's process is hardly revolutionary, but it is sharp. It's believing that you win through top end-talent, creative depth management, internal development, playing relentless and intelligent and taking advantage of the things you can control to try to make the game a little less about luck. It doesn't fully look like the tropes that we were taught about the game as children, but it really doesn't look that much different from how teams have won over the years, both recent and distant, and the blind spots that need to be addressed are supplementary and incremental, not team-redefining.
It's obviously hard to watch a team this good have to fight in the standings for a myriad of reasons this season – a poor working environment to start the year, an injury an illness bug throughout, a down year from their starting goaltender and yes, nights where they've straight-up failed themselves in effort, intensity, and attention to detail on and off the puck. But the plan seems to make sense, the talent is there, and adversity like this can often be the shaping point for what will be called failure today and the birth of an intangible element when they finally do breakthrough.
So, with all this considered, I'll ask you once more before you make your next big decision on where you think this team has to go, and put your stance to your name. This is the crossroads for this group – do you believe in this thing, or not?
They do. I do. Do you?