Last night, the Toronto Maple Leafs beat the Vancouver Canucks 4-1 in one of the fastest-paced, most exciting games I've seen in the league this season. John Tavares showed his captainly strength in potting a pair of goals, Justin Holl had a multi-point effort, and Frederik Andersen was lights out. Flipping the tables, we even got to see Josh Leivo get a revenge goal on his former team, and east coasters got a glimpse of what the buzz around Elias Petterson and Quinn Hughes is about.
But the most notable event from a milestone perspective was Auston Matthews' ice-breaking goal, which was the 100th of his career at Even Strength.
The league pumped out this graphic through its PR channels, showing that Matthews was just a game away from matching Alex Ovechkin for the fastest run to 100 among all active players.
Looking at his company here is pretty absurd. Ovechkin is the best all-situations goal scorer of all time, given his ability to generate volume, his versatility in terms of methods, and the fact that he's doing it in a lower-scoring era is insane. McDavid is a player with Top-5 all-time upside, Kovalchuk's shot portfolio was among the all-time greats at his peak, and pre-injury Stamkos looked a lot like the only serious threat to Ovechkin.
Even if we were to only use this chart, the fact that Matthews stands neck and neck with the game's greatest goal scorer with a chasm separating him and the other legends is insanely promising. But incredibly, this snippet only scratches the surface on his dominance.
Hockey Reference has a series of era-adjusted statistics that they like to post on their immensely useful website. The aim is to give some context to individual player production, particularly given the trends in goals per game throughout history: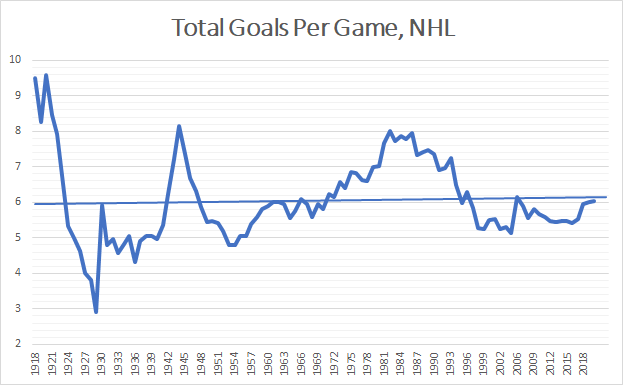 While scoring is finally trending back upward for the first time since the full-season lockout in 2005, it's still a ways away from approaching where it was in the era between expansion and the rise of the neutral-zone trap in the mid-90s. So a weighting of output helps understand how dominant a star from a particular era was. The current goal-scoring rate is about at the all-time average, so adjustments are less likely to pull this era up by a significant margin, but rather pull down the highest-flying stages.
The Hockey-Reference formula isn't perfect, and requires a little bit of extra leg work to do things like per-game rates, separation for situational goals, and fixing some lockout-shortened seasons (1995 and 2013) to make sure the per-game rates are correct, but the good news is that I did exactly those things to check in on where Matthews stands right now.
Matthews is in his fourth season, so I looked at where everyone else in the post-expansion era was at that stage in their career. Here's what that looks like: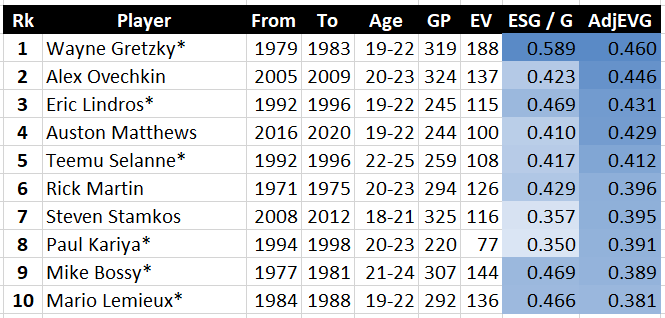 So this list includes the all-time leader in goals and points, the best goal scorer of all time, the player with the most all-around dominant peak we've maybe ever seen, the record holder for most goals in a rookie season, a third of one of the best lines of his generation, a few players that were a couple of reversed injuries away from solidifying their cases for all-time greatest goal scorers, and the only guy who can really challenge the first guy as the best forward of all time.
Six of these players are already in the Hall of Fame. Ovechkin is waltzing in when all is said and done, so we can effectively say seven. If Martin stays healthy, he probably joins them, and Stamkos still has a shot if he can pull together a couple more big years and a grab a ring in his veteran years.
This is extremely esteemed company, and Matthews sits in the four-seed, as close to second as he is to fifth and a couple of hot weeks away from claiming third. Again, this is a list of players that we all agree are among the best goal scorers of all time, that includes two no-doubt Top 3 all-time players, an additional Top 5 all-time peak, and at least four of the consensus Top-5 all-time goal scorers.
Matthews has a late birthday advantage, but so does most of this list – only Stamkos started with a proper Age 18 year, and half the list started older than Matthews. Matthews also has an advantage in that the Leafs have played the most time at even strength since he's come into the league, but the swing between top and bottom is only about two minutes per game, and Matthews' personal average even-strength ice time, while definitely in the high first-line tier, is still 24 spots from the top of the league since joining it – and if the lore is to be believed, today's stars tend to play a smaller share of the game than they did in the top-heavy times where the Gretzky, Lemieux, and Bossy types would have.
Matthews also squashes bonus time concerns with his unbelievable efficiency. His 1.54 even-strength goals per hour since entering the league leads all NHLers, not just those in his age group, and not particularly by a hair: there's a 10% gap between him and the runner up (Brad Marchand), and a 20% gap between him and those battling for the 10th seed (including stars like Connor McDavid, Brendan Gallagher, Nikita Kucherov, Vladimir Tarasenko, and David Pastrnak).
https://streamable.com/i04rs
To put it bluntly, Matthews projects to be one of the single best even-strength goal scorers in the history of the sport. This has been his trend since the beginning of his career, and there appears to be no significant loss of momentum. While we'd all love for him to be perfect at everything, being an all-time great at the most important tool in the game in the most-played situation is such a massive asset to have. That's why he's treated like a franchise player, that's why he commands a high salary, and that's why he gets the spotlight.
After all, you need more goals than the other team to win the game, and you can't just summon a powerplay. So to be the single highest leverage player in the world today in that regard, thanks to a lightning-quick and deceptive release, great positional awareness, and wonderful creativity, is an asset that deserves appreciation now, and looks poised to be worthy of historic recognition down the line.