One drum that I always like to beat in these articles, in my tweets, or on pretty much any digital platform is that "we" – meaning the demographic that represents my typical audience, are not the core fanbase. We're obsessive fans of the team and/or sports we love, swarming together in groups on these platforms, that typically start off young and forward-thinking.
Especially now that we can truly curate who we choose to read, we further tunnel ourselves into our opt-in crawl spaces, not stopping to see what the outside world looks like – we don't have to, after all.
Which often means that a consensus opinion in our groups carries the same weight outside of it. Nor does it mean that the "vocal minority" that disagrees with us is in any way the minority. Everyone you dismiss like that adds up quickly, and dwarfs your group. The people you don't follow on Twitter, the Facebook and Youtube argument artists, the people at the rink, the groups at the bars, the ones relying on the newspapers and the ones getting their takes from sports radio… disagree with the opinions all you want, but they definitely are the ones who represent majority of the fanbase.
A guy like Steve Simmons, with three decades tenure as the flagship sports writer at a popular local paper and with cameos all over our televisions and our radio waves in that span, is both a voice that represents "the people", and also giving the people's voices something to talk about. He's a tone-setter and a trend-setter in this market. When he digs into an opinion, as much as you may or may not disagree with it, it's going to make it's way to your local water cooler, and while he's not the only one who has this degree of influence, he probably has more in that regard than any current Toronto-focused media person.
This all goes to say that he wrote about where the Leafs are at in terms of the big picture to lead his Sunday morning column, his most popular of every week. The key message? That the Toronto Maple Leafs messed up by calling Kyle Dubas up to the General Manager's seat, while showing Lou Lamoriello the door. That this expected fork in the road was where the team lost it's momentum and began it's fall off a cliff. A pretty interesting point to continue to run with even after a convincing 5-2 win over the St. Louis Blues the night before, but hey, big-picture thoughts should be able to override little-picture events, I suppose.
Now, this article isn't about Steve Simmons' piece. Steve Simmons' piece is about this article. Because basically every talking point sounds like the ones that have come from himself, from other media types like him, and from the "vocal minority" for months, and shows misguided perspective on how things have turned out and where they're going. But we'll use the piece to go on a journey of our own if you'll allow.
The current state of the Leafs has many wondering how different this operation would be had Lamoriello stayed in charge of the hockey department. This isn't second guessing. I thought it was a mistake at the time.
To Simmons' credit, he did, when Lamoriello's months-rumoured departure was made official. Interestingly, this was also his first article where he conceded that Dubas was the likely GM, and pulled the gas off of pumping up Mark Hunter for the job, a routine that had dated back years.
How different would the contract negotiations have been with William Nylander, Auston Matthews and Mitch Marner?
I think it's pretty easy for us all to agree that the contracts given to the "Young Big 3" or the total Big 4 (adding John Tavares) remains the most-discussed part of the Leafs' roster construction, no matter how you identify yourself or invest yourself as a fan.
The most common talking points here are:
That Dubas and the Leafs overpaid for somewhere between one and all of the four (Nylander at 6 x $6.96M AAV, Matthews at 5 x $11.634M AAV, Marner at 6 x $10.893M AAV, and Tavares at 7 x $11.0M AAV), which will lead to cap troubles somewhere between yesterday and eventually, and
That there is a specific issue with allotting that much of the hard salary cap to a small chunk of your roster, particularly when they're all forwards.
So how would Lou have done it? The very first thing that comes to mind here is that Lamoriello already had an opportunity to sign Nylander. Nylander became extension-eligible on July 1st, 2017, and Lamoriello moved away from the GM's table on April 30th, 2018. That's 308 days where he could have hopped on the phone with Nylander, or 104 more than Dubas did. But he didn't do it.
However, most of us can, to some varying degree, agree that the negotiation should have shaken out a little better for the Leafs. Most in the analytics community had Nylander as a mid-high $6 million player, I personally had him at $6.75 million, and Simmons had him at "between Ehlers and Pastrnak", with anything more than Pastrnak being an over-pay.
Compared to Simmons' own take, Nylander's cap hit is about $300,000 too high. We'll give him that, and we'll take it away from Dubas. We'll never know how Lou would have done it, even though he had the chance, but I wonder how well he'd fit the talks given Nylander's main fear being a concession of a contract that's too easily tradeable.
Next up we get Matthews. Would Lou have been able to pull Matthews' number down?
Well, when Matthews was drafted, it was a known Lamoriello policy that his entry-level players were not allowed to have "Schedule B" bonuses, which basically turn your $1.8 million dollar teenager that's playing like a $10 million teenager boost his contract up to $3.8 million. That didn't matter, though, and after about a month and change, Matthews got the full deal. So "Lou's way or the highway" didn't happen there.
I also have my doubts that it happens for the second lap, particularly when considering the fact that the real issue with Matthews' $11 million cap hit, earned through marketing power and getting off to a generational start in terms of goal scoring, is not the actual hit, but the term.
Does Lamoriello get the extra three years out of him? Does he care about 2027? Is he able to convince Matthews to commit long-term amidst an already strained relationship with Mike Babcock? Does he even like contracts that go the distance, seeing as he never really signed them in New Jersey beyond the ownership-led Ilya Kovalchuk mess?
Lastly, there's Mitch Marner. Marner had to bite that Schedule B bullet with Lamoriello the year prior to Matthews, and it was pretty evident that he took it to heart. He felt disrespected by the process and carried that grudge all the way to the summer – and that's a player who didn't even qualify for them for two of the three years!
Marner came in looking for Matthews' contract and had a lot of support – often from that "vocal minority" crowd, who saw his development curve and upbringing as a championing of how the Canadian Hockey Dream (TM) works. It's funny when you consider how much closer his playstyle aligns with the new-school than the old, but it carried on.
Most of his supporters had Marner at well above $10 million, some willing to put him into the 11's, 12's, and beyond. I, a fan of his but not to that degree, projected him at $9.16 million. Models had him in the $8.25-$9.25 million bracket. Simmons? He pencilled in Matthews for $12 million and Marner for $10 million, for a total of $22 million.
Wanting to avoid another Nylander situation, the Leafs and Marner agreed to $10.893M just before training camp started. I actually do think this is one where Dubas could have done a lot better – the lack of "using the media" that usually comes from his circle was noticeable on that negotiation, as Marner's camp started the tone-setting leaks across outlets as early as late 2017.
Within 36 hours of Marner's rejections and asks getting leaked to the media, causing a rare unified outrage towards the player, the deal had been shelled out. I think the Leafs should be above playing dirty in these situations, but not playing at all allows a crafty messenger to win the war of words.
Back to Lou, it doesn't seem like using the media has, well, ever been his thing, so that part's out. What he has to his advantage here is his reputation and ability to "since" trouble-causers, which might mean that the pre-war in the public eye isn't fought as strong. But if animosity towards Lamoriello is part of the Marner frustration, I don't think this helps quite as much. Still better than what they got, but Dubas being more aggressive would have likely been the better option.
Either way, Simmons' writing in recent years combined to give the Leafs a budget of $28.33 million for the big three, and $40 million for the big four.
The Leafs ended up at $29.487 million for the big three and $40.487 million for the big four. So, Dubas' failures led to the Leafs paying $1.154 million for the kids than he thought they should, and hey, that money adds up – it's sometimes the difference between an A- and A+ star in free agency! But they also already got the A+ star, and are now left with a gap that's the difference between, well, not a heck of a lot. Maybe a pulling in an extra year of term for one of your middle-six RFA forwards? Still not ideal, but not entirely bad.
Does Lou do it better? The possibility is non-zero, but I don't think it's anything close to a slam dunk that he even keeps all three, and given that he lost the fourth to Dubas, unites the group.
Overall, the goal is to beat the market, not slightly lose to it, so I'm not giving Dubas' result great marks here, but given that stars, in general, are underpaid and the significant spotlight this market affords on these contract talks, I can't call it a total failure, and I can't guarantee any particular person does it better.
How much money would have been left behind for a decent backup goaltender?
Let's check Lou's history here:
2019/20: $3,333,333 to Thomas Greiss (on NYI pre-Lou)
2018/19: $3,333,333 to Thomas Greiss (on NYI pre-Lou)
2017/18: $850,000 to Curtis McElhinney
2016/17: $750,000 to Jhonas Enroth
2015/16: $2,300,000 to James Reimer (on TOR pre-Lou)
2014/15: $600,000 to Keith Kinkaid
2013/14: $4,500,000 to Martin Brodeur
2012/13: $1,400,000 to Johan Hedberg
2011/12: $1,250,000 to Johan Hedberg
2010/11: $1,000,000 to Johan Hedberg
2009/10: $500,000 to Yann Danis
2008/09: $500,000 to Scott Clemmensen
2007/08: $687,500 to Kevin Weekes
2006/07: $450,000 to Scott Clemmensen
2005/06: $450,000 to Scott Clemmensen
So, save for the two 1B goalies he was handed, and the Hall of Famer he gave a Golden Parachute to, Lamoriello has never really spent for backup goaltenders. He never really cared, or particularly needed to care, because he had his majority-game starter locked in. Would the Leafs have left behind more money for a backup with Lou? Maybe if he keeps McElhinney (who has been okay at most this year) and gives him gradual raises like he did 1B- Johan Hedberg.
For a new guy? Not a chance. Lou knows more than anyone that if your backup pushes you out of the playoffs, your team wasn't good enough, and if your back up is playing in the playoffs, you're not going to win. If strong player development hasn't handed you two great goaltenders, there's no reason to seek out a platoon guy that's above replacement level cost, particularly if you do your homework on the talent you do select.
(For more on backups, read me from last week)
Would Lamoriello have traded Nazem Kadri?
I'll side with Simmons here, in the sense that even though I still feel the trade is fine from a value perspective, I will never not miss Nazem Kadri. He's one of my all-time favourite Leafs and is a player who best symbolizes my brand of toughness in hockey (with some less-than-clean exceptions) – in your face, unafraid, but not just simply looking for scheduled fisticuffs.
Interestingly, those who want the more aggressive, "heavier", goonier type of player on the Leafs roster was among the first to run him out of town after his second consecutive Round 1 suspension, though I think to see the absence of that presence has had an impact on many opinions. I don't think Lou trades Kadri, knowing that upon his arrival, Kadri was the player who needed his structure the most, and bought into it 100%. I wouldn't be surprised if Lou even throws him into the captaincy conversation if he's still here for it.
So edge Lou here, though I also understand that the Kadri trade was less a concession to demand than it was a way to push a forward contract ahead while acquiring a top-end defenceman on an extended rental.
Not making the playoffs, which seems rather possible right now, will make this the most disastrous, disappointing Maple Leafs season in memory. And they traded away their first-round pick to get someone to take Patrick Marleau's salary
Inadvertently, Simmons makes you wonder about "who would do it better" – Toronto got under the cap this year by shedding the final year of Patrick Marleau's three-year contract, at a $6.25 million. Now, I said the time that I didn't mind the Leafs giving Marleau the third year, knowing that it would be a bad year to have on the books but expecting them to navigate it, through natural process or via trade.
What I didn't expect, nor do I believe the Leafs expected either, was to land Tavares the next summer. Toronto subscribed to the idea that free agency was best used to splash on stars and snipe on scrubs rather than giving an extended term to the middle-tier, and after failing with Steven Stamkos a year prior, took their next swings at Marleau and Sharks teammate Joe Thornton as short-term fixes. Thornton stayed in California, Marleau came over, and Tavares, a much more substantial asset than Marleau, took a 180 in mindset twelve months later.
So fair play to Lou and Dubas on this. Lou had no reason to expect Tavares was coming in time to make this a tight situation, and I'd happily give up a first to have made that upgrade from 12 to 91 afterwards. Without Tavares, there's no problem, but Tavares was worth causing the problem – hindsight is 20/20 and we can all laugh about it.
But this goes to a point about the secondary players, which is a significant part of the whole debate, be it from Simmons or from anyone else.
The Sub-Core
Like stated before, the criticism of the payment of the Big Four isn't so much about the individual overpayments of the players, but also the commitment to that group. $40 million represents nearly half of the team's available commitment for now, and while that will shrink in proportion over time, it's important to get to the "good deal" stage as soon as possible so that your team has room for whatever the next addition may be.
The fear is that Toronto won't be able to make more additions, which others will argue is unnecessary, given that most teams would kill to have four "star" tier or above forwards (Nylander, Marner, Tavares, and Matthews), and multiple others in or near that tier throughout the lineup (Rielly, Andersen, maybe Barrie and/or Muzzin).
But fear of missing out (FOMO) on the next buy exists, and it's also rare to see an NHL team go all-in on "stars and scrubs"; locking your core elites in and rotating the depth around them, prioritizing money to the players that are hardest to replace and spending less than the average on the ones closer to interchangeable.
Sports narratives love the underdog role players, and Toronto is no exception, and maybe one of the places most susceptible to those athlete love stories. That two-thirds of this roster might end up being a prospect pit stop and a veteran victory lap for the next decade is unnerving to some, especially since there hasn't been definitive proof of this working in hockey yet.
But as the Leafs started to slump, first under Babcock and again (for three whole days) under Keefe, people pointed to how the rest of the team was gutted to pay for these four, and that is why they were struggling.
So let's look at the sub-score that left, and the sub-core that arrived.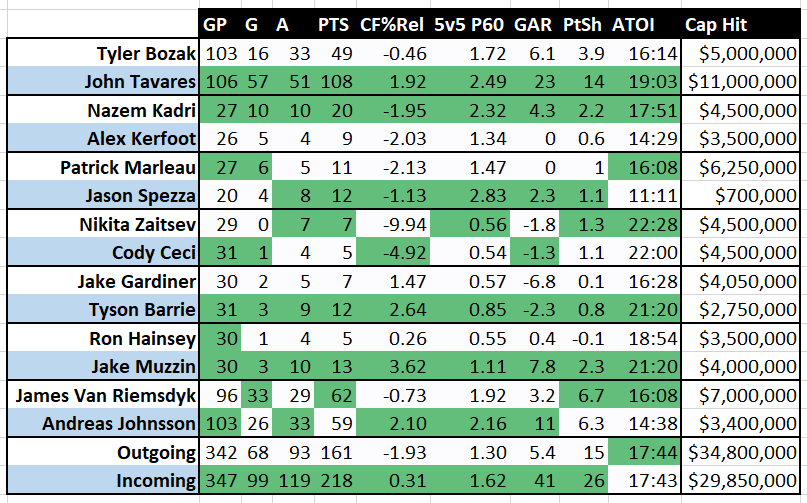 Even if you were to count John Tavares' deal in here, Toronto's replacement for this Group of 7 come in nearly $5,000,000 less than the group that left, and the results are by and large better, not worse.
Scoring centre? The Leafs doubled their spend to go from Bozak to Tavares, and while Bozak's new team has found success, the gap between the two as individuals is staggering. Bozak remains a fine sheltered depth centre, while Tavares is the captain of this team, coming off of one of the best individual years for a Leaf in decades.
Veteran depth? Jason Spezza has been more efficient than Patrick Marleau, helped his team more, isn't married to a guaranteed lineup spot (Marleau has his ironman streak), and Spezza comes in for less than 15% of what Marleau would have.
Minute eating but mediocre defenceman? Cody Ceci hasn't been very good, he's not Morgan Rielly's saviour partner, but he's been survivable and has generally better play-driving results with Rielly than Zaitsev and Ron Hainsey had with him. He fills the PK role, he takes up ice time, and more importantly, his contract is off the books after this year, well ahead of Zaitsev's, freeing up future room.
Jake Gardiner was passed upon with concerns about the long-term holdup of his back problems, and the reality of negative sentiment towards him in town probably didn't help. Tyson Barrie came in with a terrible start, but has been night and day since the coaching change and is now outperforming Gardiner.
Jake Muzzin came in before Ron Hainsey's departure, but you can draw a pretty straight line to the goal to get a heavy, dependable two-way defenceman into the top end of the lineup without him – and that's a rout. Even if you want to call Muzzin the Gardiner replacement and Barrie the Hainsey one based on aimed-for lineup spots, it's still a rout.
Add in the "net-front finisher with support scoring ability swap" from Van Riemsdyk to Johnsson, one that was developed deliberately, and you get to the insult to injury stage. The only blow is the downgrade from Kadri to Kerfoot, but was a relatively known quantity – it was a move that countered some of the Tavares/Bozak gain to be able to add Barrie.
Put it all together, and the replacements are scoring 50% more goals, 30% more points, driving play better, showing up much better in Goals Above Replacement and Point Share-type Models, and playing about the same amount of ice time for 80% of the price. If you threw in other semi-direct lines, like Leo Komarov to Kasperi Kapanen, Roman Polak to Justin Holl, Connor Brown to Trevor Moore, or Matt Martin to whoever you want on the fourth line, the bang for buck only improves.
The tradeoff is that the Leafs needed to move picks to move salary to start this process, which would mean that calling the short-term tradeoff an asset value wash wouldn't be that unfair. But the foundational idea of paying the top guys hasn't cost them anything on the ice yet, and if they can continue to market themselves as a career development and/or rejuvenation, and a place to win, they should be able to maintain that – albeit with more turnover than the average fan is comfortable with.
Bringing It All Together
Look, at the end of the day, we're all fans of different nuances, consume the team in different ways, and aren't going to agree on every single thing. The last thing I want this article to be is a "look at these dummies" rallying cry. The overlap in what everyone who follows this team, personally or professionally, enjoys is likely still a majority one, with everyone carving at the nuances.
But these are how the nuances are carved in one chunk of the hockey town, and that town has a much bigger population than those who argue that they know better want to admit. The idea that the previous executive umbrella would have managed this stage of the team's build better remains very popular, as does the idea that spending your money on hard-to-get stars makes less sense than spending it on support.
At a certain point, popular arguments need to be rooted in some form of reality, and while these aren't the only ones that aren't, these are two that stand out as the most egregious. It makes no sense to think that the guy who signed Marleau and Zaitsev, sat on Nylander, pissed off Marner and had to break from structure to throw Matthews his bone was going to transition through this last year and change in a significantly more beneficial fashion.
It makes no sense to blame those investments on depth struggles when the team's depth is cheaper and better than it was before in all areas except for one, which is at a position known as a bit of a lottery crapshoot.
Lamoriello brought great structure to the organization, but I think Dubas has handled himself pretty well overall since the start. That doesn't mean he's without failure – the Kadri deal, fine as it is on paper, could be skipped on or done in better circumstances, the big contracts still could have been much better than good enough, and he really needs to not shy away from the public leverage game in his next big play if he wants to gain some ground back. I think he waited too long on pulling the Babcock trigger, and I wonder if he should've doubled down for one more year on his backup bet.
But no one bats 1.000, and he's a lot closer to All-Star numbers than demotion numbers. The process remains clear, sensible, and reasonably accomplishable, and I think that's bought him more time on the clock than people are willing to give.
And hey, whatever happened to the Phil Kessel salary retention? Now that's a Dubas rookie mistake.