If there was a moment that managed to burn itself into my brain last night from last night's 3-1 Leafs loss to the Colorado Avalanche, it wasn't on the ice. That's saying a lot, given Nazem Kadri's return to Scotiabank Arena, Mitch Marner's return off the injured reserve, and the stellar rebound performance of Frederik Andersen (and perhaps even better one by Philipp Grubauer across the ice).
No, it was Greg Millen talking over an isolated clip package about Auston Matthews. Specifically, about how Nathan MacKinnon has turned into an absolute mega-star, and how Matthews is in a spot where MacKinnon once was; hyped upon being drafted, but still yet to reach true stardom. It was a pretty baffling point that could be attacked from a couple of different angles. The first one is to look at where those two players stand at the same point in their careers.
Jokester and narrative-resetter The Oak Leafs put up a great comparison this morning that saved me the two or three minute trip to Hockey Reference's player game finder, showing that, when MacKinnon was at a point in his career where he had played as many games as Matthews has to date, he had four fewer assists, 62 fewer goals, and 66 fewer points – meaning that Matthews has been about 40% more productive than the person he is expected to be more like, and nearly 100% better (or twice as good) at putting the puck in the net.
Looking at more advanced numbers, MacKinnon's first three seasons afforded him 18.8 goals above replacement and 3.6 wins (per Evolving Hockey), while Matthews has earned 38.6 goals and 7.4 wins. Hockey Reference has MacKinnon at 17.1 "Point Shares" in that three-year span, to Matthews' 27. Until a couple of games ago, Matthews was on pace for as many goals in his fourth season as MacKinnon accrued points. Now, he's on pace for a lowly 43 goals and 84 points, which would clear MacKinnon's career-high up to that point in his career by 21. In fact, all of Matthews' seasons have been as productive or more so than MacKinnon's career-high at the four-year mark, including a year where Matthews missed 20 games due to injuries.
None of this is to say that Auston Matthews is better than Nathan MacKinnon, or that he'll necessarily even peak at being a better or more exciting player than the Avalanche phenom when all is said and done. MacKinnon's meteoric rise from slightly disappointing first overall pick to the perennial MVP candidate we know he can be has been a sight to behold, and quite frankly, he's one of a handful of players that you can show off to your peers to explain just how fun the NHL's current batch of stars are.
However, Matthews is also on that shortlist, albeit a little further from the top. The difference, however, is that Matthews had a relatively bad week for his standards, putting up no goals and just one assist in five games between November 27th and December 4th, with a few disappointing defensive efforts mixed in.
Prior to this, Matthews was on a scoring pace of 52 goals and 98 points, which would be as impressive of a breakout season as MacKinnon's 97 and 99 point efforts in years 5 and 6 – arguably more so if you're the type to value goals over assists (and you should be). Matthews was doing this while picking up a 56% share of the on ice-shot attempts, a better share than MacKinnon has ever had, and a 56% share of the expected goals, which not only is the same, but cements his four seasons as 1st, 3rd, 4th, and 5th on MacKinnon's list.
We'll drop Nate from this comparison now because again, the point isn't actually to compare the two. The point is that MacKinnon's arc is unbelievable and deserves a lot of praise and credit, but that a bad week from Matthews doesn't mean that he is in the same boat, or that he is far away from stardom.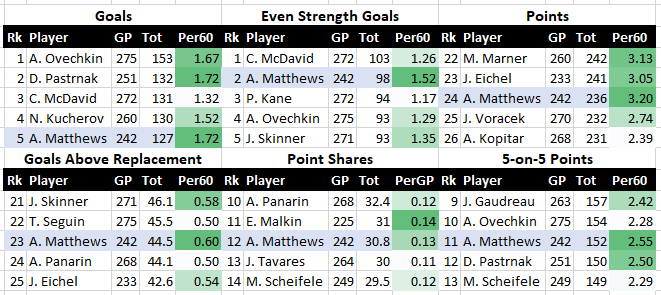 Key metrics among forwards, since Matthews' debut in 2016/17
Realistically, Matthews has been a star from that very first four-goal game. Since entering the league, he's been one of its top goal scorers, including scoring at even strength at a rate that few in the history of the sport have been able to accomplish. He's produced raw point totals at a star forward's rate, and when you take into account injuries and the fact that he doesn't get as much ice time as other stars, he's been one of the absolute best in the league from the get-go.
The models – be it the more simplistic but more historically scalable Hockey Reference point shares or the more detailed but more era-specific Evolving Hockey goals above replacement – both have him neck and neck with other established elite names from his very first game. No allowing leeway for development time, no cropping out of slumps – straight up, front to back, he's already secure in his position.
Even if one was to focus just on this year, you'd find Matthews sitting at 8th in goals (17th per 60, including smaller-sample forwards that tend not to withstand 82 games of pace), 7th in even-strength goals (25th per 60), 14th in points (28th per 60), in 5-on-5 points (53rd per 60), 36th in GAR (78th per 60) and 10th Point Shares (26th per 60). All while controlling possession better than he has at any point in his career.
Speaking of Point Shares: These are the best Leafs at earning them since expansion in 1967.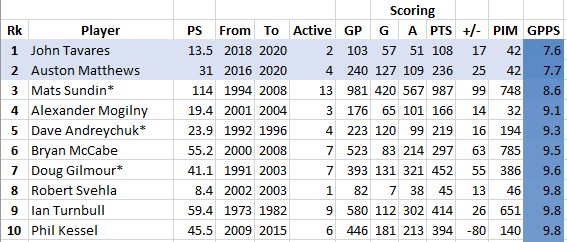 GPPS: Games Played (Per Earned) Point Share
Not bad. Not bad at all. So since coming into the league, Matthews has been a generational even-strength goal scorer, one of the top producers in the league, and everything underlying has him somewhere between a clear first-line forward and an all-world talent, which is generally indicative of a superstar. So how do we end up here, four years into this wild ride, undeniably the best start to a Leafs' career since Charlie Conacher over 80 years ago, wondering if the player is even good?
I think a lot of it it simply comes from him being the most important player on the most covered team in the most instant-news era in the history of the sport. For better or worse, sports media has turned more and more towards an ADHD method of reaction, making small sample sizes even smaller, and jumping from angle to angle in the span of days, if not hours.
The fact that hockey's culture is less outspoken than practically every other sport doesn't help things. The constant search for a storyline often can't be found in a quote or a clear-as-day show of competition or rivalry, so to keep up with the "storytelling" you see in other sports media, conclusions need to be drawn off of five-game paces, six-second gifs, and 90-second post-game scrums. Process over result coverage is getting harder and harder to find, especially in Toronto, where there is now a need to try to ride the momentum of drama that contracts, injuries, and a coaching change brought to start the year.
So when Auston Matthews has a week where he's made a few rough defensive plays and hasn't found the back of the net, we revert to saying that he's not lived up to the hype, that he's not a true franchise player, that he doesn't want to be here, or whatever crazy conclusion we can draw from a coin flipping on tails a few times in a row for the first time in a while. There isn't much of an effort put into showing what's going wrong, or explaining that it's an unusual occurrence because those things aren't quite as exciting.
So today, it's about why he's stuck at a crossroads that another player was once at, despite well exceeding that threshold for pretty much his entire career to date. Tomorrow it'll be about his contract, which he's a couple of months out of five years into (one more MacKinnon thing: He scored 53 points in the first year of his "he took less for the team" deal and until he broke out in the following year, opinions of the deal were a lot less flattering). The day after will be about how he's quit on the team, despite another night of good shot share and another five shots on goal by himself.
Then he'll go on another one of his goal benders where everything he snaps is gold, we'll see about 1400 slow-motion breakdowns about how he invented the toe-drag wrist shot, and be talking about whether or not he is a Top 1-3 player in the world again.
Such is the vicious cycle of hockey reporting. My advice: criticize the moments worth criticizing, don't lose sight of the big picture on either side of the extreme, and continue to enjoy a player who appears well on his way to being one of the best goal scorers of our generation, and one of the best players, if not the best player, in Leafs history.