I really do believe that what happened yesterday was a long time coming.
It's hard to know that for certain. The messaging coming out of the Leafs organization, as every insider and beat reporter will tell you, is typically air-tight. That is to say, no one will come out and tell you that the team has been ready to move on from their superstar head coach for quite some time.
But I look at that departing statement that Mike Babcock put out yesterday. I look at staunch praise for Chairman of the Board Larry Tanenbaum, but not Team President Brendan Shanahan. For former GM Lou Lamoriello, but not current GM Kyle Dubas. For Morgan Rielly, but not any of the other players or members of the leadership group.
I look at all that, and I look at how everything got to the point of a 4:30 PM press release that shook the hockey world, and it's hard to believe that this was a reactionary decision. Rather, one where the circumstances and temperature finally matched the inner frustrations. But how did it all get to this point, and what comes next?
Back in April, following another Round 1 loss to the Boston Bruins, I wrote a piece about Babcock on this very website. Specifically, the piece suggested that while the result was not grounds for the clock to start seriously ticking on his tenure, a second consecutive playoff matchup with clearly warted "process" certainly was.
Without repeating the whole piece verbatim (if you'd like that, just click the link above), the general talking points were as follows:
The team's elimination marked the first time a significant chunk of the fanbase had openly expressed concerns about the coaching staff – like it or not, this is a pretty necessary component when your organization is a PR and Marketing empire as much as it is a hockey team.
Like the failure to switch away from the "left side carry/pass, right side clear" break out in their first playoff matchup against the Bruins, Babcock left some clear deployment flaws on the table against the Bruins – this time, refusing to lean on his star players even while the series was in danger, instead opting for role players and support depth who could barely remember their last goals.
The "five-year plan" is rapidly closing in, even without accounting for factors that should have accelerated it. To still be this far away from the ultimate prize at this stage is a failure to reach both the dynamically-adjusted expectations and the original ones.
Toronto continued to be a team that was more successful at driving play on the road than at home – an ode to my Matchup Project from 2018. This suggests that the team was repeatedly making poor decisions with their last change capability at home, which lands on the coaching staff – especially when it's a repeated pattern for a coach.
Babcock's reluctance to adapt and gossip of inter-personal struggles with players dating back to his early career suggests an ego-driven insistence on success "his way", which is counter-intuitive to an organization that has rebuilt itself around ideas that are rooted in but not fully immersed in traditional pathways to success.
While Babcock had set a solid foundation for the team upon his arrival, the above factors combine into a bleak picture of stagnation, and like Lou Lamoriello and Mark Hunter in their roles, the next step for success may be a change.
A change came, but it came via the assistant coaches at first, rather than Babcock himself. Offensive & Powerplay Assistant Jim Hiller was allowed to move on to the New York Islanders to take a similar role, while Defensive & Penalty Kill Assistant DJ Smith was tasked with leading the charge for the Ottawa Senators as they begin the conscious stage of their low-budget rebuild. Babcock and Dubas reportedly split the hirings of the replacements; Babcock brought in former Flyers head coach Dave Hakstol to replace Smith, while Dubas brought in Panthers assistant Paul McFarland to replace Hiller.
For better or worse (and many would argue worse), the assistants have left their mark. The McFarland powerplay, which is more reliant on one-timers than slot play, was something that many were excited to see at first, but Toronto's drop from 8th to 18th in powerplay efficiency has many wondering if they were too quick to judge the slump that the Hiller schematic underwent. Toronto's defencemen are now shooting at even strength in a way very similar to how Hakstol's defenders shot in Philadelphia, which is to say – a lot of weak nothing attempts from the point, which dampens the forwards' ability to contribute.

The assistants are safe for now, perhaps to see if they can bring something new under new guidance. That's a key here – no matter how much can be criticized of McFarland and Hakstol, or Hiller and Smith before them, a certain degree of the blame has to be put on the person who says "yes, I'll integrate this into my system".
Especially when they get combined with old spots.
The clearest tone-setter in my books came on opening night when Babcock chose to scratch Jason Spezza. This came after a preseason of backhanded comments towards the 36-year-old centre, who signed a league-minimum contract to play for his childhood team and did everything asked of him as both a player and a veteran presence in the summer. In scratching Spezza, Babcock simultaneously ripped away a career highlight moment from a player who left plenty on the table to come here and created a media controversy that dampened the mood for another hometown hero – John Tavares' anointment as Team Captain became a bit less of a focus than it should have been.
A night that should've been for two local heroes became about Babcock, and that should have been as much of a sign as any that we were in for more of the same this season. In fact, it was worse. It took less time than ever for the team's offensive outbursts to be put into question as too unstructured, and a team that was considered by many to be the deepest offensively in the NHL has since not had a five-goal game since the 6th game and 11th day of the season.
The Spezza scratching was the first of many, as the fourth line went from being an area where the Leafs could flex their depth muscles to one where the team stuffed two players playing at a sub-NHL level (Frederik Gauthier and Nick Shore) and deployed them sparingly for no reason other than to occasionally play on a 27th-ranked Penalty Kill, inexplicably hop on the ice after a goal for, and take defensive faceoffs wich their respective left and right hands.
Scrolling up to the top nine, you find a situation where, despite a quarter of the forward lineup being essentially a write-off, there are still many nights where the usage of Toronto's top players is put into question. None of Auston Matthews, Mitch Marner, John Tavares, or William Nylander are averaging 20 minutes a night, which is okay on the surface when you have three or four stars (injuries have been unkind this year) to carry the weight. But given the team's struggles, it makes you wonder why their highest-leverage players aren't the ones on the front lines trying to turn things around.
The most evident example of this came when Babcock essentially told on himself on November 10th, declaring that he had played Auston Matthews' line "way too much" in a 5-4 loss to the Chicago Blackhawks.
Matthews had played 21:56 that night, factoring in on all four Toronto goals. That amount of ice time, in a single game where the Leafs had trailed for 54:42 (over 90% of the game), was less than the Edmonton Duo of Connor McDavid and Leon Draisaitl play on an average night. No one wants to see the top players on the team burned out before April hits, but on a night like that, no one would have complained to see him more often. What is the point of having star players as leverage, after all, if you can't go to the well?
Really, the Leafs haven't gone to the well with the players they have at their disposal in a long time. Everyone should have been aware that this was coming after the infamous "it's fun, but it's dumb" comment of Babcock's two games into the 2017/18 season (Toronto had just won a pair of games 7-2 and 8-5). There was never going to be a time where these star players truly got to take control of what was on the ice. They were just slightly more effective pawns in what Babcock saw as a chess game – an increasingly dull product that was played to not to overwhelm teams but control them. An attempt to play to not lose, rather than to win, if you will.
Increasingly, it became reminiscent of the most boringly dominant team I've ever seen – Babcock's 2014 Canadian Men's Olympic Team, who eked out all but one of their wins by three or fewer, shot mostly to avoid unsportsmanly games of rope-a-dope keep away, and bored us all to the point where, if you asked the person next to you what they remember from that tournament, they probably can't tell you much. It's seemed increasingly like Babcock wanted to build the same ship here, but the reality is that no NHL team will be as stacked as that Canadian team was, and many teams are better than the ones they faced along the way.
Going this route has led to just six regulation wins in 23 games, with the victims (23rd place Ottawa, 27th place Columbus, 31st place Detroit, 29th place Minnesota, 24th place San Jose, and 30th place Los Angeles) all looking a little more like Latvia and Norway than Sweden. It's led to a calendar year where the team has decidedly more losses than wins. To some degree, there's some shooting and save percentage wonkiness there, but even if you want to point to Toronto's 7th place ranking in Score Adjusted Corsi as their "true potential" for this year – is seventh place enough?
Spinning back to the Road vs. Home matchup metric, which a friend of mine jokingly labelled the "Fire Babs model" when I first made it, shows Toronto averaging a 53.1% shot attempt share on the road, compared to 51.7% at home. That's the 8th worst drop off with last change in the league this year. This puts Babcock in 49th of 51 coaches in the metric over the past three years, and 41st of 70 in the past five years (16th of 21 with 200+ games coached). While that metric isn't the end-all-beat-all for coaches, sustained failure in that regard does suggest that there may be an overthinking of matchups.
Babcock certainly brought a lot to the table when he first came to the Leafs organization. He understood that the locker room needed a serious culture reset, much like the front office and the war rooms did. He used his progressive understanding of the game to do a lot with very little in the 2015/16 "tank year", made players accountable for their actions, and added structure to the games of players who certainly needed some. Players like Morgan Rielly, Jake Gardiner, Nazem Kadri, and Tyler Bozak would not be the players they are today without him, and that mindset was immediately injected into the young core that would join and mostly replace them.
His hiring was one that I'd make a hundred times over again without regret, and I don't think that Toronto gets on the right path as quickly without him. Like Lamoriello and Hunter, he brought calmness, routine, structure, and wisdom to a team that desperately needed them after years of shambolic chaos.
But as the saying goes, the definition of insanity is doing the same thing over and over again and expecting different results, and Babcock didn't really show a ton of growth here. He came into a situation where it was clearly his show to guide, just the way he likes it, but didn't ease up on the reins once this once-in-a-lifetime (for this organization) amassment of talent came in. If anything, he gripped tighter, hoping for the team's identity to be his own, rather than theirs.
That, ultimately, is what sunk him. It speaks volumes that, when talking casually to players staff past and present leading up to and following the news, few seemed to feel bad for him. While not everyone would lean in and twist the knife, not a single one I spoke to felt a need to defend or vouch for him, which reflects the intensity we've seen on the ice throughout this year.
I wouldn't be surprised if this becomes a humbling moment for Babcock, who had only left teams on his own terms up until this point. It's proof that his way, that "Betting on Mike Babcock" if you will, isn't a guaranteed pathway to success, and that maybe he needs to be a bit more flexible wherever he ends up next. Given that his strategies were closer to over-controlled than old-school, it's very likely that he has a lot of time left in this league, and if he takes this the right way, he could go back to living up to his reputation.
For now, though, he becomes the fifth consecutive Leafs coach to walk away without a single playoff round won. Until the next one, there is no coach alive today that has accomplished even that with this team.
The Leafs will look to Sheldon Keefe to change that. Keefe, like Dubas in the front office, has been groomed for a moment of transition for several years now, having joined the AHL Toronto Marlies as a Dubas hire in 2015.
The two have had a working relationship for the better part of seven years now, with Keefe originally joining Dubas in a very similar way (as a mid-season hire) in Sault St. Marie in 2012, after years of Junior A success with Pembroke of the CCHL. The results were immediate – while Keefe didn't finish his OHL coaching career with a championship, he led the Greyhounds to a 121-41-10 record over his two and two-thirds years there, cementing himself as a rising star in the industry.
What he's done within the Leafs organization has only taken that a step further. First off is obviously the winning – Keefe leaves the Marlies with an absurd 199-89-22-9 record over a little more than four seasons (including 10-2-2-1 with an injury and call-up riddled team this year), several deep playoff runs, and the team's first Calder Cup Championship in 2018 – a championship won by dominance in all three key areas (offence, defence, and goaltending) and with trust afforded to prospects and youth just as much, if not more so, than the veterans.
That part is key, as is the huge helping hand he's already given in developing the players in the room he takes over. William Nylander, Andreas Johnsson, Kasperi Kapanen, Zach Hyman, Trevor Moore, Dmytro Timashov, Frederik Gauthier, Travis Dermott, Martin Marincin, and Justin Holl all owe big chunks of their growth to Keefe's guidance, which can best be described as dynamic – as team-oriented as it is individual-oriented. Sometimes tough, sometimes supportive. No role truly set in stone, no focus area becoming sole. A core system, but room to branch off. Recent call ups Pierre Engvall and Kasimir Kaskisuo can say similar, and if you want to count Nic Petan's three games as a head start on the trust front, you could maybe do that too.
It's not often that you can have a new coach walk into a room and already have half the group's attention before he opens his mouth, but there is no doubt that Keefe has that, and in a positive way – as the antithesis to what I mentioned about players not going to bat for Babcock, most will speak glowingly on and off the record about Keefe – many truly, honestly believing him to be the best coach they've had.
These first few feeler weeks have me very interested to see how things look. Is it a slow transition to his system (not overwhelmingly different, but one with more breakout flexibility, more pinching, tighter gaps, and a few other noticeable differences), or does he recognize that he has enough familiarity in the room that they start playing with the Marlies' tempo and style right off the bat? Do the lines or the lineup decisions change right away, or at all? How much more leeway to the stars get to unleash themselves? Do players still get tasked with re-inventing themselves for a system, or does this become a situation where the team actually coaches around their strengths?
I have a lot of confidence that, if there is anyone who can get the most out of this group, it's Keefe, and it's Keefe working with his old wingman up top once again to build the best hybrid of assets and execution that they can. I think it's finally the completion of the transition from the Hall of Fame establishment brought in to undo the organization failures of past regimes, to the young, forward-thinking, potential-oozing group to set a new tone for what the Leafs identity is supposed to be.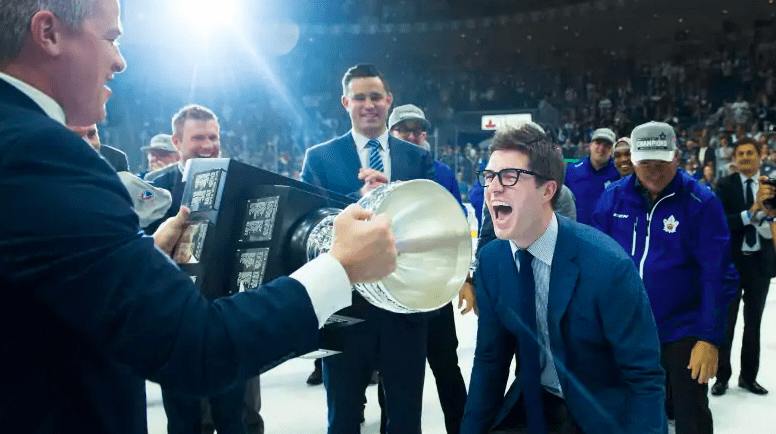 But, just one thing first.
If I'm Kyle Dubas, Sheldon Keefe, or Brendan Shanahan – hell, if I'm any staffer or player in the organization – when I come home from this road trip, I'm taking a tour around Scotiabank Arena. Taking in every photo, looking at every banner, and every statue. I'm thinking about everything that those past builders did to accomplish their legacies.
After that, I'm abandoning my own mission.
The key undoing for the Leafs organization for decades now has been the lust for the statue, or the banner. This is a city that lionizes its legends like few others, and nothing will bring more of a legacy than bringing glory back to the goliath organization that happens to carry the longest championship drought in hockey. Too much time has been lost to people who worry less about getting to the finish line than how much credit they'll get when they reach it.
I think that's where things ultimately went with Babcock – a roster with so much potential to succeed in their own right was turned into a chess set by someone who wanted to prove, once and for all and on the biggest stage, that he was Kasparov. It became less about leading the Leafs to glory and more about leading the Leafs to glory, and it ended in a team loaded with talent spending far too much of the past couple of years playing boring, risk-averse hockey, with all the internal resentment that comes from that in the long run. He isn't the first to fall into this trap in this city, but he needs to be the last.
I have confidence that this group, the end result of years of planning and development, is capable of pulling it off. Only time will tell if they though – the ball is officially in their court, and the shot clock is now ticking.
No one is saying to abandon leadership or structure or to never do anything for yourself, but from this point on, the process needs to be about the team's success. Worry about the statues once it's all said and done, work as a team from top to bottom, maximize each other's strengths, and let history take care of itself.