Let's be honest here – it wouldn't be the start of the Toronto Maple Leafs' regular season if we weren't already arguing about the fringes of the lineup. It's almost an annual tradition to lose our collective minds over the fourth line, third defensive pair, or the backup goaltender, as if those marginal (and still useful, don't get me wrong) gains are significant to the team's chances.
But today's grievance is a little bit different, and it comes with the news that Jason Spezza won't be part of the opening night roster.
Looking like Jason Spezza will be a healthy scratch in the Leafs opener tonight. https://t.co/anmiubuWcT

— Jonas Siegel (@jonassiegel) October 2, 2019
Right away, without any sort of clarification, the decision already seems questionable. No one is sitting here claiming that Spezza is the player that he once was – at 36, he's definitely seen better, more dominant days, some of which deserve more respect in hockey's lore. Everyone knew coming into this season that his role was not to be the dominant playmaker of his past, but the supportive depth of his presence – something he showed in Dallas with back-to-back seasons where he put up about 13 minutes a night, 25 or so points, some powerplay time, an over 55% proficiency at the faceoff dot, and good 5-on-5 possession numbers.
Even if that's all you get out of him in Toronto, that sounds a fair bit better than the other players in his battle. Frederik Gauthier has defied the most pessimistic of projections for himself, carving an NHL role, but still has yet to crack even the 15 point barrier at 24 years old and finds himself heavily outshot whenever he's on the ice. Nick Shore has been a curiosity point for the analytics community over the past few years, but he too has never really found much production and while his underlying numbers are positive, they don't jump out at you as dominant given the quality of minutes that he plays. Upping his competition from NHL fourth lines to KHL top sixes gave us a glimpse at what he could be in a more prominent role, and it wasn't really an opportunity that he made the most out of, nor was this year's camp.
This is all to say that, off the bat, Spezza isn't being outplayed by better competition here, and the "what happened to your best players?" rule doesn't apply. Spezza is pretty firmly the best available option for the fourth line centre role, and even the most pessimistic thoughts about a decline would still leave you at a wash.
But, as I said in the beginning, this is a fringe battle for insignificant minutes in terms of both quality and quantity – so why are so many people mad about it?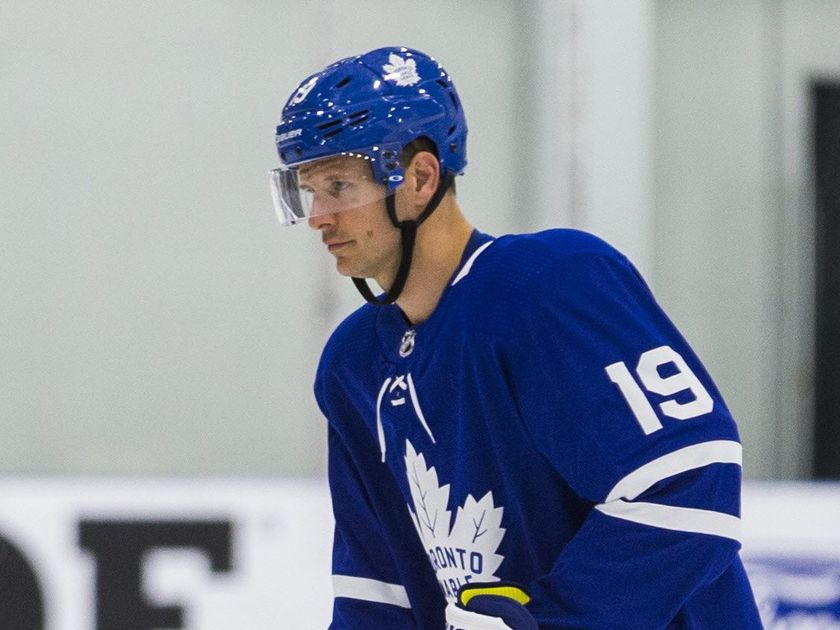 This, of course, is where optics come into play. Spezza came to town as a very unique commitment. While he was never going to make $7.5 million again in this league, many were shocked to see him take a $700,000, league-minimum contract with the Maple Leafs. He didn't do this because it was his market value, but because he wanted to play his hometown team, in a contention state for the first time since nearly half his life ago, and taking the minimum was the easiest way to fit him in.
Tonight was Jason Spezza's chance, after 1065 games played and 16 years full of all sorts of ups and downs and adversities, to step on the ice for his childhood team during their home opener. Their opponents? A team that he spent the first eleven years of his career with, some of which as their captain. This is the biggest shoe-in for dressing a depth player that you'll ever find. A player who took a massive concession to get here, and one who's working on re-inventing himself for the benefit of the team.
It's a show of respect to a veteran, and one that comes with no baggage. In previous years with this group, we've seen plenty of decisions to dress players that are undeserving of minutes and roles with the justification of "tie-breaker goes to the veteran", "respect to the veteran", so on and so forth. Leafs fans have had to sit through all of these soundbites for all the Patrick Marleau and Leo Komarov 20 minute important games and 3-on-3 overtime dressings, the Roman Polak and Ron Hainsey last-minute double shifts, and all the little bits in between. So why is it that, now that there's a veteran who is the best fit for his minutes, we're seeing him get questioned all throughout training camp, and scratched on opening night?
It feels like a double standard, and it makes it feel like that prior messaging was an excuse for making stubborn decisions, and not an actual, universal mindset. Breaking from the pattern now sends a poor message to the rest of the hockey world – especially at a time where the team is going to need as many players to take the Spezza discount as possible in the coming years, with the salary cap structure being as tight as it is.
A recent example of this comes in how the Leafs have handled situations like Frank Corrado's, Josh Leivo's, and Justin Holl's – players who were stapled to the press box for months and months. Thankfully, all were good soldiers for extended periods of time, and Holl still has been, and ultimately, there was never really a dramatic difference in the additional value those players could have brought. But what these situations did do is make the Leafs seem like a risky place for a prime-aged bubble player to commit to on the cheap; that if they didn't win a spot, they could get stuck in purgatory rather than being moved on from.
Is it too early to say that this could become the veteran equivalent? Maybe, but I have no doubt that people around the league have noticed Babcock's backhanded comments regarding Spezza during camp, and that his absence tonight will be noted. If it's a one-off, then maybe it's just a scratch, but if it continues, it could develop into more of a wound, closing off parts of a market inefficiency that the Leafs will desperately need to rely on moving forward.
Mike Babcock says Jason Spezza will play in the Leafs next game on Friday. Says he wanted Spezza to get extra reps killing penalties at practice before he got in the lineup.

Spezza hasn't killed penalties regularly since he played for the Ottawa Senators.

— Jonas Siegel (@jonassiegel) October 2, 2019
What makes this the most baffling, though, is the reason why. This isn't even Spezza losing his roster spot – he'll be dressing in the next game. There's a rotation in place, and that's fine, but for the most illustrated veteran to not get the first crack seems weird. Keep Gauthier in because he was here last year if you want, sure, but to give Shore the first night and take away the moment from Spezza so he can do a few more penalty killing drills?
That just seems really weird to me. Say what you will about having a good penalty kill, but I'm not sold that a few extra hours of practice is going to make a significant difference there for a 36-year-old. Declaring this the reason to the public also puts a lot of pressure on today's units to nail their assignments, which I suppose is good for internal competition, but could go either way.
Overall, this just seems like something so avoidable. We're missing out on a really cool moment for a player who sacrificed to be here, to create an extremely marginal advantage at best, and probably a deficit at worst. The reasoning of giving him some extra penalty kill practice seems like a cosmic brain decision, and the message sent to future veterans who might want to help the team with a sweetheart deal is, at least for now, not a great one.