A lot is being made of the Ottawa Senators' cap management right now, and for very good reason. The team's financial struggles – both directly and indirectly through owner Eugene Melnyk's balance sheet adventures – have put a spotlight on how they go about their business, and this summer, it's not looking pretty.
After losing the best of the core that brought them to within a goal of the 2017 Stanley Cup Final, the team is selling a "rebuild" that looks to be closer to a mere attempt to remain operational on paper.
Graeme Nichols (better known as 6thSens on social media) wrote a very good piece on the difference between the team's actual salary and their salary cap hit. The team had spent much of the summer taking on contracts where their cap hit exceeded their salary owed for the immediate future – be it players on the back-end of front-loaded contracts, players with Long-Term Injuries with salaries covered by insurance, or players who had already had their July 1st signing bonuses paid out.
Nichols' conclusion was that the team was spending roughly $45.7 million to get to $60.1 million in cap space – with the league's salary cap "floor" set at $60.1 million. This was before their trade yesterday, which at its core, sent Mike Condon to the Tampa Bay Lightning in exchange for Ryan Callahan, whose career is effectively over due to a chronic back injury, meaning his $5.8 million cap hit turns into ~$940,000 in money owed to the player.
I don't think what the Senators are doing is news to many, though. If it was, Nichols wrote the definitive piece on the situation, so I'm not going to try to tackle that. I was curious to just how drastic Ottawa's situation was compared to the rest of the league, though, so I quickly crunched the numbers for the upcoming year: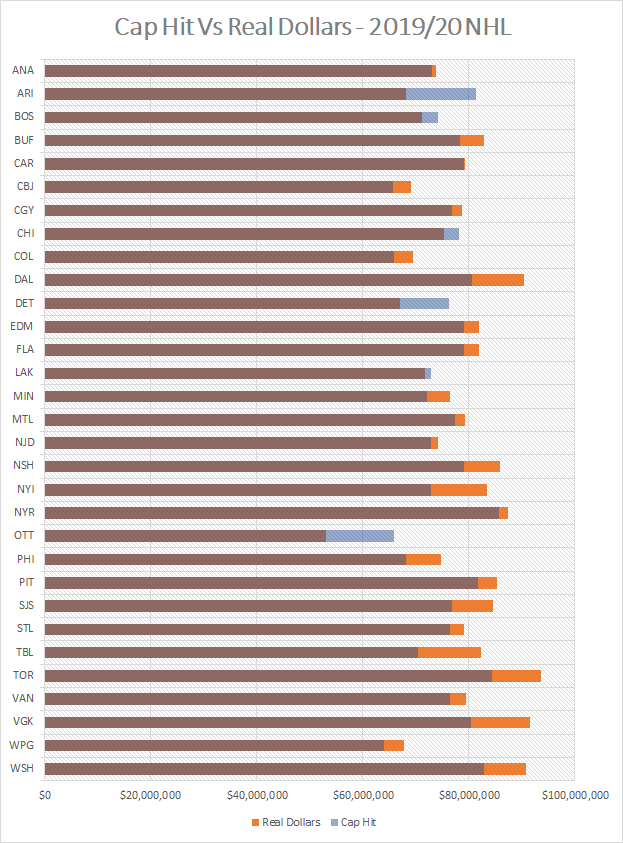 The methodology here was quick and dirty – I used players that CapFriendly currently counts as "rostered" (most non-roster players wouldn't have front/backloaded salaries anyway), included buyouts and salary retentions, and didn't account for signing bonuses (for all intents and purposes, though, the only impact of those this summer seems to be to make the Ottawa gap more significant).
The results here are very interesting. Of the 31 teams across the league, 25 are spending more than their cap hit this year. Only six teams are the exception to this rule: Arizona ($13.1 million surplus), Boston ($3.0M), Chicago ($2.8M), Detroit ($9.2), and Ottawa ($12.9). Arizona technically has the biggest gap, but also spend $15 million more than Ottawa do, and again, this doesn't account for bonuses (Nikita Zaitsev's pre-paid bonus in Toronto alone would give Ottawa the top seed).
Ottawa remains the only team in the league who are paying below the cap floor in actual dollars, while 13 teams exceed the ceiling. That so many teams are exceeding is hardly surprising – the trend of front-loaded, bonus-laden deals is more popular than ever, and many teams still have payments due for 2012/13 Compliance (cap free) buyouts. Los Angeles also has a weird quirk – their AAV only exceeds their salary due to the punishments levied on them for terminating Mike Richards' contract in 2015.
I would suspect that this trend will continue over time – as the cap increases, the amount of money you can front-load will increase too, as will the players' leverage in getting the most financially-friendly deal possible. In fact, I would expect this to get even more drastic over the summer, as teams agree to terms with the significant amount of star restricted free agents still on the "open" market, who will likely ask for contracts that fit this structure.
At the same time, I wouldn't worry too much about teams skirting the floor in the same way as Ottawa has, given that they seem like such an outlier from the rest of the league, spending over $15 million less than the next team with much less left to do than the others. They're a specific business and operations concern to the league, while other "budget" teams are still building rosters above the floor, mixing in dead-weight contracts more as an attempt to harvest assets with the space they have than they are as an attempt to stay afloat.