An article like this doesn't need an introduction at this point. You've been hearing about Mitch Marner's contract all year – he's the last of the big four to need one, and there's a lot of hype that this could be a whopper. Recent media reports suggest Marner is now looking for a comparable deal to Auston Matthews, which saw the team's franchise player sign for five years at $11.634 million per season.
Marner is a beloved player that's coming off of a monster season, and the undertones of this discussion are a lot different than they were with Matthews and William Nylander. As such, the below is an in-depth look at why those undertones are different, what his comparables are, how he drives play, what factors will come into play in negotiation, and how we can put this all together. Beware: this is a long one, so maybe get a cup of coffee ready.
It's Bigger Than Mitch
Before we start with the objective stuff, let's get something out of the way – we need to admit that these negotiations, from his end to the fan debates, are bigger than Mitch Marner's play, and are fuelled by emotion and philosophy.
Starting with his and his camp's standpoint, here's Elliotte Friedman on 31 Thoughts this week:
"I asked if it was wrong that I'm saying that he's targeting the Matthews' contract, and [person on the peripheral] said well, no."
"One thing about Marner, is you get the sense.. is that you feel that you're not considered important enough. There's a guy there who was drafted fourth overall, people ripped that pick at the time, it was a great pick. He was sent back down to junior, and the Leafs were very blunt about why he was sent to junior. He didn't get the full [Schedule B] bonuses in his first contract, which has continued to be a thing, even though it was a Lou Lamoriello kind of rule. And everyone around him is convinced that Mitch Marner is not respected the way he should be respected."
What Friedman is mentioning here has been gossiped about through the grapevine for quite some time now, though this is one of the first time's it come to media light – infamous Paul Marner quotes from December aside. There's a general vibe from his circle – not necessarily from him, but his circle – that he deserves to be the rightful face of the Toronto Maple Leafs, if not the NHL in general. That the fairytale story of "local phenom gets drafted by his childhood team and leads them to success" needs to be told exactly as originally written, and that the incredible depth of the Leafs' core, including Auston Matthews, John Tavares, William Nylander, Morgan Rielly, Frederik Andersen, and others, almost take away from it all. So long as that circle is there, that will linger, and that obviously bleeds into the dollar talk now.
Said dollar talk has been in the Toronto media all year, with personalities like TSN's Darren Dreger and Sportsnet/CBC's Nick Kypreos leading the way. Dreger's most recent radio hit on the topic involves him suggesting that the Leafs should have signed Marner in the $9.5 million range before this year (despite comparable statistics to William Nylander, who they were negotiating with at the time and settled on $2 million less), and that Marner's camp shouldn't pick up the phone unless Toronto is at least coming in with $10.5 to $11 million.
Interestingly, Marner has staunch support from the casual fanbase in his pursuit of this deal, unlike the feedback that William Nylander got in his contract holdout, and unlike the reaction to Auston Matthews' five-year extension that was signed mid-season.
I think a lot of that comes from upbringing. People are very quick to call this a situation of straight up nationalism or xenophobia, but I don't think that's quite correct. I think one can be okay with players or people of all backgrounds while still resonating more with the local kid, so long as it doesn't bleed over into a flat-out hatred at all costs of the one that isn't (which, occasionally, it does, and then that conversation can be had).
Put simply, though, it's easier to relate to the Toronto born-and-raised kid who was locally-developed, played in the OHL, and jumped straight into being a core piece for the Leafs, than it is the Alberta-born, US and Sweden-raised ex-player's son who took a couple of steps to the show, or the California-born Arizonan who was developed in every non-traditional way you can think of, from honing his craft in 3-on-3 rinks to spending his draft year in Switzerland.
It's a much more relatable story. Heck, because Marner is so local, many people have those indirect or direct connections to him, his family, his youth teammates, and the like. Personalities are key to this too – Matthews is mature beyond his years, Nylander is camera shy, and Marner is everyone's fun-loving, outgoing son. I've said many times that Matthews is the face of the Leafs outside of the GTA, while Marner is the face within it, and I firmly believe that to be true.
In a way, you're cheering for Matthews and Nylander while you're cheering on Marner. You live vicariously through his story, and through those you know who knew him. He's not just his results, but he is a window into what you've always longed for yourself. There's an emotional impact there, and even if he doesn't play the exact way that his most loyal fans tend to envision the rest of the team, you get where the love comes from.
But, hockey is a business and roster composition relies on efficient spending, so a successful team can't have those same goggles as the fans do. Unfortunately, a lot of fans don't seem able to take those goggles off, and will over-compensate in their support of him, trashing others on his team and throughout the league, and taking anything less but total praise as slander. When those people go on the offensive, they are not defending Marner, but often their own love and passion for the game. He represents his core fanbase to the point where any scepticism of him is scepticism of them, which can be problematic when having a serious discussion of value.
If we're to evaluate him properly, we can't take the same approach. So instead, let's take the goggles off and figure out the price that his play is worth, and not the price that our hearts want him to get.
Setting His Baseline
To get a proper grasp of what Marner should be making on his next deal, we need to establish a starting point. To do so, I've built a comparable sheet featuring 39 forwards, who, since 2005/06, played their first three seasons within the confines of a salary cap. This comparable sheet looks at their counting stats, Hockey-Reference's point shares, and, when available, five additional metrics – four sourced from Corsica (Primary Points/60, Game Score/60, Relative Corsi-For and Expected Goal Percentage, all at 5-on-5), and one from Evolving-Hockey (All-Situations WAR/60).
The 39 players used are as follows:
| | | |
| --- | --- | --- |
| Alex Ovechkin | John Tavares | Patrik Laine |
| Anze Kopitar | Johnny Gaudreau | Paul Stastny |
| Artemi Panarin | Jonathan Toews | Ryan Getzlaf |
| Auston Matthews | Jordan Eberle | Ryan Nugent-Hopkins |
| Brayden Point | Leon Draisaitl | Sean Monahan |
| Connor McDavid | Matt Duchene | Sebastian Aho |
| Derek Stepan | Matthew Tkachuk | Sidney Crosby |
| Evgeni Malkin | Mitch Marner | Steven Stamkos |
| Gabriel Landeskog | Nathan MacKinnon | Taylor Hall |
| Jack Eichel | Nicklas Backstrom | Thomas Vanek |
| Jake Guentzel | Nikita Kucherov | Tyler Seguin |
| Jamie Benn | Nikolaj Ehlers | Vladimir Tarasenko |
| Jeff Skinner | Patrick Kane | Zach Parise |
These players were picked by sorting the group by era-adjusted points on Hockey Reference over the span of their first three seasons. Eric Staal was removed from the Top 40, as only two of his years were played in the Salary Cap Era.
With those above metrics, I also dug up the second contracts for every player – in years, AAV, and salary cap percentage. I ranked Marner in the most important of those metrics and looked at the average cap percentage of the players who fit in the top, middle, and bottom third of the group.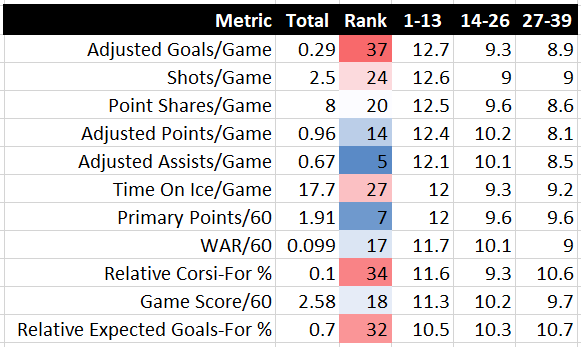 Goals reign supreme in the NHL. Which makes sense, when you consider that putting the puck in the net is the object of the game – while players who get you there are definitely valuable, those that you can rely on to score goals will get the most money. Shots, unsurprisingly, are the next most valuable trait. Assists, which are Marner's bread and butter, are a tier below, and modern underlying metrics a level below that (which, give the multiple layers to them, does make sense).
Overall, Marner scores to be a pretty average player in the context of this pool, within their first three years. So what did the average player in this pool make? Looking away from players who took contracts that are too long to legally sign today (Ovechkin at 13 years and Backstrom at 10 years), and skipping the "bridge" contracts of Panarin, Duchene, Stepan, Kucherov, and Parise, you get an average of about six years at a cap percentage of 11%.
This makes his best comparable one that he's been a comparable of on the ice for a long time – Patrick Kane. Kane signed his contract midway through the 2009/10 season to match Jonathan Toews – he had 144 points in the two seasons prior, and that year, finished with 88 points and a Stanley Cup.
Kane finished his first three years with 76 goals, 154 assists, and 230 points in 244 games. Marner finished his with 67 goals, 157 assists, and 224 points. Adjusting for era, Marner's points increase to 232, while Kane's increase to 244. Kane received five years at $6.3 million per year, for a cap percentage of 11.09%. This is in line with the averaged-out look above.
A cap percentage of 11%, under an $83 million salary cap in 2019/20, would afford Marner a baseline cap hit of $9.13 million on a six-year deal.
The Marner Effect
https://www.youtube.com/watch?v=Beze93j1idQ
Something that we hear about a lot, with regards to Marner's talent, is how he's effectively driving his lines and making everyone around him better. Sound familiar? It should, because that's something that we heard about John Tavares for years in Long Island.

If you were a good player with the Islanders and you played with John Tavares, you got even better when on his line. You produced more points. You usually took more of your shots from the slot. Most evidently, your line was setting themselves up for offensive success significantly more often, to the rate of about half an expected goal per hour in your favour. This was usually pretty good for your point totals, and if the team was good defensively, the group's win totals.
As you can see, similar happened with Mitch Marner this year. I wonder how much some of those numbers are skewed thanks to Marner coming out of post-penalty kill shifts where he was the lone part of the duo out on the ice, But I imagine those would also be skewed back the other direction by situations where Marner would play with, say, Matthews and/or Nylander in an all-in effort to get a goal late in the game. Not shown here, and possibly complimenting the point about post-PK shifts, is that Marner put up just a 39% Corsi share and 36% Expected Goal share in 152 minutes away from Tavares this season.
Either way, Tavares has gotten these results for pretty much his entire career – he's a generational talent in terms of getting the best out of his linemates. Even a look at how the players are shooting tells you a lot – the share of attempts as "high danger" all go up for four of the players when they're, but the exceptions to that rule are with Josh Bailey and Mich Marner. We already know that Tavares shifted to a "net-front" style of play in Toronto, but you can see in his shot rates on the Islanders that he was taking on more of the triggerman responsibility when playing with Bailey as well – which makes sense, as Bailey is also a playmaker.

I made a similar chart to the Tavares one for Marner, and the differences are pretty fascinating. You still see a spike in production – most notably with Patrick Marleau (though I imagine a lot of that comes from him falling off an age-induced cliff this year, where he spent very, very little time with Marner. Marner replacing Leo Komarov on the Kadri-Marleau line likely helps with those totals too). But when you look at the other key categories, you see very different stories.
The "Share of Individual Attempts as High Danger Chances" column was originally placed in here for the sake of illustrating Marner's positives but ended up showing a different story. My eye-test thought was that a player like Marner would allow his linemates to head to the net, finding them for quality shots with his playmaking ability. Instead, it's a bit of a mixed bag. Bozak, Marleau, and Hyman all see their shot quality go up, but the players we gave the most credit to Marner for – Kadri, Van Riemsdyk, and Tavares – all drop, significantly so in the case of the latter two. Their frequency of taking those shots drops too, as it does with many of their shot types.
Also interesting is the look at expected goals. There isn't a clear difference in playing with Marner like there is with Tavares. A couple of players even fare better in that regard away from him, others are a wash, and others improve but were already elite without him. It's a far cry from the "elite with, mediocre without" we see with Tavares.
I also took a more expansive look at Marner's WOWYs with some other names included – expanding the sample to anyone with over 90 minutes played with him rather than using the Top 6 to match the Tavares/NYI chart above. The pattern of being largely a wash on individual shot generation and point production remains, with his most positive across-the-board impact coming, interesting, in primary assists, suggesting that Marner was a strong gateway from players to make the final in his first two seasons. This lines up with his own primary assist rates; Marner had 36 1A's at 5 on 5 last year after only having 25 in his first two years combined.
Largely, though, the only staggering overall benefits seen were on players with small samples (William Nylander and Matt Martin), and Tyler Bozak.
Importantly, there really isn't a heck of a lot to suggest that he was a boost to Tavares and Hyman. Both players did just fine without him, barely skipping a beat or, in Tavares' case, arguably playing better. What can be argued is that Marner's tool-set allowed for those two to alter their games this year. With Marner being the primary distributor on his line, and an elite one at that, it allowed Hyman and Tavares to focus their game closer to the slot than they have in previous years, meaning that both were able to focus on shooting instead of passing, leading to each of them setting their career highs in goals. This is why Hyman's goal totals went up by six but his assists dropped by five, while Tavares saw his goals go up by 10 but his assists drop by six.
The most simplistic way of looking at the Marner/Tavares relationship is as follows: both helped each other out. But ultimately, one saw their point total go up by four, and the other saw theirs go up by 25. They are peanut butter and jam together, but Tavares appears to be the one with more evidence as a driver, even if his impacts are made through link-up play and net-crashing rather than holding onto the puck, a trait we traditionally associate with drivers. It would be difficult to give enough credit to "The Marner Effect" to make it positively influence his contract value.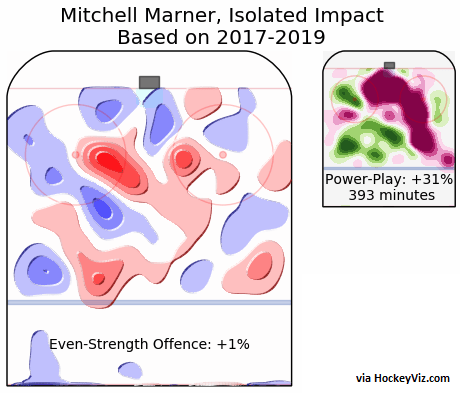 I think one reason the "Marner effect" isn't as pronounced is because it requires a lot of good fortune to happen to turn into goals. Marner carries the puck a lot and holds it along the perimeter while trying to find an open player in a dangerous position. This form of "velcro playmaker", a player who has the puck attached to their stick more often than not, will often end up slowing the pace of shot generation to look for the right shot, and if it doesn't work, it often breaks up the whole play entirely.
This is probably why his style is so effective on the powerplay but wasn't that significant of a game changer at even-strength until Tavares started turning more of those passes into goals – there's simply more space to work with and with more time and space, there's less pressure on the receiver to know what to do instantaneously. It also makes me a little worried about those primary assists; if his finishers aren't burying, those go down, and that seems to be the bread and butter of the negotiation.
The Offer Sheet Thing
You thought the Nylander contract situation is a tough one? What happens when Lou Lamoriello gets revenge on the #MapleLeafs by offer-sheeting RFAs Mitch Marner and Auston Matthews in 2019.@JSportsnet says absolutely Lou could try it.

On-Demand/Podcast: https://t.co/TubDZ3MYxT pic.twitter.com/kv5aoPcyVQ

— Sportsnet 590 The FAN (@FAN590) September 25, 2018
There's been a lot of talk over the past year or so that Marner might become subject to an offer sheet, and that the Leafs should be working to avoid getting caught in a put-up-or-shut-up situation this summer.
There are a few things to keep in mind when considering the pressure of an offer sheet:
Offer sheets, on the whole, are exceedingly rare. The last time a player accepted one and forced the issue with his team was in 2013, when Ryan O'Reilly signed a sheet with the Calgary Flames after a hold-out with the Colorado Avalanche. Said offer sheet is famous for Flames GM Jay Feaster not knowing that O'Reilly's games in Europe would make him waiver-eligible should the Avalanche had taken the picks, but they chose to match. The last offer sheet to be signed and not matched was Dustin Penner's, going all the way back to 2007. The Anaheim Ducks chose to accept the compensation of a first round pick, a second-round pick, and a third-round pick from Edmonton.
On the subject of compensation, a Marner offer sheet would come with a very steep one. A sheet with a 1 to 5-year term at an AAV of at least $10.57M, a 6-year term of at least $8.81M, or a 7-year term of at least $7.55M would come with a return of four consecutive first-round picks (2020, 2021, 2022, 2023) from the team that signs it.
Marner still has to sign the offer sheet. Ultimately, such a move is an "all-in" decision to make, with every chip placed on the table. When you sign an offer sheet, there is a legitimate possibility that your current team will walk away, either because they can't afford the salary, they find the compensation satisfactory, or they simply don't want to deal with a player that's trying to be indirect about negotiating their contract. So Marner would have to be content with the chance that the Leafs take the picks.
The chaos scenario would be one where Marner's camp tries to force an ultimatum on the Leafs by accepting an offer sheet that falls into the two firsts, a second, and a third compensation range – which would essentially involve him taking just under that $10.57M on a bridge-length term (1-5 years). I can't see them doing that from a PR/bridge burning perspective, nor can I see an opposing GM being complicit in a weaponization of the system like this given the eternal stalemate that offer sheets already carry.
As such, I'd imagine an offer sheet would have to be a legitimate one, where a team offers a contract that knocks Marner's socks off and is unlikely to be matched. To do this, we're talking about a four first-round pick compensation, at an AAV that is likely well above the value we established previously – likely a deal of about $11 million per year at a 5-year length.
Should it come to that, the Leafs should consider taking the compensation. When an idea like that is brought up publicly, the response tends to be along the lines of "why have four low firsts instead of Mitch Marner?", but correct use of cap space has roster value, and I'm not convinced that the four first-round picks would be low.
Let's go back to the Oilers' signing of Penner. A week or so before that offer sheet, the Oilers made a bigger one to the Buffalo Sabres; a 7-year deal for sniper Thomas Vanek, that came with a potential compensation of four first-round picks and a hefty cap percentage. The Sabres ended up matching to avoid a local PR nightmare (having already lost Chris Drury and Daniel Briere to free agency), but in hindsight, we can say that they likely shouldn't have.
For one, Vanek never had a season like that again. He remained very good throughout, but he got to play with the right players at the right time and had the right amount of puck luck in that second season, and saw a huge spike from his previous year's production (sound familiar?). It was a perfect time for a sell-high, no matter how bad it would've looked.
But also, the Oilers had the cap space for this hail-mary because they were weren't well-stocked, and the thought of putting half a decade of picks on the table was made by a team that wasn't planning properly for the future. Penner ended up costing a rebuilding team the 12th, 43rd, and 73rd picks in the following draft, but had it been Vanek, it could have been even worse: Edmonton's four-year window of first-round picks were ranked 12, 10, 1, and 1. Yes, Thomas Vanek could have cost the Oilers Taylor Hall and Ryan Nugent-Hopkins.
A team that has $11+ million this summer to pry away Marner, and decides that it's best use of that money is to give up four first round picks and that salary for him, is unlikely to do well in that window. That likely means he doesn't end up signing the sheet to begin with, but if he does, it's worth a long look towards walking away.
The 2019 Peers Thing
Another important factor to consider when talking about compensation and offer sheets, and all of those other fun quirks in a contract negotiation, is that Marner isn't the only noteworthy RFA on the market this summer. In fact, four of the people used in the first comparable chart in this article are up for renewal this season – Brayden Point (Tampa Bay), Matthew Tkachuk (Calgary), Sebastian Aho (Carolina), and Patrik Laine (Winnipeg). Missing in the comparable chart due to a nine-game trial in 2015/16, and equally important to this conversation is Mikko Rantanen (Colorado).
Laine's contract might be the trickiest one in hockey to figure out; he's generationally good at putting the puck in the net (the most valuable trait), and mediocre at just about everything else. But we do know that goals have extreme value in contract negotiations, so it's safe to assume that will be his saving grace. We also know that Point, Tkachuk, Aho, and Rantanen all had at least 30 of those this year, while Marner "exploded" for 26. Using three-year windows, all of those non-Laine four are comparable or better in terms of Point Shares, Goals/Wins Above Replacement, Game Score, Shot/Expected Goal Share, and point production rates. All are elite transition players, all are strong passers, all play big minutes, and two (Point and Aho) play centre.
You could probably take that group of Point, Tkachuk, Aho, Rantanen, and Marner and argue about their order until the cows come home. So what are they all gossipped to be making next year?
That's, uhh, the interesting thing. While we hear about Marner's supposed value and asks on a daily basis, there really isn't much out there on the other four. The goal here was to post what the various national and local outlets are talking about for their players, but aside from one Calgary Sun writer saying that he could see Tkachuk making more than $9 million in a roundtable, it's a ghost town. This speaks a lot to the inflation of being in the biggest market, where sides negotiate through the media, where media has to always talk about something, and where every good and bad play gets amplified to 11.
To say that it's likely that some, if not all of these players sign for much less than what is being discussed with Marner would be an understatement. I'd be more shocked if any of them touched $10 million than I would be if a couple of them signed for under $9 million. People can say that McDavid and Matthews changed the market, but generational players are outliers; certainly, we didn't see too many players breathing down Crosby, Ovechkin, and Malkin's backs for quite some time after they signed their second deals. It might be worth the Leafs' while to wait for at least 2 or 3 of those players to sign their deals, while leaning hard on them as comparables to Marner.
The Leverage Thing
.@TSNBobMcKenzie on Kyle Dubas and how the Nylander situation was dealt with pic.twitter.com/umtKijPKTh

— Flintor (@TheFlintor) May 1, 2019
This brings us to the question of leverage. Specifically, how much the Leafs have in the situation. Those cheering on Marner to get his money have argued that they don't have a lot of it, as evidenced by the team "caving" to William Nylander's request in December. I don't see it the same way.
If we're to believe the numbers that were going around the media last summer/fall, Toronto ended up faring pretty well with Nylander in the end. If his ask was really $8 million, and their want was really $6 million, the AAV of $6.96 is a slight edge in terms of meeting him in the middle. I don't think they did a brilliant job the negotiation (my expectation of "fair" was $6.75M and not missing games), but they didn't lose the game of chicken.
Three key things came out of that negotiation. For one, Kyle Dubas proved that he isn't afraid to lose a roster player for an extended period of time if it means getting a deal done. He will play that game of chicken with you – that parameter is set.
Secondly, Nylander had a season that came with lots of underlying reason to believe he will be himself again, but didn't get the results that he, or anyone else wanted. Coming into a season two months late makes it very hard to keep up with everyone else from a conditioning standpoint, and Nylander's failure to catch up, despite being an athlete that's been praised for his conditioning and off-ice commitment, should be a clear warning sign to anyone considering going the distance.
Finally, the Leafs straight up can't afford to go into a holdout again this year. Nylander's contract was unique in that it gave him a significant cap hit this season ($10.3 million) but backloads to $6.96 in the following seasons. With 2019/20 being Toronto's toughest salary cap year, the Leafs absolute can't afford another one of these deals with Marner. If he's not signed before the season starts, he's essentially lost for the year, if not for good.
Some would consider that leverage that Marner has on the Leafs, but when you consider his reputation as the happy-go-lucky kid who will do anything for his dream to win with his childhood team, the antithesis to the businessification of the modern game, it would be a massive shot to his "brand" to walk out on that same team at their peak because he wants a disproportionately expensive contract, especially if it's in the name of "respect" or "value" over his teammates, and especially if it leads to his departure.
It would be the definition of putting himself over the team, and completely shatter everything he's built for himself. No, he doesn't need to take a discount on his value to prove that he's committed, but emotional value is not the same as material value, and I think the Leafs know that, until he comes down to material value, they've got that leverage.
Closing Thoughts
I think Mitch Marner is an unbelievably good hockey player. That the Leafs happened to be in the position to take him in 2015 is a blessing, that he embraced his final year of junior and grew from it is fantastic, and that he's been a star player since arriving in the NHL has been a joy to watch. This season, watching him link up with John Tavares and Zach Hyman showed what type of player he can be when he's playing at his peak, and it's true to his "Magic Mitch" nickname.
He's also stupid fun to watch. While I'm not convinced that his high-hustle, puck-dominant style of play is as effective as it looks, it's must-see-TV. Ultimately, this is an entertainment product, and he's about as entertaining as it gets in this league.
If it were as simple as giving everyone everything that they wanted, I'd give Mitch Marner the moon.
But it's not as simple as that. He's still an NHL player in a league that gives you finite capacity to invest in NHL players. So, in the last of these big-ticket contracts that the Leafs have to sign for the immediate future, heading into the toughest cap year they expect to have in this generation, it's imperative that they get this one right and think with their heads and not with their hearts.
Ultimately, there are a lot of questions to be asked about Marner before giving him a payday that places him with the highest-paid players in his position in NHL history. While this year was great, he's not producing in a way that makes him significantly better than his peers. His historical comparables provide proof that he deserves a steep contract, but not one anywhere near what he is reportedly planning to ask for. His value comes from a position that historically gets paid less, and his primary form of production is also a form that historically doesn't get as much compensation.
Looking to his line, while he did end up with the most points and highest points-per-game on the team this year, he doesn't seem to be the one driving it, and he doesn't seem like a line carrier in the traditional sense. While he has eye-test tendencies that would align with play-drivers, you can drive play without carrying and passing and you can carry and pass without driving, and that seems to be descriptive of Tavares and Marner respectively this year.
His best successes in making players better come on a sheltered line, and on a line where he replaced a player that was struggling to an unprecedented degree, so I wonder if he does it to the level you'd expect of a star. I think he's still a player that makes a line better, and he certainly is the Robin to John Tavares' Batman, but that still makes him the sidekick in the equation.
I don't think an offer sheet is a serious concern, and if it becomes one, the picks should at least be explored. The combination of a big return with the cap struggles if they would match and the ability to use the room to target someone else on top of the picks is intriguing. I don't think it's likely, though, especially with so many equal peers also being on the market with significantly fewer rumours of that ilk.
Ultimately, I think a lot of this situation is media talk, and that cooler heads will prevail. If I'm the Maple Leafs, I'm probably getting more nervous the further away from $9 million that this conversation gets. There might even be an argument that the $8's would be the true safe spot, as there's a possibility he doesn't keep up this year's primary assists rate, but it's hard to throw away a 94-point season. It'll be up to Marner and his camp to decide if that's fair.
What I could see happening is, once all is boiled down, that Marner takes a deal at a vanity cap hit of $9.16 million per year, for 6 or 7 years. This keeps him in line with the comparables we established before, and, given all the talks, allows his camp to sell the idea of him coming down to take a discount, even if it's not really a discount. It preserves the hometown hero brand, which, let's be honest – they know they can't risk giving up. Looking elsewhere or holding the team hostage would be a brand disaster for them, and on a strictly personal level, I don't think Marner wants it either.
But who knows, really. All I know is that this is the most intriguing negotiation of the big three, and it may be the one with the most bloodshed. Hopefully, though, the ending remains happy.