After a long, slow burn, the court of public opinion on Toronto Maple Leafs coach Mike Babcock has finally erupted, coming with it the weeks, months, and years of pent-up tight-lipped frustrations from around the town.
There was something incredible about it, though. As Tuesday night's 5-1, Game 7 loss to the Boston Bruins unravelled, the vibe was very different from what you'd expect out of a sudden turn on a head coach. While some of it felt like knee-jerk reactions of emotional frustrations, many of the gripes felt like things that people have wanted to say for a long time, but never had the confidence to.
After all, how do you criticize Mike Babcock? He's the only coach in the Triple Gold Club – he's won a Stanley Cup, and he's won multiple Gold Medals at the Olympic and World Junior levels for Canada. He's led both Davids and Goliaths to deep playoff runs. He joined the Leafs on the biggest contract for a coach in NHL history, and in his tenure, Toronto's years of regular season futility seem behind them, with three consecutive playoff appearances after just one in the eleven prior.
It's not like he's been without his value either. Babcock was, when hired in the late spring of 2015, exactly what the Leafs needed. He was bright, he was philosophical, he was someone who embraced structure both on the ice and off of it, he was motivational, and he simultaneously a fresh voice while also one that was expected to work for the long haul.
I thought he did a great job running an unlucky team in the 2015/16 "tank" year, and I thought that he did a lot of good helping the 2016/17 rookie class get accustomed to the rigours and pressures of the league and of the city. He was a stabilizing, attention-magnetizing force for a group that was about to undergo wholesale change. Like Lou Lamoriello in the front office and Mark Hunter in the scouting room, Babcock was planting fundamental seeds on the bench and in the dressing room, to ensure those entering with him, and those who might succeed him were in a good position.
But like Lamoriello and Hunter, it seems like once the trees grew and the forests were populated, the rest of the ecosystem began to show its warts and wear thin. Once again, we appear to be seeing a case where the boss who was innovative in a generation prior doesn't have a ton to offer when being asked to re-invent the wheel again.
With Babcock, it's not all about last night's Game 7, or about this series. The outcome of the game, nor the series, also aren't all on him. It's a team sport, and it's a team sport with a lot of raw fortune. A lot of Leafs were underwhelming for the whole two weeks, or even just last night. Someone else stepping up at the right time could have negated any issues and sent Toronto up against the Cinderella Blue Jackets next week.
But the bench controls so much, and for the second post-season in a row, it feels like the Bruins were able to dictate the pace of the series. In 2018, they spent seven games exploiting a tactical inefficiency in Toronto's defensive breakout – the left side defenceman was always going to look for a stretch pass or carry it out, and the right side defenceman was always going to clear it. Because the Leafs hadn't tinkered with their lines or roster selection – both oft-criticized on the point since the year prior, Boston was able to take advantage of the predictability. Toronto made no adjustments, culminating in a game where the Bruins were perfectly prepared to feast on arguably the worst game of primary puck-mover Jake Gardiner's career.
A team that was a bit less predictable on the blue line, that didn't automatically concede possession on every non-rush play, probably flips at least one of those games.
Word from the Bruins' room: they didn't do anything different on the PK, and they were surprised the Leafs didn't play their top PP unit more.

— Matt Porter (@mattyports) April 24, 2019
This year, the usage became a focal point once again, but had spread to all sorts of different facets of the roster. So much so, that even their opponents were in shock. Toronto was playing their top powerplay unit for no more (and often less) than half the potential two minutes, in order to have his top players on again at even strength as soon as possible – essentially conceding the powerplay in advance. The penalty kill didn't have a natural centre taking faceoffs on it until the team decided that maybe John Tavares could play a few shifts there in Game 7; naturally, Toronto didn't take a penalty in the deciding game, leaving them to look back at the failures of the first six games: the PK units combined for just a 56% efficiency, with goals often coming shortly after lost faceoffs.
Some will point to Jim Hiller and DJ Smith – Toronto's Assistant Coaches and special teams, well, specialists, for those lapses in judgement. This is fair, but it's also on the Head Coach to stand up and call for change if he doesn't think it's working. Even if Babcock didn't make those decisions, he was still complicit in their approval.
Looking at 5-on-5, things weren't much better. When William Nylander moved to centre in Nazem Kadri's place after Game 2, he was given the two least creative wingers on the team to flank him in Patrick Marleau and Connor Brown. Those two, as much as I respect their roles, Marleau's past, and Brown's potential to return to what he was in his rookie year, were essentially dead weight for a high-pace, high-talent player like Nylander to drag around, and played as many minutes as anyone in the series; even Frederik Gauthier was given better linemates in Trevor Moore and Tyler Ennis. The defence now had four puck-friendly players instead of three, but leaving Ron Hainsey and Nikita Zaitsev to themselves remained an easy strategy and the only pair of offensively-skilled defencemen featured two players coming back from (and possibly playing through) injury in Jake Gardiner and Travis Dermott.
But mostly, what really created the tipping point last night was the hesitance to take a chance and ride the team's best players when it mattered most. I've always called Babcock a coach who wants to win games by a score of 0 to -1, and yesterday was the perfect encapsulation. In a game where the Leafs had to win to save their season, where they spent no time killing penalties, and where the team was trailing for 46 of 60 minutes, Toronto split the powerplay units at a 58/42% ratio of ice time.
Auston Matthews, the team's franchise face and scorer of 5 goals in the prior 6 games, played 18:48 – for reference, that would rank 30th in terms of his highest ice time of the regular season, and is only 15 seconds more than his average. In the third period, he played 40 seconds more at even strength than Connor Brown. John Tavares, the team's goal-scoring leader, played 21:19, also not significantly more than his regular season average, and 40% of which came in the third period after playing just 12 minutes in the first two periods. The fourth line saw it's ice time increase from the first to the second and still played three shifts in the third, including a post-powerplay. By the time there was any attempt to shorten the bench and condense the lines, the game was already all-but-lost, and even then, we still saw one more attempt with Patrick Marleau, of two goals in his last 26 games, with 90 seconds remaining.
Love this. Vegas threw 6 forwards out on the ice with the game on the line and wound up tying it up. pic.twitter.com/cdkOug2ztG

— Dimitri Filipovic (@DimFilipovic) April 24, 2019
It really felt like Babcock, at a certain point had decided that he'd rather risk losing his way than try winning a different way. Compare that to the Vegas Golden Knights a few hours later;  minutes after a controversial penalty call and a historically bad penalty kill took their lead away from them, they sent their six best forwards out on the ice to get the tying goal. They ended up losing in overtime, but they swung for the fences knowing that there was nothing left to lose, and it paid off for a bit. There wasn't any of that urgency. Instead, there was stubbornness and insistence.
The same stubbornness and insistence that we saw in playoff rounds past. The same we see in lineup changes and hear in soundbites. The same we've seen to push developed players into purgatory because watching another veteran get overused in a role they aren't suited for is seen as safer than trying an unproven player who *might* bring something new.
It's easy to look at the Leafs as a team that's made the playoffs three years in a row and be happy with that as a result. It's easy to say that this is the best that they've been in a long time, and that they're still young.
But consider these things:
If you believe in the "five-year plan" being a thing that teams follow in hockey, the most generous time on the clock now is that the Leafs have just completed year four. That means that any team that's looking to catch up with, if not leapfrog them has theoretically gotten 80% of the way through their own process while Toronto is still looking to win a playoff series with their group.
The "five-year plan" is a safety net, not a reality. Even in that most generous timeline, Babcock's first team was an upper-half possession team with bad goaltending and horrible shooting and injury luck. His second was a Top-3 team in 5-on-5 offence, his third added an elite powerplay, and his fourth added a superstar centre giving the team as many as 6 or 7 star-calibre players on its roster, with better lower-end depth than most have to match.
The Maple Leafs have been great in the regular season under Babcock, but they're supposed to be. It's not an accomplishment to bring a team to the top of the standings if they are one of the best teams on paper – it's what you're supposed to do. There is an argument that over-performed in play in year one, and in points in year two, but I don't think it's unfair to say that one should have expected more this year and last.
And when the games get isolated and they really start to matter? Babcock has now lost five consecutive NHL playoff series, and hasn't gone past Round 2 since 2009. Again, luck plays a factor in that, but in Detroit, and now in Toronto, there have been signs of him effectively outcoaching himself. Relying on veterans and "hard workers" too much has remained a crutch for him for years, and over-thinking the Matchups seems like a problem of his as well: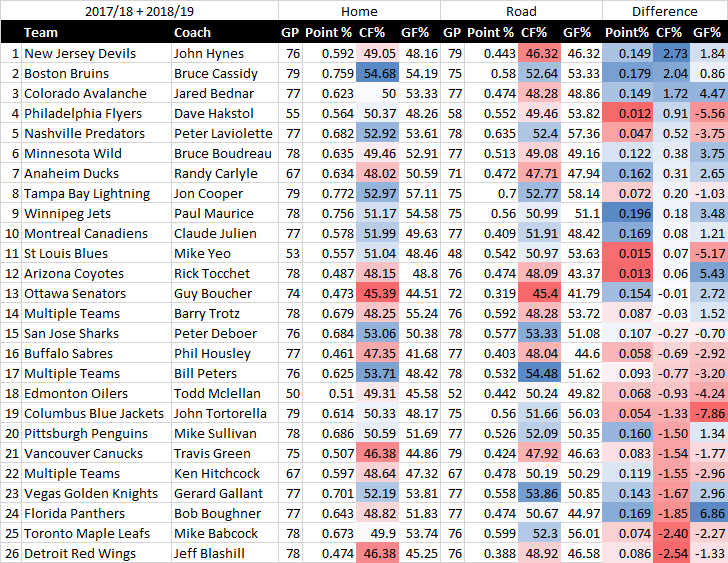 Continuing the research that started with my Matching Project article last year, only Babcock's replacement in Detroit has been worse at taking advantage of having the last change at home over the past two years. The Leafs go from one of the better road possession teams to straight up mediocre at home, and faring worse at home has been something that has chased him around for eight of the past eleven years, with these last two seasons being his two worst that weren't cut short by a lockout.
The reality that we've witnessed unfold, and never louder than last night's game where it matters most, is that Babcock's biggest flaw is an insistence to do it his way, even if it doesn't necessarily work. I don't know if that's an ego thing, a reluctance to adapt, but it's there. It's there, and it's been talked about – publicly by some of his ex-players, and privately around the hockey world.
We're not going to turn this article into a TMZ piece, but there's a pretty common buzz that Babcock's approach, while often extremely helpful at the start, wears thin with people over time – his players, his co-workers, his audience. That can be said about a lot of coaches, but it's definitely been said about him and you're starting to hear it said about him in Toronto. Given how he seems to see his team and the front office seems to see their team, it's hard to imagine that there is an awful lot of eagerness to go through Groundhog Day once again, particularly with internal fall-back options at their fingertips.
I think a big barrier to that conversation being had may have been the public opinion, and I think last night was the straw that broke the camels back, that turned concern about the bench from a taboo topic to something that everyone has some form of agreeance on. I wonder if, now that Babcock's front-loaded contract is now half-way done without much to show for it at this stage, the serious talk about the future is coming.
I think last spring's General Manager debate showed that Brendan Shanahan isn't going to be scared away from making a tough, controversial call, or at least firing a warning shot, if it was decided that it made sense. What Kyle Dubas wants to do from here is going to be a bit more complicated; a firing or an ultimatum might make it a little easier for him to see out the team that he wants to build, but it definitely starts the clock on his future with the board above him once again, and he might feel it's too early for that. He's also probably aware that, even if his replacement is someone who is completely bought-in philosophically, there will still be disagreements on little things and there will still be frustrating decisions, and maybe there will be a feeling that the other grass isn't green enough to be worth ripping out the current patch yet.
But the clock on the team is ticking too; the window is far from at last-gasp, but you can only see so many pitches before you have to swing at one. My guess is that these upcoming days in the offices of 50 Bay are going to be much more uncomfortable mainstream media will give them credit for. Because, now that the world is willing to admit that there's a problem with how this group plans for battle, it's going to be hard to come back without some sort of adjustment.