Just so we're all clear before we dive into this, this article isn't about Game 2 in the Leafs/Bruins series. At the same time, the events that transpired definitely gave me the inspiration to finally dive into the topic.
For those who didn't watch, fans throughout the hockey world were quick to declare this game as one of the sloppiest-officiated in recent memory. The Bruins came out playing an intensely physical game in an effort to reset the tone from Game 1, and the officials seemed to let a lot of it go without offering a significant powerplay edge.
This wasn't due to a "bias" against the Leafs or for the Bruins specifically, but rather a combination of ingrained hockey tropes that gave the Boston more flexibility to play a heavier, dirtier game than in the regular season. Officials are cautious of "deciding" games through calling penalties, especially in the playoffs, where the games mean more and the players take more risks due to disregard for self-preservation, a need to do whatever it takes to win, and a knowledge that they can get away with a bit more if everyone is playing along the edge.
Some people love this about the playoffs. Others question it, as it often punishes teams that are either cleaner and/or in possession of the puck more often. It also can lead to a loss of control in games, which we ultimately saw with Nazem Kadri's cross-check on Jake DeBrusk, which saw him get ejected and will likely see him be suspended for a significant number of games.
But enough about Game 2 specifically. Let me show you some stuff.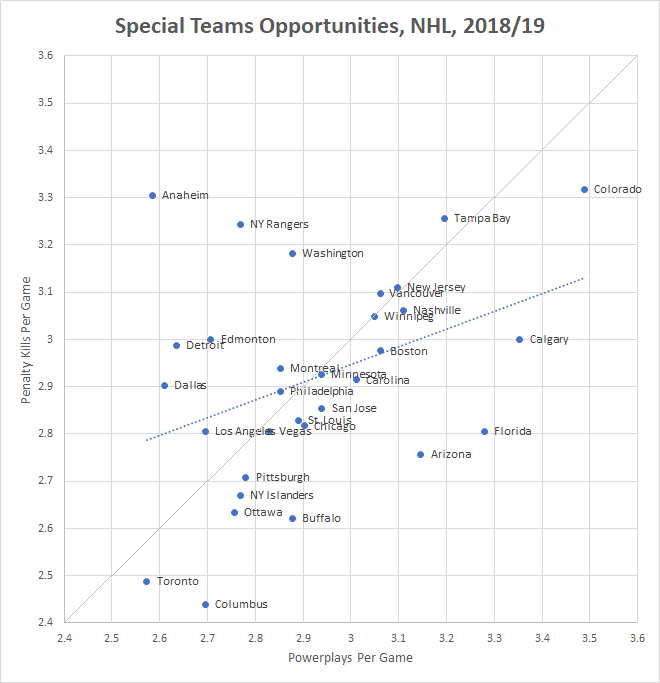 This is a look at penalty differential across the NHL this year. You'll notice something pretty quickly – while teams vary pretty greatly in their frequencies, you'd be hard pressed to find many teams that are significantly far off of an even differential. The glaring exemption are the Anaheim Ducks, whose 43.9% powerplay share lands them last in North American professional hockey. The Ducks are a slow, chippy team that doesn't really hold on to the puck much, though, so that likely plays a factor in things.
Overall, the trend is that calls almost always remain even. Looking down the ladder, this doesn't change much.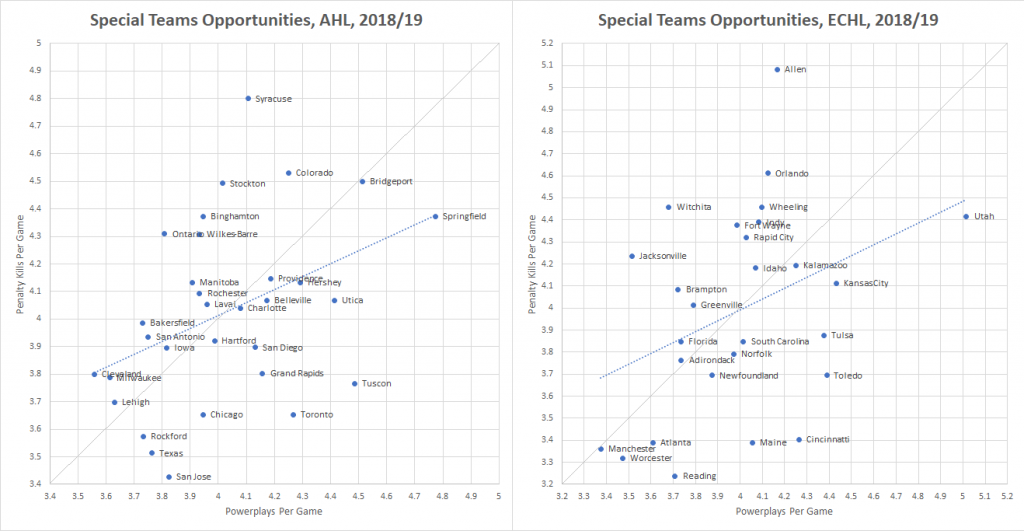 Both the AHL and ECHL have a little bit more variance, with a few outliers, but the bulk of the league is still bunched up pretty close to evenly. The one key difference that the two leagues have, though, is that more penalties are called: the AHL's least penalized team (San Jose) would be the most penalized in the NHL, and the team with the fewest powerplays (Cleveland) would have the most in the NHL. The ECHL's patterns are very similar.
It's hard to say what the reason for this might be – it could be sloppier players, it could be more dumping and chasing. It could be that games have bigger score swings so penalties have less potential impact on games, or it could be that the officials are less hesitant to put a team in a scoring position in the lower leagues.
But the trend of games being kept even, at least on special teams, remains across most top hockey leagues. It exists in the pros, it exists in Major Junior, it exists almost anywhere that games have this sort of information to look up, and it probably exists in levels where you cant. Simply put, officials don't want to "decide" games. To put this into context, here's what happens when you combine the powerplay shares of all 89 teams in the NHL, AHL, and ECHL ladder: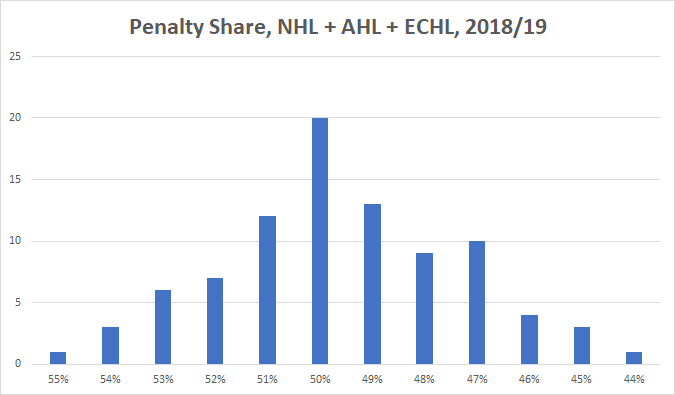 That's 61 of 89 teams sitting in the 48-52% bracket. Or 77 of 89 in the 47-53% bracket. None of the four teams sitting at 54-55% are in the NHL.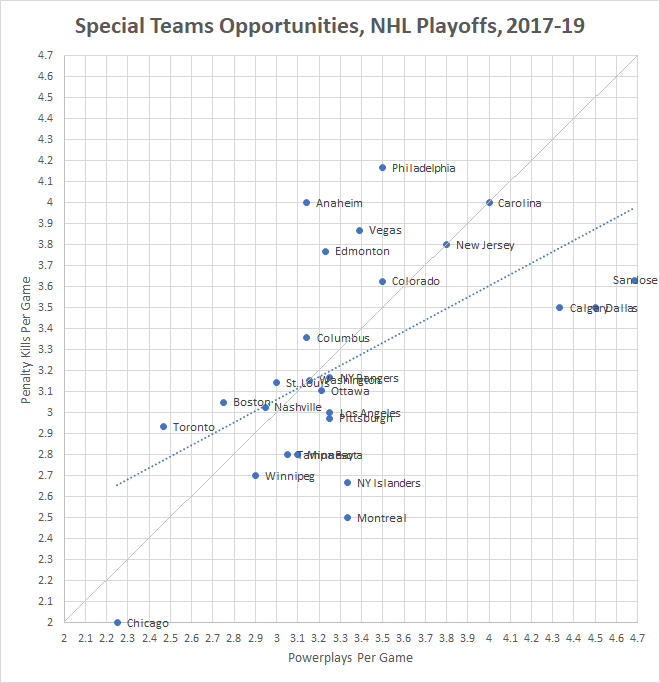 Things don't change much in the playoffs, either. The teams that are exceptions to the rule tend to be the ones who have very small samples; San Jose is the only team above 52.2% that's played at least 10 playoff games over the past three years. The three teams that have played 25+ postseason games sit at powerplay shares of 52.2% (Pittsburgh), 50% (Washington), and Nashville (49.3%).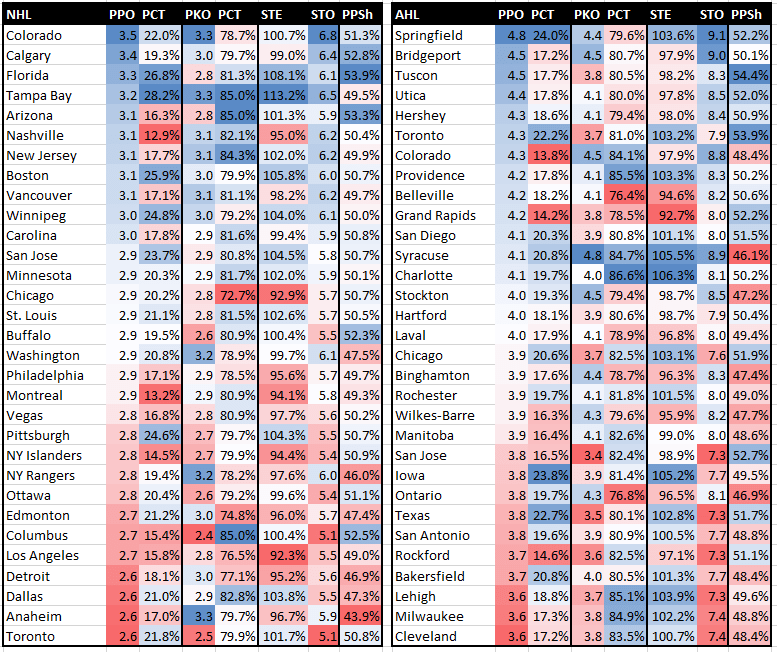 For years, I've been into the idea of using penalties as a way of gaming the system; a market inefficiency that was less talked about. People were hard at work figuring out who the best players at even strength were, and strategical ways to improve the powerplay and penalty kill when you happened to get there, but there was never that much talk of trying to leverage special teams time.
A lot of my early work (since removed) focused heavily on getting players who were disciplined and drew a lot of penalties, or played styles that indicated that they could be that type of player. The object would be to look for players who would help your team keep control of the puck, and would rarely be caught chasing. I'd look at penalty types to see what could be pulled out of players' games, and tinker accordingly. The goal was to maximize powerplay share as much as possible.
Over time, though, data like the above has made me change my mind on this. Special teams goal differential is still something teams should obtain, but discipline might actually be the opposite way to go about things.
Look at the Maple Leafs, for example. They play a relatively clean, to the point game, and they have the puck a bunch. But while they took the league's second-fewest penalties this year, they also drew the fewest – mindblowing given how often their top players get hooked, hauled, and mauled. Individually, look at a player like Connor McDavid, who gets infracted upon every time he touches the puck but isn't running away with the annual drawn penalty title.
So how do you get differential? You engage the officials.
The first key to this, obviously, is to be a confident team on special teams; if you're good on both the powerplay and penalty kill (as an easy proxy: add both up and hope they go over 100%), this strategy is for you – if not, maybe skip it.
From there, you want to be a chippy team. You finish a couple of extra checks, you throw a few face washes in scrums, you try to get under the skin of the other team. Most importantly, you make sure the officials have to call something. You get the penalty box warm, you make it so both sides are doing the back and forth, knowing that your total efficiency will make it work out better for your team in the end. The goal isn't powerplay share – it's goal differential in an area of the game where goals come faster.
The Tampa Bay Lightning organization are a great example of how this works. Tampa was near the top of the NHL in both penalties drawn and penalties taken this year, and actually finished with a below 50% powerplay share. But because they were so good on both sides of special teams, the end result of being -5 in penalties was being +34 in goals. This is a strategy that they cultivated in Syracuse (who this year was -52 in powerplays and +9 in special teams goals) and brought up once it had been perfected. Colorado and Calgary are also examples of teams that, at an organization level, seem to be content with driving penalty pace. Interestingly, the NHL's trends also seem to be tied into how often your team has success on special teams – perhaps suggesting that another reason for fewer total calls at the highest level is a look towards special team goal balance, rather than just opportunities.
The Tampa case is an interesting one to look at, though, when you consider what's been happening to them in the playoffs these past few years. Currently down 3-0 to Columbus in what could end up being one of the most shocking upsets of our generation, the Lightning have drawn just four powerplays that weren't in garbage time this series, with most Columbus penalties being offsetting. Columbus, like Toronto, is an extremely disciplined team in terms of both drawing and taking penalties, so Tampa hasn't been able to use their biggest strength as an advantage in this series.
Summary
Hockey doesn't like following its own rulebook. The calls are extremely subjective, and officials don't like giving teams advantages. It's called "not deciding the game" and "letting them play", but ultimately, probably punishes skilled teams more than anything and creates false parity. If you trust your Penalty Kill Unit to keep up with your powerplay, your best pathway to success is to play as chippy as possible to force more total calls.
In the playoffs, though? Nothing matters. The rule book goes from misinterpreted to shredded and no ounce of strategy can be brought into question. Play your heart out, keep your stick on the ice, try not to take it too personally, and try not to die, because no one is there to save you.