After William Nylander's contract negotiation bled well into the season and all the way to the final minutes, fans and observers in Toronto were no doubt hoping that Auston Matthews and Mitch Marner's second deals would be settled with much less pomp and circumstance.
For now, the most significant and important of those two has been settled, with the Leafs agreeing to terms with Matthews on a groundbreaking, five-year deal worth $11.634 million per season, the most significant per-year deal in Leafs history and one that many believe could change the dynamics of contract negotiations across the league.
Reaction to the news has been interesting. I posted a trio of polls up on Twitter shortly after, and with just over 500 responses, the general feel is that the dollar figure was just right, the term was too short, and the deal is mediocre to good overall. There's something interesting to that mindset, so let's walk step-by-step and talk about what's happened here.
A Game-Changing Talent
First and foremost – Auston Matthews is unbelievably good. Let's not let that get lost in the embarrassment of offensive riches that the Maple Leafs currently have in their toolbox; Matthews is the best of them all.
Since coming into the league in 2016/17, Matthews has been in at least the 97th percentile in penalty differential, shot volume, quality shot volume, shooting percentage, point production, primary point production, and goals scored at 5-on-5. He's still in the upper echelon (80th or higher percentile) of assist generation, both primary and secondary. He is the league's top 5-on-5 goal scorer by a significant margin in that time span, a Top-5 point producer, and the league's best 5-on-5 primary point generator.
Microstat tracking, which looks into how players impact elements of the game that aren't logged by the league, rates Matthews in the top 10% of the league at moving the puck into the offensive zone with control over the past three years, and adept at carrying out of the defensive zone as well. Tracked data has him as one of the league's best playmakers, placing him in the 90th+ percentile in most passing proficiencies. Simply put, he's dominant in most of the facets of the game that lead to goal difference.
None more dominant than his personal ability to put the puck in the net, and it can't be understated how good he is at that. Using Era-Adjusted Goals, which, true to its name, weights goals scored in each year by a neutral tally of goals-per-game, Matthews is on his way to becoming one of the best finishers to ever play in the NHL. If his season ended today, Matthews would be one of just seven players in the post-expansion era to average 50 era-adjusted goals per 82 games in their first three seasons.
The other six? All Hall of Famers, current or future – they're Eric Lindros, Alex Ovechkin, Teemu Selanne, Paul Kariya, and Wayne Gretzky. Pretty impressive company, no doubt. But only two of the seven have achieved this while averaging a rate of 40+ even strength goals per game – Lindros, and Matthews.
We can already see it in the mechanics of his shot, but if you combine it with the data we have, Matthews appears poised to be one of the most efficient even-strength goal scorers in hockey history – even without getting the big minutes that superstar forwards used to get, and with parity at an all-time high. Given that most of the game is played at even strength, and that the object of the sport is to outscore the other team, being the best at the object of the game in the situation you spend the most time playing seems like an important trait to have.
Simply put, what we're probably looking at here is a player who will be the best Toronto Maple Leafs player in their 100+ year history. Having him on the team is a blessing, and really, there's no scenario where you walk away from him over money, because it would be hard to come up with an unfair contract for a player of his talents. However..
The Catch
With all of the above said, Matthews' contract remains massive. It is the second highest cap hit in NHL history, next to Connor McDavid at $12.5 million. Unlike McDavid, though, Matthews' deal doesn't stretch the maximum eight years, giving him one more crack at a long-term contract in his prime.
One thing mentioned by many defending thet terms is that Matthews' contract isn't quite as historically high when factoring in the deal's percentage share of the current salary cap ceiling, and this true. Here's how he compares to some of the highest-paid forwards who signed their deals heading into RFA status: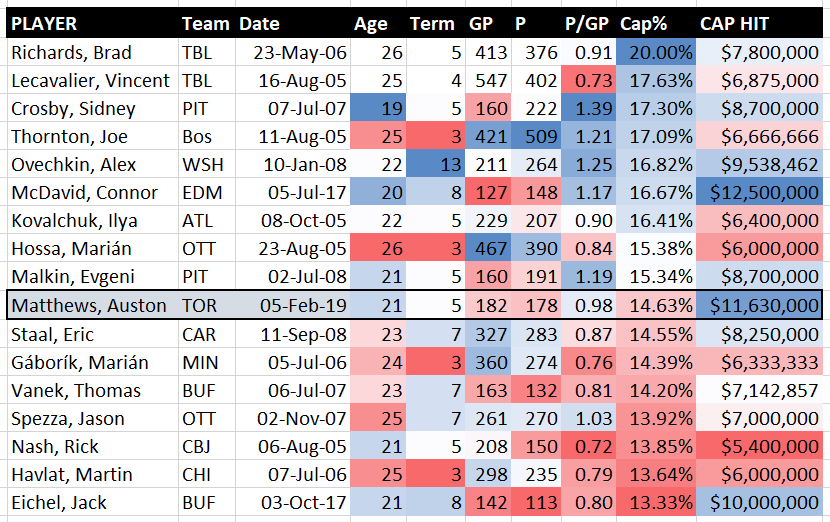 Matthews ranks 10th all-time in this regard, with most of the deals above him bringing players to their mid-late 20s. There are two longer ones above him (McDavid and Ovechkin), but the former player arguably sold himself short (a player in the Mount Rushmore conversation should be an automatic for league-max on a prime deal), and the latter signed a deal that covered his post-prime (though, Ovy still seems to be popping goals at a generational pace, so good for him).
As we become more aware of peak player performance, and when elite athletes hit their prime, it becomes more and more evident that hockey's payment structure is flawed. The best years of a player's career are in their early-mid 20s, with a gradual taper from there. An optimal development program acquires and grows its players in order to give them the most team-friendly deal on their second contract, and tries to avoid improvements by making similar long-term commitments to veteran free agents, who would be more likely to squander them.
While all the above information was once a "market inefficiency" for smart teams to take advantage of, that is no longer true. Most teams have an awareness of the revised age curves, and most agencies are investing in modellers to prove, well, whatever they can about their player's value, and if you're a 22-year-old star, it's likely "he's about to get even better".
As such, it's harder to win these negotiations decisively, and agents will likely be taking advantage of this – particularly with "smart" GMs. In a weird way, old school GMs might be better off at negotiating these types of deals over the next little while, because their own stubbornness and lack of evolution will lead to agents trying to work different angles. For a GM like Kyle Dubas, you're almost at a disadvantage if an agent pulls out a more objective silver bullet, as you can't feign a lack of understanding of what's being presented to you.
You then get locked into the corner of fairness, rather than theft, which means fewer bad contracts if your team is pulling its weight, but a lot of them that turn out to be considered washes. This will be something that Toronto needs to be mindful of in the future, particularly with its support players. A team that signs 20 average contracts is likely only going to be a slightly above average team (assuming a few non-ceiling teams) – they're going to need to chain together some decisive wins to continue to keep their roster's depth at an elite level, and while there are worse things in the world than not having star players upset about being short-changed, "fair" can't be the dominant result.
Know Your Window
What makes the corner of fairness feel, well, unfair, is that the Leafs appear to have just missed the buzzer. In a sense, that might be somewhat self-inflicted – the rise of the league's most loved, most hated, most discussed team from perennial laughing stock to must-see TV on the backs of a group of inexperienced, yet incredibly gifted young players has helped push the already growing conversation about young players into the spotlight.
While the Matthews, Marner, and Nylander trio and their band of sidekicks have no doubt set the movement into overdrive, they couldn't do it alone, and it was going to happen in due time. Players are better than ever, and due to the mistakes that teams have made in signing their veterans to bad contracts, teams have been forced to test out their cheap young talent faster than they ever have. The advent of modern hockey analytics has helped many teams identify which ones to give opportunities to, and as such, young stars are more plentiful than they've ever been.
Many teams will gladly point out that they got in on the ground floor of locking up their stars to favourable, multi-year deals. Nikita Kucherov leads the league in scoring and is about to get paid on his third contract, but took a 3-year deal at just $4.8 million that he's going to ride to two 100+ point seasons. Guys like Aleksander Barkov, Nathan MacKinnon, Mark Schiefele, and Aleksander Barkov have become franchise cornerstones in the $7 million range. From the previous generation like Erik Karlsson, Taylor Hall, Tyler Seguin, Jamie Benn, Matt Duchene, Steven Stamkos, and even Toronto's newcomer John Tavares got taken to the cleaners on their second deals. In a past core, Phil Kessel was the backbone of the Leafs on a 5-year deal with a cap hit percentage of just 9.5%, that people were skeptical of at first.
You can keep listing them, and I'm sure that's a big part of the problem – franchise players are getting fed up with carrying their team for as much money as the soon to fall off a cliff second liner that their GM picked up in free agency. Not just that, they know that if they wait to get that pay-day, it won't be there anymore – the MLB is a prime example of this evolution, and the NBA is making its way towards there.
The unfortunate reality is that the Toronto Maple Leafs waited a little too long to do the youth-based rebuild – call it the Pittsburgh Model, Chicago Model, whatever you want to call it – on the easy difficulty. The cheat code has been nerfed just in time for them to have to start fighting the bosses. They were late to the punch, and while it's still more than possible to defeat the game from here, it's going to require a management team working at 100%, trying to shed any past errors, trying to find any new exploits they can, for the rest of the way.
This has been a trend for the Leafs for most of their post-expansion history, but we've definitely seen it in a few different forms in the past decade or so. They were too late to adapt to a speed-based game coming out of the lockout, and got burned. They were too late to adapt to not building around a veteran core, and got slapped with cap trouble. They were too late to accept the findings that the analytics revolution identified a decade ago, and lost any chance at a head start.
Now, they're late to locking up the youth. Assigning blame is difficult there – did Brendan Shanahan's plan start too late? Did Lou Lamoriello's "if you have time, use it" mantra allow for too much idle time, particularly in opening the team's competitive window and/or beginning negotiations with players? Did Kyle Dubas not play his negotiations aggressively enough upon taking over the office? Did months and years of media and fan speculation about Matthews, Marner, and Nylander really push the league-wide discussion enough to accelerate the process?
It's likely some combination of all of that, but whatever it is, what's done is done. The moral is that these types of gaping holes in roster composition must be taken as soon as they're identified – it's possible to have fun while being late to the party, but it's difficult when everyone is already a few drinks and activities deep and looking onto the next thing. They'll need to catch up somehow, and make sure they're at the forefront of whatever cap-shaving strategy is next, or the corner of fairness will push them into hockey purgatory.
The good news? Toronto has a forward-thinking front office, and a few cornerstone pieces signed for the next half-decade; now including their franchise face, who does the object of the game better than anyone else. It might not be a steal, but it's fair, and establishes the parameters as they look for their next edge.