On a dark, stormy, snowy and freezy winter night in Toronto, while everyone else shut down their businesses a little bit earlier and pulled a few extra non-urgencies off of their to-do lists, Kyle Dubas made his first blockbuster trade, acquiring Jake Muzzin from the Los Angeles Kings for a package that included Carl Grundstrom, Sean Durzi, and their 2019 first-round draft pick.
It's a move that addresses the team's most perceived need, and does so in a way that carries name recognition and also doesn't sacrifice a core piece. But what does it mean for the team moving forward?
I largely feel positive about this move, but I'm going to get one negative thing out of the way before we dive in. That is to say, I wonder if Jake Muzzin's name outlives his record. To me, Muzzin was one of those guys who picked up a reputation in the analytics community as an undervalued young defenceman several years ago, got declared to be an underrated hidden gem, and rode that all the way to the World Cup of Hockey, Norris votes, and a pretty decent contract.
Now that that's out of the way, that's not to say that he isn't good. Jake Muzzin is very good, and immediately makes the Leafs defensive corps much better.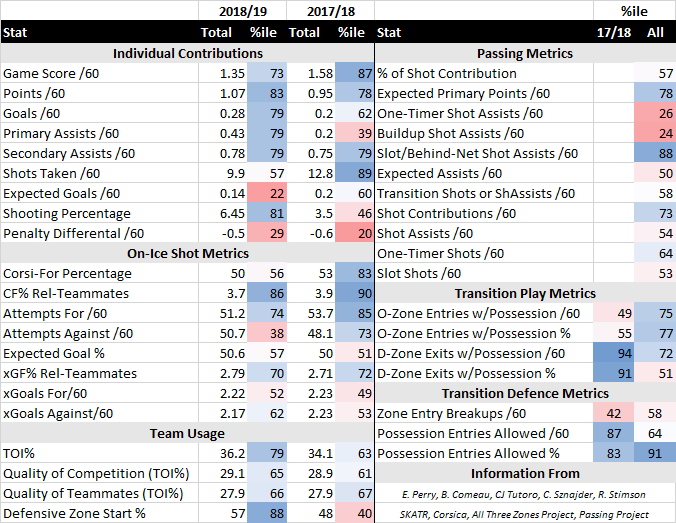 While no one is underrating him any more, Muzzin continues to contribute to the flow of the game at a very encouraging level as a soon to be 30-year-old. He's still driving play like a top-end defenceman (which is good to see from someone playing not tough, but not sheltered minutes), he has a bit of an offensive slant to his game while not looking like a mess defensively, he carries and passes the puck out of the defensive zone at a very efficient level (which the Leafs desperately need), and he's able to close those gaps when players come at him from the same spot.
Muzzin has never been shy to block a shot, throw a hit, or kill a penalty – traits that will make the old-school purists happy. He's amply sized at 6'3, 213 pounds. Really, he's a guy that's not elite at any particular thing, but is at least useful at most of them, and does so in a way that remains modern; preferring puck control, making transition plays, approaching opponents aggressively and counter-attacking hard.
One could argue that the Leafs' core – faster, younger, and more creative – will better utilize his strengths than the slow, heavy Kings did; he brings some of their traits, the ones that many in Toronto want to see, but as accessories rather than his core features. When things like boxing out, blocking shots, and playing heavy hockey are a part of a well-rounded game, it's something that makes you a core piece; when they're the only part of your game, that's when there's a problem, so addressing that demand in this way seems wise.
In a way, this might actually make him the best sort of fit for the team. Toronto didn't necessarily need to acquire a star defenceman, as Morgan Rielly has established himself as elite, Travis Dermott has taken serious steps towards being a top-end guy in his upcoming prime, and their 2017 and 2018 first round picks (Timothy LIljegren and Rasmus Sandin) look very promising as two of the AHL's youngest defencemen. Toronto didn't need someone to take on all the responsibility for their blue line, they didn't need a reinvention – they just needed a bit of a boost that shuffled up the chairs.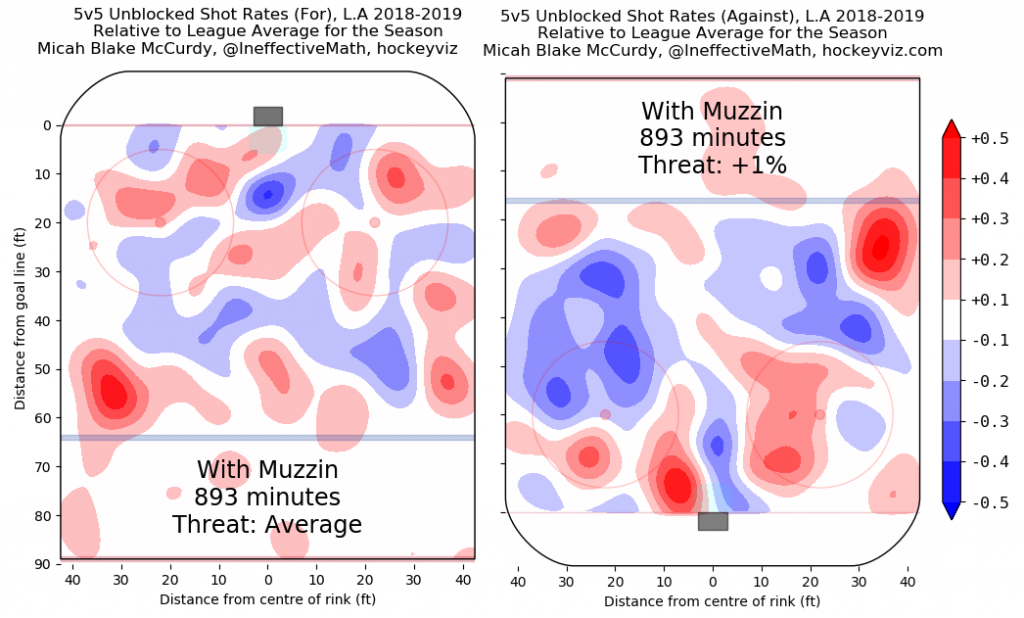 The most important part of this equation is what the move likely means for Ron Hainsey. The 38-year-old has been, to put it kindly, a drag on the Leafs over the past year and change, and while no one can fault the veteran for the position he's been put in (top minutes with top matchups and one of the most lopsided ratios of penalty kill usage that the NHL has seen in two decades of tracking ice time), he wasn't doing it well.
Some people like myself suggested a complete overhaul of the Leafs' defensive pairs, leading with a stacking of their two best defenceman – Morgan Rielly and Jake Gardiner. It's still a two-leftie pair, but ultimately, I'd rather have a good defenceman on his off side than a bad one on his correct side, and the cost of right-handed defencemen is too inflated now to be considered a market inefficiency.
While Babcock has experimented with uniting the two when trailing, it's never really stuck – likely because of how much Nikita Zaitsev and Igor Ozhiganov have appeared to need a strong left-side partner throughout the year. The good news, though, is that we know that Babcock likes Muzzin from his time with Team Canada, and while he might not be willing to go with Mo and Jake, he might be willing to partner up… Mo and Jake. Both of them have had experience playing on their off-side.
| | | | |
| --- | --- | --- | --- |
| | CF% | GF% | xGF% |
| On Left Side | 58.3% | 54.7% | 55.4% |
| On Left Side (No Doughty) | 57.0% | 50.0% | 55.6% |
| On Right Side | 53.5% | 49.3% | 53.8% |
Muzzin is clearly better on his left side over his career, but the drop isn't that significant when you factor in how much of his strong-side time is with Drew Doughty who, say what you will, has one of the game's top defenceman for most of his career. Muzzin still looks good on his off-side, certainly better than you'd expect a mediocre rightie to do with Rielly (Nikita Zaitsev, hello).
This allows for the Gardiner and Zaitsev pair to perhaps continue for a little while longer, while maybe being relieved of some of the tougher shifts. It slides Hainsey down to the third pair for now (I wouldn't be shocked if Dubas finished the job here and went on to move him once Muzzin has taken on most of Ron's prior responsibilities) to play with Travis Dermott – those two have had success with each other, though Dermott and any partner in sheltered minutes has looked money.
Muzzin can also take some penalty kill time off of Hainsey's hands as well. Who knows, maybe fewer, less intensive minutes will get the veteran's head back into the game in a positive way – he certainly shows flashes of his old self at times, so it's hard to rule out that a little less pressure might make him better.
This likely means a tough decision is to be made at the very bottom of the lineup, with one of Martin Marincin, Justin Holl, or Igor Ozhiganov dropping downward. I wouldn't be surprised if Marincin and Holl have been in purgatory for long enough to clear waivers at this point, so it's not out of the realm of possibility that a move like that happens. Ozhiganov could be a Marlies candidate as well, with his waiver-exemption, but it's unknown whether he has any sort of out-clause like other European free-agents tend to have in their deals.
The big picture is this: Toronto will now likely have something close to a proper blue-line structure. Their first pairing, barring an unprecedented show of stubbornness by Babcock, should have two top-pairing calibre players on it for the first time in the Shanaplan era. The third pair will improve, and the second pair will be placed in fewer logjams. Their biggest minute pair will be less predictable as well; teams won't be able to make their gameplan as simple as "get in the passing/carrying lane on the left, force a dump on the right" all the way down the lineup, which may have been Toronto's single biggest tactical weakness over the past two seasons.
The last form of impact that should be considered here is the cost of acqusition. Make no mistake here, this wasn't a chump change payment – the Leafs certainly gave up a haul to get their man.
Carl Grundstrom is going to be an NHL player, and it's going to happen soon. The 21-year-old has an uncanny nose for the net, he's not scared to work along the boards, and he gets under players' skin. He's been playing professional hockey in Sweden and in the AHL for several years now and keeps finding ways to score goals. He's a mainstay on the powerplay, he can penalty kill if you need him to, and he was getting good underlying results for the Marlies this year, putting up nearly a 60% Corsi (+1.7% Rel), 2.6 5-on-5 points per hour (4th on the team), and a 2.86 Game Score per hour (6th) while playing about 15:20 per night. Those are very promising signs for a player that got serious looks in Leafs camp both last year and this year, that's still getting used to the North American game. He's probably ready for the Kings today, let alone tomorrow, and he's going to be an NHLer for a long time.
Sean Durzi is a harder one to figure out, being an over-age draft selection, but he's producing at a rate in junior that you'd be happy from if you drafted him at 18 and left him there to over-ripen, and defensive depth was probably the only thing keeping him away from playing for the Marlies next year. He was a very legitimate piece in the Leafs' defensive pipeline. Oh, and there's the matter of a first round pick, which will likely be late in its round, but still very valuable to a team that does its due diligence and drafts well.
It's a premium cost. If you're looking at this trade and saying "Muzzin is good, but this feels pricy", you're not off base, because that was my first reaction too. But ultimately, it's a trade that feels very much like the philosophy you're starting to see in the NBA – a pile of good won't help you if you have a void of great in the starting lineup, and the Leafs had a void of great in theirs. Muzzin isn't a defining piece, but he's still a great one, and he's one that finally makes that top pair a force. Losing out on two prospects you really believe in stings, but being able to have assets to combine for these huge leaps is one of the two big reasons for having a strong pipeline (cheap replacements for departures being the other). If you don't think either player becomes an all-out star and you trust your staff to draft well and develop well, then you will replace them down the line.
The Marlies having a glut of interesting young wingers (Trevor Moore, Mason Marchment, Pierre Engvall, Jeremy Bracco, Dmytro Timashov) gives you wiggle room on Grundstrom, and the fact that Day 2 of last year's draft was full of Durzi-esque picks (with Mac Hollowell looking like a particularly good one) alleviates that concern as well. If some loose parts can be cashed in for mid-late round picks before June, you can lessen the blow of not having that draft pick. It's a lot, but it's a lot in areas where the Leafs can afford to roll the dice.
Muzzin also has some gained value in the form of his contract, as a medium-term rental; his five-year contract ends and the end of next year, which might make him a short-lived member of this core, but he comes in at a very friendly $4,000,000 price tag this year and next, which most agree will be the two hardest-to-navigate years for Toronto at the cap table. Deals like Patrick Marleau's and Nathan Horton's will be off the books when Muzzin comes up for renewal, which should allow the Leafs to either re-up him, or move on to someone else, while having both relief and a quality defenceman next year.
Let's bring this all together. Today, the Toronto Maple Leafs acquired a defenceman that makes them better, both with his play and how he shakes up the rest of the lineup. They did so while giving up a haul that Kings fans should be very happy with, but a haul that doesn't impact their core build plan or take away from positions of shallow depth. They get a player that can play in the way that people think the Leafs need but does most of his work in the way that they really need him to play in. They solve their biggest immediate weakness in a way that isn't a cap for next year's short-term megacrunch.
This isn't an era-defining move, it's not a quantum leap for the team, and it's by no means a steal. But it's a firm step in the direction that the team needed to walk, that should satisfy everyone in the war room. To me, that's a win.