To say that William Nylander is a bit polarizing right now would be an understatement. After an extended contract negotiation that brought him to within five minutes of not being able to play this season, the 22-year-old winger has struggled to give the stat sheet much love this year, picking up just three points in his last eighteen games.
It's given a great deal of ammunition to Nylander's biggest dissenters; the ones who didn't want to draft him to begin with, the ones who thought he wouldn't make it, the ones who thought of him as a passenger when he did and the ones who have constantly thought of him as the trade chip that the Leafs had to move.
For those people, it's something they've been waiting on for a long time, in large part because Nylander has been money in every league he's played in since draft day. This is, without a doubt, the most significant cold streak he's had in his adult life, and there's no doubt that you want him to do be doing better.
After all, a non-cold Nylander adds goals and points, and those add wins. Wins are something that have come less frequently since his arrival; Toronto was 20-8-0 (a 136 point pace) before he made his season debut, and are 9-7-2 (a 91 point pace) since. With the Atlantic Division being so top-heavy, including the Presidents Trophy-probable Tampa Bay Lightning at the top, those points will heavily dictate the tone of the playoffs' early stages, leaving some cause for concern.
Despite not scoring, though, is Nylander the one responsible for the losses? Let's take a glance at how the team has done in that stretch: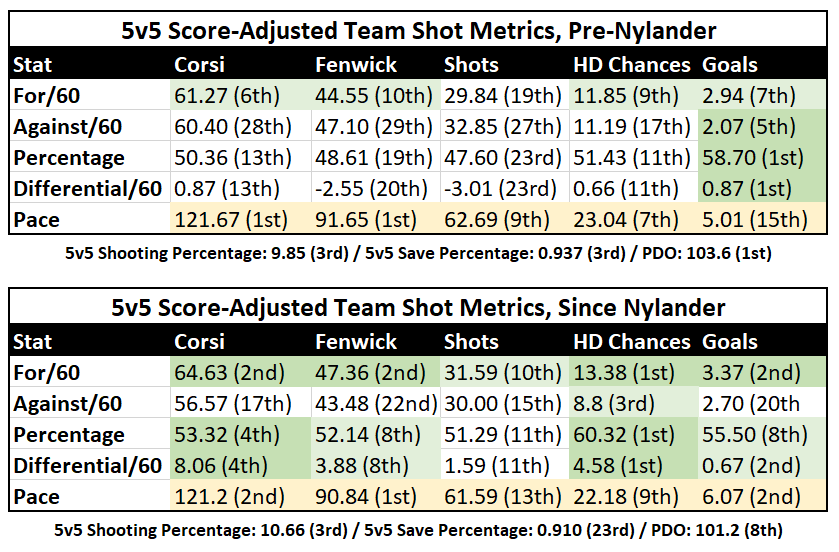 Since Nylander has come back, the team has improved at 5-on-5 in every single offensive and defensive metric possible besides goals. The differences are stark; a 3-4% swing in shots and shot attempts and near-9% swing in high-danger scoring chances. But the goal share is down; still very good, but down. That largely comes, counter to Nylander's struggles, in goals against – Toronto is giving up over half an extra goal per hour since he came into the lineup.
Some would point to Nylander's -6 plus/minus and suggest that #29 is hurting the Leafs defensively. Again, however, the shots suggest improvement in that regard by the team at large; what we do see, though, is a 27-point and 20-spot drop in 5-on-5 save percentage.
Does that have to do with conceding quality? Likely not; more likely, it has to do with the Leafs losing Frederik Andersen for a few weeks, and the Great Dane not having a great run of form in the games he has played. The same goes for Garret Sparks, who struggled post-Nylander and had a concussion to boot. Here's the before/after on Toronto's netminders, heading into last night's game against Tampa (a rebound game for Andersen):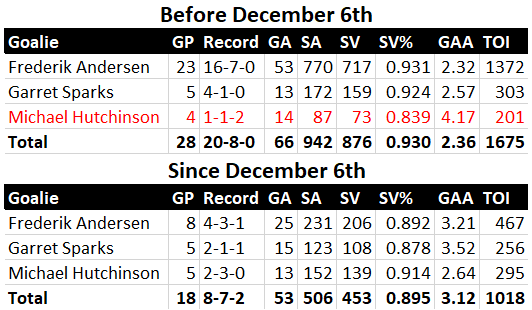 In other words, that win-loss record was probably most impacted by the goaltending falling off a cliff. Not really a ton Nylander can do about that. But how much does he have to do with this entire process altogether? After all, he could still be a detriment to momentum even if total momentum has grown; if he's holding them back, he might be holding them back from being unstoppable, right?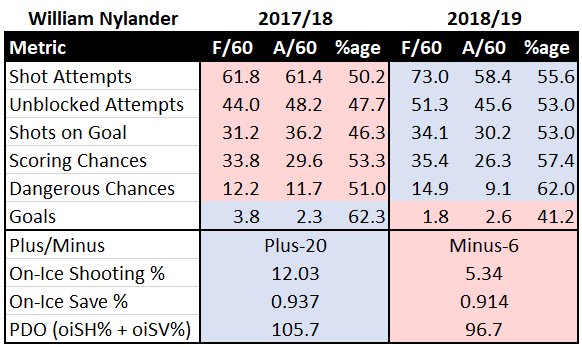 This is where it gets weirder. As far as controlling games goes, Nylander is having an excellent start to his season. The team is shooting way more with him on the ice than they did last year, and they're conceding less. There is a substantial improvement in his on-ice metrics that looks very similar to what the team's difference looked like when he joined the roster.
Relative to the other forwards on the team in that stretch, Nylander is getting a 3.5% larger share of the shot attempts and scoring chances, a 2% larger share of the dangerous chances, and… an 18.5% smaller share of the goals. That's almost all coming from goals for; he's slightly above the curve in goals against, but his lines have scored 2.1 fewer goals per hour (or about half a goal per game at 15:00 5v5). They're shooting at just 5.3% at 5-on-5 – league average is about 80% higher than that. To put it simply, everything that could possibly be going right for him is going right, except for the puck going in. Once again, it's not like the shots are coming from dangerous areas, be it his own, or his peers: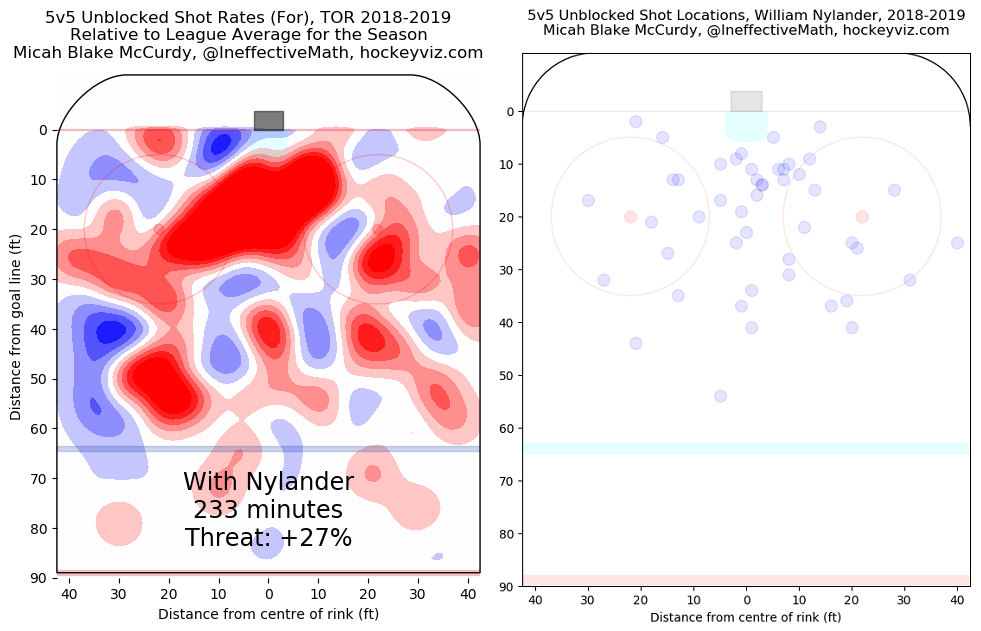 It's a bit baffling. But it goes to show you that he's not the only one who's gone cold streaking. Nazem Kadri, his most common linemate since returning, hasn't scored a goal on the ice with him, and had just 1 in his last 18 games before last night. Patrick Marleau, his second most common mate, snapped a nine-game pointless streak last night as well. Igor Ozhiganov and Travis Dermott account for 50% of Nylander's on-ice goals for at 5-on-5.
Some may feel that this might come from Nylander's brain being in the game still, and being able to contribute to flow but not create the final touches. There might be some truth to that; some of those passes still seem a little off, the shots just a little wide. But the idea that he's not still contributing, or trying to contribute seems unfair with all of the above in mind, along with the fact that he is still generating his own shot attempts (4th among TOR forwards in the stretch), scoring chances (3rd), and dangerous chances (5th).
It's also worth remembering that slumps like this do happen to top players, even ones on this team; Mitch Marner scored just one goal in a 30-game stretch last year, and Auston Matthews went 0-for-13 at one point in his rookie year.
Back to Nylander. We're starting to see more and more of the elusiveness in his stride, the ability to carry the puck, and the ability to create space in his game as time progresses. For my money's worth, he was one of the few strong points in Toronto's rough end to last week, and had some good chances against Tampa Bay last night (not to mention, kept Tampa scoreless when he was on the ice while tasked with matching up with the Johnson-Point-Kucherov line).
Would you like to see more production out of him? Yes, there's no doubt. The primary point at hand, one of a $6.9 million forward needing to produce to be worth his contract, is not unfair.
I also understand the frustration of the timing. For a player to spend months away from the team to eke out money that felt that he deserved and to not live up to it out of the gate is definitely a valid frustration for a fan to have. I can point out these numbers and say that the team's issues aren't on him, but it's not on the casual fan to be glued to Natural Stat Trick and HockeyViz and to break down every moment of every game. Most fans of the Leafs tune into the broadcast, watch the game, and move on until the next water cooler or social media discussion; they're not researching, and that's completely understandable and fair – we all absorb the game differently.
But when the discussion becomes a blame towards him for the team's recent luke-warm streak, becomes an open-and-shut case of the contract being a mistake, and when it becomes a scenario where people; including those in the media with large platforms, believe that the only viable solution is to sell him low and cold, that's where we start to veer off the deep end.
At the end of the day, the Leafs are playing very well of late; some frustrating moments and games mixed in, but that happens with every team. Certainly, Nylander's presence has not slowed down their overall control of the ice – it may have even improved it. Nylander's control of play appears to have improved as well. The biggest issue for the team at large is a return to stable goaltending, and the biggest issue for Nylander is that pucks need to start going in soon.
While some may call this a "what have you done for me lately" sport, it's really a "what will you do for me next" sport, with most evaluators coming having a dated mindset that "lately" is the simplest and most accurate way to figure out the "next".
william nylander is on an absolute mission right now pic.twitter.com/i34DRRoXE0

— dylan (@dylanfremlin) January 15, 2019
All evidence, visual and statistical, points to Nylander being very likely to return to his previous form. Players don't just fall off the face of the earth at 22 years old, his legs appear to be getting under him again, and we're talking about a player who until six weeks ago had a career-long points drought of three games. This is the absolute worst stretch that a player with an incredibly promising young career has ever had, after coming into a season several months after everyone else.
Is it a self-inflicted wound? Yes, absolutely. Both from the perspective of goodwill in the city and his own conditioning, waiting as long as he did to sign makes a slump like this that much more pronounced. People have every right to be frustrated with it too. But it's important to give this wound more time to heal, instead of reading him the last rites.
Because once it heals, that's going to be a heck of a strong body that rises up.