I don't know if there's an unspoken rule that a Toronto-based writer has to start a piece about the Ottawa Senators by making it about the Maple Leafs, but if there is, I'm going all in on it in a way that makes them sound bad, so bear with me. Let's quickly talk about the worst trade in Leafs history, which might straight up be the worst trade of all time – not just for the lopsided value involved, but for the process that followed.
On October 16th, 1989, the Maple Leafs traded their 1991 first round draft pick to the New Jersey Devils for Tom Kurvers. The 27-year-old Kurvers had just had a near point-per-game season on the Devils' blue line, torching his career highs in goals and assists to rake in 66 points in 74 games.
Using the data we do have on him, there's not a lot of hockey reasoning to have been against acquiring a player of this calibre. His 8.4% shooting percentage wasn't too far from his career average, he had been a pretty consistent 40ish point per season player, and had been in the Calder Trophy race in his rookie season. Hockey Reference's point share system likens his career to guys like Derek Morris, Joe Corvo, and Tobias Enstrom, who we think decently well of. Kurvers has become a punchline because of this trade, but he wasn't entirely chopped liver. Kurvers was best described as a powerplay specialist who didn't really make his teams better defensively, but those guys have value in the aggregate; I suspect with today's data, we'd have analytics types who'd like him.
The issue, though, was that the Leafs were terrible and trying to get out of their darkest era in team history. Toronto had, to that point, been under 0.500 for ten consecutive seasons, under 0.450 for nine consecutive, and under 0.400 for five of their previous six seasons. Despite pieces like Vincent Damphousse, Wendel Clark, Gary Leeman, and Al Iafrate, the team was devoid of depth thanks to historically bad ownership, a lack of organizational vision, and little investment in scouting or player development.
Kurvers was brought in to push the team forward in an era where division seeding allowed for even mediocre teams to run to cup runs, and for the first year, it didn't look so bad; the team finished at exactly 0.500, Kurvers put up 52 points, and the Leafs made the playoffs, only to be bounced swiftly in the first round by Brett Hull, Adam Oates, and the St. Louis Blues. Fair enough.
The next year started off nightmarishly, though for both the player and team. Kurvers had just four points in 19 games by mid-January, and given his injuries and defensive deficiencies, was seen as a large sum negative and moved for Brian Bradley, a right-handed centre who didn't break out until he left the Leafs two years later (of course).
The team was a mess, and their pick was in New Jersey's hands. Now, most people know the rest of the story by fast forwarding to the final outcome; the Devils picked third overall and with that pick, got the player the type of player that the Leafs were probably hoping to their arsenal in Hall of Fame defenceman Scott Niedermayer, who quickly blossomed into a legendary puck-mover.
What many don't realize, though, is it could have been a lot worse, and the Leafs panicked to avoid what they saw to be the ultimate embarrassment. 1991 was the Eric Lindros draft, and at the time, Lindros was believed to be a generational talent to stack up against Howe, Orr, Gretzky, and Lemieux (and, before his mid-career injuries, that was looking to be true).
So instead of being the hometown team that gave up Magic Beans for The Next One, Toronto did everything they could to reverse the standings. At 2-15-1, the Leafs made three trades in four days to attempt to get back to their winning way. A week later, now 4-17-1, they went a bit more creative, offering Scott Pearson and two second-round picks to Quebec for Aaron Broten, Lucien DeBlois, and Michel Petit. This made the Nordiques worse, and presumably made the Leafs better. They acquired Mike Foligno in January and continued making moves throughout the year, eventually regaining some late picks when Quebec were way out of reach.
In essence, the Leafs traded Kurvers for Eric Lindros, and then gave up young assets to make sure they didn't trade away Eric Lindros, and still ended up trading away Scott Niedermayer.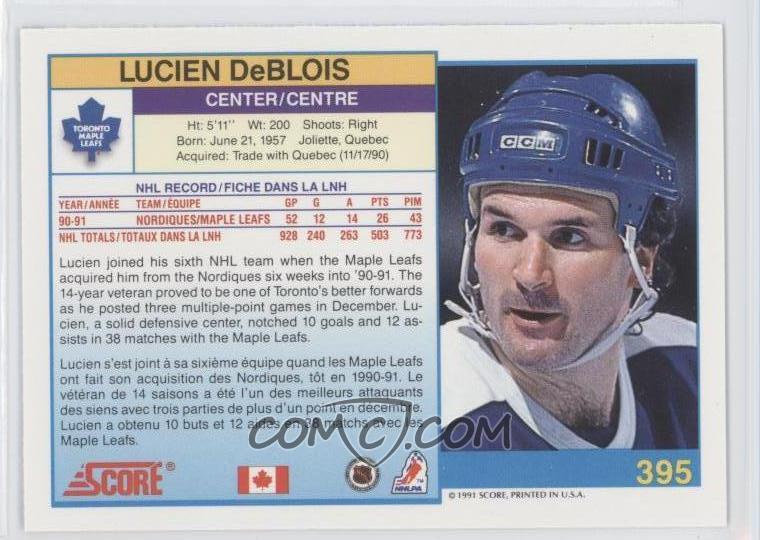 This all brings us to the Senators today. Ottawa sits at the bottom of the NHL standings with a 15-23-5 record at a little bit past the halfway mark, and has the league's worst goal differential at -36. They're 1-8-1 in their last ten games and the team has been trending downward after a mediocre-ish start to the year.
The Colorado Avalanche, as you probably know, have their first-round pick. They have it because the Senators gave up an absolute haul (Kyle Turris, Shane Bowers, Andrew Hammond, the 1st round pick, and last year's 3rd round pick) to acquire Matt Duchene in September, ignoring all insistence that their run to the Eastern Conference Finals in 2016/17 was built on unsustainable puck luck and miraculous circumstances in one-goal games. Ottawa was near the bottom of the league in most shot metrics during the regular season and was an overtime away from the Stanley Cup Final despite a negative goal differential in the playoffs.
Ottawa went for it anyway, as one does. To their credit, Duchene has been very good, and is in the midst of a career season with the Senators. To their other credit, a lot of people thought that holding onto last year's first to give up this one was pretty insane, but Brady Tkachuk looks better than most prospect models and a lot of scouts thought he'd be. Against their credit, the team remains awful, with a lot of that having to do with… the team being devoid of depth thanks to historically bad ownership, a lack of organizational vision, and little investment in scouting or player development.
Yeaaaah. Now, Ottawa risks giving up the highest odds in the draft lottery for Jack Hughes, who doesn't have the same hype as he did a year or two ago, but is still thought to be a cant-miss franchise player. Duchene is a free agent next year and likely won't want to stick with a team who's on-ice future is bleak and its off-ice future is bleaker (hug your Sens fan friends, they're suffering through a lot right now). Mark Stone, the team's best all-around player and perhaps the best two-way winger in the league, will probably be departing as well.
It's a disaster, right? One that leaves you wondering what the team should do. Do you swallow your pride and accept the very real chance of Hughes wearing an Avalanche jersey? Or do you try to make a push, lessening the blow?
To me, sucking it up is the no-brainer choice. The reasonings for that are simple:
You can't change the past. First and foremost, all commitments have been made here. The conditions have been signed off on the picks, Colorado isn't sending it back at this point, and you've almost used up your clock time on Duchene. You can alter the strength of the asset you've given to the Avalanche on their end, but you can't alter what you've lost on yours. Either way, a non-pick in your spot is a non-pick at 1, 3, 7, or wherever else.
All outcomes are embarrassing. Yes, there's something extra special about giving up the first overall pick for a semi-rental player that doesn't get you to the playoffs after shaking off all insistence that you're not actually a contender. But the damage on this was done on Day 1; if that pick was in the middle of the first round, we'd still be looking back on the move as a colossal misevaluation and sign of what not to do a decade from now. Short of the team being the best in hockey from this point on, getting into the playoffs, and taking a serious run at the Stanley Cup (unlikely given the combination of a shallow roster, inconsistent goaltending and league-worst shot metrics), you making this trade ever look like anything that's not a catastrophe. Scoring a 9.6 on the Richter scale instead of a 9.9 is irrelevant.
This is the best chance they'll get at recovering assets. Duchene and Stone should be spectacular rentals; Stone's ability away from the puck and Duchene's speed, combined with their great individual production should lead to significant offers of draft picks, prospects, and younger established players. The team has already screwed this up with Erik Karlsson and the only two players on the team that would go for hauls are guys you want to be part of the core for the long haul (Tkachuk and Thomas Chabot). Sell while you can and get your pieces. Even if these two want to stay (highly doubtful), the age curves will likely not be in their favour when the Senators are ready to win.
The Avalanche have no guarantees either. This isn't like Toronto's scramble with Quebec, where the last place team got the player without the lottery. Colorado only have a 20% shot of selecting first if Ottawa finishes 31st, and could fall to as low as 4th. Passing on your own future to avoid a 1-in-5 chance of feeling really stupid seems… really stupid.
Similarly, while we know prospects better than we ever have, there is still a degree of unpredictability. Like with the Leafs example, where Niedermayer's health gave him the better career compared to Lindros, Ottawa could make an effort to ensure Colorado picks at 4 or 5 instead and still hand them the best player in the draft that way.
It's not the worst landing spot for that pick. At the end of the day, if Jack Hughes ends up with the Avalanche, that's an outcome that really isn't so bad for the Senators. The bottom 11 currently features Detroit (same division), Philadelphia, New Jersey, and the Rangers (same conference), Vancouver, and Edmonton (Canadian teams vying for market share and TV eyes). If you're worried about giving away a franchise player, at least said player is in a place where you only face him twice a year unless you make it to the Stanley Cup Final.