Home | Forwards | Defence | All Skaters | Averages | Per Game | Observations
Back in January, an article on that called the Vancouver Canucks an example of a model rebuild inspired what would go on to become the most-read article in the history of this website (well, at least until I made a satirical trade proposal earlier this month. Thanks, internet).
The idea? Pull apart every team in the American Hockey League, divvy them up into age classes, and see who was investing their roster spots, ice time, and in-game activity into their youth. It took a ton of time to assemble as a beginner to even medium-sized data, but it became a very useful reference point.
Learning what I have in the past few weeks of refining the Marlies Analytics Project, however, has allowed for me to streamline the process, to the point where I can check in almost instantly moving forward. With that in mind, let's revisit the topic, and then release a new resource to members of this site.
The Concept
For those who missed the first draft back in January, here's how we're doing this: Every AHL team is divvied up into a pile. They then get sorted into three age groups:
Developmental: These are players that are under the athletic and statistical prime age of 24 years old. In most cases, that'll put them either in their entry-level contracts or just starting their second deal, or for those not quite up to NHL interest yet, their first or second AHL deal coming out of Major Junior or the NCAA. These players should be the overwhelming nucleus of every team in the league. There is no excuse for not pursuing as many younger players as possible. If this is truly a development league, you need players that can be turned into NHL players, and there are many venues to pull talent out of. On the portal, I've identified a "good" share as 55%, and a "bad" share as under 45%", but if I was running a team, I'd be trying to be above at least two thirds here in an average season, with dips only due to graduations.
On The Bubble: These are players within the age range of 24-to-28. This is still, in some cases, younger than what the old guard considers to be prime age, but everyone can agree that players here aren't going to get much better than what they are in the moment. These are the types of players that will usually get called up to fill in for injuries, are guys injected into the lineup solely for wins, or have simply stuck around from a developmental past. I consider this age group to be the least valuable, but the gap between these players and the veterans is much smaller than either group to the kids. It is enough that I've labelled it, though; the portal highlights teams below 25% as "good", and teams above 40% as "bad".
Veteran: These are the players that are at least 28 years old. When you're still in the AHL at this age, it's very likely that you won't be playing much more, if at all, in the show. Nevertheless, the money is still good, and you still love the game, so you stick around. Some of these guys are auditioning for tours of duty in Europe; some are guys heading back from those tours to settle down closer to home again. This is the second most valuable group to me, in the sense that you're adding them because they either make your team significantly better or because they can act as surrogate coaches for your younger players. Ideally, you get both. I haven't labelled these tabs in the portal, as your veteran total often comes to personal preference (whereas a big bubble will often come from refusing to let go of long-shots).
From this point, we want to see how much each age group impacts the team's play. Unfortunately, a common gripe with the AHL is that there aren't Time on Ice statistics available for the league, which makes it very difficult for us to see how players are being used at a glance. What we'll do is see what share (or percentage) of the total each group takes in the following statistics:
Games Played: The first step to getting usage is to get into the lineup, right?
Primary Points: We also want to see these players make an impact. Primary points combine goals and first assists and gives us an idea of who is directly contributing to the goals that make up the games.
Shots On Goal: For a wider sample of contribution, I've also included shots on goal. This goes somewhere in between the above metrics; it gives us a little bit of a view of who is creating opportunity, while still maintaining a broad view of who is participating in general.
On-Ice Goals For & Against: The most popular way to estimate ice time in leagues that don't have it, at least within the analytics community, is to look at a player's share of on-ice goals, as the league's game sheets will list the skaters that were present for each goal for and against. It's not perfectly accurate (as such, my Marlies analytics project uses a different form of Estimation), but it works in big samples, so I've added it in to this edition of the project.
Like in January, the results are being processed in Forward, Defencemen, and All Skater brackets. Goaltenders are not evaluated, as most teams still limit their scope here to "can he stop a puck?" and see age as the icing on the cake (which, given how much of an impact Save Percentage has on goal differential, and therefore, wins, and given the unpredictability of Goaltender Development, is probably fair).
Where Does Everyone Stand?
With the results in tow, I've separated everyone into no fewer than seven different tiers.
The Platinum Club
These are the teams that were great last season, and great this season. Some have been great at this for years, and that's why their NHL parent clubs have so much depth, and some just got the hang of things recently. But, they are repeat offenders in a good way.
San Jose Barracuda (SJ): If there's a team that's really doing this the way I'd like to see it, from a pure quantity perspective, it's San Jose. The third oldest player to appear in at least half of their games this year is 24, which is insane. Even their goaltending is young, in Antoine Bibeau (24) and Josef Korenar (20). 32-year-old John McCarthy is the team's only veteran, and they're still doing just fine despite that – currently second in the AHL in points percentage with a team that's over 80% run by development aged players, both in deployment and results. Something I found funny was that 22-year-old Francis Perron is currently their top scorer; he was received from the Ottawa Senators as an extra piece in the Erik Karlsson trade. It likely won't last, given a sky-high shooting percentage, but still a fun twist of fate.
Tuscon Roadrunners (ARI): The Coyotes' farm club is a bit like a San Jose-lite right now. Led by 2015 fifth round pick Connor Garland, putting up point-per-game numbers in his Age 22 year, the Roadrunners are 6th in the AHL while just under 80% in developmental usage. They rely a little bit more on the bubble for their defensive help (25-year-old Robbie Russo leads the team in assists), but no one on the team is over the age of 29.
Syracuse Crunch (TB): The Crunch have been a factory of young, creative, and often undersized players for years now, and this season isn't an exception. They're still sitting at about 60%, and some of their kids are genuinely exciting; Alex Barre-Boulet, signed out of the QMJHL last spring after leading the league in scoring, is putting up 15 points in 17 games as a 21-year old, 5'9 rookie. Alexander Volkov is dynamic, and Taylor Raddysh looks great too. They have two vets helping push them up the standings; once-a-Bolts-prospect Cory Conacher (25 points in 13 games!), and Cameron Gaunce (11 in 14 on the blue line).
Rockford IceHogs (CHI): The Blackhawks affiliate were one of my favourite results from last year's project, as it took them over half the season to dress their first player over the age of 28 (Cody Franson, who was sent down despite being way better than an AHL talent). This year, they still remain young, with their standouts being Dylan Sikura (signed after his final NCAA year and putting up 15 points in his first 22 games as an AHLer), and Darren Raddysh (who has doubled his points-per-game pace from his rookie season).
Toronto Marlies (TOR): The defending Calder Cup champs were in the elite class for much of the Kyle Dubas era, and under Laurence Gilman, they still hold strong. While not quite as young as they've been in previous years thanks to the progressive graduations of their core, and certainly struggling for answers in goal, the club has seen a significant amount of the contributions on the ice come from it's younger players. Carl Grundstrom, Mason Marchment, Trevor Moore, and Adam Brooks are all scoring at point-per-game paces in the developmental age bracket, and their Swedish defensive duo of Timothy Liljegren and Rasmus Sandin represent two of the seven youngest players in the league while playing exceptionally well despite that.
The New Elites
These clubs stack up with the Platinums in terms of this year's success but are coming from lower positions. As well, two are still trying to catch their groove in the standings.
Providence Bruins (BOS): Boston's affiliate hasn't had much standings success, but a lot of that comes from the fact that injuries up top have forced them to dip into the group more than a few times. Colby Cave is over a point per game as a 23-year-old, and currently with the big club. Ryan Fitzgerald is also putting up impressive numbers, as is Ryan Donato. A "your loss is our gain" injection for the P-Bruins that I kind of love comes from the veteran department; the team signed Jan Kovar after he terminated his contract with the New York Islanders, and he's since scored 10 points in 12 games.
Ontario Reign (LA): The Reign are one of the biggest extremes on this list. In terms of forwards, they're a disaster; just 35% of their group are development aged, large chunks are on the bubble, and their points are mostly coming from the veterans they've got, like Brett Sutter and Matt Moulson. But on the point? Sean Walker, Matt Roye, Alex Lintuniemi, Kale Clague, and others leading the AHL's third-most youth injected d-core, and the most productive group of youngsters.
Rochester Americans (BUF): Perhaps needing a few years to restore the cupboards after scorching the earth, the Sabres organization has really started to figure out this "having depth" thing. The Amerks showed great strides in this regard last year, but are now near the top thanks to players like Brendan Guhle, Alex Nylander, Lawerence Pilut, Victor Olofsson, and CJ Smith. Zach Redmond and Kevin Porter are their impact veterans.
On Their Way
Binghamton Devils (NJ): Binghamton lies right around the average in most metrics, but is at least making a point to get younger players into games. The lack of tangible success yet from 2016 first and second rounders Michael McLeod and Nathan Bastian probably isn't helping them much, but players like John Quenneville and Marian Studenic have shown some promise. MacKenzie Blackwood has looked excellent in net for his age as well.
Charlotte Checkers (CAR): The Hurricanes' affiliate was a powerhouse for young scorers last year, and players like Janne Kuokkanen, Martin Necas, and Nicolas Roy have kept that going for them again this year. They're not quite as good or young on the blue line, but given the team's NHL depth, I doubt they're sweating that too much.
Belleville Senators (OTT): I guess it was inevitable that the Senators would grab a few skilled forwards on the way through their budget-shedding fire sale. Drake Batherson, who they picked up with a 2014 fifth rounder, was unbelievable to start the year, scoring 20 points in 14 games, including a six-point night against Toronto. He was called up to Ottawa a few weeks back and is keeping his run of excellence up, picking up five points in his first six games. Filip Chlapik and Nick Paul have also looked promising, scoring at near point-a-game clips.
Doing Well
Cleveland Monsters (CBJ): The Monsters are a weird one, in the sense that they're dressing a lot of young players, but the group hasn't been particularly good. Instead, they've had to rely on one high-flying line of Zac Dalpe, Nathan Gerbe, and Eric Robinson; two vets and a 23-year-old, to get their work done. It'll be a process for them to find the best way to maximize their players (I was hoping for more out of the 0.33 pt/game Vitaly Abramov, for example) and get them to the next level, but the fact they've got a lineup that's about 55% filled with youth is a positive step if nothing else.
Colorado Eagles (COL): The Avalanche and Blues split up this year, with Colorado looking closer to home as many teams have. The Eagles, who graduated as a franchise from the ECHL, include a few interesting players, like point-per-game 21-year-old AJ Greer, and 19-year-old winger Martin Kaut. They're in a similar situation to the Monsters in that a lot of their kids are still getting a feel for things, but the fact that they're willing to experiment with so many different players is a strong step.
Milwaukee Admirals (NSH): The strongest example of "lots of kids, no results", though, might be the Predators' farm team, with 20-year-old defenceman Frederic Allard being the only one who has made much noise. Fans were certainly expecting more out of 19-year-old KHL Phenom Eeli Tolvanen, who is hovering at a half-point-per-game and is second worst on the team in on-ice goal differential.
Average
San Antonio Rampage (STL): They avoid the bubble with their forwards, but that's a product of veterans as much as it is of youth. one of the least productive young corps in the league; their point-per-game leader is 22-year-old defenceman Mitch Reinke (12 in 21), and both Klim Kostin (7 in 21) and Jordan Kyrou (5 in 11) haven't fully delivered compared to their hype trains yet. Chris Thorburn, impressively, still has a gig in the pros thanks to them, even as a 35-year-old enforcer.
Bridgeport Sound Tigers (NYI): Last year, this group pushed up the rankings on based on it's young, talented defensive corps, and that remains the case this year. Devon Toews, Sebastian Aho (Swedish Edition), Parker Wotherspoon, and Mitch Vande Sompel make up about as good of a young d-core as you'll find in this league. Up front, Josh Ho-Sang remains good, and Michael Dal Colle may have finally caught a stride (15 points in 16 games!).
Hershey Bears (WSH): The only thing keeping the Caps' affiliate in here is the bevy of young defencemen they've got, like Connor Hobbs, Lucas Johansen, Colby Williams, and Tyler Lewington. Good young forwards are practically non-existent, and the group, on the whole, is the least productive U24 group in the AHL. Straight up. It's no shock that Hershey's run of dominance seems over, given the lack of finishing talent they have at any age, but especially in the youth bracket.
Stockton Heat (CGY): The Flames' farm club was near the top of this list last year, but graduations, trades, and straight up struggles have pulled them back a bit. Andrew Mangiapane remains a point-getting machine, Curtis Lazar and Kerby Rychel might finally be finding grooves, and Oliver "Barzal, Connor, and" Kylington had a hot start that earned him a call-up to the big club just a few days ago.
The following teams are about as average as you're going to find, but the list doesn't feel complete without them:
Hartford Wolf Pack (NYR): Hartford's deployment is pretty ho-hum, and the quality of results they're getting from their youth class has left a lot to be desired. Ty Ronning was a disappointment coming off of a 61-goal WHL season and was sent down to the ECHL to re-find himself, but after a five-point debut, I can't imagine it'll be long until he's back. Going the opposite way, Lias Andersson was so impressive that he was fast-tracked to the Rangers; I imagine he'll end up back with the Wolf Pack at some point, helping better represent the team's youth core.
San Diego Gulls (ANA): The Gulls aren't super young on the whole, but they do have an exciting crop of 20-year olds this year. Troy Terry, Josh Mahura, Sam Steel, and Max Jones are all between 0.66 and 1.33 points per game, with Terry atop the class. The World Junior hero may not be ready for the NHL yet, but if he keeps this up, there's no doubt he'll be there in the future.
Springfield Thunderbirds (FLA): Springfield are struggling to get production from most of their youngsters right now; that Dryden Hunt got a call-up to the big club after their big start certainly hasn't helped things. Only Laval and Hershey's youth are averaging fewer shots per game, which doesn't say a lot about their play-creating potential. 21-year-old Henrik Borgstrom looks good though; he's got 17 points in as many games in his first year out of college.
Texas Stars (DAL): The Western Conference Champions went on their run with a veteran squad, and as such, have had to shuffle the deck chairs a little bit to find a way to help their parent club in ways beyond brand recognition. Denis Gurianov has been lights out to start the season (he already has as many points in 17 games as he had goals in 74 last year), and draft re-roller Adam Mascherin is doing pretty well for a professional rookie. Roope Hintz was scoring at a point-per-game before his call-up to Dallas, and Ben Gleason is producing points from the point.
Utica Comets (VAN): The team that spawned this whole idea remains somewhere in the middle; which was a positive sign of growth last year, but after seeing how Rochester climbed up in just a couple of seasons, doesn't come with bragging rights any more. Zack MacEwen's evolution into a point-getting big man has been welcome, as has Olli Juloevi's team lead in points by a defenceman. On the other hand, the defensive group is pretty empty after Juolevi, Jonathan Dahlen hasn't produced quite at the clip people were hoping for, and much of the same can be said for many of the other 20 to 23-year-olds.
Bad
Grand Rapids Griffins (DET): I thought the Red Wings had an excellent draft this year, but that doesn't solve the fact that the Red Wings ran themselves dry to hold together their playoff streak, and the Griffins ran themselves old to push for Calder Cups. Filips Hronek and Zadina are the brand names here, but besides that, there isn't much youth, and most of that youth isn't doing much.
Manitoba Moose (WPG): The Moose were near the top of this list last year, and I figured they'd stay there again. That hasn't been the case; a few of their players aged out, some stuck with the Jets, and some were called up. Sami Niku sitting in the Jets' press box and Kristan Vesalainen using his out-clause to head back to the KHL definitely hasn't helped them much here. The good news? Mason Appleton is a point per game player right now, well on his way to repeat or exceed his 66-point season last year. He's still 22, so you like seeing that.
Laval Rocket (MTL): I won't carve Laval too much here, because they did finally make an overdue coaching switch this summer, and the Habs organization seems to be making baby steps. Their defence corps is decently young as well. But there's still a lack of talent here; Jake Evans is the closest thing they've got to young an exciting as a 14 point in 21 game 22-year-old.
Lehigh Valley Phantoms (PHI): The Flyers' prospect pool is considered one of the best in the league, and they've got some great players up top, but not much of that talent is currently sitting in the AHL. Their top 5 scorers are all 25+ with emphasis on the plus for Greg Carey (28), TJ Brennan (29), and Chris Conner (34). The good news, though, is that the pieces that are down here are very good ones, like Nic Aube-Kubel (22), Mikhail Vorobiev (21), German Rubtsov (20), Philippe Myers (21), and the struggling but still highly touted Carter Hart (20). All the same, they would be well-served to expand their horizons a bit.
Nightmares
Chicago Wolves (VGK): To be honest, I wouldn't fret about this one too much. Everyone knows that the Wolves historically don't run themselves like a development team, the Golden Knights prospect pool is still forming, most of their best picks are still in junior or Europe, and the loaned players from St. Louis have moved on.  All the same, this pool is effectively Erik Brannstrom (excellent), Nicolas Hague (very good), and a bunch of crickets (sub-optimal). Reid Duke is at least scoring at a half a point a game pace, though, so good for the first Golden Knight?
Bakersfield Condors (EDM): The Oilers have a situation on their hands kind of like the Flyers, but less good. Cameron Hebig (21) Tyler Benson (20), and Cooper Marody (21) look excellent, scoring at point-a-game clips. Kailer Yamamoto should catch his groove after he settles in. Their younger defencemen (Caleb Jones, Logan Day, William Lagesson, Ethan Bear) are the ones getting points for their team's blue line. But after that, it's a bubble laden wasteland, especially up front. What makes matters worse is that many of these players have multi-year or NHL deals, making it hard to start it all again from scratch next season.
Iowa Wild (MIN): Minnesota are in a prospect cycle that lends itself to the bubble, so a lot of their players are 24-25. That doesn't sound terrible in theory, but if they aren't making it now, when will they? Mason Shaw and Dmitry Sokolov have been bright lights, though, and Luke Kunin's numbers are solid for a 20-year-old.
Wilkes-Barre/Scranton Penguins (PIT): Are the Penguins' cupboards finally cooked? Some have been waiting for this moment for a long time, and the answer is, well, maybe. Similar to Minnesota, they're all in the bubble; not a single game has been played by a U24 defenceman this year, but only 39% of them come from veterans. I couldn't say with justification that a single young forward is producing at an interest-piquing rate. This team is effectively just one big audition for the next Pittsburgh call-up, which it wasn't in previous years; have they abandoned ship, or is this the eye before another storm?
The Usage Portal
To go with the above information, I have also released a portal where you can go check in on these numbers whenever you wish. I won't be updating this daily; the goal is likely once a week, typically around Monday after the glut of weekend games have pushed through.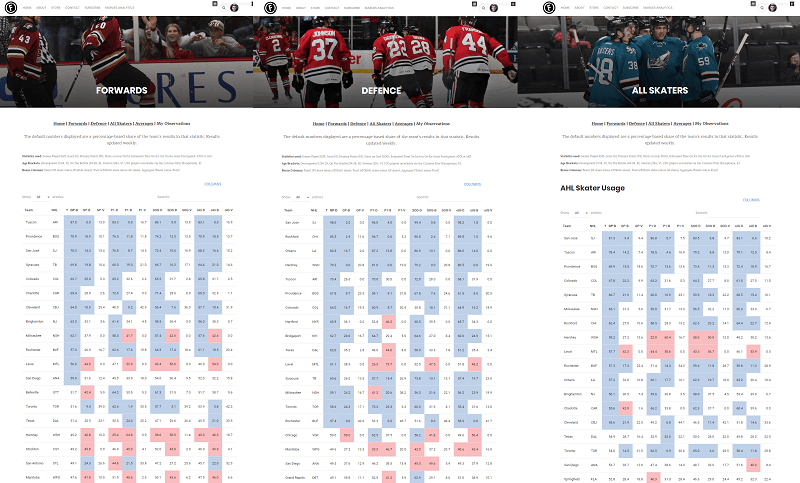 Home | Forwards | Defence | All Skaters | Averages | Per Game
A couple of extra features are tucked away into the portal. Using the column display button on any page will allow you to see a few more stats, like these shares using goals, the share of contribution from exceptionally aged prospects (Under 20, still exceedingly rare in the AHL), and a few other metrics I made up to test. I also added an average age of action page just for fun, though I don't think using that method tells a story in the same way that the shares do. Finally, there is a page for per-game rates, to see how effective the young players are (I didn't bother with doing this for the bubble and veteran players, as I can't imagine there'd be much interest).
Access to the portal requires a subscription to The Faceoff Circle. Joining the site will allow you to use this portal my detailed tracked-info database on the Toronto Marlies, all content in all of my articles, give you the ability to comment, make the site ad-free, and much more. Memberships are just $5/month or $25/year, and allow for me to continue doing in-depth projects such as this one.
Feedback?
If you have any questions about this project, other ideas you'd like me to look into along the same vein, or want to talk some shop, there are many ways I can be reached. Members can leave a comment on this post, or you can also reach out via my contact form, via email, via Twitter, or via LinkedIn. I'm open to discussing the ins and outs of this concept on your media platform/outlet, and on the slight chance you're in AHL hockey ops and are looking for someone who thinks of weird ideas like this one for your organization, I'm all ears to that too.
That's it. Thanks for reading!