The reports of Timothy Liljegren's death as a top-end prospect are greatly exaggerated.
Much has been made of the 2017 first-round draft pick's long-term aspirations in the last few weeks, for a variety of different reasons. Many are hoping for a year of domination out of the Swedish defencemen, and the fact that fellow teenaged countryman Rasmus Sandin had a strong training camp and first few AHL games creates some competition for him as well. Despite the fact that the two play on different sides of the point, everyone loves comparative drama, and this appears to be the newest one of those situations in the public eye.
It hasn't helped that the youngster has a risk-reward element to his game and that players of that archetype tend to get their share of heat in this market – especially when it comes to defencemen. Sure enough, Liljegren has had his moments of iffy reads and bobbled pucks, and many have taken that to be a sign of overall struggle and a potential warning sign for his future.
Here are a few reasons why I wouldn't worry too much about the aforementioned noise:
His Role
To understand where Liljegren is now, you have to understand where he's been. In my eyes, last season should be seen as a bridge year, or a "restoration" year for him.
Liljegren came to the Marlies coming off of a lacklustre (to his standard) draft year, having lost weight and strength to mononucleosis and never really picking up momentum in Sweden. Blessed with a stacked defensive core in Toronto, Liljegren was able to be hidden behind stronger teammates, he got to face weaker competition, and the team wasn't worried about giving him the odd night off so he could spend some extra time in the gym or doing drills.
Come playoff time, Liljegren drew into the lineup every night, but he wasn't playing a ton of time. While he was still given looks on the powerplay, he was the least-used regular at even strength, usually coming in to play the softer shifts. This worked to his advantage as the playoffs progressed, as a player who entered the season catching up on strength had more gas left in the tank than most – peaking at a dominant performance in Game 5 of the Calder Cup Final.
This year, the tables have flipped on their side. Travis Dermott is a full-time member of the Leafs, and Justin Holl and Martin Marincin are… chilling in the press box while occasionally getting reps, I suppose. This freed up some special teams room, and it left some minutes on the table.
With that in mind, the Marlies have gone head first with Liljegren. Instead of sheltering him, he's now playing with Calle Rosen on the first pair. He's playing on the top powerplay unit, and after barely playing on the penalty kill at all last year, he and Rosen form the top duo there as well. This makes him one of only three players to regularly play in all three situations (Adam Cracknell and Trevor Moore being the others).
That creates new expectations and new challenges. Liljegren has to adjust to the stamina needed to play more minutes, and in every game. He has to adjust to starting more shifts in the defensive zone, and to the rigours of a penalty kill. He has to adjust to playing against top lines and in do-or-die minutes. He has to the AHL's more skilled two-way players trying to cut off his rushes and shots, and potentially targeting him over Rosen in their zone entries.
It's a new challenge. With it comes some growing pains and hiccups. But it's a challenge you want him to have, as the talent levels will only get better once he gets to the show. Getting to go end to end and get clean looks against AHL third and fourth liners will only get you so far; the end game is for him to be able to do the things we know he's capable of against the best in the world. So while one hopes for him to begin to dominate against this group too, it's important to remember in the meantime that it's a progression from what he's faced.
His Age
Also important in the context of Liljegren's play is his age. This is especially key when holding him in comparison to Sandin; a great prospect in his own right, but definitely getting some of the "shiny new toy" hype. As a second-year player, there's a bit less of that with Liljegren, and after the two previous Leafs first rounders (Mitch Marner and Auston Matthews) became impact NHLers in their Draft+2 and Draft+1 seasons respectively, still needing time as a +2 feels comparatively slow.
But those were two extremely high-end, blue-chip prospects. Not just that, they were forwards – which means there are more roster spots available for them, and within the historical constraints of the NHL, more trust afforded to them. Liljegren doesn't turn 20 until April 30th, and teenaged defenceman are hard to find in the NHL. Since 2005/06 (the start of the salary cap era), just 26 defencemen have had a teenaged season where they played at least 60 games (or 35 in 2012/13). Of that group, 21 were picked above Liljegren's draft position of 17th overall, and of the four outliers, none were taken lower than 47th.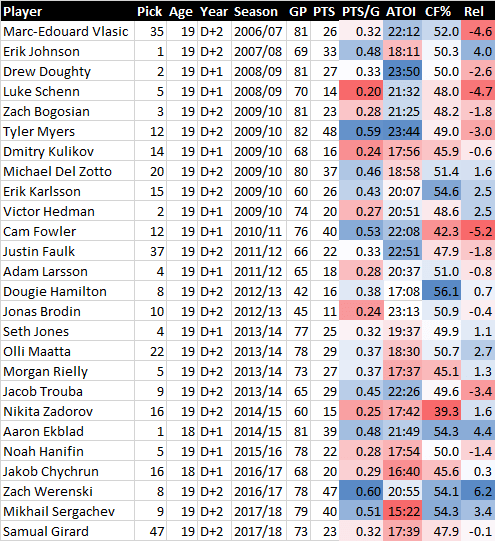 In the years where these players were selected (2005 to 2016), 71 defencemen were taken 17th or higher. This means just 27% of that group were NHL regulars by their Draft+2. That isn't likely to change significantly with Liljegren's class; of the six defencemen in 2017's Top 17, Miro Heiskanen (Dallas, 3rd) seems to be the only sure thing to stay up; Juuso Valimaki (Calgary, 16th) has played in 17 games so far, but has just two points, poor underlying numbers, and is playing under 15 minutes a night, so one more trip to junior might be a possibility.
It's also worth noting that a lot of the above players, weren't particularly great in their first years. Only a handful of the players on this list even truly hit the ground running; Werenski, Karlsson, and Ekblad are the only players who were getting a combination of legitimate minutes, a strong rate of production, and positive signs of play-driving across the board. You could probably argue that a few from this group could've used some more finetuning, but in many cases, there was either an expectation on the team to flaunt their top prospect or a lack of ability to send them anywhere but back to major junior due to the AHL / CHL transfer agreement.
Liljegren, as a non-CHL prospect, did not fall under this rule, which is why he's been able to develop in the AHL. That actually makes him look even younger proportionately; last season, he was the league's youngest defenceman to play 25+ games by about a year and a half, and still put up a performance that looked like he belonged. Today, as a top-pairing defenceman who plays double special teams, Liljegren remains the AHL's seventh-youngest player, and third youngest defenceman, trailing Erik Brannstrom (selected two picks before him by Vegas) and Sandin (the first player born in the 2000s to score an AHL goal).
While Sandin is now the young kid on that block, Liljegren would be that player on all but one other team. That cannot be stated enough; had he played in the CHL, his first game as a Marlie wouldn't have come until next year. Travis Dermott is a great example of a Marlies player who became an all-around beast and is now having success at the NHL level; Liljegren is getting top-pairing responsibility at a younger age than Dermott was when he played his first regular season AHL game.
His Tools
I think one of the things that has people the most concerned right now is a lack of highlight-reel plays so far this year. We're used to seeing Liljegren make sweeping controlled rushes, deep stretch passes, and firing shots like they're going out of style.
As I mentioned before when talking about his role, some of that time and space goes away when you're playing on an AHL top pair. Teams know to target you, they have their best guys on you, and you have to think a bit quicker. Having Rosen on his left side is a blessing and a curse for this as well; Rosen also likes to skate, pass, and shoot, so he's hogging some of the Timmy Time we would've seen when he was paired with, say, Martin Marincin or Andrew Nielsen or one of the other less mobile, less creative lefties last year.
Liljegren's game against Belleville this past Saturday, however, reminded us that he still has a lot of tools in his chest. Be it the rushes:
The long stretch passes:
The heavy (deflected by Chris Mueller) shots:
Or even subtle defensive efforts, his ability here to get back to address the counter check, strip the puck with a poke check, and subsequent stick lift the Belleville attacker's stick so Sam Gagner could take off:
Personally, I felt it was likely Liljegren's best game, and one where he showed a little flash of everything we know him for. Sheldon Keefe felt the same way. "That's what he can do," said the Marlies head coach on Saturday night. "We had the expectation that he would evolve to settle down a little bit as he gets comfortable in the league and gets more opportunity to be able to do those types of things. I just thought he had a sound game. Maybe his best of the season on both sides of the puck today."
Those play elements – the talent, confidence, and intelligence to make reads and plays with the puck – be it through holding onto it, moving it around, or putting it on net, are traits that the Leafs organization values highly and that the modern game rewards. That we see glimmers of these in just about every game from a teenager, and that there are occasionally nights where they all stitch together, is massive.
His Results
That game was also his best statistically this year; at least according to the on-ice shot attempts (21 for, 5 against, 80.8 CF%) and Game Score (1.73, which is a pretty decent chunk for a defenceman).
The funny thing is, despite all the "down year" talk, even his most simple stats look pretty good. More than pretty good, actually; 7 points in 12 games in the Top 40 for AHL defencemen. Make that to Under-24 defencemen, and he moves up to 21st, make it Under 21 and he's 5th, and if you zero in on the teenagers, he's only behind Brannstrom (who has impressed with 11 points in his first 12 games with Chicago). Assuming both keep up their paces, Liljegren's 0.583 points per game would land him 5th all-time for 19-year-old AHL defencemen, with Brannstrom atop, followed by John Carlson, Marek Malik, and Rasmus Ristolainen.
That's a heck of a grab bag (a legit first pairing defenceman, a role guy, and a polarizing middle-pair powerplay specialist), but there should be at least some confidence in Liljegren's ability to graduate into a decent player if he keeps this up. It's also worth noting that LIjlegren broke Slava Voynov's Age 18 points-per-game record last season.
Going beyond point production, Liljegren's underlying numbers with the Marlies this year look positive as well. While his Corsi-For percentage is -1.3% lower than the team's without him on the ice, remembering that he's playing the toughest minutes is important; especially given that the Marlies are a 56.2% possession team and that Liljegren is sitting at 55.3%, even in those tougher minutes. His even-strength point production has been a little bit lacking, but three of his last four notches have come at 5-on-5 and contributing to the top powerplay unit isn't an inherently bad thing. The team is also generating shot attempts at a higher rate with Lijlegren on the ice than with any other regular defenceman, and he's only surpassed by a few forwards (the Moore-Brooks-Marchment line and Sam Gagner are the only players clearly ahead).
Summing It Up
When you look at the full body of work, the tempered expectations and lowered excitement for Timothy Liljegren right now seems a little non-sensical. Given his age, the toolset he provides, his style of play, and the points he's put on the board to begin the year, all in a much more significant role than he's ever played for the Marlies, it's hard to find too much fault.
Really, what we're getting so far is everything that everyone had asked from him this year, and he's well ahead of the development curve of most defensive prospects (even the very good ones). I understand that he isn't the newest toy in the playroom any more, and that we're used to the last generation top prospects realizing their potential instantaneously, but that doesn't change the fact that it looks like the Leafs have something here.
Would it have been nice for him to have been undeniably NHL ready this year? Sure, and if we're being honest, I wouldn't be shocked if he could stick on a team (even this one) in a trivial role this year if you really forced him to. But I'm a big fan of this pathway too – he gets to understand the rigours of heavy-minute, all situation hockey, he'll still get to go to the World Juniors and play a leadership role for Sweden, and if the Leafs find themselves shallow later in the season, a conversation could be had about burning a contract year but not a UFA year and calling him up.
Or maybe you keep him down all year, pushing him to his AHL limit while kicking his contract forward one more year. Either way, I think that while there is still room to grow for him on both sides of the ice, we're still looking at someone who is more "when" instead of "if" as far as becoming an impactful NHLer goes.