The free agent market is usually pretty barren when you get to the two-week mark of the season, but every so often a name will still be kicking about that sticks out at you. This year, it's restricted free agent William Nylander.
Nylander, who's rights-holding team I can't remember off the top of my head for some reason, is one of a handful of notable RFAs to see their contract standoffs bleed into the regular season. Ilya Kovalchuk kicked things off with Atlanta in 2005/06, but since then we've seen players like Kyle Turris, Jamie Benn, PK Subban, Ryan O'Reilly, Jacob Trouba, and Andreas Athanasiou miss games. That's before even looking at the Anaheim Ducks, who had Hampus Lindholm, Rickard Rakell, and Nick Ritchie all go beyond the distance in a three-year span.
Because of that, there's been a lot of speculation as to where Nylander should play his next hockey. Personally, I think the Leafs would be a great fit.
Last night's 3-0 loss to the Pittsburgh Penguins is by no means a summation of how the year has been going for the Leafs this year, but it is a reminder that not every game will go as planned for them. While Toronto has plenty of deadly finishers in its stable, not even Auston Matthews and John Tavares provide you with automatic goals every game. While the top powerplay unit looks like something out of the Harlem Globetrotters' playbook, they won't always convert.
While many feel that the Leafs' biggest needs lie on the blue line, the name of the game is goal differential, and any edge that you can find that widens that gap is a good one. You can be a great offensive team and still be improved by a great offensive player, and Nylander seems to be a great fit for that.
In Nylander's first two full seasons (2016/17 and 2017/18), he ranks in a tie for the 41st-most points by any NHL forward, with 122 in 163 games. Among players who play on his right-wing full time, only Nikita Kucherov, Patrick Kane, Blake Wheeler, Phil Kessel, David Pastrnak, Jakub Voracek, Vladimir Tarasenko, Mitch Marner, and Mikko Rantanen have picked up more. Adjusted for Era, Nylander ranks in the Top 65 all-time for points by forwards in their Age 20 and 21 seasons, which gives you some encouragement that his star-like production will further leap into superstar territory as he nears his prime age in a couple of years.
Toronto's goal-producing prowess is undeniable, but a fourth 60-point threat and fifth 50-point threat up front would really balance them out. While the depth on the team is strong, it's not perfect; guys like Frederik Gauthier aren't going to pot goals for you, and the second powerplay unit currently has players support forwards like Connor Brown and Josh Leivo on it, leaving the team with a fair bit less punch if the top unit fails to score in the first minute.
The current arrangement's results at five-on-five also give you a little bit to wonder about:

The left number is the players' score-adjusted Corsi For Percentage (or shot attempt share), while the right are their points scored per 60 minutes at 5-on-5. The ability to run a deep lineup of solid NHLers has reaped rewards for the Leafs as far as game flow goes, but they've also faced aggressive matchups.
The biggest matchup focus for their opponents has clearly been the Matthews line, as this graphic from HockeyViz shows: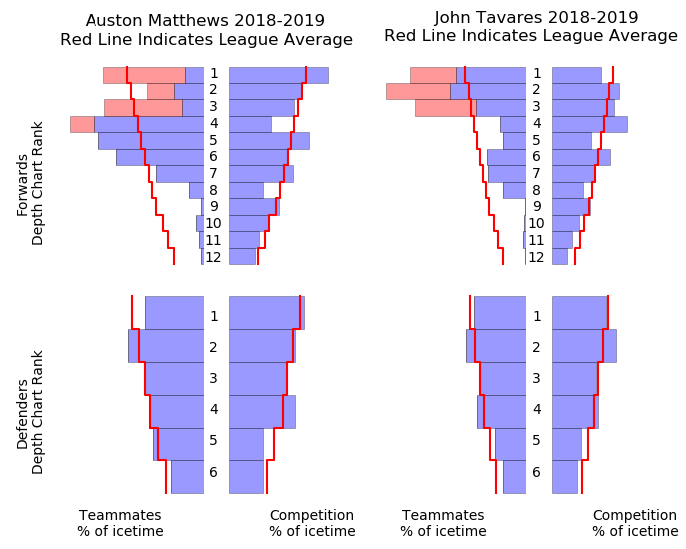 Matthews is facing the toughest of the tough, and in many cases, he's the primary man to be covered. His unbelievable talent has managed to shine through in most games to allow him to put the puck in the back of the net despite this, but as yesterday reminded us, that won't happen every game, and when it doesn't happen, you're left with situations where your best player gets out-attempted 12 to 24 while he's on the ice (and outshot 2 to 14), allowing opponents to gain momentum and wear the Leafs down on nights where their superstar is cold.
That's not all on him, of course. Matthews has normally been pretty good with game flow, but he's playing with a new set of linemates this year. Kasperi Kapanen had a great eight-day scoring tear which saw him pick up eight points in five games, but I wonder how much that goes away as teams see him as more than a tertiary threat on the line and start adjusting their shutdown methods to account for his speed – if this isn't just a hot streak to begin with, considering his total of 13 points in 69 prior games with the team, which is likely less than what we'll see from him moving forward but more likely than a permanent, over-point-a-game winger. Patrick Marleau also looks like he's starting to finally show some signs of age out there, but that could also be a lack of chemistry. The Matthews line has always been designed to follow Babcock's displacer-distributor-finisher archetype, now held best by the Tavares line.
Babcock has talked about Kapanen's future role being more like Zach Hyman's, so if he were to move to the left wing, a player like Nylander might be what gives Matthews the edge. Obviously, there's no way to know whether this will work until they play hockey together, but I'd imagine someone as adept in the neutral zone as Nylander is would give Matthews some relief in transition, and his puck skills would give him someone to cycle with, rather than just to take off with the puck as his current wingers are most skilled at. The eye test lines up with this theory, and so do the numbers; Nylander's teams get 3% more of the shots at even strength when he's on the ice than when he's off it over the course of his career.
Adding a player like Nylander would allow Toronto to move Marleau back down with Nazem Kadri, which could kick-start them both. It would allow Par Lindholm to go back to playing centre on the fourth line, maybe giving an offensive jump at evens to Leivo and Johnsson. Gauthier becomes the odd man out, but helps shore up the Marlies' centre depth, which is being tested by injuries right now.
Adding Nylander would clearly benefit the Leafs' forward group, as it would allow as many as three different lines to be best tooled towards their own strengths. But what would it take to add a dynamic player like this?
For whatever reason, the Internet won't tell me what team owns this player's rights, but it does say that if his team were to trade him, it would likely be for a defenceman; preferably a legitimate top-pairing guy. Jake Gardiner is a pending UFA, so I'm assuming his team wouldn't be okay with doing that. You could offer them someone on their way up like Travis Dermott or even a Timothy Liljegren or Rasmus Sandin, but from the sounds of it, their fanbase would be pretty upset if they gave up a presently great young player for someone who hasn't fully proven themselves at the NHL level yet; even Dermott might be a little green. Morgan Rielly might fit the bill, but that would be a huge blow to the corps – and definitely too much to give when you don't believe the other team is in control of their destiny.
Unless they were willing to work with Nikita Zaitsev; a hit-or-miss defenceman who still seems to have a reputation among hockey men as a second-pairing option, I can't see a fit with Nylander's team.
I think that they'll have similar problems if they ask around the league, too. Rebuilding teams won't want to make a big add now, and most rebuilding teams don't have a clear-cut, contract-stable, top-end guy that they'd be willing to move. Some teams have deep defensive corps, but the "defence wins championships" mentality still runs pretty strong around the hockey world, meaning that some teams will horde, and teams that are willing to distribute know that they're in the driver's seat for the league's most disproportionately valuable position.
An offer sheet is an option too, as the Leafs have enough cap space to offer Nylander substantial money but that leads to all sorts of different questions. For example, it sure sounds like Nylander doesn't want a bridge deal, so you got to keep the deal to at least five years. Five on the dot would involve giving up picks for a guy who could bolt for unrestricted free agency, and once you cross into six, the offer sheet's AAV gets divided by five – meaning that any offer sheet that meets his unconfirmed initial request of Leon Draisaitl's $8.5 million while buying even a single UFA year would require a compensation of four first-round picks, which seems like a big risk. A team wanting to lock him up for the full seven years would be dishing those four picks out at just $7.2 million. This is all relative anyway, though; very few teams have the combination of cap space and draft picks to make these types of offers, and even fewer, if any at all are in a phase in their team build where that sacrifice makes sense.
Knowing that the fanbases' expected trade demand is going to be just impossible to find unless his team takes a defenceman of a lower calibre out of desperation, and knowing that an offer sheet seems pretty unfeasible, I imagine that what happens here is that Nylander's team waits him out a little longer before he decides to come down to an asking price they're more comfortable with, and signs him. That's a bit of a shame, because he would've been a great add to this Leafs team.