At this stage of the game, the dust has settled so far on the Max Pacioretty trade to the Vegas Golden Knights that I don't have to tell you it happened. I might have to remind you that it happened, given the Erik Karlsson to San Jose blockbuster, every other bit of Senators-related drama, Henrik Zetterberg's silent retirement (we might get to that later this afternoon), and your favourite team's training camp, but you all know it happened. In case you forget the details of it, it looked something like this:
| | |
| --- | --- |
| To Las Vegas | To Montreal |
| Max Pacioretty | Nick Suzuki |
| | Tomas Tatar |
| | 2nd Round Pick 2019 |
Initial reaction to the move was about what you'd expect; people see a Marc Bergevin blockbuster, they see that the highest-profile player is the one departing, and they laugh. In fairness, it's hard to blame them given some of his other big swings, but it was a very immediate, very swift ruling for a move that had a lot of moving parts. Some of that has settled, and people are starting to look at it with a bit more doubt benefit, but I'd go as far as calling this an outright good move on Montreal's part.
Backs Against The Wall
You never want to give someone credit for getting out of a bad situation with limited damage, when they're a big part of the reason that the situation was bad, to begin with. It's incredibly easy to argue that Montreal stumbled towards the negotiating table with this move, given months of speculation regarding their willingness to move on from the player, all sorts of curious, leak-like "reports" about Pacioretty's leadership abilities (or lack thereof), his contract demands, and his interest (or lack thereof) in staying – a lot of which had to be shot down by former teammates and agents and people who weren't in control.
It didn't take a genius to know that Bergevin and company forced their own hands. The entire hockey world, from the front office to the fanbase, knew as the clock ticked that the only likely outcome was that the Canadiens would move on from their captain, basically stripping them of any bargaining power. With that said, though, the fact that you can walk away with that and still get a haul that's easy to argue as fair value is pretty impressive.
Is it pure maximization of an asset? No. Could a team with more leverage cashed out a winger of Pacioretty's calibre a bit more? Probably. But you look at most other instances where a player of significant calibre is known to be on the market ahead of schedule, and rarely do you see a large haul come back; ironically, the closest counter-point is likely what Bergevin himself paid for Jonathan Drouin last summer.
A Future Piece
A great example of how not to sell when you're running behind came a couple of days after Pacioretty in the Erik Karlsson deal. While the Senators received quantity (the team publicly gloated about it's 'six assets', which seems like a spit in the face of their all-time best player), none of Dylan DeMelo, Chris Tierney, Rudolfs Balcers, or Josh Norris currently appear to have top-end upside, which you want in a deal where you're moving a star piece.
Nick Suzuki, the crown jewel in the Pacioretty return, is the type of player you expect to get when moving a big-name player – to the point of it being stunning given his contract status and the fact that the Knights still hadn't fully locked up that extension at the time of the move.
While it's easy to look at his 13th overall placement and say that he appears to have the makeup of a blue-chipper, it's also worth remembering that Suzuki fell in that 2017 draft: Central Scouting ranked him 10th, ISS had him 11th, and TSN had him 12th. Canucks Army, who combine consensus rankings, their own personal scouting, and a proprietary draft model to gauge likeliness of NHL success called pGPS, had him ranked eighth overall on their list and described him as "the 2017 NHL Entry Draft's most underrated player", and one of the most likely players in his class to succeed, with the overwhelming bulk of his cohorts becoming 1st and 2nd line NHLers within their pro careers.
Suzuki doesn't particularly wow you with any specific ability, and definitely doesn't have a frame that makes him stand out (standing at 5'11, 183lbs), but he's adept at just about every offensive element you can imagine, which allows him to participate in just about every rush and makes it difficult to know what he's going to do to a defender next. As a result, he's been lighting up OHL scoresheets for a little while now: in the last two seasons, he's played 157 games (including playoffs) and scored 98 goals, 133 assists, and 231 points. Last year, Suzuki found himself in the OHL's Top 5 in points-per-game in both All Situations and Even Strength Play – a good sign that what we saw in his draft year was legitimate, especially when you consider you have to go all the way to 36th in 5-on-5 scoring to find a player younger than him that isn't Andrei Svechnikov.
Does that mean that the Canadiens have, at long last, found their legitimate first line centre? May not, and it still comes at the expense of a big name. But they do have another iron in the fire, and one that looks to be well on his way. To pull a prospect of his calibre out of a situation like that is no small accomplishment, and is a significant injection to their hopes of a successful rebuild – something that we haven't really been able to say of that organization of late.
A Potential Reclamation
Two things are certain about Tomas Tatar right now:
He had a down year in 2017/18, and
That contract of his doesn't look particularly great.
Months after the Golden Knights gave up a 1st, 2nd, and 4th round pick to acquire the Slovak winger from the Detroit Red Wings, he heads to Montreal this trade, with many considering him to be a slim-value or even negative-value asset in the process. That isn't completely unfair; the 27-year-old has three years left on a contract that pays him $5.3 million per year for three more years, and it's highly likely that Vegas would not have made this trade without parting ways with him – both to keep room for a second acquisition (which didn't happen with Karlsson, but could happen elsewhere down the line), on the balance sheet and in the lineup.
I will say this – I don't know that Tatar's year is reflective of a long-term pattern. It seems a little early for him to fall victim to the age-based decline, especially when health hasn't been a concern – it's been early a decade since he's played fewer than 70 hockey games in a season, and he's only missed one NHL game for non-scratch reasons since February 2014. Prior to this season, Tatar's numbers – boxscore, underlying, and micro-counted, have all held him up to be a solid second-line forward, interfered with only in a season where his old team struggled heavily and his new team never seemed to find him proper space.
Given Montreal's current lineup flexibility, it's not out of the realm of possibility that Tatar gets himself enough minutes, both in quantity (standard even strength ice time), and quality (offensive zone starts, powerplay reps, etc) to get back on his feet. He's currently projected to play with Phillip Danault and the ever-crafty Brendan Gallagher, but even if Gallagher becomes Artturi Lehkonen or Nikita Scherbak, he'll still have pieces to retool his game with.
Should he fail, Montreal is stuck with a bit of money on the books, but it's not like it matters for them right now. Should he regain his stride, he might be someone worth keeping, or more intelligently – someone worth flipping. The Habs have tons of room to weaponize their cap space for the next couple of years, and a rebounded Tatar with some salary retained might return to being a sought-after asset once February comes back around. It certainly helps that the Canadiens got the Golden Knights to retain $500,000 per year the rest of the way, bringing him down to $4.8 million, for now, to allow for a drop to as low as $2.4 million if they got super, super serious about eating money for long-term gain in a future trade.
One hockey man's trash isn't always someone else's treasure, but I wouldn't rule it out here.
Pacioretty's Parachute Moment
The circumstances of how it happened have led the conversation the other way, but one thing that's obvious to those looking at this soullessly is that, for the sake of the long-term ambitions of the Montreal Canadiens, it was likely in their best interests to move on from Max Pacioretty anyway.
That's tough to say about your team's captain, especially in a pocket-era where many feel the identity of the franchise has fallen apart, or at the very least, shifted dramatically.  It certainly doesn't help when that player is only a season removed from averaging 35 goals per 82 games over a six-year stretch.
But, the Canadiens aren't in the best of shape right now; the defence is a mixture of sluggish and inexperience, their centre depth is all under development, the farm teams are in the infancies of replenishment, and to add to all of this, the Atlantic Division is essentially the Thunderdome. Even if they were to see Pacioretty through and he continued to play at his best level for the next few years, it wouldn't do them much good; it would weaken their odds at a high draft pick without significantly strengthening their odds at a Stanley Cup, and each year would kick the football a little forward as far as cashing him out. By the time they'd be ready to contend, he wouldn't be what he was.
If he is what he was already, that is. Pacioretty is coming off of a significant down year, producing at his lowest rate since 2009/10, his second season in the league. If you compare him to the contract years of the players who inked the most similar deals to his four-year extension that he signed with Las Vegas, it doesn't look overly great for him: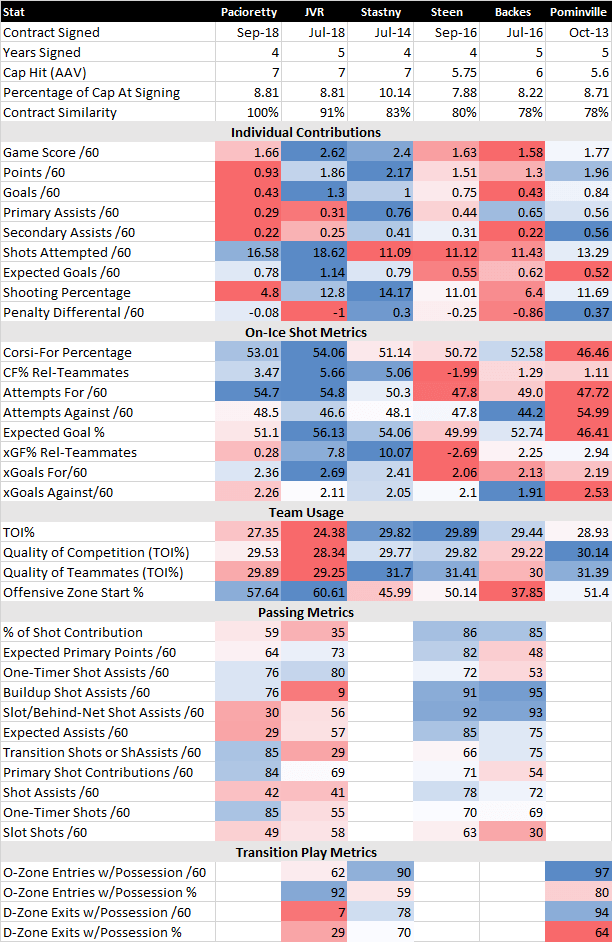 Before we go "oh shit, he's David Backes", there are, of course, a few caveats. Much like I don't think Tatar's gone from 100 to 0 instantaneously, I don't think the same has happened to Pacioretty; even with his season-ending knee injury in mind, I'd imagine that he won't continue to have a shooting percentage that's about two-thirds of his usual in this decade next year, and playing on a high-flying Vegas team, even if they aren't quite as good as last year, should help bring him back up. I'd also point out that Paul Statsny, who had one of the better years on this list and might end up being Pacioretty's linemate in Vegas, looked pretty good in the final year of his contract – though it was a bounce-back after several years of decline.
That risk of decline is definitely real, especially with Pacioretty being two months away from 30, which means that contract won't kick in until he's weeks away from 31. Even with the shorter four-year term, going to late-34 seems like a risk for a cusp star like him, especially one who, while he isn't slow, isn't a top-end, elite skater (historically, they hold up the best).
When I wrote about James Van Riemsdyk's future (then of the Leafs, now of the Flyers, and second on the above chart) back in February, I pointed out that players in his general production range tend to taper off pretty quickly after getting their big paydays. Pacioretty was not on the list as his Age 27-28 years were better than JVR's were, but likely has a similar fate coming. Vegas is in a very unexpected win-now mode right now and can take that risk for the next half decade to some extent, but it would never have made sense for Montreal.
Again, how things got to this point changes the tone, but had the relationship remained publicly strong, there would still be talk of moving on from him being the best option this summer.
Summing It Up
All things considered, I think the Canadiens made the best of a bad situation.
They likely should have been more tactful with how they dealt with Pacioretty from a public-facing perspective; no media manipulation, staunch denials, and attempts to work with the player with transparency towards the vision. Maybe they didn't truly know that this was the route they wanted to go and forced themselves into this hole to make it unavoidable; its hard to say for sure, but the point is, it got to a bad place.
But they've escaped it well; despite everyone being prepared for the worst, the Canadiens still got a top-end prospect, a player that they could salvage into a positive asset by simply giving him an opportunity to play, and even a draft pick (seconds aren't sexy, but they help). From a hockey standpoint, they also move on from a player who would have likely given them good but not as great years when they didn't need them, and not as much help as they previously expected once they did again.
I also think Vegas benefits, in the sense that they shedded what they thought to be a sunk cost for them and added a high-quality piece for the years where they need his pre-serious decline self. I have some serious questions about how they got there – one wonders if the chain of assets could've been best kept in their pocket and if it would've just made more sense to stick with David Perron and/or James Neal along the way, but they're certainly better with Pacioretty than without him. But the biggest praise one should have goes to Montreal's front office for getting the haul that they did, which isn't something we get to say very often, and something that people still seem to be avoiding. I still don't think I trust them to keep the momentum going, but in this specific case, it's a very solid effort.