Yesterday, the Toronto Maple Leafs continued their summer of staff shuffling, announcing the hiring of two scouts (Noelle Needham and Victor Carneiro), and the internal promotion of two Player Development staff members (Scott Pellerin and Stephane Robidas). That would be a big enough list of things to talk about, but all of those moves were quickly overshadowed by the hiring of Hayley Wickenheiser as the team's Assistant Director of Player Development.
Wickenheiser, of course, is a Canadian hockey legend, and one of the most decorated players to ever play the game. She's been around it in all different forms, shocking parents as she'd keep up with and surpass the boys as a child, entering Hockey Canada's adult tier as a Women's World Championship player at just 15 years old, and followed that up with a career that spanned 23 years, 13 World Championship medals (7 gold), five Olympic medals (4 gold), three Western Women's Hockey League championships, a CWHL Clarkson Cup Championship, four years of Canadian College Hockey in her 30's, and three years of 54 men's pro games in Sweden and Finland. At 40 years old, however, it's time for her to extend her hockey career beyond playing, and the Leafs showed interest in making that happen.
https://www.youtube.com/watch?v=KpZQyE6hQCY
It makes inherent sense when you think about it. Wickenheiser likely has the deepest hockey playing resume of any "free agent" on the market, she spends a lot of time in Toronto (though she is currently in Calgary continuing her University studies), and her unique career arc gives her a lot of different ways to relate to player experiences. She's been the young generational talent with all the pressure on her, and the grizzled veteran expected to lead. She's been the superstar at the women's level, and she's been the underdog as someone trying to break into men's leagues. She's felt the big game pressures that come with the Olympic stage. She can relate to the grinds of College Hockey and European Hockey. She's been the one everyone sees as stronger, and the one everyone sees as weaker. She's been the "everything comes naturally" player and the "I need to work for every touch" player.
To find someone who can relate to so many spectrums in their playing career is extremely rare, and being able to look at things from so many angles allows you to relate to your players better and create better plans for them.
Of course, there have been a plethora of thinly-veiled criticisms of her, most of which are ways of people avoiding saying that they don't like that a woman got hired for the job. That's not to say Wickenheiser and any future women that are hired by the organization cannot be criticized or questioned – but that the criticisms given right now, quite frankly, don't add up.
There's been plenty of "she doesn't know the men's game, which is different" (it's not that different, and she's played more men's pro games than Kyle Dubas and Mike Babcock combined), "its a PR stunt" (the Leafs are the biggest team in hockey and their reputation is at a five-decade high right without this move), "its forced diversity" (Toronto has already hired three other women this summer, including Needham in the very same press release, and already has Barbara Underhill in the Player Development department), "she doesn't have the skills needed" (without any explanation of what skills are needed), and "I'd rather hire the best candidate" (with no 'better' candidate suggested). They're all dog-whistly excuses that aren't grounded in anything, but they persist nonetheless, from people who really don't have a hockey reason to complain.
Another popular excuse for complaint is that she hasn't put in the hours and built up a resume to get a player development job like others in the league did. That's the only one of these excuses that doesn't sound super obviously made-up to the average fan, as one would assume that there's a long, winding road to get to contribute to the development of future NHLers. Right?
Well, there's an easy way to figure out if this is true, so let's give it a go.
The Experiment
Thankfully, most high-level teams keep exhaustive staff directories on their websites, and the NHL is no exception. As such, I've scoured through every team's list and grabbed every current employee who has a role that directly ties them to "Player Development". My search came up with 86 names from 31 teams, an average of just under three per team. The Leafs, as it so happens, lead the league with seven Player Development staff; three full time (Pellerin, Robidas, Wickenheiser), and four 'consultants' (Underhill, Darryl Belfry, Mike Ellis, and Bryan Daccord) who are effectively full time but are allowed to work with individual clients. The full list, sorted alphabetically, is as follows: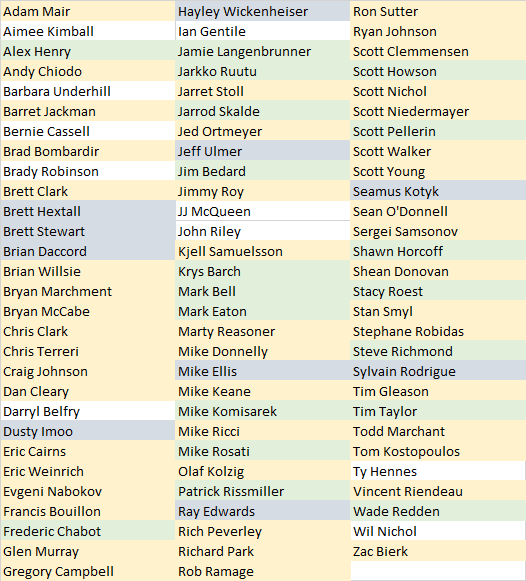 A lot of those names sound familiar, right? That's because they – there are a ton of ex-players here. Like, an insane amount of ex-players. That's part of what decided to look for while searching through this: I wanted to see what level of hockey everyone played, how familiar they were with their employer as players, and how many jobs they had to take in the notable hockey world (notable meaning "EliteProspects knows the team exists", which is a staggeringly low bar that includes Bantam and High School teams in many cases). Here's what you find when looking further into this group:
Almost everyone here has played professional men's hockey – Wickenheiser included. Of the 86 Player Development employees found, 76 played some form of professional hockey (roughly 88%), and 65 (roughly 76%) played in the NHL.
Of this group, 47 employees are currently working for organizations they've played in; a hair under 55%. I will note that list includes two Winnipeg Jets employees who didn't play for the Jets (Jimmy Roy and Mike Keane), but both played for the Manitoba Moose, who share owners before the Jets moved to Winnipeg from Atlanta.
Of these 86, a staggering 52 employees (or 60%) didn't have a previous job in high-level hockey before accepting their first NHL jobs. This nullifies the idea that Wickenheiser has to pay her dues in other leagues before coming up, and it's also worth noting that a third of the staff members who had to start somewhere else are in goaltender-specific roles today. Roughly 84% of the group took two or fewer steps to get to the NHL.
A little over a quarter of this list took their first NHL job immediately after retirement, which increases to about half if you allow them to take a year or so off.
Wickenheiser one of just three women on this list; Underhill joins her in Toronto, and Dr. Amiee Kimball of the New Jersey Devils (formerly Pittsburgh Penguins) are the others.
Only one other person shares Wickenheiser's "Assistant Director of Player Development" role, and that's Wade Redden of the Nashville Predators. Redden jumped straight from playing in the NHL to working in the NHL after four years off, and is technically one step higher on the ladder (Nashville has no one in Pellerin's "Senior Director" role).
One could argue that some of these players may have been operating skills programs before joining NHL teams, or prepping for their next steps before retirement, but in Wickenheiser's context, we know that she's been a private skills trainer in her off-time for many years now, an organizer of similar programs through her Wick Hockey initiative. She's also been in school for athletics-oriented programs throughout and following her playing career (Kinesiology, followed by medical school), which likely makes her one of the few people on this list with an education history that is actually applicable to the job at hand.
There's a pretty clear pattern here, and that's the fact that, much like many other roles in hockey, this is an ex-player's department, and you don't need a hell of a lot of experience to get started. To be fair, I think that an ex-player re-joining the came is probably better suited to helping other players learn the ropes than, say, immediately jumping to becoming a coach or a member of the main front office, but to pretend that this role has no one else getting fast-tracked into the show would be delusional at best if anything, such a practice is a majority effort.
Now, one can argue that such a practice should be moved away from and that most teams are doing this wrong. But that's not the argument being made with Wickenheiser, nor does it really apply to the Leafs, who have the biggest staff, the most non-NHLers, the most non-Pros, and one of the lowest ratios of ex-team players (Tampa is 0/1, Vegas 0/2, Toronto 1/7 via Robidas). While it's not impossible to find concerns and ask questions about a hire like this, none of the questions currently asked appear to be rooted in sense or precedent.