I've been a little busy over the past week or two, so a few items on the to-do list have gone on the back burner. However, I can't resist another crack at an NHL Network Top 20. This week, they've ranked what they believe to be the league's best wingers, a position where little consensus is, well, ever carried. It's a position that doesn't have many set responsibilities beyond "go out and get goals".
With that in mind, let's see what the league likes. We're going to use the same method as before – pulling percentile data from the SKATR and A3Z tools, laying them next to each other, and seeing what trends we can find. If you haven't already, definitely check out the Top 20 Centres and Top 20 Defencemen breakdowns; the latter in particular spends a lot of time talking about the position at large.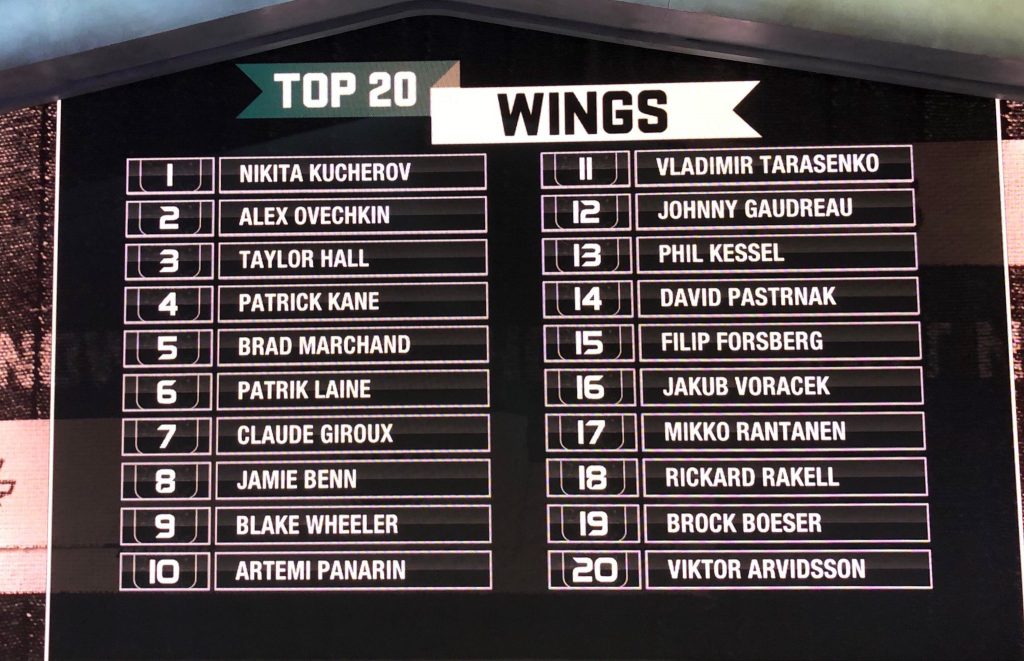 To go with this list, I've also added four more names to the pile: Tom Wilson, Jake Virtanen, William Nylander, and Mitch Marner. The former two are on the list because they were inexplicably voted into the fan Top 20 – given that Jay Beagle made it onto to Fan Top 20 Centres, I'm going to guess that there's a bit of Washington and Vancouver-led shenanigans going on. The latter two are here to appease a legal requirement that all of my articles get made about the Leafs, and also because I'm curious to see how far off they are from being "elite" players.
Individual Numbers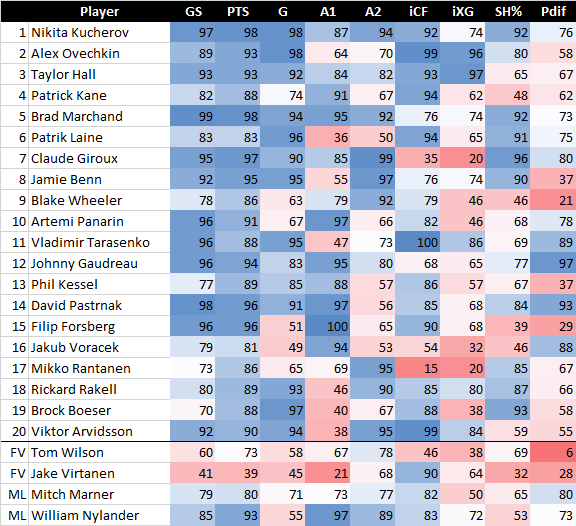 (GS = Game Score, PTS = Points, G = Goals, A1 = Primary Assists, A2 = Secondary Assists, iCF = Individual Shot Attempts, iXG = Individual Expected Goals, SH% = Shooting Percentage, Pdif = Penalty Differential. All metrics besides SH% are rated per-hour at 5-on-5)
Even more so than the centres, it's all about the points and the shots with this group. 5-on-5 point production and Game Score are among the most consistent stats of dominance for the winger group, and boy do they ever kill it; most of this list is in the top 10% in rate production, while everyone who actually made it into the Top 20 is in the Top 20%. Goals are a bit hit and miss, but way more important for wingers than they were for centres, as is shot-taking frequency.
With the exception of a few outliers, this list seems to prefer players who can both distribute and finish. The NHL's two deadliest hired cannons right now (Alex Ovechkin and Patrik Laine) rank high despite middling assist numbers, while Vladimir Tarasenko (a volume shooter) and Johnny Gaudreau (an elite playmaker) feel a little lower than they should if only looking at individual metrics.
Shot-Based Metrics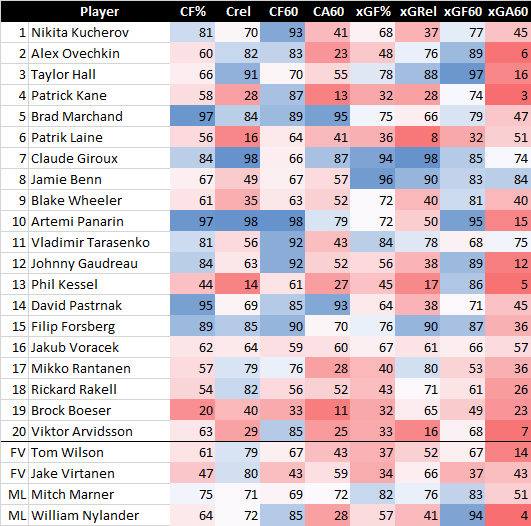 (CF% = Corsi (Shot Attempts)-For Percentage. Crel = CF% Relative To Teammates. CF60 = Rate of Shot Attempts players' team has taken with him on the ice. CA60 = Rate of Shot Attempts player's team has conceded with him on the ice. xG = Expected Goals, final four columns follow the same pattern as Corsi columns)
When we looked at the centre group, there was a pattern of percentages not meaning an absolute ton, "for" metrics being closer to the elite status, and the against statistic being basically irrelevant. That phenomenon is even more pronounced with wingers: a lot of the top guys are pretty close to the median when it comes to driving possession and expected goals, and many look like straight up nightmares of the defensive side of things.
The reasoning remains unsurprising. Top-end players face other top end players, making it harder to feast and put up gaudy percentages and relative-numbers. Faster, more skilled players will play higher event hockey, which leads to more shots for but also more against. Not to mention, if you play on the wing, a lot of that is because the team has fewer expectations for you defensively. It shouldn't come as any shock that the three "top-end" defensive players in terms of Corsi Against on this list are two-thirds of the best line in hockey (Marchand and Pastrnak) and a winger that has spent the bulk of his career playing centre (Giroux).
Deployment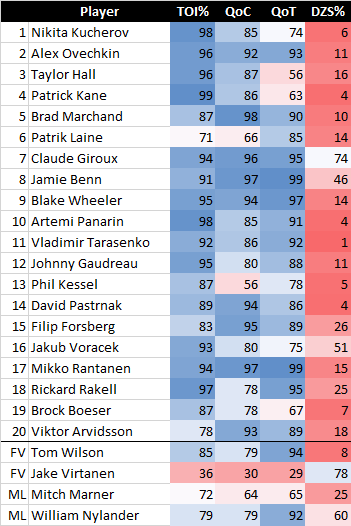 Surprise! The juggernaut stat, just like in previous activities, is Time On Ice percentage. The true mark of a superstar is, well, being trusted to be on the ice all the time – it often means you're doing something right and it gives you the time you need to put up numbers that catch people's eyes. Only three members of the Top 20 (Laine, Forsberg, and Arvidsson) don't get a share of even-strength ice time that's in the Top 13% of the league; the average player on this list is in the 91st percentile, akin to the 92nd percentile with centers and 87th percentile with defencemen (weighed down by Torey Krug and Shayne Gostisbehere).
For the most part, these players get matched up against the very best competition, though a few get some degree of benefit. most obviously, Laine gets to hide behind Wheeler, Kessel gets to hide on his own line behind Crosby and Malkin, and Boeser took a few months to really catch the eye of the league. Quality of Teammates is a little all over the place, but that's to be expected; matchup metrics use Time on Ice, and QoT will always have a bit more variance towards actual ability as certain teams attach mediocre players for big minutes (for example, Artemi Panarin's high QoT is influenced by… Josh Anderson?), while other teams might rotate linemates for their elite players a bit more thoroughly. Not to say that QoT is flawed beyond use by any means, but it makes sense that it would be a slight bit more erratic with some players.
Lastly, almost no one starts in the defensive zone. The only player above 51% is Giroux, who, again, is months removed from being a legitimate centre. Honestly speaking, there's not a ton of reason to be playing your top forwards for d-zone starts unless you're down a goal and the clock is nearing zero; their talents are best used in an area where you can leverage them better.
Transition and Distribution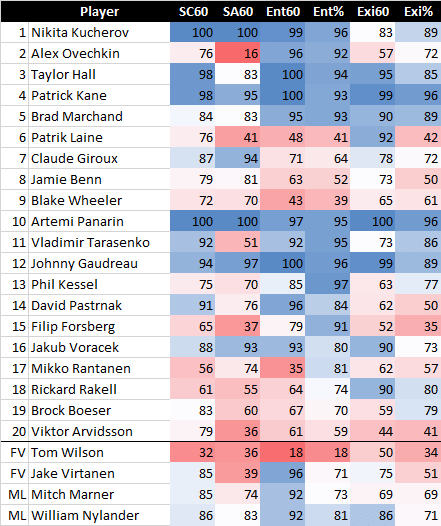 (TOI% = Percentage of team ice time played. QoC = Quality of Competition. QoT = Quality of Teammates. DZS% = Percentage of shifts started with a Defensive Zone Faceoff)
The manually-tracked, transition-play area of this activity is an interesting one, in the sense that it has multiple extremely elite players (Panarin particularly looking like a video game cheat code), a whole lot of "just slightly ahead of the curve", and some straight up mediocre to bad. I wonder how much of that has to do with how teams position their players, and who has an elite centre with them to do the heavy lifting.
In fact, many of these stats (Shot Assists, Zone Entry/Exit Percentage, and Shot Contributions) are ones where the centres dominated, and do laps around this group of 20 wingers (the most egregious being Shot Assists, where the average centre was in the 93rd percentile, compared to 69th for the wingers). I also wonder if Laine and Wheeler's struggles reflect something in Winnipeg's play-style: Mark Scheifele's neutral-zone numbers were very good but below the curve in the centre group, and Dustin Byfuglien's were just straight up not good. The same can be said in Dallas with Benn and Seguin, though John Klingberg was excellent last year in terms of transition play.
Final Impressions
I feel like this winger list was the most neurotic of the bunch, in the sense that it feels like there is a lot more room available for outside names to declare that outside names were excluded (Jonathan Marchessault, Mark Stone and Alexander Radulov were among the first names to jump to mind) while a few names felt like they were included to appease big fanbases or to show street cred. There aren't as many identifiable patterns with this group as the centres had, and you don't have the attempt to cater to two different types of play styles like the defence group has.
Much like the other lists, I don't have a ton of "rip my hair out and yell about it" level grievances, though I'd probably do a bit of tweaking. My Top 8 or so would likely be a combination of Marchand, Hall, Panarin, Kucherov, Gaudreau, Tarasenko, Ovechkin and Stone, with less fussing about the exacts after that. Laine, who I really like, would likely take the biggest hit here as he is the weakest at things that weren't, well, booming long-distance slapshots.
Lastly, those two fan votes were, uhh, not even close to good (though I was pleasantly surprised by Virtanen's zone entry numbers), and Nylander's all around play still seems to have the edge over Marner's, enough so that he likely has his own case for being on this list.
Overall, I think we learned less from the winger group than we did from the other two, but that's not overly shocking from a position that alway seems to be deemed the least important.