As noted last Tuesday, it is currently "NHL Network makes everybody mad online" month, which means it's time to pore over the league's Top 20 defencemen. Last week, we dissected their rankings of the Top 20 centres using percentile-based sorting, and came to the conclusion that most of the players that they included were close enough together that arguing about who should be placed where after Connor McDavid and Sidney Crosby, short of an obvious bad-faith ranking, is probably not worth the aggravation, as every candidate had their own of elite contribution.
The defence rankings are a little different, in the sense that there are some "obvious" bad placements and flat-out omissions, but a lot of that comes down to what style of play you expect from defencemen. After all, some still see a defenceman's primary objective as shutting down opponents, while others look at them as skaters who are just as important to transition and offence as forwards are in, finding themselves not as concerned with suppression as long as it works out in the aggregate. So let's take a look at the group using the same approach, and see how these players are used what they do with their time. For reference, the below image shows the ranking that NHL Network came up with, along with five honourable mentions (Tyson Barrie, Ivan Provarov, Marc-Edouard Vlasic, Matthew Dumba, Aaron Ekblad).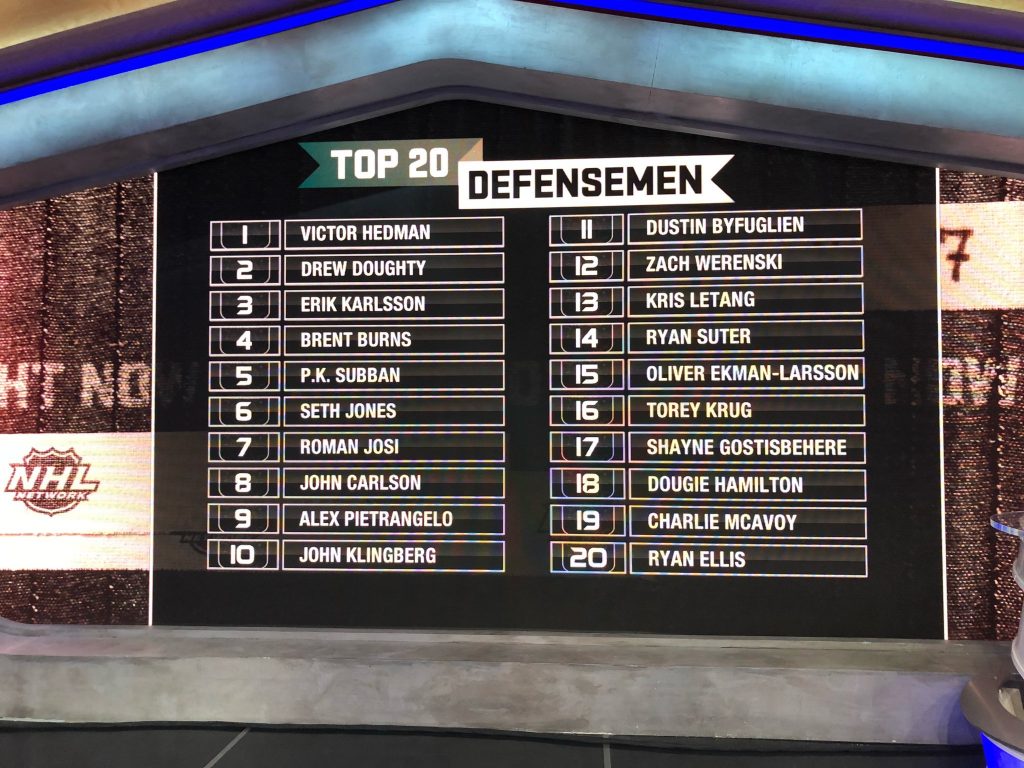 Individual Numbers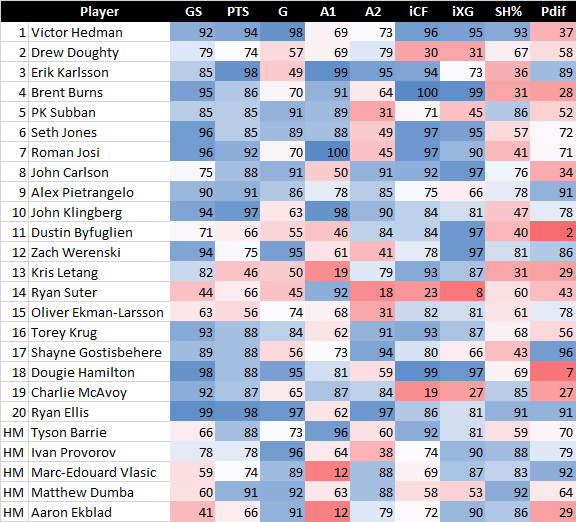 (GS = Game Score, PTS = Points, G = Goals, A1 = Primary Assists, A2 = Secondary Assists, iCF = Individual Shot Attempts, iXG = Individual Expected Goals, SH% = Shooting Percentage, Pdif = Penalty Differential. All metrics besides SH% are rated per-hour at 5-on-5)
Make no mistake, offence rules our perceptive world when it comes to defence in 2018. It probably has for longer than we care to admit (the next time someone tells you that offensive defencemen are a new concept, tell them to look at the career point totals of Hall of Fame defencemen since expansion). Game Score and Points are two of the three highest average percentile stats across this entire list. Goals and primary assists rank high, and individual shot attempts and expected goals rank high too. Ryan Suter is the outlier to most of this, but he makes his bacon off his "shut-down, minute eating" reputation rather than his point totals, and was still one of the top 5v5 assist-getters this year.
Whether you get goals or assists to get to points doesn't seem to matter one way or another, as long as you have one or both, shooting percentage doesn't seem to make a huge difference, and penalty differential seems largely irrelevant. Being competent at putting your team on the powerplay is a great asset to have, but your success at it is often style-based or reputation-based, so I'm not shocked that it's more of a crapshoot here.
Interestingly, the players who seemed to be the dominant individual contributors to their teams' offence all seem to rank at the top of the list in the "clear elite" tier (Drew Doughty being the outlier in the Top 10), and towards the bottom (the 'filling out the list' tier), with the teens being a bit more erratic.
Shot-Based Metrics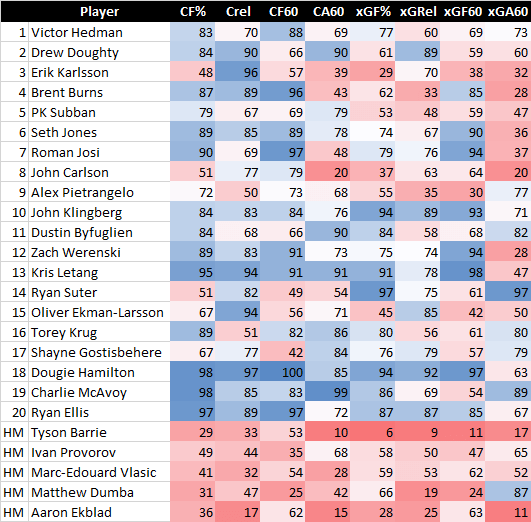 (CF% = Corsi (Shot Attempts)-For Percentage. Crel = CF% Relative To Teammates. CF60 = Rate of Shot Attempts players' team has taken with him on the ice. CA60 = Rate of Shot Attempts player's team has conceded with him on the ice. xG = Expected Goals, final four columns follow the same pattern as Corsi columns)
Something interesting is happening here. The list seems to heavily favour players with good shot attempt differentials, particularly compared to their teammates, but that preference doesn't bleed into the top guys getting to the top of the rankings, nor does the list include many of the Corsi Elites. Much like the centre group (which was extremely erratic for shot metrics), I'd imagine that a lot of this is matchup based – unless you're mind-numbingly elite or your team is terrible besides you, it's hard to keep up with the guys who are very good but not the best on stacked teams that get to take on middle-to-weak tier competition.
Besides that, you'll notice that the best defencemen in the league, similar to their point/shot production, are mostly the ones who are tilting the ice offensively more than they are defensively, though some remain good in that regard as well. Corsi appears to have a bigger positive dent on this list than Expected Goals do, though many are still good at driving the latter, with a few of the bigger names remaining top end.
Individually, these numbers are good reminders that even though Drew Doughty takes some heat for not being as much of a game-breaker as the others that he's up against at the top, he's still bringing his own skill set to the game at an elite level, that Erik Karlsson deserves better than he has in Ottawa, that Dougie Hamilton's museum habit is probably working wonders for him, and that maybe we've been too mean to Kris Letang for his injury-driven "decline", as he's still getting some solid work done.
Lastly, those honourable mentions look awful here. Like, shockingly as a sum. It wouldn't look so bad if they were slipped into the middle of a list as individuals (see to an extent: Carlson, Suter), but that's a big string of red.
Deployment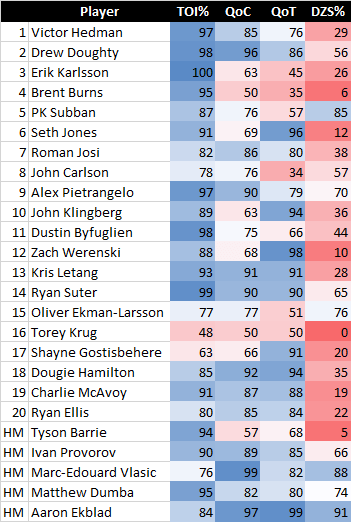 (TOI% = Percentage of team ice time played. QoC = Quality of Competition. QoT = Quality of Teammates. DZS% = Percentage of shifts started with a Defensive Zone Faceoff)
It's always fun to see how the best players in the league are used, and what you see above is a pretty interesting look at how teams leverage their elites. Time On Ice percentage at 5-on-5 has the highest average percentile of any statistic looked at in this post – unsurprising, given how much we use Ice Time to judge defencemen's status in the league, even at the contract negotiation level. Matchups are a little different; everyone is at least riding the average as far as Quality of Competition, and most are doing similar for Quality of Teammates, but you can see who gets slid into different positions due to their team's depth or lack thereof.
Most interesting, and continuing to reflect a pattern here, you'll notice how few of these players start in the defensive zone at even a league average rate. Only one of the Top 20 (PK Subban) is in the Top 15% of the league, only three are in the Top 30%, and only six are even at an above average ratio of defensive zone starts to offensive zone starts.
This makes pretty intuitive sense, when you think about it and stitch it together with everything we've seen above. These are, for the most part, offensively gifted hockey players who are playing further back to help prevent goals, but it's the creativity they have in creating them that sets most of them apart, even for the defensive defencemen who get compared to other defensive defencemen. A Karlsson or a Hedman might be better in the defensive zone than your second or third pairing players, but they're even better proportionately at helping you score. Not to mention, these are ratios at play; most of the players with unfavourable ratios are likely still getting defensive zone starts pretty frequently as a sum (with exception: guys like Werenski, Barrie, Burns, Krug, and Gostisbehere are legitimately used that sparingly in defensive situations, while someone like Ekman-Larsson is only 76th percentile by percentage but in the 95th percentile if done as a Per-60).
Another repeat pattern: The honourable mentions have a big swing here. Barrie aside, that's a lot more "tough competition, tough d-zone starts" than the Top 20. So we're at "not quite as productive, much worse at play-driving, tougher looking minutes" with that group of five, now.
Transition, Distribution, and Protection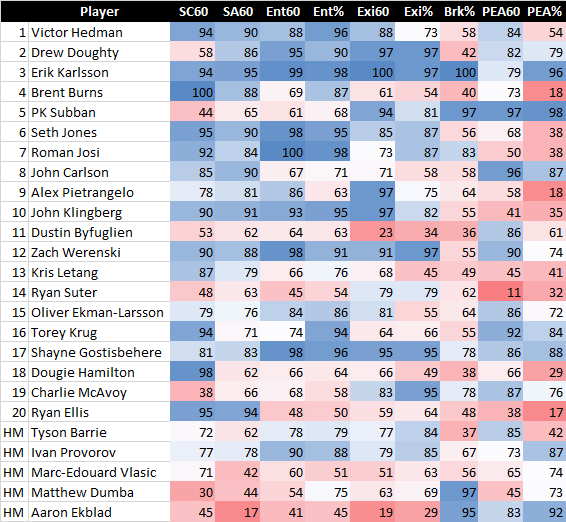 (SC60 = Shot Contributions [Shots+Shot Assists] Per Hour. SA60 = Shot Assists [Passes that lead to shot attempts] Per Hour. Ent60 = Controlled Offensive Zone Entries Per Hour. Ent% = Percentage of Zone Entry Attempts Succeeded. Exi60 = Controlled Defensive Zone Exits Per Hour. Exi% = Percentage of Zone Exit Attempts Succeeded. Brk% = Percentage of Attempts Against Broken Up. PEA60 = Entries With Possession Allowed Every Hour. PEA% = Percentage of Attempted Entries Allowed)
Lastly, we have the pieces of Zone Data that are available to us (which, as always, not enough thank yous can be given to Corey Sznajder for tracking it all, and CJ Turtoro for making it easy to navigate).
The over-arching pattern here isn't as strong as the it was for the centres, where almost everyone was elite at passing and puck-carrying, but just about everyone here is between good and elite at distributing the puck, and, within the context of defencemen, most are similar at crossing the blue line with the puck. Exiting, like with the centres, is a bit shakier, but exits are inherently more systematic (dump vs. carry, which partner gets to be first with the puck, etc). In this regard, we get a staunch reminder of why Erik Karlsson is the very best our generation has to offer; he's basically flawless in moving the puck into an offensive position. To the credit of most of the Top 10, though, they're largely excellent too.
The defensive side of things gives us way more variance, with very few of these players being top-end at breaking up plays, and a lot of below-average success rates at preventing entry attempts. If I had a guess at why this was a pattern, it's likely a product of pinching, and most of them being in a poor position to make a defensive play when their opponents counter-attack. The exceptions to this rule seem to be Karlsson (I can't comprehend how he does this all on one good leg), and Subban (who is famously aggressive and hard to handle swiftly in 1-on-1 situations).
A few players lose their strings of looking hard-to-question once you integrate this data into the big picture (it's especially unkind to Letang, Pietrangelo, Byfuglien, Ellis, and Hamilton, and defensively unkind to Burns, Jones, and Klingberg), while it makes players like Karlsson, Gostisbehere, and on the defensive side of things, Subban look a bit better.
Where Defence Is Headed
What we've gathered here is that the DNA of an elite defenceman in 2018 doesn't seem to have a heck of a lot to do with what people consider traditional defence – hitting, shot blocking, boxing out of the slot, 'playing heavy and mean'. Instead, the defencemen making a difference in the NHL today are the ones who are shooting and scoring, making plays and passes, getting the puck into the offensive zone and keeping it there, and winning their games off differential. Which, in a sport where the object of the game is "end up with more goals than the other team", not "get a shutout", makes a lot of sense.
"Abolish Defence" has become a bit of a meme for me on Twitter in recent months, with a lot of suggestions about upgrading through tactics rather than paying premiums for names, floated ideas of playing with more than three forwards or converting intelligent, mobile forwards into defencemen, and other uncomfortable feelings about a position that's by and large relied on simplicity and safety over the years. But these aren't thoughts that are rooted in insanity. Hell, they're already happening. Here's a chart from a post I wrote about foregoing handedness balance and putting Jake Gardiner and Morgan Rielly together on a stacked pair last month: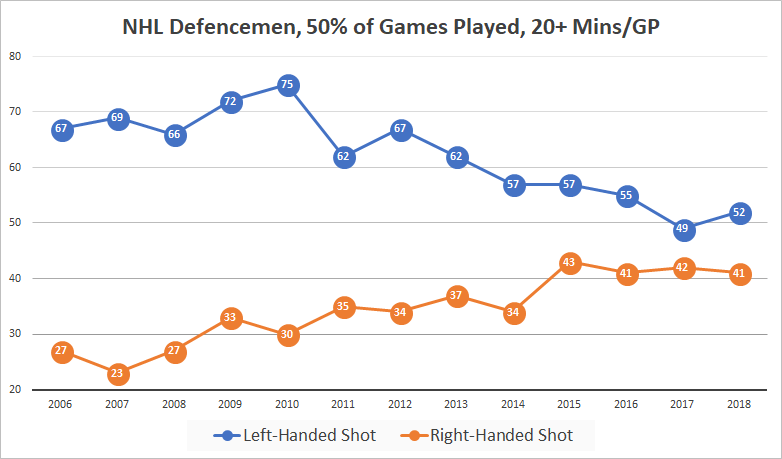 Right-handed defencemen are on the rise in the NHL, and it's not just in how often they appear. It's also in what they're contributing to the score sheet. Here's how the last two decades of production from roster mainstays (minimum 250 GP over the 10-season sample) compare: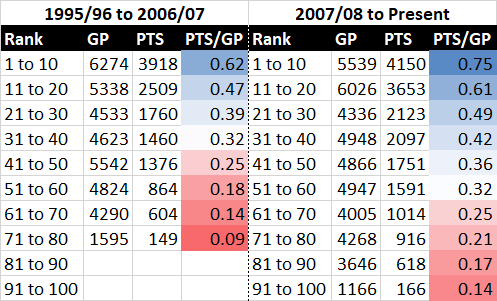 Not only are there more righties to get to the 250 game mark in this past decade (93) than there were in the one before it (75), they're also scoring significantly more.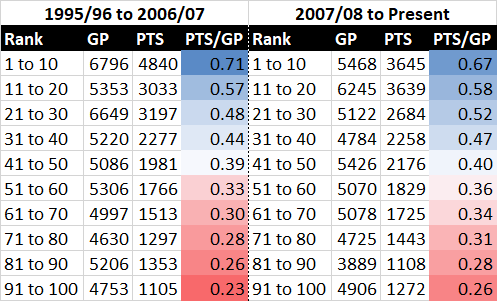 This isn't just a matter of defencemen being more involved either, as the leftie totals are pretty much the same between the eras; maybe a slight bias to today, but nowhere near as drastic as it is with right-handed players, who are also outscoring their left-handed contemporaries in the Top 20.
That, in fact, is reflected in these rankings. Five of the top six defencemen in NHL network's Top 20, which we've concluded to favour offence and transition-driven defencemen, are right-handed shots, as are 11 of the Top 13, 13 of the Top 20, and 3 of the 5 honourable mentions. With somewhere between 55-60% of the league's defencemen still being left handed, representation like this in the Top 20-25 is a huge win for the righties.
I imagine that a lot of that comes from players who converted in search of better opportunities, as the sport became more aware of the value of handedness balance and getting offence from defencemen. Many of these top right-handed defencemen played forward (for example, a very young PK Subban once centred Steven Stamkos), and in cases like Dustin Byfuglien and Brent Burns, even played on the wing in the NHL for stretches of time.
In a sense, this era's elite class of right-handed NHL defencemen are the first example of teams unspokenly playing with four forwards. These are high-end, creative, curious players who could fit in on the wings of 31 NHL teams, but instead contribute their value on the point, allowing for four (sometimes five or six!) offensively adept-players on the ice at a time, particularly when their team needs a goal. Using the defensive position as a place to cultivate a different blend of offensive talent is not a completely uncharted territory, as the Orr's and Coffey's of the world will attest to, but we're starting to see it happen en masse, and it's a huge step towards a position-fluid game.
And The Rankings?
Oh, right, those. Honestly, I sit more or less where I sat with the forwards, in the sense that there isn't anyone egregiously bad in the Top 20 (I could probably do without Ryan Suter and Torey Krug, but I get that the former has a reputation and logs insane minutes and that the latter put up 59 points last season), and that, even if I disagree with the order, the Top 5 are still all in the Top 5. The honourable mentions seem rough and more an attempt to please everyone, and I wonder how players like Mark Giordano, Hampus Lindholm, Zdeno Chara, and Morgan Rielly aren't at least knocking on the door here, but it's not particularly fuss-inducing.
In short, they've got the right guys on top and all of these defencemen are very good players that any team would be happy to add. The meat is in the trends that they show, though, and a continued shift towards a world of up-tempo, creative defencemen is one I can get behind.