Earlier today, the Anaheim Ducks announced the signing of starting netminder John Gibson to an eight-year contract extension, that gives him an Annual Average Value of $6.4 million per year. The deal comes following an incredible 2017/18 season, where the 25-year-old started and played in 60 games, posted a 0.926 save percentage, and gave at least a league-average performance in 65% of his appearances.
That quality start percentage was good for 4th in the NHL among starters (behind Antti Raanta, Pekka Rinne, and Marc-Andre Fleury), while his 25.3 Goals Saved Above Average (GSAA) were second only to Rinne's 27.49. On a team that finished the season with an overall goal difference of +22, his performance was all the more necessary; had Gibson just been league average last year, Anaheim likely falls well out of a playoff spot in the West.
As such, I had Gibson on my theoretical Hart Ballot back in March, with this to say:
5. John Gibson, Anaheim. There might not be a player bailing out his team more in the NHL right now. The Ducks sit ninth from the bottom in possession, get outshot and outchanced routinely, and don't score a particularly impressive amount of goals. Gibson, (with the help of backup Ryan Miller, also having a stellar year), has been one of the top-performing goaltenders in the league this year (third in SV% among starters), and it means more to Anaheim than any other team with a goalie in the Vezina discussion.
So yeah, even though Gibson somehow didn't get a single 1st, 2nd, or 3rd place Vezina Trophy vote this season, I can see why the Ducks would like him to keep stopping pucks for them for a little while longer. The dollar figure seems pretty reasonable too; $6.4 million puts Gibson sixth in the league, as close to 11th as he is to fifth, as close to 21st he is to second, as close to 43rd as he is to first.
It's the term that gets me, though, and it has nothing to do with Gibson. Here, let me lay this out, and we'll keep it nice and simple.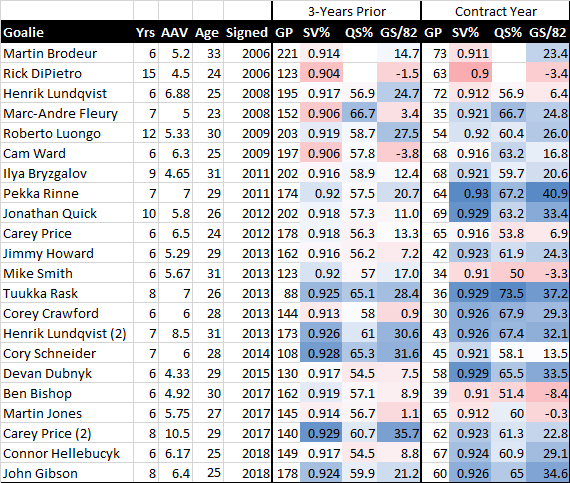 What you see above is a list of every goaltender who signed a contract with at least a six-year term in the Salary Cap era (the eight-year cap is a relatively new addition). It uses each netminder's final three years leading to their contract, and their contract year, specifically looking at their Save Percentage, Quality Start Percentage, and their Goals Saved Above Average (Pro-Rated to an 82 game pace, to make up for usage discrepancies).
You notice a few things here off the top. One, Gibson isn't that young compared to other players who have been given deals like this; over half the list is in the 23-28 range, which makes sense when you consider that we're talking about long-term deals and that teams aren't taking chances with Cap Recapture any more. Secondly, while his results are very good, they aren't lights, out, top-of-list. In fact, a bunch of these goalies were in the league's top class for a few years, and most of them signed their extensions on the cusp of Vezina calibre seasons.
To clarify, that's 10 years after next year — so 11 years in total of our goaltender being better than yours.

— LA Kings (@LAKings) June 28, 2012
Because teams were so eager to strike while the iron was hot, half (11 of 22) of the deals on the above list were actually signed with a full season of hockey remaining in the netminders' previous contracts – likely worried that an elite contract year would raise the price on their player even further (ironically, the most successful early buy ended up being the worst long-term buy – more on that later).
Of the eleven remaining contracts, two were signed mid-way through contract years, three were signed after contract years by pending UFAs, four were signed in contract years by pending/active RFAs, one was signed as a UFA through a rights trade, and one was signed as an outright UFA. Yes, out of all of these, Ilya Bryzgalov is the only "team adding a free asset" transaction.
You'll notice a lot of blue in the above chart, and not a lot of red, and that's because we're looking at the future as much as the past. The future… looks murky.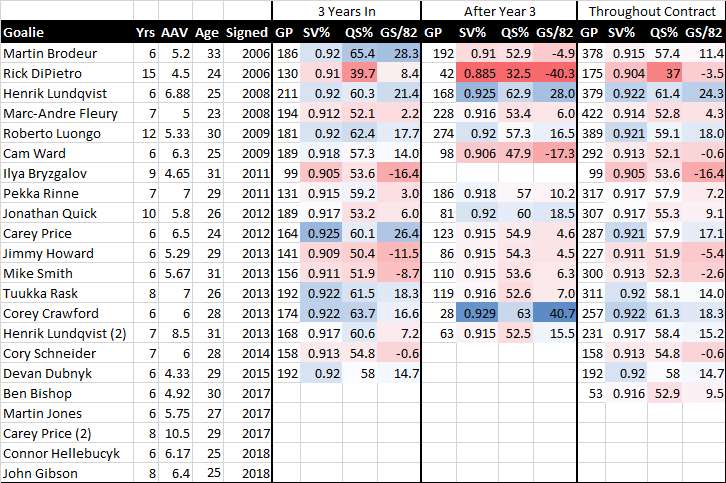 The outcomes that followed for most of these players were not exactly fairy tale, at least from a performance maintenance side. Whether you were old, young, proved a little, or proved a lot, the ways of the universe don't show too many restraints. A few players maintained top-end performance into the first three years of their deal, but almost everyone on this list sits well below elite in the back stretch.
As far as raw ability goes, Henrik Lundqvist finishes off his first six-year deal with elite results, Carey Price's first deal gets there in the aggregate but has a few blemish gaps along the way, Roberto Luongo is amazingly still going strong on his deal, and Corey Crawford looks to be off to an excellent start to his second half.
But that's a pool that includes at least two Hall-of-Famers, and all of them still have some caveats; the second attempt at doing the same with Lundqvist is starting to look a little over-confident, Price's contract year on his last deal has people in Montreal tugging their collars on the mega-contract that kicks in this season, Crawford has a very long-term, vaguely-spoken about head injury that has people wondering where his future is, and Luongo still has a handful of years left on his 12-year extension that can spoil his run against the odds.
It gets muddy from there. Rick DiPietro started off his 15-year deal with a season that, well.. looked a lot like Gibson's, but injuries derailed his career. Bryzgalov was bought out within two years. Guys like Cam Ward, Jimmy Howard, Mike Smith, and Cory Schneider have produced net-negative results on their deals, and while Pekka Rinne, Marc-Andre Fleury, Tuukka Rask, and Jonathan Quick had or have had elite seasons in the course of their deals, they also had somewhere their share of detrimental ones, defeating the purpose of a consistent starter. Martin Brodeur, well, got old.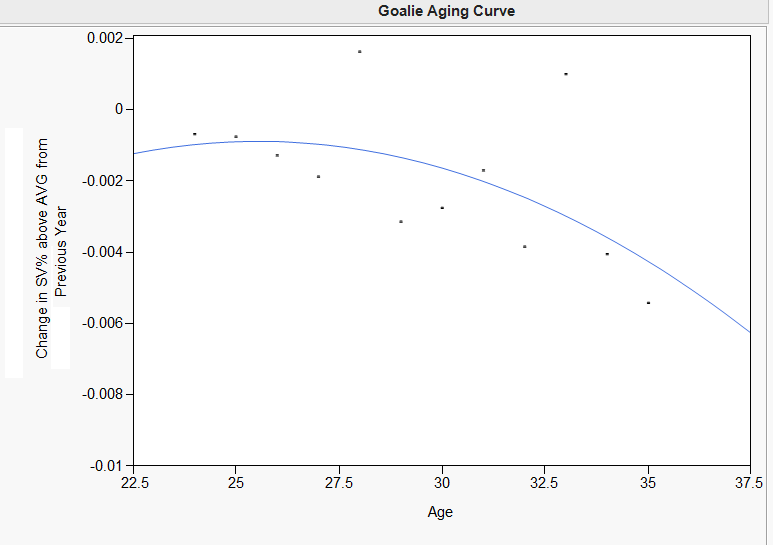 (via Garik16 / Hockey-Graphs)
While netminding has an age curve like every other position, I don't think it can be particularly blamed for what's happened above; especially since it doesn't start to really take goalies to town until their mid-late 30's, and most of the group here starts seeing dips from their peaks way ahead of when the average netminder does.
That's likely due a combination of factors: a little bit of ageing, a little bit of shooters adjusting, a little bit of injuries becoming roadblocks, a little bit of teams over-working the guy they gave a raise to because they can't find a backup that will give them the complete package of good value, good results, and willingness to not have a chance at climbing up the team's depth chart for years to come.
But there's a lot of luck too, both in the direction of going through cold patches after the deal, and a huge, hot upswing before penning their name on the contract to begin with. It's hard to pick apart what's lucky and what isn't with a netminder, though, which leads to teams having faith that their netminder has hit their new plateau through performance.
https://www.youtube.com/watch?v=D8wFWaMeNRA
Because of the impact a goaltender can make on a team, making the commitment is often the safest play for a general manager, whether or not it makes sense for them down the line. Most GMs aren't comfortable enough to be worried about what happens six, seven, eight, fifteen (sorry Rick) years from now to begin with, but typically teams with good goaltending will win games regardless of talent, which in most of these cases meant that most of the teams that signed the above contracts had an expectation of success to begin with.
Knowing that poor netminding can send your team tumbling down the standings once again, putting your job on the line, it's hard to say no to locking up the goaltender you have if he's putting up elite results. In the best case scenario, he makes you competitive for years to come, delivering a goal difference more valuable than most skaters. In most worst-case scenarios, he won't give you much if any value over an average guy, with some peaks and valleys that at least buy you a little bit of time. While most of the above contracts ended up becoming poor value as they progressed, they, by and large, didn't get to franchise de-railing (Bryzgalov and DiPietro aside, but even those were bought out without cap consequence in 2013).
Most importantly, if it goes wrong, you showed loyalty to your guy, and because we all accept that goalies are hard to predict, you can't be blamed. It's a different story if you walk away or sell high, commit to someone else, and then that goaltender fails – that's you getting too cute. So GMs go for it, knowing that it's the easiest, most direct pathway to not get fired in the short-term, even if it burdens the next GM in the event that it comes to drag you down much later.
So I get why Bob Murray would want to get Gibson locked up for another nine years. It's a moonshot to get a Luongo or Lundqvist, something that would extend their window beyond the upcoming & somewhat in-progress declines of Ryan Getzlaf, Corey Perry, and Ryan Kesler. If it doesn't work out, it probably won't be dead on arrival, and keeps you safe for at least a few more years so long as he's at least above average in that time. Beyond that, well, it's someone else's rebuild if it goes wrong.
But if I'm ahead of Murray on the food chain? I'm not so sure I like this, nor would I like it if I were most presidents and owners. Goalies that sign these elite contracts are safe bets to not become permanently bad, but they're not safe bets to be elite, and still as susceptible to the yo-yo as anyone. If you're paying premium money for interchangable, replacement-level goaltending by year four out of the sake of security, that's likely money I'd allot elsewhere.
This rings especially true for signing netminders a year early (double especially if they're a year early and an RFA), and for those who have injury concerns. Gibson was a bit of everything – a year away from RFA with a list of groin-area and head-area injuries to his name already, and that makes me wonder about how this could play out as the deal ages, no matter how good he's been so far.