It's arbitration season in the National Hockey League right now, and yesterday blessed us with the details of arguably the most interesting case study for the process this offseason in Ottawa Senators defenceman Cody Ceci:
https://twitter.com/FriedgeHNIC/status/1023934456137101313
The two numbers in question set social media ablaze, particularly the player ask. Cody Ceci? Asking for six million dollars? That sounds absurd, right? Yes, but let's look at a few angles here, just for the sake of understanding.
Why is Ceci's ask so high?
This one is shockingly simple to figure out if you throw some analytical intuition out the window. A concept that I've started to come around to is that defencemen don't necessarily get paid for performance, but paid for the trust that their coaches have in them. More specifically, a significant chunk of getting paid comes from being on the ice.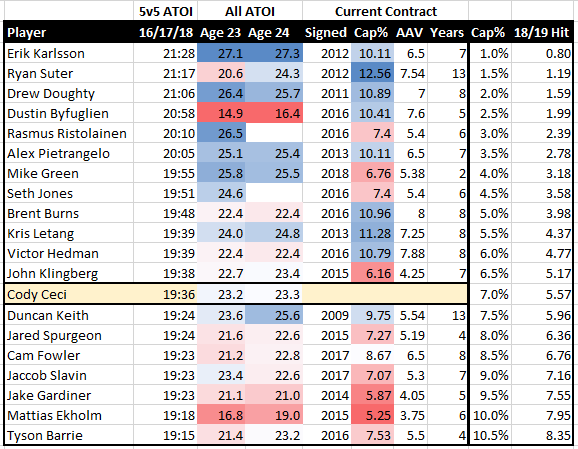 As it so happens, Cody Ceci is on the ice a lot. Over the past two years, he ranks 13th among NHL defencemen in even-strength time on ice per game, with most of the players surrounding him being elite, clear #1 defencemen on their team.
A big reason for this is the fact that the Senators haven't had an awful lot to work with the point. Over the past five seasons, the Senators have only dressed eight right-handed defencemen, and only four of those have played more than 20 games. Eric Gryba left for the Edmonton Oilers after 2014/15, making Ottawa a three-horse town since then, consisting of Erik Karlsson (10795 minutes since 2013/14), Ceci (7600 minutes), and Chris Wideman (2139 minutes).
Wideman has proven to be an interesting, perhaps undervalued addition to Ottawa's blueline over the last two years, but missed all but 16 games last year with injuries. Add Karlsson's missed time at the start of the year to the mix, and you end up with Ceci playing an amplified workload. As nice as it is to have arguably the greatest right-handed defenceman of all time,  he can't spend the entire game on the ice, and, whether or not he does it well, those are the minutes that Ceci has filled.
Moving towards the point: The average defenceman Cap% of the contracts that these players have taken lies at around 8.75% – if you were to treat Ceci as an average player on this Top-20 list, that would put him at $6.95 million / year. If you made him slightly below average to his reflect his 13 seed, you'd be sitting at around $5.9 million, and even if you brought him to 5% – a rounding down of 19th on the list (Mattias Ekholm, who has a great contract), you're looking at about $4 million.
Arbitration also allows for some weird arguments to be put on the table, including things like length of service and public appeal. Ceci will definitely leverage those, as Ottawa has just ten players who have played at least 100 games with the team. Ceci currently sits third at 366 games, and will jump to second once the inevitable Karlsson trade (which will likely increase his minutes as well) happens. Ceci can also argue public appeal through his career and life arc (team-developed product, Ottawa-born and junior-developed, first-round pick pedigree).
Are these arguments that a smart management group should agree with at a negotiating table? Absolutely not. Are the arguments that will carry weight in a hearing, though? That wouldn't surprise me at all.
Why are the Senators offering so much?
This one, honestly, can be summed up in a couple of lines. Many were surprised that the Senators wouldn't try to low-ball, instead offering a number ($3.35 million) that already seems steep for a player with his underlying metrics.
Ceci is coming off of a two-year contract that carried a $2.8 million AAV, but paid him $3.35 million in his first year. Ottawa's team ask in this case is the exact same as the qualifying offer that they had to give him to maintain his restricted free agent status – while it's not uncommon for teams to find ways to "lessen" a player's value ahead of arbitration (putting bubble players through waivers ahead of their hearings is a frequently-used trick, for example), offering a player less than you've already offered them is a sure-fire way to raise suspicion of bad faith and increase the odds of an arbitrator ruling closer to the player ask.
An interlude on Ceci's ability
I don't want to be the guy who sits here and declares Cody Ceci to be a great player, but I do want to touch on a general thought that's been on my with respect to some players, that he happens to fall under.
To give us a beginning reference point, here is how Ceci compares to Dallas Stars defenceman Roman Polak, a defenceman that most would agree is playing on the fringes of NHL lineups in his current career stage.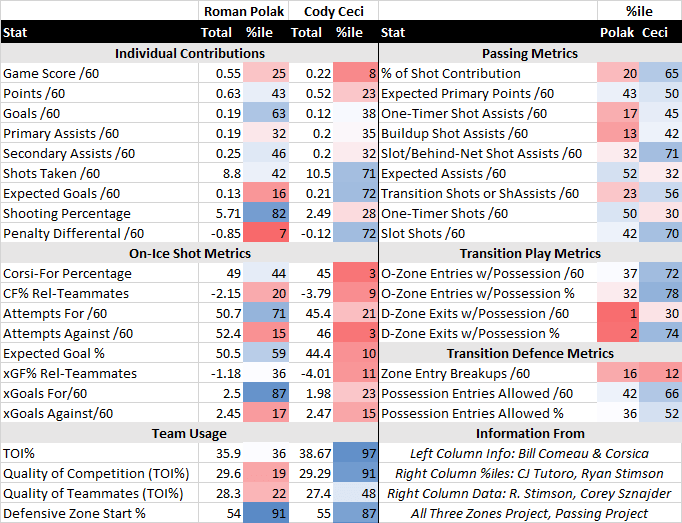 Any time that Polak is capable of looking like a good, play-driving defenceman in comparison to someone else, you get a little concerned, and that's what's happening here. Since starting his career, Ceci ranks 100th out of 103 defencemen that have played 5000+ minutes in team-relative shot attempts, meaning that only Deryk Engelland, Andrew MacDonald, and Dan Girardi have had a more negative impact on what percentage of the shots their game gets when they're on the ice. That's especially damning when you consider that Ottawa sits 21st in shot-attempt percentage in that time span; meaning he's, in effect, making a bad situation worse.
I do wonder, though, if that's all on him, or has a bit to do with what I mentioned earlier: how he's used as a vacuum for the tough right-handed minutes that Karlsson can't eat. I did something to play with this idea: I grabbed all the pairings that Ottawa has used for more than 50 minutes over the last two years from Corsica, looked at everyone's Relative Corsi, and split them up into Good (over +1% rel), Neutral (between +1 and -1%), and Bad (worse than -1%) pairings, to see who was involved in the biggest proportion of good and bad combos. That looks something like this: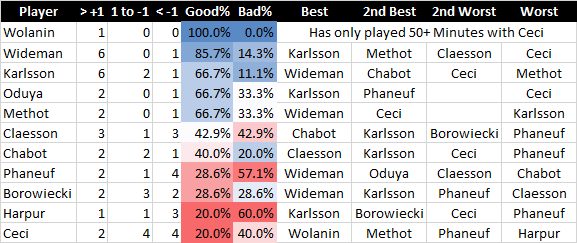 Wideman seems to be a favourable player for much of the group, as does Karlsson. Ceci is at the bottom, rarely making a partner "good" over this stretch, but also has a lot of pairings that sit in the middle as well. Here's what the deployment of those three RHD looked like in their last full season together, via HockeyViz: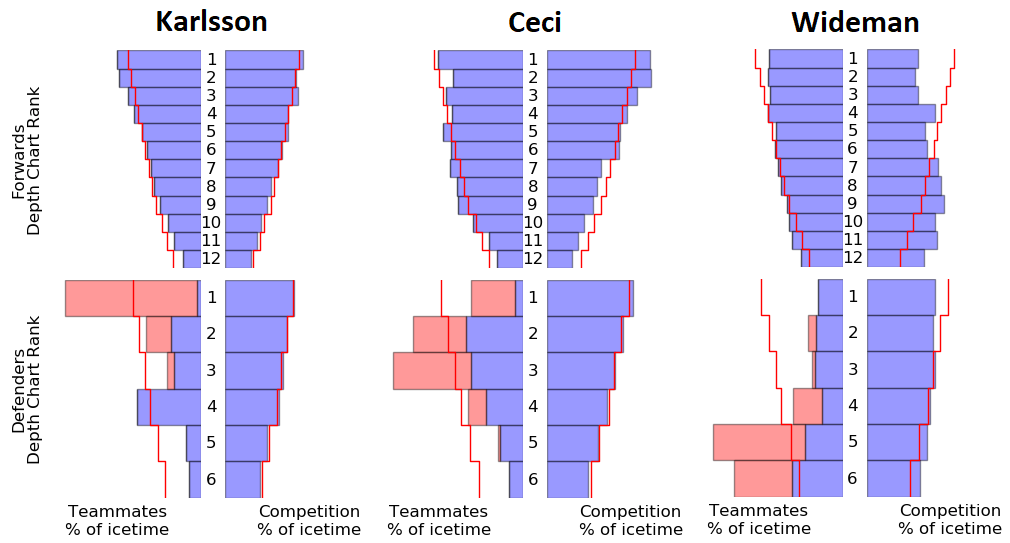 Karlsson faces just about anyone because he's a generational talent who is immortal from approximately the knee up. From there, though, you can see an interesting split in what the other two righties are given: typically Ceci takes the top six forwards, while Wideman takes the bottom six. Combine this with the fact that Wideman will also usually take more of the offensive zone starts while Ceci starts in the defensive zone.
Put another way, here is the type of action that each of Ottawa's eight-most used defencemen faced this year: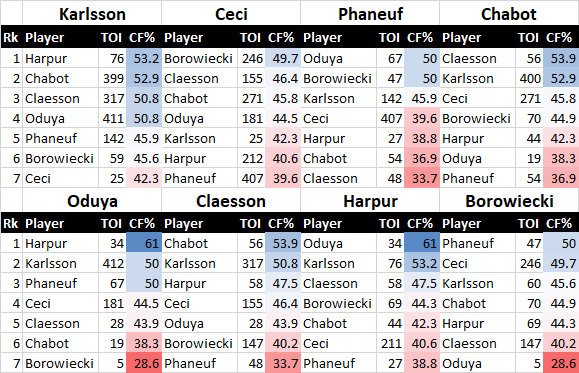 I really like WOWY (With You vs. Without You) tables for giving a general idea of how a player influences his teammates, but I wonder if a player like Ceci gets burned by a lack of context to an extent. His median pairmate isn't dramatically far off from anyone other than Karlsson (way ahead of the pack) and Phaneuf (way behind the back); everyone else is within about a percentage point or two of each other. The same goes as you slide further down, all the way to him having the best worst partner other than Karlsson (which is himself).
A table like this shows some extra moving parts that influence his drag on relative totals and on WOWY's. He and Karlsson are each other's least frequent pairmate, likely used most together in lead protection situations, so he doesn't get the same Karlsson bump as everyone else does. On the other hand, Ceci plays 25% of his minutes with Dion Phaneuf (the team's worst Corsi player, fifth-worst in the NHL in 2017/18), which drags him down, while Phaneuf played 50% of his minutes with Ceci, which prevented him from dragging down others, while also eating large chunks of Mark Borowiecki, and Ben Harpur's minutes as well, likely dragging them into tougher situations than they're used to.
Don't get me wrong, a player who gets outplayed against top competition with weak teammates likely isn't a star player in hiding. I made that lapse of judgement years ago with Dion Phaneuf, using it to completely explain away his bad year.
But you look at a guy like Ceci, getting thrown to the wolves on a bad team but still doing his share of things right (see his individual shot metrics, neutral zone data, and passing data in the comparison chart for a good example of that), and you can't help but wonder a little bit "one of the worst players in the NHL is a bit of an over-correction as well. There are a few other over-worked defencemen who have picked up this tag as well over the years: Rasmus Ristolainen in Buffalo is a good example, or Dan Girardi before he left the Rangers, where I wonder if there should be at least a little more doubt benefit given.
Should Ottawa walk away?
With that said, if I have to develop a deployment program to make a $3.35 to $6 million dollar defenceman look less bad, he still probably isn't worth my contact at that price. There is a difference between "more useful NHLer than his critics advertise" and "pay the big bucks", and Ceci is closer to the former than the latter.
Ottawa is in an awkward spot. On one hand, he's not likely to be worth any salary that he could potentially be awarded in arbitration from a hockey perspective, but he's still a player that teams seem to value: his name came up as a player that teams wanted to take and Ottawa didn't want to give for players like Matt Duchene, Jonathan Drouin, and Taylor Hall – if any of that interest still exists, you don't want to let a player like that walk away for nothing.
As the arbitration filing came from Ceci's camp, the Senators have the choice of making the case about one or two year deal before proceeding (assuming they don't settle beforehand). If I'm in Ottawa's shoes, I'm aiming for a one-year deal. If my goal is to move him, it eliminates the risk of him becoming a zero or negative value asset and having to pay a substantial chunk of change in year two. If my goal is to retain him for the long haul, he's at an age where it's not like that he'll suddenly become better at facing the even tougher minutes that he'll get with Karlsson out, making it likely that you can sign him for longer and cheaper next summer if he has further trouble with it. Giving Ceci more money this year would also give the team a buffer to work with should their deadline trades inch them towards the Salary Cap floor.
If you don't think that the odds of getting either a good trade return or a favourable contract extension in 2019 are high, though, walking away might be a decision worth considering. While that's an even further blow to Ottawa's defensive corps in a year where they can't properly 'tank', and while Ceci is likely better than the worst-in-the-show skepticism, there isn't a dollar figure in this price range that appears to be good hockey value.