With offseasons come lineup blenders, and with lineup blenders come fun ideas. One of the most interesting ideas, at least as far as sheer uniqueness goes, is that the Toronto Maple Leafs should run three centres and seven defencemen next year. As radical of an idea as this is, the rationale given is pretty simple:
The Maple Leafs now have three legitimate first-line centres (John Tavares, Auston Matthews, and Nazem Kadri) who are capable of playing a 20-minute share per night, eliminating the need to have a fourth centre at all and making wingers fluid.
A seventh defenceman would keep Toronto's six from getting tired, and perhaps allow for someone to dress as a "specialist", used only in specific game situations where Mike Babcock likes to have certain types of players.
It seems sensible on the surface, but there are quite a few flaws to the concept.
Misallocating Rest
The first mistake this makes is understanding why ice-time is allotted in the way that it is to begin with. Defencemen play more than forwards, but that's by design – the reason why there are three defensive pairs and four forward lines is because defencemen travel less of a distance, have fewer moments of explosive play and exert less energy.
While hockey doesn't have the player tracking data available to support, making this a very "played the game", "watch the games" sort of take, we can look to another sport as a supporting proxy for the idea. Soccer is a few years ahead as far as tracking distance travelled by players, almost to a fault. Here's what FIFA came up with through tracking the Mens La Liga and the Women's World Cup in 2011: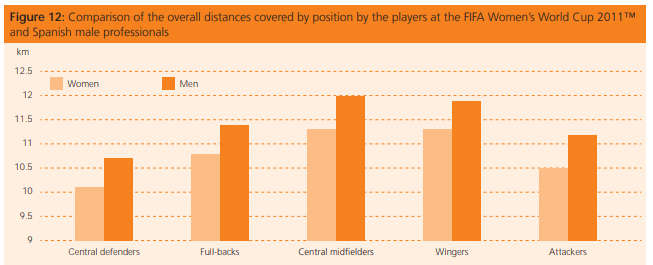 Wingers in soccer play a very similar role to wingers in hockey, as do many central midfielders to centres in hockey (with maybe more of an offensive jump in hockey due to the lack of a central striker, who in soccer travels less distance but spends more time in a sprint). Even if we want to estimate NHL defencemen to be closer to fullbacks than central defenders, its probably safe to estimate that the skaters playing further back are moving around less, exerting less of their energy.
Even if you have three players who can handle being top-line players individually if they need to, it's still unnecessary to put all three of them in heavy-workload situations while playing the position that requires the most movement. You increase the risk of tiring them out and you increase the risk of them getting injured, which in some cases is a sacrifice you take, but it shouldn't be a sacrifice you force on a position that features your two best players.
Let Them Roll
In a sense, the idea is also solving a non-existent problem. Here's a list of what Daily Faceoff projects every fourth line in the NHL will look like on opening night: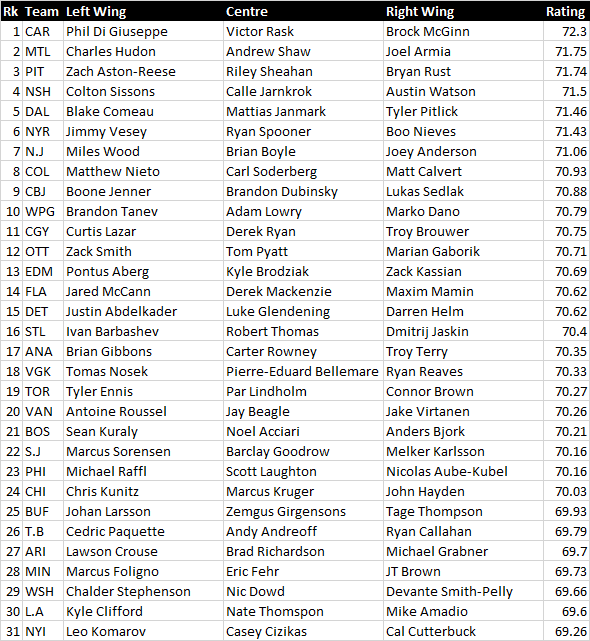 You'll notice pretty quickly that while some of these lines have some good players, Toronto (ranked 19th by Corsica's Player Rating model) still stacks up just fine on paper. That's before considering that most coaches will probably break away from these projections and go for more traditional fourth line trios, and that's before considering that Toronto's spot on the chart is likely a conservative guess thanks to a sheltered recovery year for Ennis, a down year for Brown, and Lindholm having no NHL experience.
Most importantly, though, you'll notice that there is really not a ton of a gap in talent level between fourth lines in the league.

In fact, the Corsica Model has the fourth line as the smallest margin of difference between being the best, in the middle, and being the worst. That might be an inspiration to say that having a first line centre take those fourth lines on, but the counter is that even just putting on three useful forwards that can make plays with each other (which we expect Ennis/Leivo – Lindholm – Brown/Kapanen) to be, should be enough – especially if you want to avoid a replacement level player taking a run at one of your stars.
So much of fourth line usage is boiled down to two fourth lines killing time for each other to get rest for their teammates; there's some hitting, a lot of punting, and not a lot of real offence. There's a reason why every fourth line forward that can skate gets sold as a "shot suppressor" when people are looking to acquire them on their team; they consistently play in no-shot territory. Disrupting that alone would be enough to have a great fourth line, and you don't need John Tavares, Nazem Kadri, or Auston Matthews to do that.
Another minor point worth keeping in mind here: If you are in any way a believer in chemistry, running three centres goes counter to that point. It requires Tavares, Matthews, and Kadri to constantly be changing linemates, which means constant re-adjustment to their goal on the ice. It makes assignments harder as well, because every centre has to be ready to be the sheltered guy, the shutdown guy, the balanced guy, or anything in between. That sounds fun, but it's incredibly tricky to execute.
Don't Hold Them Back
Onto the defence, I don't believe adding a seventh man makes things any easier on them, particularly because it misinterprets what the problem is. What is believed to be part of Toronto's defensive troubles is a lack of rest for their players – that the team's core defencemen are getting overworked and are worn out as a result.
Curious to how true this might be, I took a look to see how much ice time each team gave their Top 2 defencemen by average workload this season, only looking at players who played at least 400 minutes. Here's what came up: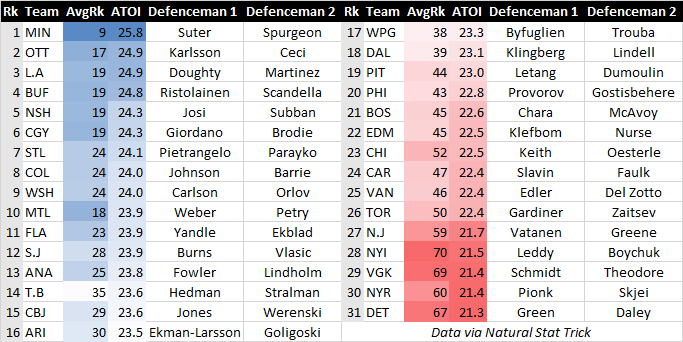 As it turns out, pair-stacking is pretty common across the league, and the Leafs aren't one of the teams that do it. Teams that did it and subsequentially lost a bunch of games tend to have a weak second option (looking at you, Ottawa and Buffalo), or had their #1 get injured (Montreal). The bottom of the charts are teams that aren't particularly good and don't particularly have many options on the point, with exceptions going to Carolina (who have so many options that they can spread aggressively), and Vegas (who had to learn what they had last year, and also had few true weak links on the point).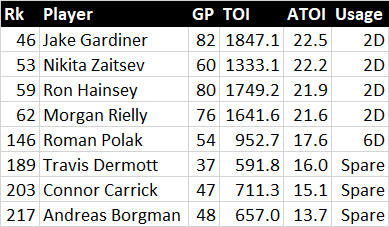 The big issue with how the Maple Leafs were deploying their defencemen last year wasn't that their top guys were gassed; Jake Gardiner and Morgan Rielly were both playing less than an average #1 would, with Rielly just barely on the border of being a low-first/high-second pair guy.
The issue at hand was that Toronto was following the Nashville, Carolina, and Vegas Model while giving some of those high-end minutes to the wrong players. When we say "the Leafs defence played too much last year", we don't mean that Jake Gardiner and Morgan Rielly, who averaged four to five fewer minutes per game than guys like Doughty, Suter, Karlsson, and Hedman, are spending too much time on the ice for their own health. "The Leafs defence is gassed" is code for "Ron Hainsey plays a million minutes".
That's an issue that gets solved by re-arranging you other five. You solve it by stacking Rielly and Gardiner together and adding another handful of shifts to their night. You solve it by praying that Zaitsev is healthy and ready to go. You solve it by trusting Travis Dermott to be the NHL-mainstay he is, dropping the Marlies call-up part of the equation from your memory. You don't solve it by adding a #7 and giving yourself more time of third-pair hockey at the expense at cutting your top two defencemen's usage even further.
Some argue that the benefit of the #7 is that, perhaps, you take a player like Hainsey and hold him for his "best" situations only, maximizing his rest in preparation for a needed moment, be it a penalty kill or a protected lead.
Even if to disregard the aforementioned thoughts on the forwards, that still puts a lot of faith in Mike Babcock. Leo Komarov was supposed to be the Penalty Kill and Late-Game option last year, but the "play to not lose" philosophy of safe play after gaining a lead manifested throughout the season and led to him playing just five seconds per game fewer than James van Riemsdyk at even strength. Roman Polak was supposed to be in a similar spot, but played almost as much at evens as Travis Dermott and more than both Connor Carrick and Andreas Borgman.
In Summation
To simplify all of the above into a couple of bullet points:
Forwards move around the ice much more than defencemen, particular at centre. Tiring out the most active position on the ice would be an unnecessary risk.
So long as the Leafs have three legitimate players on the fourth line, that line likely won't need much of a pick-me-up to find success, or at least tread water.
Running three centres would lead to an inability to run set lines, which could have a negative impact on chemistry and on proper deployment strategy.
Toronto's top defensive players are already underplayed compared to the league average and likely don't need rest.
Adding a 3.5th pairing defenceman to the group thins the average quality of the corps in a position where people are looking to improve the situation.
The bigger issue is in how the pairs are arranged and allotted, and that is likely not hard to mend.
The idea of a specialist is interesting, but with the current coaching staff, there's not much reason to believe a specialist will stick to special situations.