A lot of time is spent talking about the Toronto Maple Leafs' defensive corps. Really, it's the easiest thing to poke at: their goaltending has been stable, their forward core is incredibly deep, but they still give up their fair share of shots, chances, and goals, and their group of six isn't exactly considered brand-name around the league right now.
Not to mention, they just came off a playoff where three of their seven games played involved them giving up at least five goals. So with that in mind, fans, reporters, and basically anyone willing to put their name to their words are clamouring for Toronto to make a big move. Get themselves a piece or two who can give them a truly elite first pair, one that kicks the whole process into overdrive.
But what if the solution is to just put the two best guys they already have together?
Jake Gardiner and Morgan Rielly are not a typical-sounding pair, for a lot of reasons. Both are known better for their play with the puck than they are without it, known better for skating rather than hitting, and, perhaps most key to people's trade demands, both are left-handed shots.
The Over-Value of Balance
I've written in favour of balancing handedness in the past, particularly in the context of the (2016/17) Maple Leafs, citing work that has hinted that having a pair of two strong-side defencemen has a possession benefit. I do believe that, in an ideal world, most teams would want and should want their group of six to include three left-handed shots and three-right handed shots.
Certainly, the league is doing its damnedest to get there.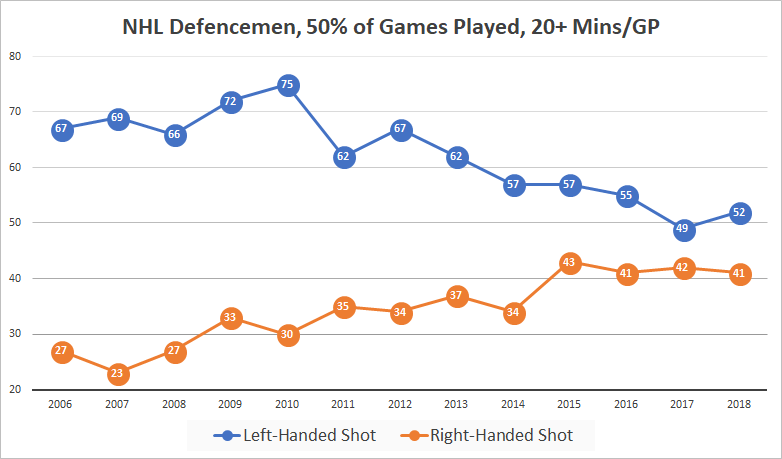 Now, there are probably a few reasons for the gap closing.
For one, there are more high-end, right-handed shooters willing to play defence. It's worth remembering that most teams didn't see a ton of value in having offensive contributions come from the point for, well, the entire first two-thirds of the league's existence. It's also of note that right-handed shots, in general, were a rarity until the game became a bit more global – left-handed shots still remain dominant in Canada. As such, most of the hyper-skilled righties played centre or wing. Some proof of this comes from all-time point production: two righties have crossed 1000 (Al MacInnis and Larry Murphy) compared to six lefties. Just five righties have crossed 700 points, and 19 have crossed 500, compared to 18 and 44 respectively.
Really cementing this point is the fact that 11 of the top 23 right-handed defencemen in points-per-game are currently active. Some of them didn't even come into hockey expecting to play the role: Erik Karlsson originally wanted to be a goaltender, PK Subban spent years playing centre in youth hockey, and both Brent Burns and Dustin Byfuglien spent plenty of actual time playing forward in the NHL. But today's game values those guys most in their current role, and it shows.
On the other side, teams are just more willing to try the idea out.
Teams are also willing to make a lot of bold value calls with handedness playing a bit of a part. Players like Aaron Ekblad and Nikita Zaitsev have gotten monster commitments out of small samples to secure depth. Cody Ceci keeps getting chance in Ottawa. Erik Gudbranson's trade and subsequent re-signing in Vancouver was a steep commitment for a guy that routinely outputs bad results. You can look at Travis Hamonic's trade haul, Brent Seabrook's contract, and the perpetually inflating demands for Chris Tanev and Jacob Trouba as examples of the absurdity that righties can bring. Or you can look at the efforts Florida went to hold on to Alex Petrovic. Or the Rasmus Ristolainen trade talk. Or the effort Toronto put into rehabbing Roman Polak. Or the price that the mainstream media felt was far for Brandon Montour heading into this year. Also, most obviously, we live in a post-Hall/Larsson society.
Or, to give a more topical example: Here's a lazy, two-year comparison of two defencemen:


Dr. Y is probably the better of these two defencemen, but the gap doesn't seem like a lot. What the Doctor gains in the neutral zone and on the powerplay is offset by Mr. X's even-strength production and capability to drive percentages compared to his team. Neither are in the elite class, and have their warts, but are both considered to be very good in the aggregate to the outside world.
Anyway, Dr. Y is John Carlson, and most were okay with his 8-year, $64 million extension because that's the price you pay for a top-pairing, right-handed defenceman. Jake Gardiner is Mr. X and most in Toronto have their upper limit on an extension for him at $5.5 million or less. That's not to say that Gardiner should make $8 million, but it shows the premium that gets attached to shooting the other way (Carlson's new ring probably helps too, but people were talking $7M+ for him even before the playoffs).
You get the idea; pennies on the dollar righties don't really exist when everyone wants one, and when every team knows you're looking for one, you're not getting a discount for anyone.
Why Stack?
Knowing that getting a right-handed shot that can play legitimate first-pair minutes in a comfortable way is cost-prohibitive, it might make sense to go with two higher-end left-handed defencemen to fill the gap. That begs the question
Since Rielly made his NHL debut in 2013/14, he and Gardiner have played 767 minutes together at 5-on-5. It's not the most frequently-used pair the Leafs have had over the past eleven (fancy-stat era) years (Dion Phaneuf and Carl Gunnarsson were attached to each other for 2126 minutes!), but it's still a chunk of action. They are still the 13th-most used pair in by the Leafs in that stretch, and the fifth-most used that involves two present-day Leafs (Gardiner-Zaitsev, Rielly-Hainsey, Gardiner-Carrick, Rielly-Zaitsev being the other four).
In that eleven-year timeframe, exactly 50 pairs have stuck together for 200+ even strength minutes. Where do Jake and Mo stand on that list?
Shot Attempts: Toronto controls the ice when these two are together. Their 54.7% share of shot attempts (Corsi-For Percentage) ranks fourth on the list, with significantly more minutes played than the three pairs above them. Relative to their teammates in the same games, they get about a 7% higher share of attempts, which ranks highest on the list (as well: of all 600+ minute pairs across the league in the past half-decade, only Lindholm-Manson, Giordano-Hamilton, and Campbell-Ekblad have ranked higher). Of note: pairs with one or both of Gardiner, Rielly, and Connor Carrick account for 5 spots on the Toronto's 11-year Top 9 in Relative Corsi.
Breaking things further into individual seasons (192 pairs with a 50-minute cutoff), Gardiner and Rielly have two seasons in the Top 5 (17/18 and 15/16), and four in the Top 28 (13/14 and 16/17). All five of their seasons together rank in the top third. Using team-relative numbers, all five of their seasons are in the Top 40, three of them are in the Top 8, and their 13/14 and 17/18 rank first and second. Looking at where the shot differential comes from, three of their seasons rank Top-5 in relative attempts for, and they also have three Top-30 seconds in relative attempts against.
Goals: While goals involve a lot more luck than shots do (hence the slow relevancy death of plus/minus), You'd hope that a good pairing could remain in the green after 12 hours of hockey. Thankfully, this pair does just that: they get about a 53% share of the goals. That ranks them in 13th, though most of the pairs above them sit close to that 200-minute fringe, where luck would be most fickle. Relative to their teammates, the pattern remains: 13th, most at the top played low minutes, with the top 500+ minute pair being Ian White and Luke Schenn (?!).
Expected Goals: xG attempts to give the best of the above two worlds, using the data we have on shots taken/conceded to paint a picture of how often the puck /should/ go in. The results here are pretty unexpected: everything Connor Carrick touches turns to gold, which also rings true for Francois Beauchemin and Ian White. Tomas Kaberle and Mike Komisarek ran at 61% for over 300 minutes (!!), and Pairs 5, 6, and 7 are Martin Marincin and Roman Polak (?!), Garnet Exelby and Luke Schenn (?!?) and Ian White and Jeff Finger (?!?!).
Anyway, Gardiner and Rielly sit at a little over 50%, which is still in the upper half of this list. Their 82 minutes together this year sit in the Top 20 in percentage, at around 57%.
Penalties: An underrated quality in a defensive pairing is their ability to both draw and not take penalties. You can be as dominant as you want in your 5-on-5 shifts, but it's useless if you end them by putting your team on the penalty kill. No pairing in the past eleven years has given Toronto a better net total of powerplays than Jake Gardiner and Morgan Rielly, and not many pairs in the league have done as well as them either.
This likely has to do with them both being disciplined players at heart, but because they both have each other to skate with, neither has to make a desperation play after a mishap, and one is always allowed to skate with the puck and maybe draw a call. Rielly, in particular, has always found a way to tilt the calls in his favour – only Ron Hainsey and Tim Gleason have partnered with him and brought him to a negative differential.
The Eye Test: The above tells us something pretty straightforward: together, these two are very good, and probably the best irregularly regular pair the Leafs have had for most of the Salary Cap era. But why does it work?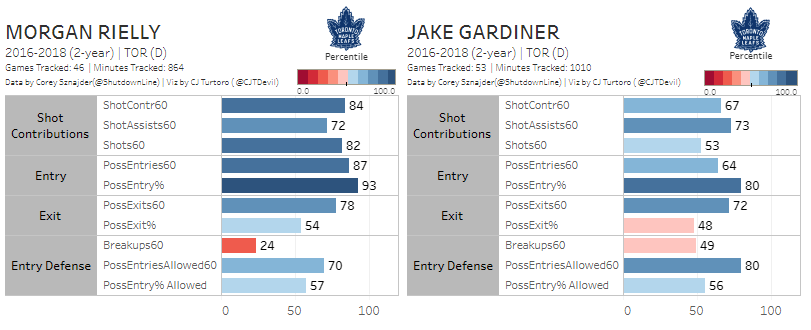 Simply, they both move, and they help each other move. An obsession just as big as the need for "lefty-righty" balance in this league is the balance of an offensive specialist and a defensive specialist on each pair, but I'm not certain how necessary that is.
Typically, the best "balanced" pairs work because the offensive player is still decent defensively, and vice-versa. Too often, you see the "balancing" defender on pairs have an incapability in the zone that he isn't known for, which leads to the whole thing falling apart. With Gardiner and Rielly, neither player is particularly inept defensively; both do a pretty good job at eliminating dangerous shots, both regularly show good positional awareness and gap control (though, admittedly, not 100% of the time – especially in Gardiner's case). A lot of their biggest mistakes come when they're stuck as the lone option – be it in a breakout where their partner is someone who is likely to just ice the puck, or when they get caught on the offensive blue line and the other man is a weaker skater.
The fact that they have similar offensive instincts goes a long way towards keeping control once they leave their zone, and the fact that they're both strong skaters allows one to get back if the other is in trouble. The fact that they've both taken turns having to be the top pair matchup guy (more often Rielly than Gardiner) means they both know how to take on that level of competition, instead of throwing a second or third pair player into that fire because they're "safe" or "reliable", even if they can't keep up.
Because of that, they've shown time and time again that they're best together.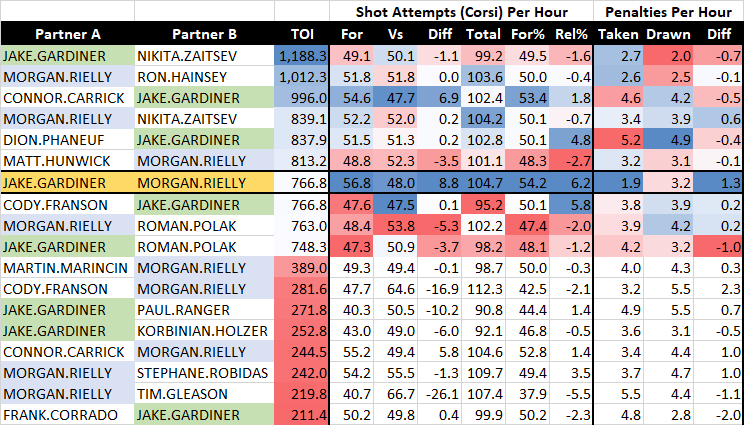 In a lot of ways, it's similar to Tomas Kaberle and Brian McCabe in the previous Leafs generation; while Kaberle was so good that he could play with anyone and be great, and McCabe could usually hold his own without Kaberle, they were an elite duo together because they could read and support each other.
But what about everyone else?
Admittedly, the biggest issue with stacking Gardiner and Rielly together is how you handle everyone else. This isn't an entirely new idea, but whenever it gets brought up, it's brought up because Toronto is looking at bringing in another defenceman that would force it – often a good leftie, at that. It's come up as an attachment to gossip surrounding Ryan McDonagh at the trade deadline (he went to Tampa), and Calvin De Haan this summer (he went to Carolina).
To go with a Gardiner-Rielly pairing requires a lot of trust that Travis Dermott is already a second-pair quality defenceman. It requires trust that Nikita Zaitsev will rebound this year. It requires trust that the grab bag of third pair options available right now will come up with two reliable players. It might require trust that these two play more minutes at 5-on-5 than they ever have; almost the exact opposite of the situation that the Leafs have at centre.
For the most part, I think those are accomplishable goals – but we'll address those in another piece.