Over the course of the Calder Cup playoffs, I decided to do approach my mid-game process for covering Marlies games a little bit differently. With the encouragement of a few friends that I wouldn't be wasting my time, I took a crack at doing some limited tracking of games.
I didn't end up doing the full playoffs, having only committed to the idea in Game 2 of the second round against Syracuse, and having initial weariness of trying to keep up with the flow of play through game feeds. By the time the Finals rolled along, though, I felt a bit more comfortable with doing a full-series attempt. Here's what I ended up with:
Disclaimers
Firstly, the results here aren't guaranteed to be 100% accurate: people count certain items differently, and my method for "shifts" probably needs to be smoothed out and standardized (my first attempt in the Syracuse series counted a shift at every swap of players or at every whistle, whereas this series removed the whistle caveat, meaning this doesn't account for players who were double-shifted at times).
Secondly, this is a seven-game sample of a playoff series. Usage was typically focused and players can have up and down stretches. It's interesting to see how guys stepped up or stood back, but the numbers they put up and the usage they were given over two weeks aren't necessarily reflective of their results and usage of over the course of the season. There are player results that line up with the three games tracked prior to the Final, and there are results that line up with my own casual observations throughout certain players' time with the team, but these aren't fool-proof evaluations of what a particular player is.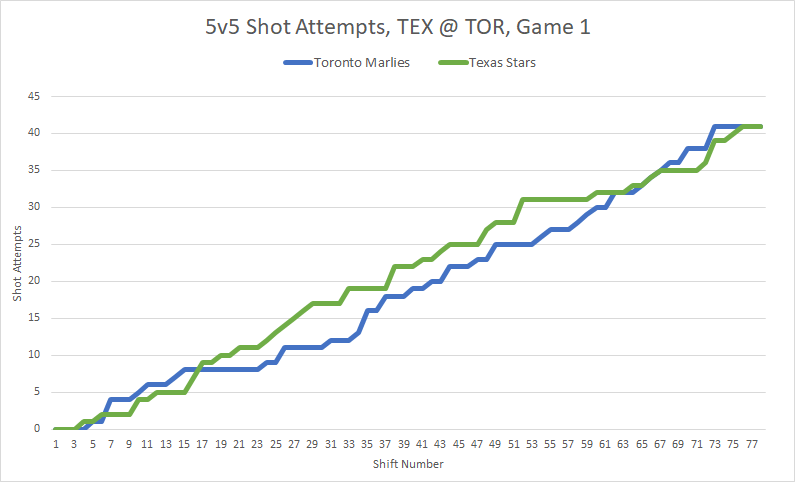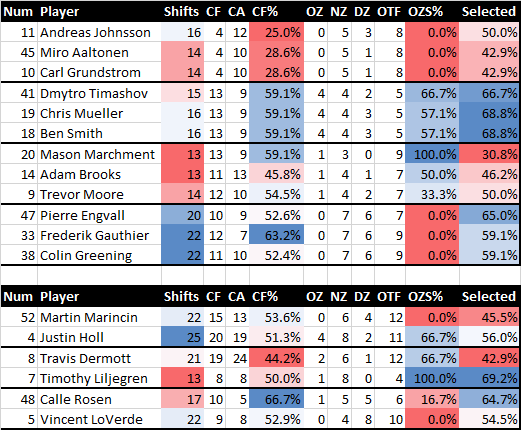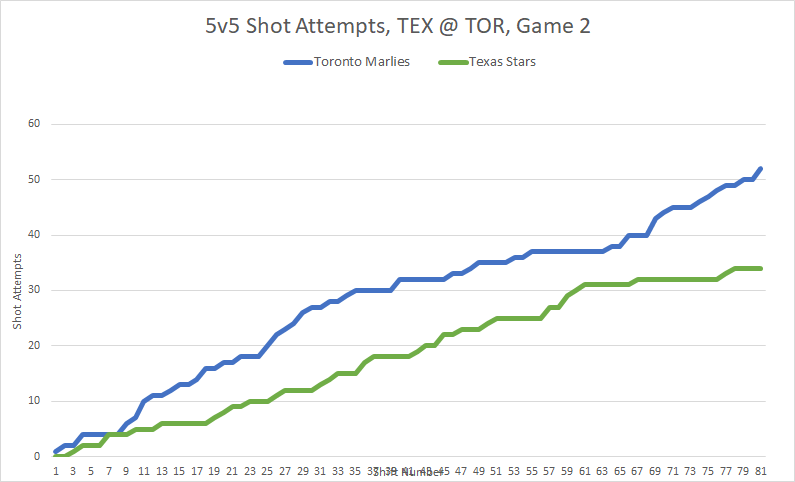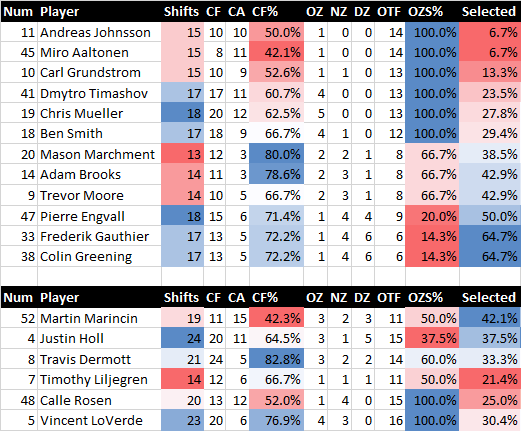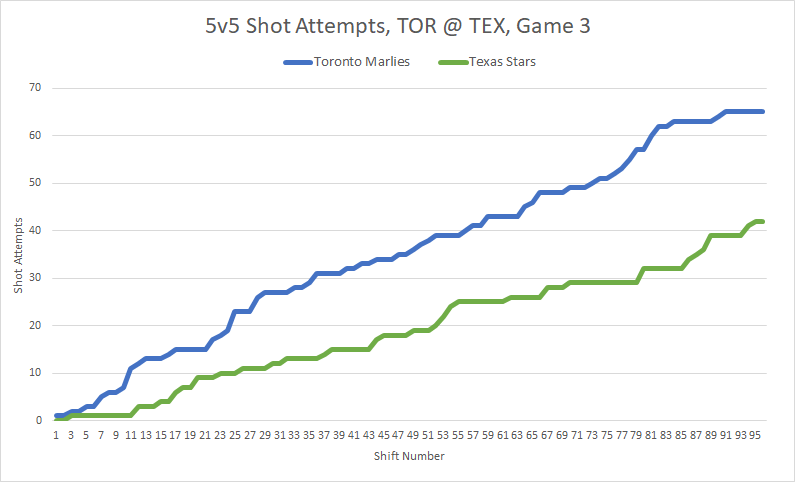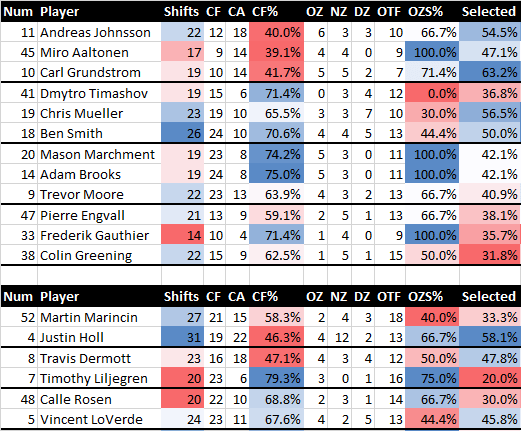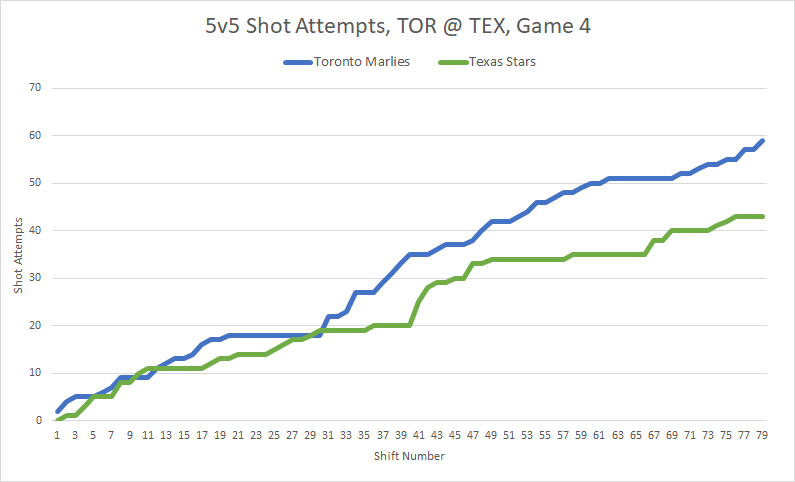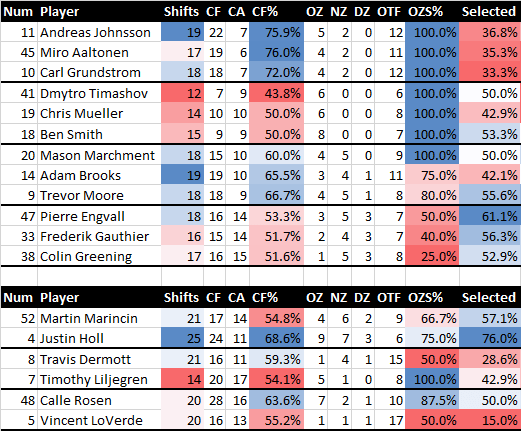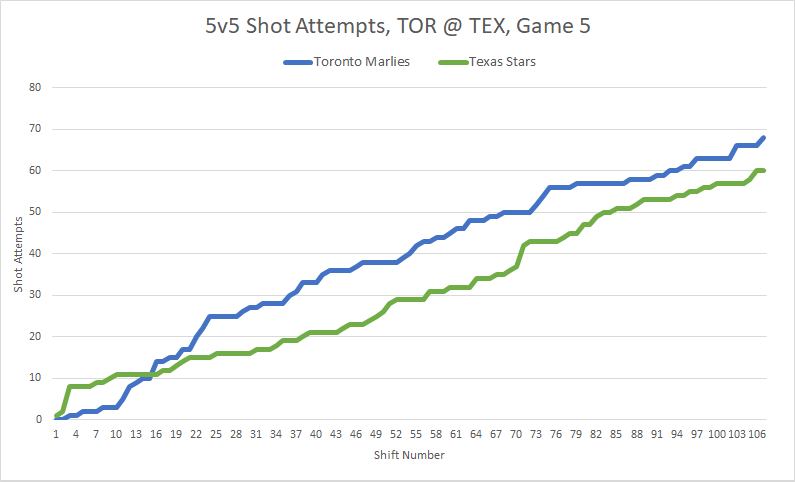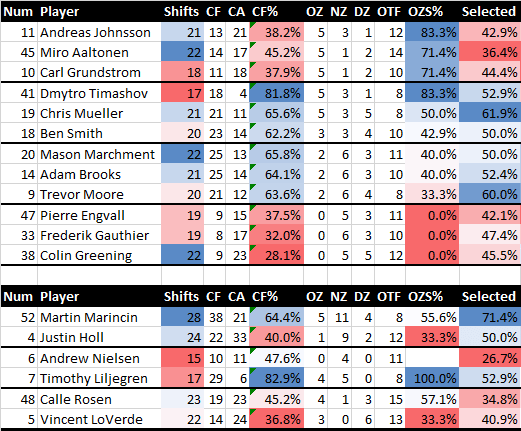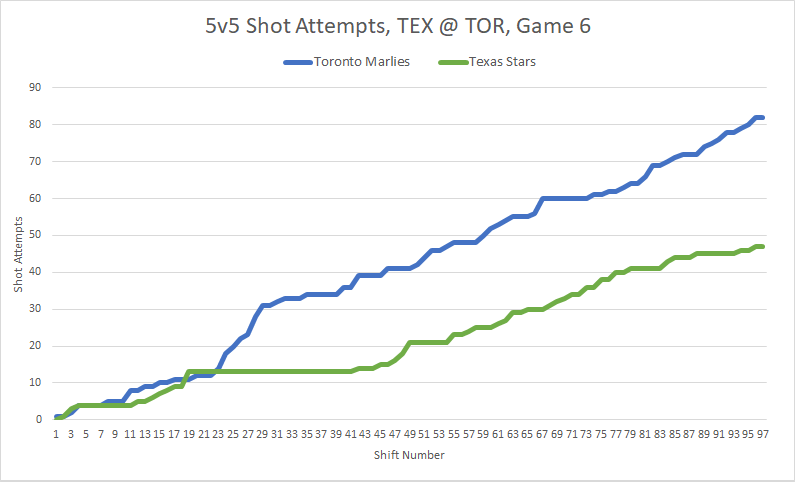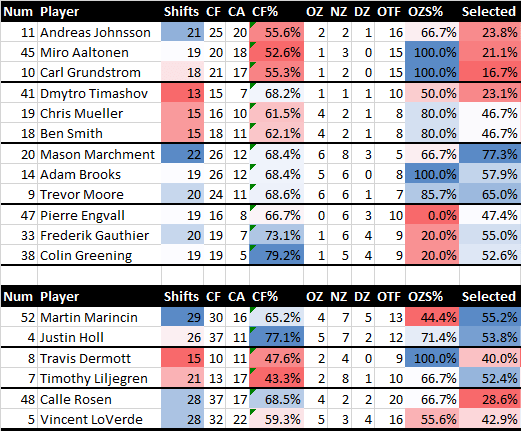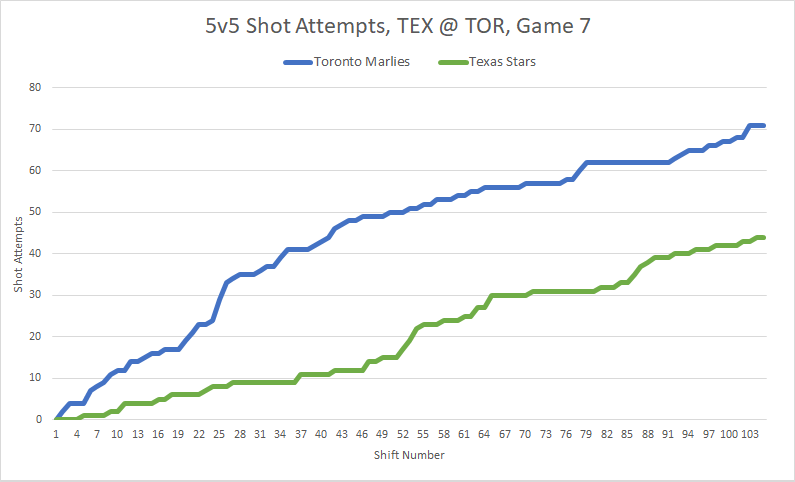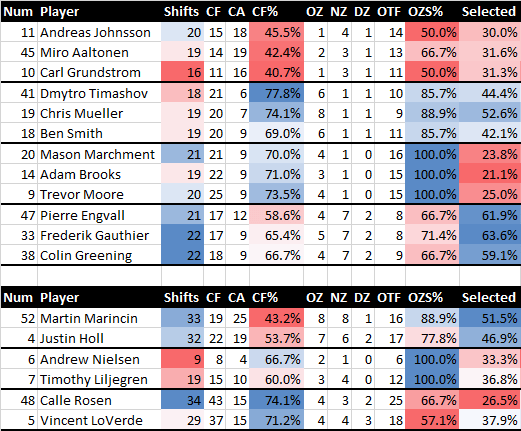 Full Series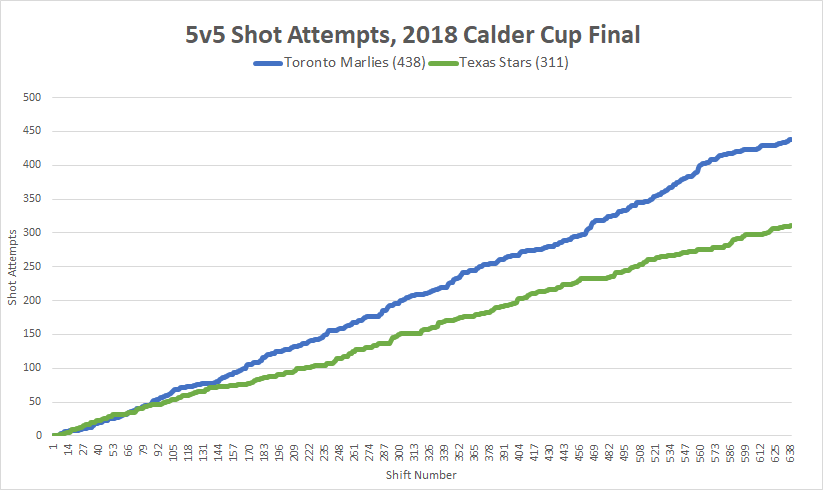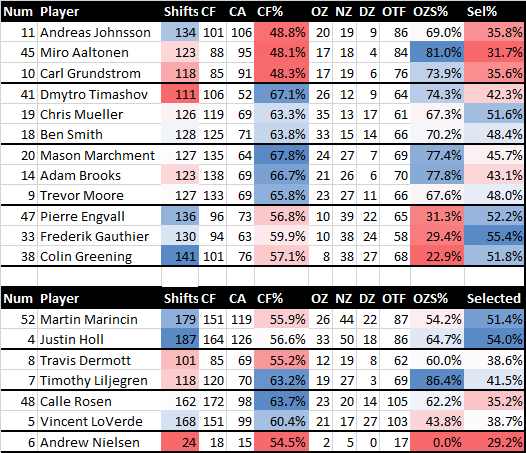 Observations (Team Level)
In my preview for the Final, I called Toronto "clear favourites" in the series, with the Stars' biggest hope coming from the chance of Mike McKenna standing on his head. The team was mediocre to below average in just about every metric in the regular season and were heavily outshot in the playoffs going into the final, with most of their wins coming in overtime. My expectation was that a team like the Marlies would be able to pin them to the wall and gas them out.
But Texas played heavy to start, kept things close for a bit, and McKenna did, indeed, stand on his head. The series ended up going to seven games because of that, though Toronto did pour on the pressure as expected, averaging 18 shot attempts more per game at even strength than their opponents. Even strength play was crucial to this series, as the officials did their best to avoid calling penalties against either side (both teams could argue that this negatively impacted them; Texas got away with more but were also better on special teams over the course the series, so more powerplays could have still ended up giving them the edge). The biggest reflection of Toronto's 5-on-5 dominance was the first period of Game 7; with a do-or-die result on the line, Toronto out-attempted Texas an insane 41 shots to 9.
So, on the team side of things, this went about as expected, though things ran deeper into the calendar than most thought they would. Such is the power of an underdog.
Observations (Player Level)
As for the players, I found Sheldon Keefe's usage of the group to be more interesting than the results that the players got, especially with the small sample in mind.
Many of you may have noticed a pattern in how the Toronto Maple Leafs used their forward lines under Mike Babcock over the past two seasons. This will soon change with Tyler Bozak being swapped out with John Tavares, but the deployment structure looked something like:
Shutdown line: Usually run by Nazem Kadri, this line was put out against the opponent's top players to attempt to keep them at bay, and maybe pick up a point or two along the way.
Balanced line: Usually run by Auston Matthews, this line is most geared to the Displacer-Distributor-Finisher format, and is deployed to create opportunities and, if they can't get a goal, at least tire out the opponent. This line is usually the one targeted by opponents' shutdown corps.
Sheltered line: Usually run by Tyler Bozak, this line is less responsible defensively and gets sent out when the ice is already tilted in their favour as a result. This usually allows them to use their offensive skill-set to clean up.
Fourth line: This has remained a mess for quite some time in Toronto; often it feels like a group of leftovers. Many are clamouring for another group of scorers here, to exploit other teams' fourth lines that would typically get sent out at the same time.
The Marlies followed this format pretty well. The Gauthier line was the Kadri line, the Aaltonen line was the Matthews line, and the Mueller line was a more defensively capable version of the Bozak line (and like Bozak, Mueller was often used as a pinch-faceoff man). What the Marlies had that the Leafs didn't (maybe this year?), though, is a skilled fourth line of rookies and sophomores in Mason Marchment, Adam Brooks, and Trevor Moore.
While not ready for top-line duty just yet, that trio had begun to show flashes of brilliance in the regular season, and when they're on, they're capable of skating circles around teams and retrieving most of the pucks they can't convert into goals. Setting them up to hop into the offensive zone when the first three lines have already slowed the opponents down effectively made them into Homer the Boxer line:
Brooks finished 8 of the 10 games I tracked above 60% possession, while Marchment and Moore finished 9 of 10 at that benchmark. There's a lot of sheltering there, but a fair bit of promise as well.
That's not to take away from the other lines, though: far from it. The Gauthier line spent the entire playoffs being pitted against a combination of top lines, defensive zone binds, and protecting late-game leads. The Aaltonen line struggled at times with the heavier playstyle of the Stars but when they'd break through, the chances they'd create were lethal. Mueller's line was strong on both sides of the ice, but found its most money in establishing control off offensive zone faceoffs – both because they could wear teams down, and because Mueller could usually pick off the puck at the draw (and, if he got tossed, Smith would be there for him).
The defensive groups are a little more complicated to break down, largely because they were never truly played as three distinct pairs. While everyone had a primary partner, there was a lot of mixing around that went down throughout.
Some patterns did get more frequent as the series progressed, though. Martin Marincin and Justin Holl remained the most-played defencemen, but were moved further up the ice in deployment than they were in previous rounds; likely to use their skillsets to keep the puck in Texas' zone as part of the attempt to wear them down. As Calle Rosen and Vincent LoVerde got more comfortable, their shifts became more frequent. Rosen, in particular, was having no trouble rushing the puck out of harm's way, while LoVerde was the presence that boomeranged the Stars' physical efforts right back at them.
Travis Dermott's ice time was progressively pulled downward as the series progressed, likely because of his shoulder injury. When he attempted to come back in Game 6, there was no doubt that he was less than himself, getting heavily outshot after the first few shifts and eventually benched in the third period. Andrew Nielsen came in his place; like Nielsen's time spent playing in the early rounds, his minutes were extremely sheltered, often deployed on-the-fly and never in the defensive zone by choice.
https://twitter.com/JeffVeillette/status/1005881306817945601
Timothy Liljegren also received his share of sheltering throughout the playoffs; while the organization expects great things out of the defenceman in the future, it's been a long season of adjustment for the teenager and he still has some work to do to become a minute eater. With that said, he made the most of those easier, more offensive minutes, leaving everything he had on the line, playing physical when he'd have to, driving ahead with the puck when necessary, and firing pucks at will. His efforts in Game Five culminated in the best game I've seen him play since joining the organization.
Moving Forward
While the idea was daunting at first, I'm very happy I decided to take this dive into manual tracking. It gives us extra information to work with, in a league that has very little public data (my world for real play-by-play logs), and I think, more importantly, the process of collection was even more useful than the information itself.
Having to manually log information means that you need to give your undivided attention to the entire game; I'm an easily distracted person, so guaranteeing that I'll pay attention to every single moment and pick up on all the little nuances instead of browsing social media during "boring" shifts is great. Half-watching lots of games (which is what we all tend to do, even those working on them) will give you the right ideas eventually, but this gets you there a lot faster.
A good example of this is what I mentioned above with Gauthier: he played very strong defensive hockey against top competition in less-than-ideal zone starts, still drew very positive goal and shot-based numbers along the way, and was leaned on more than any other Toronto centre in the playoffs. If you didn't pick up on that, you'd notice his 8 points in 20 games was only 12th on the team in playoff scoring and brush his efforts off as inconsequential. Instead, they were probably the reason he got a qualifying offer and stayed in the organization.
As of right now, the plan is to polish up the method (currently, it's hand-written and then manually inputted into Excel), and figure out if there's anything else I can track on the fly (or, at least in a second watch) and carry this project into a full-on effort next season. Depending on demand, I might try to mix some other teams into the mix on off-nights – particularly teams that are more prospect heavy.