The Toronto Maple Leafs, as we all know, were massive spenders on July 1st, signing superstar forward John Tavares to a contract that would make him the second-highest paid player in the National Hockey League at this point in time, at a seven-year cap hit of $11,000,000.
Tavares is a massive addition to the Leafs that officially puts them into the Stanley Cup contention window, even for their biggest sceptics. But he also takes up about 14% of the league's current salary cap allotment of about $79.5 million. It's a lot of money, especially when many in the media have already opined that the team has a cap crisis looming. With that in mind, there is concern that Toronto might be pushing themselves into a hole so large that it costs them one of their "big three" young forwards (Auston Matthews, William Nylander, or Mitch Marner) in the not-too-distant future.
For what it's worth, I'm not sold that it will come even close to it. Leafs general manager Kyle Dubas gave a firm "We can, and we will" when asked if he'll be able to keep the trio on Elliotte Friedman and Jeff Marek's '31 Thoughts' podcast earlier this week, and I don't believe him to be bluffing.
Toronto's Current Situation
While everyone loses their mind about the years ahead, the Maple Leafs are in pretty fantastic shape from a cap standpoint this year. Walking away from James Van Riemsdyk (PHI), Tyler Bozak (STL), Leo Komarov (NYI), Dominic Moore (UFA), and Roman Polak (DAL) left the team with an approximately $13.5 million in extra cap space, and a $4.5 million increase in the cap ceiling definitely helped things as well. A combination of Tavares, Kasperi Kapanen (as a full-timer), Par Lindholm, Tyler Ennis, and Justin Holl slots almost perfectly into the departing class, leaving Toronto with 11 forwards, 7 defencemen, and two goaltenders up with the team and $14 million in remaining cap space; significantly closer to the floor than the ceiling.
Toronto still has some rounding to do which should bring them closer to the ceiling. The team still has to sign William Nylander and Andreas Johnsson, for example. Both contracts are hard to gauge right now, with many unsure what comparables are being used in the negotiating room and what term the Leafs would prefer to sign that to, but we'll assume something along the lines of 8 years at $6.5 million (similar to Nikolaj Ehlers and David Pastrnak) for Nylander and 2-3 years at $1.5 million or less for Johnsson. That should bring Toronto to about $6 million remaining going into October; maybe a little more when you consider the strong likeliness that they'll swap out Curtis McElhinney ($850,000) for Garret Sparks ($675,000) on the opening night lineup.
(Frederik Gauthier is also an RFA, but will likely sign to a buriable amount and head to the Marlies, leaving him largely irrelevant to the cap conversation)
Navigating Performance Bonuses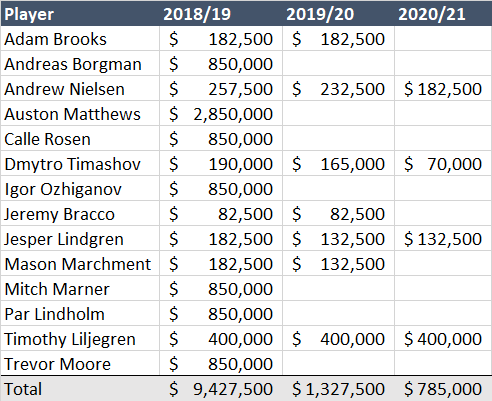 An area of concern for the team this season is their performance bonuses. Performance Bonuses are given to players on their Entry-Level Contracts for achieving set goals over the course of their first few seasons, in an effort to keep some balance across rookie deals while giving high picks and sought-after international free agents a chance to cash in if they are, indeed, the real deal.
As you can see above, the Maple Leafs have fourteen players signed to entry-level deals that include performance bonuses. Thankfully for Toronto, both of their ELC-tied players who are sure things to become full-time Leafs next year (Travis Dermott and Kasperi Kapanen) signed deals without any bonuses, as did Carl Grundstrom, who has an outside shot of making this year's team, and a very strong shot of making the team on the last year of his ELC in 19/20.
Should every single player on this list hit their required tiers of performance, the Leafs would owe them nearly $9.5 million more than the team has already budgeted for, and if any of that were to exceed the remaining amount of cap space at the end of the year, the team would be penalized that amount the following season, as they are this year to the tune of $2.55 million.
While this sounds like a potential death blow, it's worth reminding that Toronto has a pretty decent aforementioned buffer, and, more importantly, that most of these bonuses are nothing to worry about. The vast majority of this group will play on the Marlies next year, which makes it highly unlikely that they will achieve their goals.  Not to mention, the items that you award give Schedule A bonuses (which everyone but Matthews has exclusively) are steep goals for support rookies.
Forwards: ATOI (42 GP minimum, > Top 6 F on team), Goals (20 minimum), Assists (35 minimum), Points (60 minimum), Points/Game (42 GP minimum, >0.73), Plus Minus (42 GP, Top-3 F on team), All-Rookie Team, All-Star Game, All-Star Game MVP.
Defencemen: ATOI (42 GP minimum, > Top 4 D on team), Goals (10 minimum), Assists (25 minimum), Points (40 minimum), Points/Game (42 GP minimum, >0.49), Plus Minus (42 GP, Top-3 D on team), Blocked Shots (42 GP, Top 2 D on team) All-Rookie Team, All-Star Game, All-Star Game MVP.
Only $212,500 can be made from a single Schedule A bonus. So, for example: For Trevor Moore to hem the Leafs for $850,000 in spill-over, he'd not only have to make the team, but he'd probably have to be a 60 point All-Star. For Igor Ozhiganov to do it, he'd likely have to be the mythical stud right-handed defenceman everyone wanted off the hop. If we're being realistic about this, the only players on this group that are a serious threat to cash in their bonuses are Matthews and Marner this year, and Liljegren in the years that follow.
That brings Toronto to a much more manageable required buffer of $3.7 million this year; even if you want to make it $4.15 million to account for one or two full outliers, it seems likely that the Leafs can get through to next season without spilling over into bonus overage, and once they get through this year, it's extremely unlikely that overages will become a thing they have to worry about for the remainder of this era.
Navigating Horton's LTIR
One caveat to the two prior sections that haven't been brought up is Nathan Horton. Horton was "acquired" by the Leafs in 2015 as a solution to their issue with David Clarkson who unsurprisingly didn't meet the expectations of the old regime and carried one of the worst contracts of the modern era to match. Horton was acquired because he was a somewhat-buriable contract; a player with no chance of returning to the game due to a degenerative back condition (that Clarkson himself would be found to have not long after).
Horton's long-term injury status affords the Leafs some relief in a cap bind, but it isn't purely free money. Placing a player on the Long-Term Injured Reserve does not simply take their salary off the books, and if you are under the cap, it doesn't do anything for you at all. LTIR is used to, in effect, allow your team to exceed the cap to replace the injured player. Should Toronto decide that they'd like to exceed the cap by less or equal to Horton's $5.3 million, they could place him on LTIR to bring themselves back to $0. This does not help alleviate rookie bonuses, so it cannot be used at the end of the season to offset those.
In other words, Horton won't be of any relief to the Leafs this year. He is, in fact, dead space, and his full $5.3 million will be a roadblock to the Maple Leafs in 2018/19, as you don't want to push all (or any) of the team's rookie bonuses into next year. Unless Toronto were to get an addition or two so special that it would be worth going into an actual cap hell this year (roughly $14 million in high-end additions), I cannot see this as an expected outcome.
Horton becomes a bit more of a bargaining chip next season. With rookie bonuses likely to max out at under half a million dollars, Toronto could lean into exceeding the cap to keep as much of both the young core and the prior group (for example: extending Jake Gardiner, should they feel the need). He also becomes a contract that's a little bit easier to move to a non-contender in a trade: while no one likes to take on dead cap space, especially of the uninsured variety, Horton will be entering the final year of his deal in 2019/20 and carries a lower real salary than his cap hit.
Navigating A Rising Cap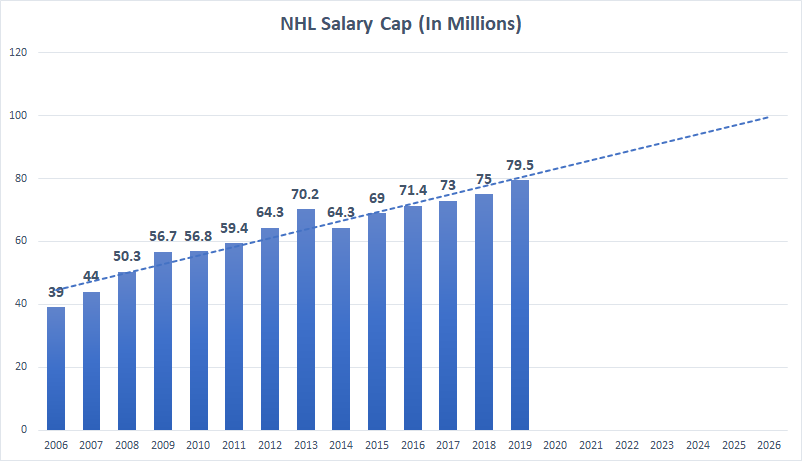 Something that's worth remembering here is that the salary cap is not static. In fact, it's got a habit of jumping upward, to the average effect of about 7.5% per season. A lot of that is carried by the early days of the "new" NHL, though, where the cap jumped by over 10% in seasons 2, 3, and 4. Over the past five seasons, the salary cap has averaged a gain of about 4.4%, which is a slightly more reasonable trend to expect to continue moving forward. Assuming even a 3.5-4% annual gain through to 2026 (in between the end of the Tavares deal and the end of theoretical eight-year extensions to Marner and Tavares), the cap should end up somewhere between $100-105 million; maybe a little less if a lockout causes problems, maybe a little more if some big markets (like a perpetually competitive Toronto) drive more hockey-related revenue into the system.
Now, that's not an unlimited rope to spend recklessly; "the cap will go up" is often used as an excuse to sign middling players to big deals, and if we're being honest, it's a poor excuse. Teams that don't sign bad contracts remain the ones that benefit the most from an increasing cap, as they have more flexibility with their new-found money. But superstars are not frivolous expenses and core players usually aren't either, so as long as Toronto works decently around the margins, those increases should mitigate the dent. The extensions that the Chicago Blackhawks (Toews, Kane, Keith), Pittsburgh Penguins (Crosby, Malkin, Letang), Los Angeles Kings (Kopitar, Doughty), and Boston Bruins (Bergeron, Chara) gave their superstars are a good example of this. While they'd start their deals at higher shares of the cap, they'd finish them at the going rate of players a tier, sometimes two tiers lower, due to that influx of cap.
Navigating 2019/20
All of this considered, the toughest year by far will be the one following this one. That's the very first year of the prospective Matthews and Marner extensions, of which we don't really have a good read on yet. There are a few things worth keeping in mind, though.
I don't foresee the numbers being as doomsday-like as people are making them out to be. There's a general agreeance that Nylander will get a standard budding-star deal in the coming weeks, and as it stands, it's hard to sell his and Marner's contributions as terribly dissimilar. The talk that Marner's contract will be closer to Matthews' than Nylander's seems to be media-manufactured with no tangible merit to it at the moment; though if they wait until next summer to sign Marner, that could perhaps change.
As for Matthews, Tavares taking a discount compared to the San Jose and NYI offers seems to set a good example for him, and without a true trophy chase under his belt yet, it might be difficult for Matthews to ask to be paid like a Top 2-3 player in the world. People like to point to the McDavid extension as a comparable, but McDavid's first year and a half were among the best in the history of the sport; getting the mega deal (from what appears to be a less cap-savvy management) reflects just how once-in-a-generation he is. While the big three are franchise-defining talents, the constant need to compare Matthews to McDavid and Marner to Matthews have likely led the public to be working with different numbers than what the internals of the hockey world are working with.
Toronto still has money coming outward that year. Figuring out what to do with Jake Gardiner might prove tricky (I'd consider offering an extension now while his reputation is still shot from Game 7), but Ron Hainsey comes off the books. As mentioned before, you might be able to find a team to take on the Horton contract and avoid needing to do the LTIR business in his final year as well.
Patrick Marleau is also very interesting from a cap perspective. 2019/20 will be the final year of his deal, where he carries a steep cap hit of $6.25 million. However, his real dollar salary after July 1st is just $1.25 million. I'd imagine that, if still healthy, Marleau would like to continue to chase glory, especially if Toronto comes close but doesn't win next year. But, if there is a destination that he's willing to waive his no-movement clause to be moved to, either to play or to retire (if banged up or the Leafs win and he's satisfied), that could be a method of massive cap relief. A farewell tour in San Jose shouldn't be ruled out; if the free agent class dwindles and the Sharks have no one to big-game hunt, they'll likely have the cap space to take on one of their all-time greats for a proper send-off. This isn't a guarantee by any means, but a potential avenue.
Nikita Zaitsev is a name I'd keep an eye on as well. We'll talk about him more in a separate post, but I feel that he's in a weird spot right now where he simultaneously doesn't fit in this iteration of Leafs management's long-term plans, but that he's better than his last season. Given the insanity that is the right-handed defenceman market, his $4.5 million cap hit should be movable without punishment next summer; maybe even for a good haul if he has a year that looks more like his rookie year.
Connor Brown could also end up being a moveable asset – the hockey world seems to like him, and so do I, but if he ends up being a bottom-six player in this group, that $2.1 million cap hit might be better off re-assigned and replaced by someone on an ELC. Brown would be a shame to lose (and might possibly be the guy you leave around for Seattle to claim in an expansion draft), but those are the types of players you rotate around in a star-heavy build.
Overall, there's a possibility that this one year could end up being tight, but even in a worst-case scenario, you have one tight year where you're running the cap day-by-day (something that Assistant GM Laurence Gilman has experience doing in Vancouver), but have Marleau and Horton off the books without any significant UFAs to re-sign at the end of the year, making it much easier to breathe from there.
Picking Your Spots
The above points have addressed the following general ideas:
Toronto has lots of space remaining this year without much left to do
Toronto should avoid using Nathan Horton's LTIR this year but can use it or move it next year
Toronto has lots of potential rookie bonuses on their plate this year, but only needs to budget for about 40% of them, and are in good shape in following seasons
The salary cap is likely to continue rising in a way that gives the team room, as long as they're responsible with it
2019/20 might end up being a tighter year, but Toronto has a few avenues they can look to clear up space – at worst, they'd lose Jake Gardiner if he believes he can find significantly more money elsewhere.
The likeliness of a reasonable Nylander deal and the successful signing of Tavares to a reasonable deal where he left money on the table should keep Marner and Matthews in a safe range. (I would predict about $36 million, maybe even less, for the entire Big 4)
What is going to be most important in making this work isn't going to be re-distributing their strengths (aka trading a young star), but avoiding patchwork for their weaknesses. Toronto can't afford to make signings similar to what teams committed to role players on the open market this year, especially at a point in time their young, cost-controlled players are likely better players than any expensive depth talent they could add. It's avoiding the Jay Beagle's, the Karl Alzner's, the Dan Girardi's, the Kris Russell's, the David Backes' – decent but ageing players paid like top talents on their reputation, despite no longer (or sometimes, never) moving the needle. Those are the contracts that kill you, not stacking yourselves with stars.
As it stands, I have no reason to believe that the group in charge right now doesn't believe in that. The fact that they let their outgoing class walk en-masse to cash in is a good indicator of that, as is the quick move of Matt Martin's remaining seasons. Devoting free agent money to promising reclamation projects (like Ennis yesterday), and devoting even more resources than ever into mid-late round drafting and strengthening the team's development pipeline will be the key to undercutting the market. There are areas where the team would like to improve (hence the emphasis on drafting and signing young defencemen to develop), but the patient approach is more likely to pay dividends than splashing assets in a panic when everyone knows your needs (which I think areoverstatedd – again, subject for another series of articles).
In essence, Toronto is showing awareness of how to build in a cap world: spend to acquire stars, pay your core fairly, and undercut the market along the edges. So long as you don't run into too many situations where you pay a lot for a middle, there should be plenty of cap space to go around.