In case you missed it, the Toronto Maple Leafs and Assistant General Manager mutually agreed to part ways yesterday:
"Following extensive discussions with Mark, he and @MapleLeafs have mutually agreed to part ways," said Brendan Shanahan. "I'd like to sincerely thank Mark for everything he's done for this organization over the last four years and I wish him nothing but the best in the future."

— Leafs PR (@LeafsPR) May 22, 2018
Since Kyle Dubas was named as General Manager two weeks ago, speculation about Hunter's future had been rampant. In fact, a significant chunk of his press conference was devoted to questions such as "Brendan, what is happening with Mark Hunter now?", "Kyle, how do you plan on working with Mark Hunter", and "Hey, where is Mark Hunter?".
The last few days, as such, have come with a lot of loud yelling about Toronto choosing their door, with many seeing the loss as a big blow to the Maple Leafs organization. Hunter called not being selected, and the early breakup "disappointing". An anonymous agent apparently called the whole scenario a "firestorm". The usual suspects are already putting Dubas to the fire, and the old-school wing of the fanbase, for maybe the first time ever, has lost faith in the Shanaplan.
Lou Lamoriello's departure to the New York Islanders didn't really bring the walls down; most figured he'd skip on the Special Advisor role, though maybe the pace that he did so felt quicker than expected. The expected loss of Jacques & Jacques (Lemaire and Caron) barely got a blip of airplay, likely because many likely forgot that they worked for the team still.
Hunter's departure is different, though, likely because many in both the fanbase and media had hoped that he would get picked over Dubas. His quick departure gives reason to describe this as a situation "gone wrong", despite no real knowledge of Hunter's future. After all, unlike Dubas, the only place Hunter has ever been connected to during his tenure with the Leafs is, well, a promotion within the Leafs.
The outrage is especially curious because the public and the media (at least on the surface) have a very limited understanding of what exactly Hunter has done in Toronto, in either his Director of Player Personnel role or in his Assistant GM role (which, according to Lou Lamoriello at the time of promotion, was literally just the same job with a different name). Certain that I was missing something, I went to my Twitter followers looking for answers:
https://twitter.com/JeffVeillette/status/998919150176276480
The responses left a lot to be desired. The majority of those who were sad to see Hunter go brought up his advocation for Mitch Marner at the 2015 Entry Draft, while many others went into whataboutism about Dubas (also, there were a surprising handful of people crediting the selection of Andreas Johnsson to Hunter, despite that pick coming two drafts before his hiring).
Looking for more, I dug through the archives a little bit, finding every single brand-name media article that was still active from just after his hiring to just before his departure (interesting observation: 34 of 53 articles that make a distinct reference to Hunter in his tenure come from Steve Simmons of the Toronto Sun). This doesn't count his moves with the London Knights, but that's part of the point: we are evaluating what he has done in Toronto. Here's what we've got.
His Drafts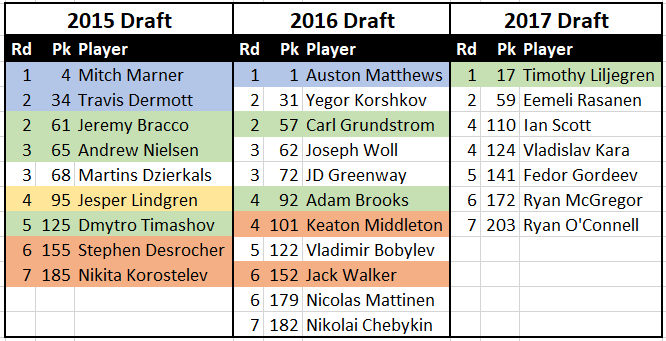 If you're overseeing the scouting operation, then the draft is usually a pretty good place to start to gauge success. Here's what we've got through three years. It's a bit early to give perfect judgement, but a few observations:
The players who have made the NHL so far are three of his five highest picks. That's somewhat to be expected out of sheer odds, but the reality is that we haven't seen someone picked lower than 34th overall make the Leafs for even a single game just yet. That's not to call his efforts a "failure", but there isn't confirmed evidence of success yet.
Six of these players are currently regulars on the Toronto Marlies. Timashov, Brooks, and Liljegren blossomed into core pieces on that team as the year progressed. Grundstrom has made an immediate impression upon coming over from Sweden in both seasons that he's one so. Bracco and Nielsen have shown some upside, and remain good projects, but currently, find themselves healthy scratched in the playoffs.
Jesper Lindgren seems intriguing. His yellow marketer represents signing an ELC with the Marlies for next year, meaning he's going to integrate himself into that side of the program. Martins Dzierkals may be another player who does the same; we'll have a better idea of his fate in the next week or so, but he made some solid strides with Orlando this year on an AHL contract.
Keaton Middleton was reported today to not be expecting a contract from the team, and will likely re-enter the draft this year. Hunter's big defencemen in this era haven't proven to be very successful. Over the last three drafts, Hunter's department has used 6 of their 27 draft picks on defencemen over 6'4: Desrocher and Middleton are out of the organization already, Mattinen will likely also be out by the end of next week, JD Greenway has struggled in the NCAA and is heading to the USHL next year, and neither Eemeli Rasanen (the most upside of the group) or Fedor Gordeev were show-stoppers in their OHL Draft+1 seasons this year.
Generally speaking, the 2015 draft appears to be the most likely to contribute to the organization at the professional level, with more pure misses appearing likely in 2016 and 2017. I wonder how much of that comes from the directive from the bigger bosses: Lou Lamoriello wasn't around for the 2015 draft, and Mike Babcock had only been a member of the team for a month. The latter two drafts seemed to focus more on size and defensive ability – or put another way, "rounding out" the pool instead of just trying to get the best options.
When looking at players that are "hits", it's worthwhile to consider who else was on the board at the same time; you can simultaneously make the good pick and the wrong pick. 2016 might be a good example of this: analysts that look for repeatability and scouts who look for upside likely would have taken someone like Alex Debrincat over Yegor Korshkov, or Vitaly Abramov over Carl Grundstrom. Both Korshkov and Grundstrom appear to be promising prospects, but the aforementioned competition, who went a few picks after them, might still end up having the better careers. Similar can be said at the bottom: Nikolai Chebykin could maybe be something, but Dmitry Sokolov, picked 12 picks after him after being ranked rounds higher, looks like a really, really shrewd pick for Minnesota already.
Summing it all up, it seems like Toronto has done a pretty decent job, with the same hits and misses that most other teams have. They've nailed their first round picks, though two of the three were gimmies or close to it (credit where it's due in 2017: Sticking with a falling Liljegren, especially with London Knights centre Robert Thomas on the board, was a gutsy move that may prove to define Hunter's draft legacy here one way or another). The team seems to do its best when it avoids drafting for role or frame and simply tries to find players who can help the puck find its way in the back of the net. Hunter leaned harder into doing just that when he didn't have other big names in front of him.
With this in mind, it's reasonable to look at his track record on the draft floor in an overall positive light, though maybe not in a revolutionary sense. Deserving of credit, but maybe not the "best scout in the world" moniker. The biggest concern is the lack of a clear slam dunk in the later rounds when this is supposed to become more difficult; every NHL team needs "steals" to cost-control to sustain success along the depth chart, and it's not feeling super likely that they've gotten any in his tenure, save for maybe Timashov if all goes to plan.
He's got a team (that's still here)
https://twitter.com/The_Road_Guy/status/999042063135059969
As the above quip reminds us, the process of scouting isn't a single man operation. Mark Hunter isn't the only person in the organization that has been to a rink for a game that didn't involve the Leafs or Marlies this year. He isn't the only person who's watched footage, and he's not the only one filing reports. The work that his team has done already for the season is still available to the team, and those co-workers, from the looks of it, are still here.
Director of Hockey and Scouting Operations Reid Mitchell? He's still around, as he has been in some capacity for nearly two decades (and liking tweets about the Dubas promotion, in very Dubas-y fashion).
Looking at the regional scouting directors, John Lilley (United States) is still here. Ari Vuori (Europe) is still here. Tim Speltz (Western Canada) is more likely to be getting a promotion than he is to be departing. Lindsay Hofford (Eastern Canada)'s future is a bit up in the air, given his London Knights connection to Hunter, but there's nothing imminent sounding there (Personal Speculation: Watch for him to stick around for the draft, help with the Mitch Marner extension if they get that done early, and then figure out his future as Hunter sorts himself out). Pro Scouting Director Dave Morrison is still here, as he has been for over a decade.
Player Evaluation Director Jim Paliafito, who has helped with the acquisition of players like Nikita Zaitsev, Miro Aaltonen, Andreas Borgman, and Calle Rosen, is still here. Every single one of the 12 amateur scouts, headlined by European wizard Thommie Bergman, are still there. The whole pro scouting department, currently five deep, are still here.
The Research & Development Wing, who Hunter suggested were involved in the draft process in 2015, are all still here. In fact, they've grown from three voices to five since Hunter made reference to them.
Now, Hunter deserves full credit for assembling this team. Paliafito is known to be a Hunter call. Hofford is a given. And save for maybe Vuori (an ex-Red Wing staffer) and Tommy Albielin (an ex-Devil), you'd imagine he was spearheading or at least a significant part of the hiring process of everyone in his departments that came afterwards – that's three or four directors, and 11 or 12 scouts. Half the department.
That's huge, and it's important, but the point is that they're all still here right now and a lot of people that are involved in the process, still hanging around the organization. Yes, it's great to have a strong leader, but even the best individual talent is a drop in the bucket when surrounded by a quality team, and Hunter's disappearance means a loss of 1 in roughly 30 people in his department. The most meaningful one, but just one.
What's he been praised for?
Now that we've done the easy work of going through his clear-as-day hirings, let's go into the muddy waters. Why is he liked? What impact has he had? Here's what we get:
His Work Ethic
"Hunter's work ethic, in particular, has made a strong impression on colleagues. Few executives get on the road and watch more games. He also boasts an impressive network of contacts throughout the industry." [Sportsnet, 2016]
"As you said, I was fortunate to have David Conte for a number of years over there. Both have tremendous similarities as far as being at the rink each and every day, seeing games and having knowledge. Mark is certainly that." [Lamoriello via Toronto Sun, 2016]
"If Hunter has much still to prove in the NHL, he's already built a reputation for diligence and attendance." [Toronto Star, 2016}
"The Leafs, with a front office that was the envy of many in the hockey world, now have Dubas, under Shanahan, having to replace himself as assistant general manager, having to replace the industrious Hunter, known by some as the hardest-working man in hockey, not likely to replace the chair Lamoriello sat in." [Toronto Sun, 2018]
In the media world, there isn't a more tangible intangible than attendance. After all, if no one is exactly sure what you're working on, it's important to at least show that you are, in fact, working. It's almost like the school system: the straight-A student who never seems to be paying much attention, if they're even around to begin with, isn't seen to be as hardworking as the one with perfect attendance and their eyes at the front of the classroom at all times.
Mark Hunter find a way to be at a hockey rink as much as he possibly can, and given the level that he's working at now, those rinks will usually have a reporter or two observing. They talk to each other, they talk to him. It becomes very clear that Mark Hunter is anywhere and everywhere at once. He builds his reputation heavily from that.
Would Toronto miss that? Sure – the more information you can get, the more scouting reports, the more action and moments seen the better. The solution to that component, though, is to keep using resources to hire more high-end scouts, and keep sending them everywhere. If they're people without as much of a reputation, you might not get the credit for it, but you will at least get the info. It's a positive asset for him, but again, the biggest drop in the bucket is still just a drop in the bucket.
The Mitch Decision
"[Hunter and Hofford] have had so much confidence in me these past couple years, drafting me into the OHL as a guy that didn't have the size…and they put a lot of confidence in me," Marner explained. "Ever since then I've kind of just kept building off that and they helped me out through my OHL career." [Marner via Sportsnet, 2015]
"Unsurprisingly, the main voice in the Marner camp is Toronto's director of player personnel, Mark Hunter. The former Knights general manager knows Marner intimately – he picked the forward 19th overall in the 2013 OHL draft and persuaded him to forgo a scholarship offer from the University of Michigan." [Globe and Mail, 2015]
"Toronto held the fourth overall pick and Mark Hunter, the team's director of player personnel, was advocating for the selection of Mitch Marner, a diminutive forward with eye-popping skill who wasn't yet prepared for the NHL grind. Mike Babcock, the Maple Leafs coach, was making a strong pitch for Noah Hanifin, a strapping six-foot-three defenceman who looked NHL-ready. The discussion, to hear witnesses tell of it, was animated. " [Toronto Star, 2016]
"The Leafs need a defence going forward," said a highly regarded scout. "And other than (Morgan) Rielly, who do they have? They need a player like Hanifin." But Leafs draft decision- maker Mark Hunter was involved with the development of Marner in London, knows the player well, understands his upside and may be leaning in that direction." [Toronto Sun, 2015]
"What makes the Marner situation all the more troubling is that the Leafs needed front office debate to choose Marner over defenceman Noah Hanifin in the 2015 NHL Draft. Mark Hunter went with Marner while Babcock let others know he preferred Hanifin." [Toronto Sun, 2017]
I'm back and forth on this one. Hunter's vouching for Mitch Marner will be a big part of his legacy: the youngster is one of the most beloved players in recent history for the Maple Leafs, and has by and large lived up to the hype.
At the same time, a few things that I don't think make this super monumental:
For Marner to be "his guy" wasn't a reach. The consensus on him was that he'd he'd be picked somewhere between 3rd and 6th overall, coming in high on the tier below Connor McDavid and Jack Eichel. The aggregated rankings (including Bob McKenzie's, which are the gold standard) had him at 4th. The people with draft models handy had him at 3rd or 4th. Hanifin was ranked highly as well, also swinging between 3-6 in most rankings, but we're not exactly talking a sticking a neck out for the underdog situation.
The Director of Scouting and Interim GM absolutely should have the edge in an argument with the Head Coach of one month, no matter who that head coach is. The draft was Hunter's department. Not letting one person cross a line and overrule the opinion of yourself and the vast majority (if not a total majority) of your department isn't an accomplishment, its your job. I'm glad he did so, it was correct of him to stand his ground, but this is a situation where he did his job, not where he did something shocking.
I would still pick Marner at 4th today, but this isn't exactly a chasm situation. Hanifin appears to be great in his own right. Ivan Provorov and Zach Werenski appear to be maybe even better. There was some gossip that Dubas would have been comfortable with trading down and if the situation pivoted back to forward, grabbing Mikko Rantanen instead. Rantanen seems to be margin of error close to Marner as of right now.
If this situation is one where, say, Dubas, or a large chunk of the scouting department was insistent on drafting Pavel Zacha, Timo Meier, or Lawson Crouse, and Hunter went with Marner, it would be a much bigger deal. Now, one could also argue that the fact that Hanifin was so close is one of the reasons that it was admirable not to cave as a "keep everyone happy" move, and that's a fair thought, but unless more comes out about this than what we know already, there doesn't seem to be anything out of the ordinary about holding firm on drafting a guy in his projected spot when one person below you feels otherise.
Skill Over Size
As the draft progressed Friday and Saturday, the Leafs kept trading down. Why? Sure, they wanted more picks. But the players they had listed high hadn't been taken by others. Hunter had Bracco, an American forward, listed as the 22nd best prospect in the draft. And the Leafs had the 24th pick. But they traded for two lower picks and still managed to get Bracco at 61.
"We had guys we rated higher who were still available and they were probably available because they were undersized," said team president Brendan Shanahan. "We're not asking them to play in the NHL next year or the year after that. Some of them will grow, some of them won't. Some of them will find a way. It's skill that wins."
"Skilled players have a better chance to get things done on the ice," Hunter said. "You get a big, strong guy, it's hard to develop skill. Guys that do have skill, you can develop them physically. They can get stronger. That's how I look at it. [Toronto Star, 2015]
"It's nice to have a skilled guy that's big and strong, but they're harder to find," he said. "If you can do both, I think you have something special. We had doubters on Pat Kane. If you guys would've seen him in minor midget, he was a little mouse, and now he's bloomed into one of the best players in the National Hockey League.
"You really have to evaluate where they're going to go and how much they're driven and how good their skills are. That's the responsibility of the scouting staff of the Toronto Maple Leafs, and hopefully I can help that part out." [Canadian Press, 2014]
There are all sorts of quotes that put Hunter on the side of skill over size, and that has been reflected, for the most part, in how the London Knights were built in the leadup to his hiring and have been since.
Having that in mind, it's easy to go back to the draft record posted above and re-affirm the thought that the drafts of 2016 and 2017 might have had some emphasis on other needs stressed to him by the coaching staff and upper management.
Losing someone who buys into the idea that you should be getting the most talented players with the highest upsides more often than not is a shame, because its still rare to find people who truly care about that, but it seems reasonably same to assume that Dubas shares that mindset and that he doesn't need someone to remind him that exists. It'll be important that whoever Shanahan/Dubas hire as a replacement for Hunter believes in that philosophy and can keep the scouting group focused on that, but you have to think that the size/skill war is more likely to have gotten a boost from Lamoriello's departure than a blow from Hunter's.
Where Does This Put Him?
To summarize all of this, here's what we know about Mark Hunter's time in Toronto:
His draft record is decent, albeit very top heavy. There seems to be sort of organization direction after 2015 to skip high-end talent and go for safer, more fill-in players: gauging how much of that is on Hunter and how much of that is on the rest of front office is murky, and might be impacting his ability to draft his preferred talents. Alas, we don't know, and we might not ever.
Hunter hired a significant percentage of the current scouting staff. That group, at least for now all remains here, but he should get credit for assembling them nonetheless.
He did put his foot down on a high-stakes pick in 2015 to select Mitch Marner. The magnitude of that decision, given his familiarity with the puck, the fact that the pick was a fair spot to get Marner, the people he had to push back on, and the fallbacks available is up for debate, but most are happy with the player that Toronto ended up with.
Hunter leads his department by example by being tireless in his efforts to see as many of these players as possible himself, and by being tireless in his networking with others around the hockey world.
Hunter, for the most part, values the modern philosophy of focusing scouting on player talent rather than player mould.
My feelings coming out of that are multi-pronged.
On one hand, I feel that the outrage towards his departure is more than a little dramatic. Based on what we know about Hunter, there isn't a distinct, silver-bullet asset in his back pocket that makes me think that he is absolutely irreplaceable. He doesn't have a slam-dunk, defining moment that leaves you thinking that he's the only one capable of pulling it off. (To avoid an argument, this largely rings true of Dubas as well).
Hunter's pedigree, most likely, comes from familiarity. He's an old-school type of hockey guy who resonates with prior generations of hockey fans and media, while still having an understanding of the modern game. That buys him a lot of credit. Being able to stand in front of a microphone on draft day and constantly being here, there, and everywhere for people to both see and talk to builds a level of comfort with the idea of him being a potentially successful executive. It's incredibly understandable.
I do think that the yelling on the other side – that this is an addition by subtraction move, is also excessive. Like many situations, the answer here is somewhere in the middle: his positive impact is overstated by his backers, but certainly still exists in other forms. Brendan Shanahan said something interesting yesterday that I think sums it up aptly:
"I would say to Toronto Maple Leaf fans that I've now had four years to see how people work every day, and see how decisions are made or not made, and that — as I said before — naming Kyle was the best decision for the Toronto Maple Leafs going forward," said Shanahan. "I certainly recognize when you are building an organization, or a team, that there are different stages of development.
"We had the right people involved for the beginning stages. I'm comfortable with Kyle taking it over from here." [via Toronto Star]
Like Lamoriello before him, I think that's an apt way of looking at Hunter's contributions. Hunter was a great bridge between the old way of thinking and the new way of thinking for the organization over the past few years, and his experience as a GM and Owner in London made it easier for him to establish a department that he was comfortable with from the beginning, while still managing those who have been around for as long as they were.
That's very valuable. The staff that will remain with the team are valuable. His insights were likely valuable, though the degree to which that's true is something best known internally, rather than externally.
With all that in mind, I don't think the Leafs lost much for the long haul this week. They gained a lot by adding Hunter when they did, but they've got the modern mindsets, they've cleared some of the old-school interference that a guy like Hunter helped to bridge, and the scouting network he was brought into to build is up, running, and full of filled pages in their books for the upcoming draft and beyond.
It would have been great to keep him if he wanted to remain in his role, but clearly, he has bigger ambitions, and that's been known since the moment they got him:
Mark Hunter wants to be an NHL general manager. That's why he took the job as director of player personnel with the Maple Leafs. Hunter, by the way, will report to either GM Dave Nonis or president Brendan Shanahan, not to assistant GM Kyle Dubas, hired before him. [Toronto Sun, October 25th 2014]
With the needs provided Hunter's core assets fulfilled, it's likely best for both sides that they chose to move forward now.