Yesterday morning, the Toronto Maple Leafs announced the signing of four entry-level contracts. Two of them went to prior draft picks approaching a referendum on their rights being held (Pierre Engvall and Jesper Lindgren), and two went to "free wallets" out of Europe in Swedish centre Par Lindholm and Russian defenceman Igor Ozhiganov.
Ozhiganov's contract has been the most-gossipped of the bunch for the longest time, with rumours of him signing with Toronto coming out as early as August 2017. At the time, I described him as a good potential addition to the organization, since free, capable right-handed defencemen don't particularly grow on trees.
Now, I'm not so sure.
A Down Year

Because Ozhiganov was originally rumoured to sign with the team last summer, those who did the research on him know him mostly for his statistics in 2016/17. That year was a breakout year for him, where he posted career highs in goals, assists, points, plus-minus, penalty minutes, shooting and shooting percentage. He shot at a higher volume than he ever has, and he blocked shots more frequently as well. It was a solid showing that put his Age 24 numbers in a similar conversation to current Leafs defenceman Nikita Zaitsev's while playing on the very same KHL team.
Cause for optimism, right? I mean, a spike in production at 24 years old after a high-minute teammate moves out of your way makes sense, right? What should set off a flag, though, was where his points are coming from. Ozhiganov's powerplay ice time in 2016/17 gave him six of his eight goals, and seven of his 14 assists. That's 60% of his points coming from special teams, in a year where he put up a high shooting percentage to boot.
While he's not being branded as an offensive defenceman, you expect most NHL-quality talents to produce in lower leagues, and if he requires an asterisk to get to "solid", that's not a great sign.
This year, Ozhiganov fell out of favour after CSKA made a variety of additions to their blue line, including former Leafs defenceman Alexey Marchenko, Lightning/Canadiens blueliner Nikita Nesterov, global journeyman Mat Robinson, and once-upon-a-time Rangers draft pick Mikhail Pashnin.
That's four new players, and three of them would end up pushing well ahead of Ozhiganov in the lineup, all averaging at least four and a half more minutes of ice time per game. Ozhiganov's powerplay time dwindled, he started becoming less involved in scoring situations, and ended the season with four-year-lows in goals, assists, points, penalty minutes, shots on goal, shooting percentage, ice time, hits, and blocked shots (though his blocked shot frequency remained up). Come playoff time, CSKA barely used Ozhiganov at all, dressing him in just five games and deploying him for less than ten minutes a night, though an injury was reported to be a factor there.
Some chalk this up to the team knowing that he was NHL-bound, but I don't buy that. For one, there were rumours all the way to the end that he might pivot and stay in the KHL, so one would assume that the team was making an effort to keep him. Secondly, we saw how CSKA managed Zaitsev's last year with the team, and it couldn't have been further from the opposite: his minutes went up, his powerplay usage continued, and he was their clear #1 in their similar run to the Gagarin Cup Finals in 2016.
A low shooting percentage and a lack of powerplay time likely means that this would be a down year for Ozhiganov were he to continue his KHL career, but at the same time, it should feel pretty obvious now that the year prior was an up year as well. The real him lies somewhere in the middle, and if we're being honest, the middle doesn't scream high-odds NHLer.
Weak Comparables
Now that the Maple Leafs have signed two prime-aged Russian defencemen, I was curious to see how common it is for defensemen to come over from the KHL to begin their NHL careers in this era. Surely, Toronto can't be the only team doing this, right?
The answer is no, they aren't, but they're the only ones to do it lately, that there haven't been many of them in the advanced stat era, and that no one has truly found a hit. The list of defencemen who follow this pathway looks as such:
Nikita Zaitsev, Toronto, NHL Debut Year at Age 25
Alexei Emelin, Montreal / Nashville, NHL Debut Year at Age 25
Nikita Nikitin, St. Louis / Columbus / Edmonton, NHL Debut Year at Age 24
Anton Belov, Edmonton, NHL Debut Year at Age 27
Evgeny Medvedev, Philadelphia, NHL Debut Year at Age 33
Viktor Antipin, Buffalo, NHL Debut Year at Age 25
Here's how they all looked two years before their NHL debut:

That's not a super great look, save for Medvedev (at this point a well-established talent, much older than the others), Ozhiganov, and Zaitsev. No one else really showed themselves to have serious NHL potential at this point. It may be encouraging that the two Leafs are the only ones who did so, but it's worth remembering that those two were also connected to the team a year prior – in other words, this was the season that got them noticed by the club.

Switching to a year out, you start to see the sudden breakouts, often influenced by shooting percentage, or, not shown, powerplay production. Zaitsev holds steady, which was part of what made his signing encouraging when it happened, but Ozhiganov has a year that looks closer to the two-years-out players than he does to the one-year-away group.
This does, to an extent, make me wonder how much of this group managed to cash in on "lucky" years to get themselves into the NHL, especially when you consider what they all became afterwards. Emelin is likely the biggest brand name here but has yet to crack 20 points in a season or positive team-relative possession numbers, despite being in the NHL for seven years now. Nikitin had one stellar year in Columbus but was the benefactor of big minutes on a bad team, which made his underlying numbers look good, made him look dependable, and allowed for powerplay time. Belov looked okay with the Oilers but used the year away from the KHL to head back and cash in with SKA St. Petersburg, at which point it took three years for him to re-approach his pre-jump season. Medvedev looked surprisingly good for Philadelphia, especially given his age, but went back after a year, with a DUI charge likely playing a role.
Lastly, you get Zaitsev, who was the only guy here besides Medvedev who looked encouraging in both years, seemed pretty good as an NHLer in his first year, and struggled this year. I'm in a complicated spot with him that we'll talk about in another post, but we'll call him a moderate success with baited breath for now.
With all of this put together, that's not exactly a greatest hits list for Ozhiganov to compete with, and we already have a good reason to suspect he also won over scouts during a juiced PDO year. That's not encouraging; the bar here has to likely go from "can be an impact player" to "an NHLer, maybe?".
Square Peg Potential
No one who works in management for a high-level hockey team will tell you this, but in their heads, they know that the best thing in the world to have at your disposal is a useful player that fits the stereotypes of your Head Coach, and the worst thing to have in the world to have at your disposal is a non-useful player that fits the stereotypes of your Head Coach.
Mike Babcock has, for much of his career, been accused of having a blind spot when it comes to players that fit stylistic niches of his; especially when it comes to players who play, for a lack of better word, "simpler" games. Watching a lot of the creativity in Zaitsev's game go away over time to appease what is requested of him is a noteworthy example of this, as is the over-reliance on "safe", shutdown-type players like Leo Komarov, Roman Polak, and Ron Hainsey.
The good news for Leafs fans is that Komarov and Polak are both unrestricted free agents, unlikely to get new deals with the team. That should mitigate some of Toronto's usage issues from last season, particularly with regards to matchups.
The issue here, though, is that Ozhniganov is a Babcock-type player, and is already being described as a Polak replacement. Both are 6'2 defencemen (height is a very welcome asset to Babcock), who are right-handed shots (handedness matters a lot to him), and is eye tested to be physical, a shot blocker, and a penalty killer, which all sounds like Christmas in May to the Head Coach.
The insistence to dress a player like Polak for those types of traits last year over options like Connor Carrick (a little less gritty, a lot more mobile, but several inches shorter and not a known penalty killer), or calling up Justin Holl (similar size, much better mobility, but not known to be overly physical), or, well, many of the team's left-handed options likely cost Toronto some standings points throughout the season, as did many of their other decisions. Ozhiganov likely won't get the same amount of immediate clout with Babcock due to it being his first year, both with him and in the league, but his big frame and "heavy game" are likely to be effective tiebreakers for games, minutes, and shifts.
That's great if Ozhiganov plays quality hockey and earns his time – if its what separates him from the pack while deserving to gain separation, then I'm all for it. But, given what we see above, it seems more likely that Toronto could fall into a trap where he isn't quite good enough to stick with the team, but stays because of a perceived need for a player of his style.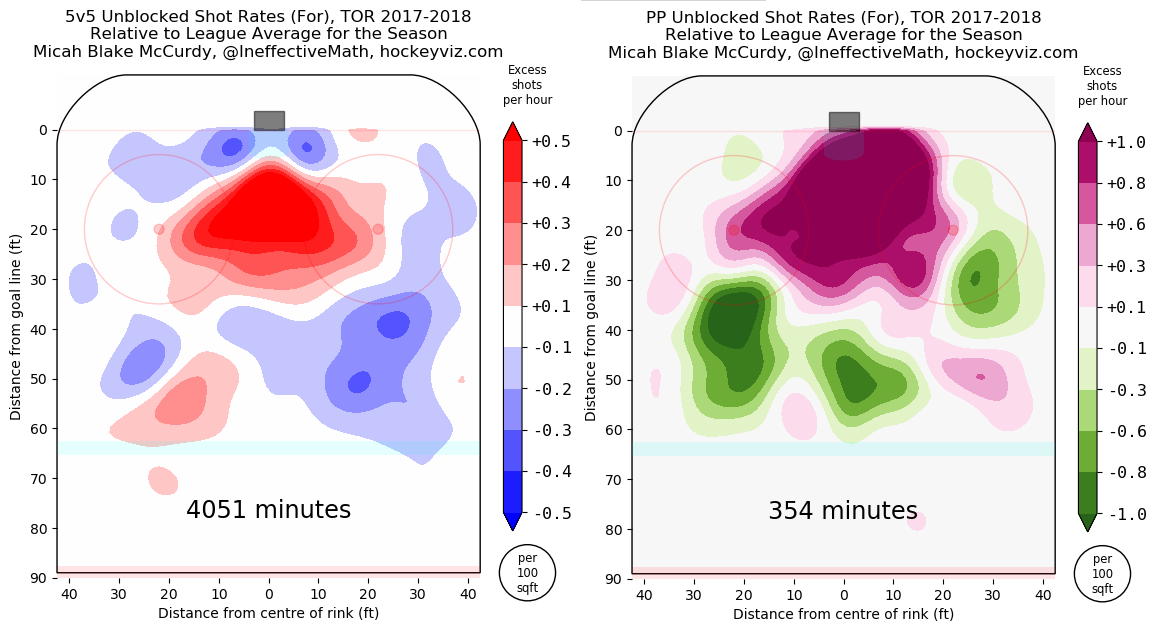 As an aside, if the powerplay really is Ozhiganov's top offensive asset – likely so given his booming slapshot, I really wouldn't expect him to score too many points. Toronto plays a four-forward powerplay on both units, and it's unlikely that he'd be seen as a top-two option on the team to play in that situation. Not to mention, their systems seem to shy away from using the point in the offensive zone, both when they have man advantages, and at 5-on-5 – changing that for a guy who has peaked at 8 goals in a season in the KHL seems unlikely.
Silver Linings
I think the thing that has me most at ease about the signing is this quote from Ozhiganov's agent Dan Milstein, courtesy of Jonas Siegel's piece on Ozhiganov in The Athletic:
"Of course, he wants to play in the NHL, but like everybody else he's going to come here and he's going have to earn a spot," said Milstein, who also represents Zaitsev. "Nothing is given. In the NHL, especially the Toronto Maple Leafs — Mike Babcock's team — nothing is given, it's earned. And so, he's prepared to earn a spot on the team."
At the very least, Ozhiganov is coming in with no expectation and no promises, which makes the above section involving forcing him more of a possibility than an inevitability. Whether or not that means he'd be willing to stick out significant time with the Marlies if it came to that remains to be seen (Milstein clients haven't particularly strangers to trade requests and league-hopping to further their careers before: for reference, he also represents recently-became-former Leafs players Marchenko, Nikita Soshnikov, and Rinat Valiev, among other notables around the world), but knowing it won't be handed to him is at least a good first step.
As well, free wallets are still free wallets, and with right-shot defencemen being the most overvalued currency in the sport right now, getting one without having to give up an asset or a significant dollar figure is always good. If they can shape him into a quality NHLer, or even get a year out of him as a good AHLer that allows them to sell a longshot prospect semi-high, there could be some gain here.
But this is a different conversation than last year. A bit of that is on from a willingness to force ourselves (myself included) into excitement, looking at a promising number spike around the time that word got out about his potential signing and using that as an end-all-beat-all projection of his talents. A bit comes from having some tangible evidence that the optimism was a bit short-sighted, and a bit admittedly comes from projected frustration with player usage, that he looks like the type to fall into.
Ultimately, there's a decent shot that Toronto gets a player that they can use in their system here, but it's just as, if not more likely, that Ozhiganov becomes a guy that "gets in the way". It's a repairable, short-term issue if that happens, and "what if he interferes" should never be used as an excuse to not grow your prospect pool, but for now, I'm setting the gear on the hype train to park, until we see something that gives reason to be excited rather than concerned again.