Last night, the Toronto Maple Leafs defeated the Florida Panthers and set a franchise record, winning their 46th game of the season. Awesome stuff, right? Yes, but it's also a little complicated. Firstly, as every person who doesn't like the Leafs very much will tell you, Toronto is late to the party:
| | | | | | |
| --- | --- | --- | --- | --- | --- |
| Team | First 46W | Team | First 46W | Team | First 46W |
| Anaheim | 2006/07 | Detroit | 1992/93 | Ottawa | 2000/01 |
| Arizona | 2009/10 | Edmonton | 1981/82 | Philadelphia | 1973/74 |
| Boston | 1970/71 | Florida | 2015/16 | Pittsburgh | 2006/07 |
| Buffalo | 1974/75 | Los Angeles | 1990/91 | San Jose | 2006/07 |
| Calgary | 1986/87 | Minnesota | 2006/07 | St. Louis | 1990/91 |
| Carolina | 2005/06 | Montreal | 1968/69 | Tampa Bay | 2003/04 |
| Chicago | 1970/71 | Nashville | 2005/06 | Vancouver | 1992/93 |
| Colorado | 1995/96 | New Jersey | 1993/94 | Vegas | 2017/18 |
| Columbus | 2016/17 | NY Islanders | 1976/77 | Washington | 1983/84 |
| Dallas | 1998/99 | NY Rangers | 1970/71 | Winnipeg | 2017/18 |
Yes, all 31 teams (32, if you consider the Quebec Nordiques to be separate from the Colorado Avalanche) have already reached the plateau we consider historic for Toronto, in many cases long before the Leafs did. Two of these came right down to the wire; the Leafs hit it on Wednesday while the Jets hit it on Sunday, and the Golden Knights got there on March 28th.
But, when you're "close enough"-ing two of the league's youngest franchise as a founding club, then you're late. No way of getting around that.
Keeping it internal, though. Best season in Leafs history by virtue of wins. Frederik Andersen is two victories away from finally pushing Andrew Raycroft out of the co-record for wins by a goaltender, an "honour" he got by playing the Leafs out of a playoff spot, rather than in. Times are great, right?
Times are great. But, maybe not the greatest.
Schedule Conflicts
One of the things that "well, they had 100 years to do it, why now?" misses is that, well, the years haven't always been the same length. Seasons were 50 games or shorter in Toronto's first 29 seasons, 75 or shorter in their first 51, and didn't get beyond 80 games until 1992/93. Adjusting for that is simple: we can just sort the list by Wins Per 82 games.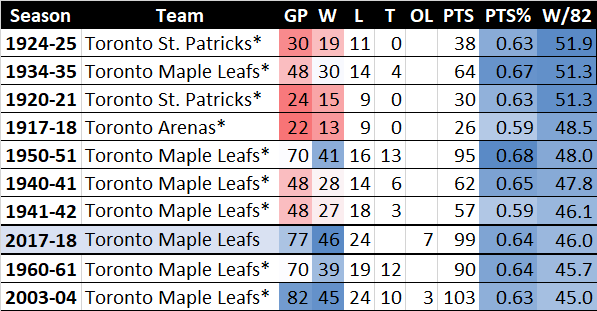 This year's season isn't pro-rated here, but hey, that's still pretty good! Eighth all time, and if Toronto continues their pace of winning, they'll take three of the next five and get to 4th all time. Either way, it's their best effort in almost 70 years, which is about as impressive as best in 100, right?
Another caveat.
That Pesky Shootout
Perhaps the biggest inflating impact on the standings today is the fact that every game must end with a winner and loser, thanks to 2005/06's introduction of the shootout. Ties are a thing of the past, and because of that, teams have been able to grease their stats to the point where the once benchmark "0.500" points percentage is basically useless.
Unlike last year, where the Leafs couldn't win in the shootout to save their lives, Toronto has a 7-2 record this year. This means, if only tracking Regulation and Overtime Wins (ROW), the top of the charts looks a little something like this..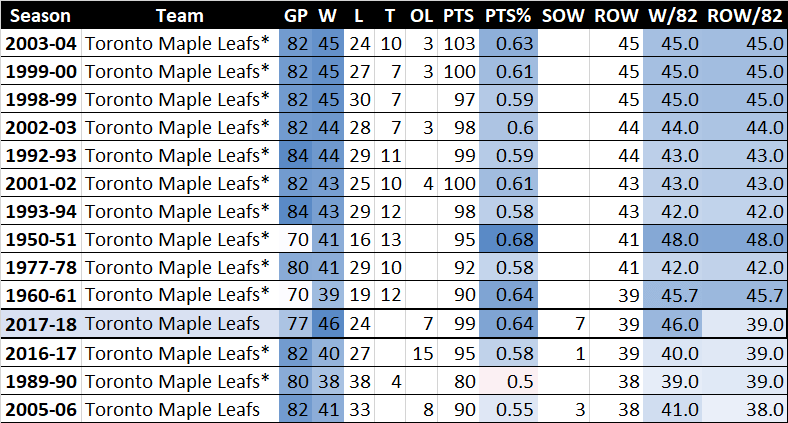 Not just not at the top, not just not Top 10, but… still not ahead of last year? Even if Toronto were to win out the rest of the season without a single game going to the shootout, they wouldn't be able to take the ROW record, instead landing in a tie for fourth.
It gets worse if you adjust for schedule: Many of the pre-expansion Leafs teams slide ahead, putting this year's team in 36th with a chance to tie for 16th in ROW/82 if all goes well. This is, as well, ignoring the fact that overtime didn't exist between 1943 and 1984, meaning that almost all of the original six teams didn't get a serious chance at racking up wins (the 21 most-tied teams in Leafs history fit in this no-overtime pocket).
Does It Matter?
Absolutely not. Little records like this are good for trivia, and not much else. For the team, they're continuing to focus on the next game in hand, instead of how they compare to a hockey team that wore a similar uniform decades ago. For the fans, everyone is just excited to watch the first thoroughly great Leafs team of the Salary Cap era.
If there is something to take out of doing these adjustments, it wouldn't be that this team isn't actually that great, but more a bit of relief that the team's history isn't that bad. Most of the teams that got to 46 wins did so post-overtime (and especially post-shootout, which accounts for just under half of the league), and there were some truly great Leafs teams in the past that didn't have the schedule or rules to rack up points in the same way; this mostly says that Toronto's good years came when it was harder to set permanent records, and that they were bad in the easy period. As awesome as this year's team is, there's some comfort it knowing that the teams that previous generations wax poetic about, that we want the Leafs to reach, are still a couple steps up the ladder.
Besides, this will all be irrelevant after Toronto wins the Presdients Trophy next year.