The Leafs may have struggled defensively at the start of the year, but the team is rolling now and their ability to keep the puck out of the net has been a big part of that. There's still hope that the team can find a way to add a superstar defender for the long haul, but for now, things are good, and a lot of it can be traced back to the addition of one mobile, in-your-face, blossoming defenceman who wasn't around at the beginning of the year, but has really helped the team become a force to be reckoned with.
"Yeah, I agree, Travis Dermott has been inc-"
NO! I mean, yes. But that's not who I'm referring to. I, of course, am referring to "Playoff Polak", "Late Season Roman", or whichever nickname you want to give him.
Playoff Polak?
"Playoff Polak" was a term that started to get tossed around the Leafs fanbase last year, as the Maple Leafs made their push to the postseason and complaints about the pairing of Roman Polak and Matt Hunwick started to taper. Whether or not they were truly moving the needle, and which one of the two was making the biggest strides was a subject of debate, but there was some truth to the idea that, at least visually, Polak looked a little more in-place with the rest of the team.
As the season progressed was joining rushes more, taking more shots, and getting caught a little less. The pairing even started to tread water as far as underlying numbers went, leading people to believe that there was some hope for him yet.
https://www.youtube.com/watch?v=Qa_eE-svsLQ
As we all know, though, Polak's actual playoffs came to an end just four and a half periods after it started, as Brooks Orpik took him out with a controversial hit that broke his leg. It was unfortunate stuff to see; whether or not you want a player in or out of a team's lineup, you'd like the verdict to come via a well-thought decision, rather than a person playing hockey for your entertainment suffering a gruesome, painful injury. As well, this came in the midst a hot streak that made even his critics relent for a bit; whether he was helping the team succeed was still up for debate, but he certainly wasn't looking like a detriment, and he was definitely looking like a lot of fun to watch.
Interestingly, though, that injury may have done more to boost his reputation than anything else. It created a "what if" for the rest of the series, and the fact that polarizing-on-the-opposite-side defenceman Martin Marincin was a factor on a few game-defining goals against over the next week or so led to talk that Toronto would have gone deeper in the playoffs without the injury, and that he may have even been Toronto's best defenceman in that series. That such a take has matured overtime is interesting, given that he only played about half an hour of hockey and was outshot and out-chanced more than just about every other Toronto defenceman in the series, but it goes to show how much people appreciated his efforts and the improvement up to that point.
Because of that, the moniker has carried. Presumably only so in Toronto; ask a Sharks fan how they felt about his run with them to the Stanley Cup Finals, or a Blues fan how they felt about him in their three appearances between 2012 and 2014 and they'd be much less glowing. Now, we're starting to see it again, because of his recent play.
When Did He Return This Year?
To get a firm grip on the revival of Playoff Polak, I asked the Twitter masses for their opinion on when they first noticed him. Everyone agreed: It was in January. Or in February. Or in March. Or when he got paired with Travis Dermott. Or when he got paired with Jake Gardiner. Or when Patrick Marleau gave his speech. Or at the All-Star Break.
Okay, let's be honest here. There is absolutely no consensus on when it happened, only on the fact that it did. Which seems to be a lot like last year; no one can really explain what happened, or when it happened, they're just aware that things aren't as bad now, and are filling it in with an explanation that makes sense to them.
The good news? Numbers exist, and they should be able to help us out here. Even if Polak isn't a fancystat-friendly defenceman, improved performance still should show up on a chart or a spreadsheet, so let's pull it all open!
The Deception
Our first look will be at his defensive play with his three most common partners: Andreas Borgman, Travis Dermott, and Jake Gardiner. Polak has also played with Ron Hainsey and Morgan Rielly for about 40 minutes at even strength this year, but I'd imagine that a lot of that comes from seconds following a penalty kill, and dying-moment lead protection, so we'll avoid those knowing that they'll reflect in an exaggeratedly poor way.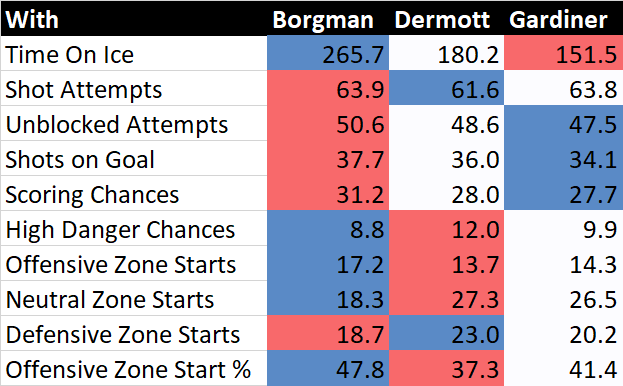 It's…. not that significant of a difference. While most of Polak's defensive numbers have improved since being pulled away from Andreas Borgman (who has assimilated into the Marlies death machine), we're talking about, at most, a 10% benefit in a lot of these metrics while playing with Gardiner and/or Dermott. Interestingly, High Danger Scoring Chances have gone up; fervent Polak supporters before this "play spike" cited the rarely-used statistic as proof that he clears the crease, though there isn't a ton of evidence that the stat, which tracks shot attempts in the crease area, is particularly repeatable or reflective of great defensive play. You can see the huge swing in Polak's ability to prevent these chances compared to the rest of the team here: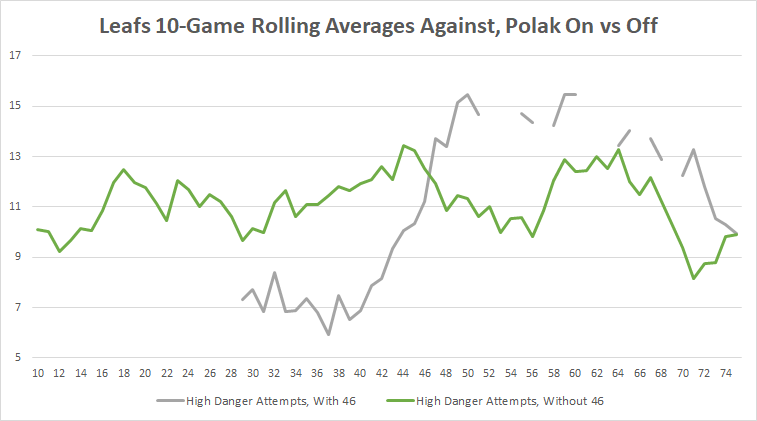 It's a pretty crazy up rise and fall for Polak, significantly different from the relative consistency of his regular shot attempts against, which you can see in the below graph: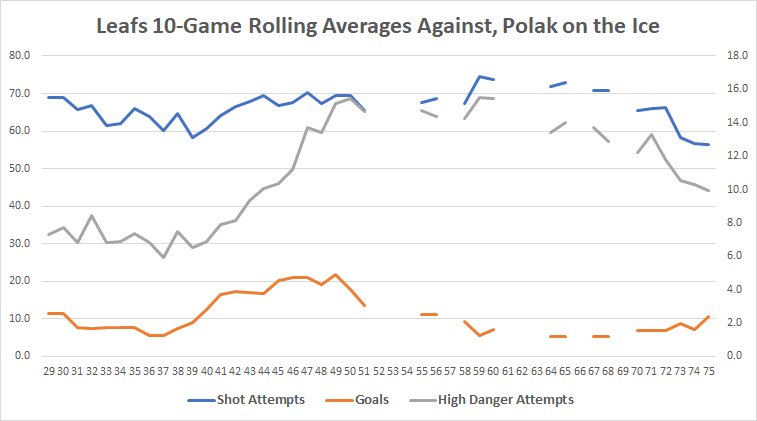 If there's a takeaway from the high-danger chances wave here, it's that you shouldn't blindly trust a stat that isn't commonly used, just because it presently likes a player that you like. High Danger Chances are an objective measurement of a small part of the ice; shrinking the game to a few square feet is missing the forest for the trees, and not to mention, prone to creating small samples that have a lot of spill-over questions (like, how significantly could one or two rebound flurries impact someone's numbers?).
But also…. uhh, where did the goals go? Is this where we find Playoff Polak, on the orange line at the bottom? Polak's rolling average for goals against per hour drops off a cliff at Game 50 of the season, which gives us a starting point of the 3-2 overtime loss against Chicago on January 24th; an uneventful game for him where he skated away with about 20 minutes of ice time, a shot on goal, a one-below-even Corsi, a couple hits, and a blocked shot.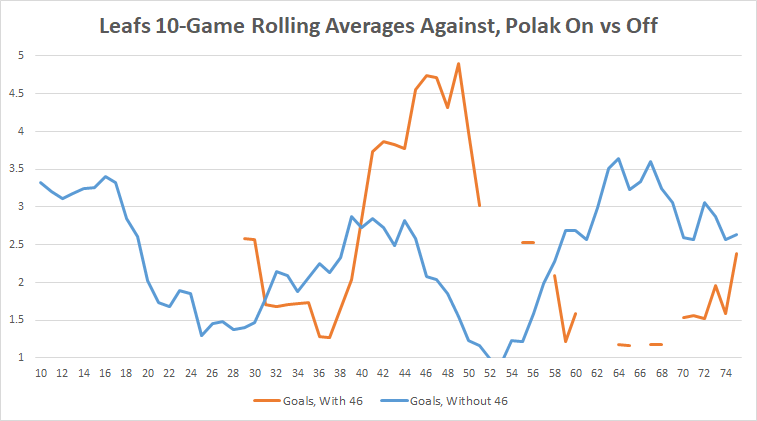 At this point, Toronto's goals against totals were already in the midst of a tumble, but Polak's hadn't quite caught up. Since then, he's practically over-corrected, giving up significantly fewer goals than anyone else while he's on the ice.
As we've seen in the tables and graphs above, though, there hasn't been much of a difference in shot volume against. He's been in the defensive zone more than he used to be, and there are more shots in the most dangerous parts of the slot than before. Nothing in the data implies that he should be giving up significantly fewer goals than he was before, but here we are. Just look at what happens when you add goals to the partner comparison table:

A third of the goals against with Dermott and Gardiner. An 80% decrease in danger-area goals against. a 90% decrease in scoring chance goals against with Dermott. It's unbelievable. inexplicable even if you believe that Dermott and Gardiner are way better than Borgman, that Polak has become prime Drew Doughty, and… hey, wait a second, what were those save percentages?
Pipe Dreams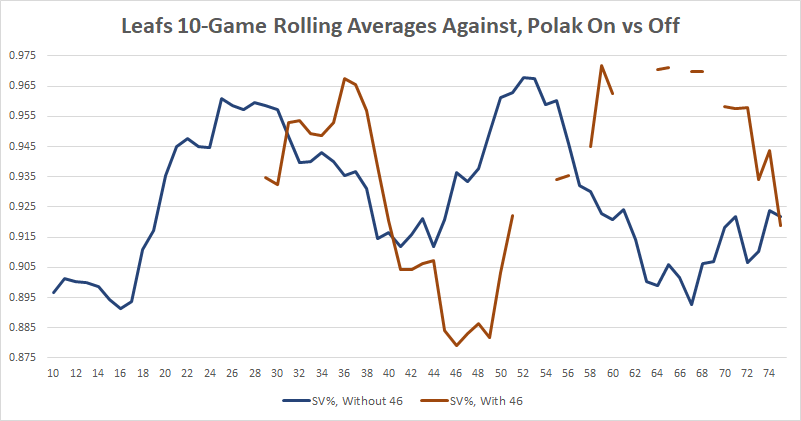 Within here, we find our answer as to why Polak's results have gone from awful to great. Polak has a brief spike in his averages in mid-late December (right around the time of the infamous "He's not fun for some to watch, but he's fun for the coach to watch" Babcock quip), completely nosedives after that, and begins his rise in mid-January. Andersen and McElhinney's percentages with him on the ice continue to rise from that point on; between the aforementioned Chicago game in January and Toronto's 4-0 win on March 17th, Polak's on-ice save percentage was an absurd 0.972 over 15 games.
What does that mean? Well, less of these:
https://twitter.com/JeffVeillette/status/951258317824897025
Some might argue that Polak has contributed to the spike in team save percentage, but players who have consistently maintained an above-team-average on-ice save percentage are exceedingly rare, and typically don't do it to the extremity of making their goaltenders invincible over two-month stretches.
Intuitively, the idea that a player might be able to give a goaltender better looks at shots, or weaker shots to face does make some sense, but that doesn't mesh with what we have above (a player who is giving up about as many shots as he did before, with more of them coming from danger areas), or what we know about his style of play (even right now, him acting as an accidental screen to Andersen / McElhinney because of his slot-front presence is pretty common). This type of luck is, of course, a two-way street; it is likely that an equally-sized amount of the fanbase, maybe even the same people, to the crowd praising his vast improvement now gave him a little bit more heck than he deserved when his netminders were, to an extent, letting him down earlier in the season.
This leads me to my concluding thought.
We See What We Want To See
Roman Polak will end up being one of the most-discussed Maple Leafs of this era, perhaps disproportionately so. A third-pairing, number-six defenceman to constantly be under the microscope the way that he is both a testament to the hotbed that is this market and the uniqueness of Polak as a player.
Genuinely, I think that the majority of the fanbase would like to see Polak succeed, and be everything that his biggest fans claim him to be. He's a player that has always given his all for this team, and his play style is one that takes everyone back to a previous generation of hockey; one that's tougher, more aggressive, one with a little less structure and a lot more jolts of the unbelievable. He's well-liked in the locker room, and he seems to really enjoy being here. His comeback story after last year's injury is, quite frankly, remarkable.
To his credit, he has accomplished more this season than I could have ever expected. He's still not the most mobile player in the league by any means, but he is visibly agiler than he was at the start of the year, where he looked like he had no business playing professional hockey.
With the confidence in his legs has come a return to having some confidence with the puck, and most importantly, more discipline. In Polak's first 25 games, he took 16 minor penalties, including a 10-in-10 stretch that had many reaching for the panic button. Since then, only taken one penalty that's resulted in a Penalty Kill in his last 23 games (to go with two coincidental minors that took out Evgeni Malkin and Alexander Radulov, which I'd consider net gains), which represents him closing the gap in speed that he lost from the injury and him picking his spots better. While I don't think he moves the needle as much as claimed on the Penalty Kill, not being constantly on it because of him definitely helps the team.
This leads us to combine everything we see. We see a player that's clearly looking more comfortable on the ice. We see a lot less of him shaking his head on the way to the penalty box because he isn't taking penalties. We see a lot less of him looking to the sky after a threatening shot because the puck is still in play, there's nothing to be upset about, and still work to do. We see him with partners who can help get the puck back in the forwards' hands, so there are fewer dumps and icings to deal with. It also helps that a few other players on the blue line (Ron Hainsey and Nikita Zaitsev in particular) have struggled of late, meaning that the more inconsequential mistakes by him (or Gardiner, Dermott, Rielly, and even Carrick) have been easy to brush aside.
We piece this all together, and think "he's gotten a lot better". It only makes sense: Better eye test, fewer penalties, fewer goals against, and we have Playoff Polak, here to stay.
It's a very "yes and no" thing, though. Yes, I do believe that he's gotten better, and I hope it continues. To what degree is the question, though; relying on goalies to stop 97% of the pucks while he's on the ice is a tall task, and at some point, that dam will start to break a bit, and his play will likely come into question again. Whether the masses over-correct once again and go back into "waste of space" mode will be interesting to see, and will likely reflect on how the goals against come.
To assume that Polak's improvements have blossomed him into a brand new player is setting one's self up for disappointment. To the team's credit, I don't believe that they're doing that internally; the fact that they appeared to make pushes for a couple of different defencemen at the trade deadline, and haven't been scared to pull him out of the rotation during his supposed peak seems to suggest that they're looking at his play rationally.
In summation? He hasn't improved as much as our eyes see. Honestly, the improvement might be significantly less than what the eye test shows. But he's definitely looking more like a run-of-the-mill, useful option, third pairing defenceman than he did several months ago, and when you're running hot, you're running hot, so as long as we don't demand this as a new standard, we may as well enjoy it a little. Playoff Polak may be a myth, but what they have now is still a welcome improvement nonetheless.