If you've been keeping tabs on Hockey Media over the past few days, be it broadcast, podcast, written, social, or any potential incarnation, you've probably only been left with one feeling of certainty as a result of what you've consumed.
That, of course, is that no one knows what the hell the Hart Trophy is intended for. The debates have raged across any type of wave for days upon days now, but we're not close to a real solution.
The most polarizing player, the one forming the conversation, just so happens to be last year's winner, Edmonton Oilers centre Connor McDavid. The 21-year-old, who has lived up to the hype as a potential contender in not just the "best today", but maybe one day the "best ever" conversation, started 2017/18 on a bit of a slow pace.
Well, slow for Connor McDavid, anyway. Heading into February, the youngster had 54 points in 49 games, a pace that is still in the Top 50 of all time for his age, even without adjusting for era. But a league-wide scoring spike, and the fact that there are more players in this league than just the 21-year-olds, meant that he had some catching up to do. To his credit, he's done that, scoring 19 goals and 16 assists in 23 games since February 1st, vaulting himself to second in the Art Ross Trophy race.
On the other hand, his Oilers haven't had the same jump. In fact, their season looks more like a freefall, as a combination of poor roster decisions catching up to them, inconsistent goaltending, and putrid special teams have led to the Oilers going from division champions to the third-worst record in the Western Conference, sitting 17 points back of Los Angeles for the final wildcard spot.
This has led to much debate over whether what McDavid is doing is particularly "Valuable", which is what the V stands for in MVP. After all, how much value can a generational season have if you're not going to make the playoffs? Honestly speaking, I'm not big on ruling a player out using that train of thought. But let's take this step by step, with McDavid's season as the case study (but not necessarily the core argument).
Does He Have Individual Merit?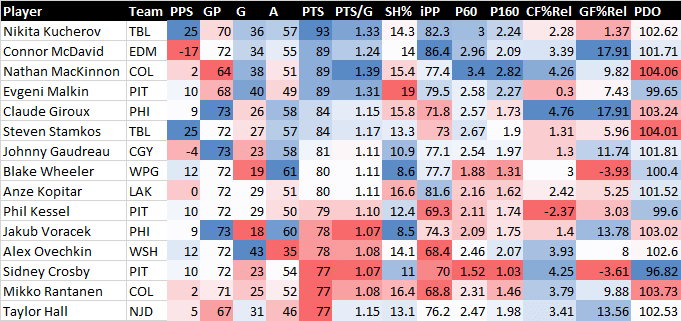 Since McDavid is our case study, we should probably start with figuring out whether he's even good enough to care about this year. With that in mind, the above are the Top 15 scorers in the Art Ross race this year. You might scoff at this, given the neglection of defencemen by using a scoring race, but this has been one of the most boring years for elite defencemen to the point where most aren't even excitable enough to start a Norris argument yet, let alone lump a guy in for the Hart. For what it's worth, I remain a "Karlsson should've won in 2016" truther; this is solely a 2017/18 standpoint, and if we're going to use forwards, there's no chance a guy outside of the Top 15 is going to be in MVP talks.
To explain the more complicated looking numbers on that table:
PPS is Points (from a) Playoff Spot. Again, I don't personally think this matters, but since it's part of the topic, I feel we should talk about where everyone in the hunt stands, not just the one contention point.
iPP is Individual Point Percentage. What this does is track how many goals scored while the player is on the ice involve that player scoring a point. So, if your team scores 10 goals while Gord Hockey is on the ice, and Gord gets 3 goals and 5 assists on those goals, his iPP is 80%.
P60 and P160 are Points Per Hour and Primary Points Per Hour. The hour part is by and large irrelevant; just a standard that people use when trying to divide production by time, rather than by games played, where deployment gets in the way. These numbers are at 5-on-5, to avoid powerplays or penalty kills skewing the totals.
CF%Rel is team-relative Corsi For Percentage. Like P60, this is commonplace in most analytics-driven hockey content. Corsi is another way to say shots attempted (on goal, missed, or blocked). What we're basically looking for here is who helps their team outshoot the other team best in comparison to their teammates, as shots leads to goals which leads to wins.
GF%Rel is team-relative Goals For Percentage. Same idea as Corsi Rel, but with just the pucks that go into the net. This doesn't get used much, because it's just a cleaner-yet-more-complicated way of doing Plus/Minus, and we have better ways to predict hockey games. But since we're trying to show a value-add in the present, rather than trying to predict how these players will do in the future, it's somewhat relevant.
PDO is a combination of the team's shooting percentage and save percentage when they're on the ice. Having a low or high PDO isn't inherently good or bad, extreme outliers from the average of 100.0 could indicate that a player has been lucky or unlucky while on the ice.
Now that we're up to speed, let's look at the group of fifteen. McDavid is fifth in goals (tenth overall), seventh in assists (seventh overall), and tied for second in points. He's 4th in points per game, has an about average-to-the-pack (but above league average) shooting percentage, a league-leading iPP, the third highest P60 of this group (4th highest P160), the second highest CF%Rel, the highest GF% rel, and not-particularly-abnormal PDO.
In short, he's in the top half of everything, and near the top of all of it. Just on the standards of "is, he playing great hockey", he's absolutely in the conversation. Maybe not the best of all the individual years (MacKinnon likely takes this one), but there's a pretty convincing argument that can be had for any of MacKinnon, McDavid, Kucherov, and Malkin.
Has He Contributed To His Team's Success?
Again, the Edmonton Oilers are terrible this year. They're 31-36-5. Only six teams are worse by their record and there's still time for that to get worse. They have the most exciting player in the world and manage to be Bottom-10 in goals scored. Only four teams have conceded more into their own net. Their powerplay is the worst in the league by over a full percentage point and their penalty kill is also in 31st, though they've improved from being one of the single worst units in history.
When McDavid is off the ice, the Oilers look like an affront to the league.  They get outshot, outchanced, and terribly outscored. Let's illustrate the gap by using a few of the players we had above: The big four top producers in MacKinnon, McDavid, Kucherov, and Malkin, and we'll also include Taylor Hall of New Jersey and Anze Kopitar of Los Angeles.
These two players are near the top of the scoring race, but don't have someone trailing them in support on the roster. That Top 15 list is flooded with duos and even trios: Kucherov and Stamkos, MacKinnon and Rantanen, Giroux and Voracek, Malkin, Kessel, and Crosby. Some of the "solo" players have their other half not too far behind in the race, like Evgeni Kuznetsov for Ovechkin, Patrik Laine for Wheeler, and to not quite the same but a still reasonable extent, Sean Monahan and Leon Draisaitl for Gaudreau and McDavid.
Kopitar has Dustin Brown as the next scoring forward on his team, with 48 to Kopitar's 80. Hall has Nico Hischier, with 46 to Halls' 77. It's not quite Pavel Bure in 2001, where he put up 92 where the next person on Florida put up 37 (!!!), but it's a big gap. But how does it look beyond raw production?
The Edmonton Oilers look like one of the better teams in the NHL with Connor McDavid on the ice. They look about where they are in the standings without him, with some particularly rough combination of luck and a bit skill drop-off fuelling the goal numbers. Combining this with iPP from the above chart, knowing that not only is he leading the team to controlling the play, that he's leading them to goals, and that he's directly contributing to almost all of these goals for scored on the ice, paints a picture of dominance that his hard to argue against.
But not impossible. MacKinnon's Avalanche aren't dominant on the puck with him on the ice, but they're converting, and without him, they're just as bad as people expected them to be in the pre-season. Similar goes for Hall's Devils: they're pretty good with him (especially in the crease area; I'm not a big believer in the repeatability of High-Danger Corsi yet, but the Devils organization has been focused on improving net-front play for the past several years), but they're putrid without. The Kings get a decent bit better with Kopitar as well, though not to the same extremities.
Malkin and Kucherov show a case of the other side to "does a great player on a bad team matter." The Lightning away from Kucherov are still a team who's underlying numbers say "probably third in the Atlantic", which is more impressive when you consider that away-from-Kucherov time likely includes a lot of lead protection and not a lot of Steven Stamkos, who has been on Kucherov's line for 70% of his minutes. Minus some puck luck, the Penguins barely skip a beat without Malkin, which makes sense when you consider that that's a team that has Crosby and Kessel.
Removing those players entirely would obviously change how opponents match up against their teams, but the same could be said of the players who are making a bigger difference. It's pretty clear with this that the with/without needle movers are, once again, MacKinnon and McDavid, with Hall being in the conversation as well.
The Audacity of Playoff Hope
So we've asserted that Connor McDavid is the best or second best individual skater talent in the league this year (likely the second best), and the best or second best shifter of his team's on-ice results (likely the best). There is clearly a value added to the team's performance: he is objectively making the team more likely to win hockey games.
Perhaps the most interesting discussion point to come from the anti-Connor side comes from ESPN's Greg Wyshynski:
Could you imagine going to Hall, MacKinnon or Kopitar and saying, "look, you've all led your teams to the playoffs and you're leading your teams in scoring by a country mile, but I decided to stretch logic like taffy and redefine value because I like Connor McDavid that much?"

— Greg Wyshynski (@wyshynski) March 18, 2018
I do think this snippet works contrary to Wysh's point, though. Let's go back to that first chart once again, and look at the very first column, PPS. Heading into Monday night, Hall's Devils sat five points ahead of the Florida Panthers, the top team out of the loop in the East. MacKinnon's Alvanache sit two points ahead of the Dallas Stars. Kopitar's Kings are tied with the Stars, but are ahead on a tiebreaker.
All three of those leads can vanish not just by Game 82, but within days. "How can you tell those players they're not the MVP because someone on a bad team scored a bunch", sounds good on the surface, but if the playoffs are the line in the sand, all it takes is a few nights of cold sticks or sloppy goaltending combined with Florida/Dallas running up the ladder put those teams on the outside looking in. The talking point could then become "Well, I thought you were the league MVP last week, but your goalie let in six yesterday so now I don't".
So what happens then? Is making the playoffs no longer the line in the sand? If not, what is? While Edmonton has a low standings number, they're not truly in the cutter; last in the conference is only 7 points closer to the Oilers than a playoff spot is. While it absolutely isn't happening, they could theoretically catch all three of those teams in total points in a three-week best case scenario. They're bad, and deserve to be poked at for the decisions that led them to being bad, but are they bad enough to rule them out? What is bad enough to rule out if the playoffs aren't?
And if Hall, MacKinnon, and/or Kopitar barely miss, and the argument becomes "they didn't get them all the way there, but look at the impact they made to win even that many games" becomes the talking point, does that not call for a consideration of McDavid's contributions?
Did This Matter Before?
Speaking of Twitter talking points, this one made by Tyler Dellow of The Athletic was a worthwhile one:
https://twitter.com/dellowhockey/status/975438827857817600
Dellow's point here is that we're most likely overthinking the parameters of the trophy, and that when it was introduced to the league 95 years ago, the idea was probably to reward whoever had the best season, like the MVP tends to be at just about every lower league that doesn't have the modern media microscope attached to it. Professional sports at that point, especially the six-year-old NHL hadn't morphed into a hub of performance-driven research and global debate: it was just a place where a few cities signed whoever they thought was good in hopes that they'd win more games, but most importantly, that it would put people in the arena seats and lead to a bit of a net profit. Not the billions of today, but enough to get by and get some bragging rights.
But we can number crunch a little bit, with that very thought in mind. The question here becomes: Did the voters of the old days care where players' teams finished when deciding on an MVP? With that in mind, I grabbed a list of every Hart Trophy winner since 1923, checked to see where their teams finished in the standings, and if they made the playoffs. Here's what I found:
Yes, a lot of the winners come from top teams. Out of 93 winners, 32 were playing on teams that finished first overall, and 16 that finished second. So, that means over half the list finished Top-2 in their season, in a league that has averaged about 16 teams a year in that time span.
Only four times in history has a player won the Hart without making the playoffs. Tommy Anderson did it in 1941/42 playing for the Brooklyn Americans, perhaps most incredible because it was a seven-team league where six teams made the playoffs. Al Rollins did it on a sixth of six Chicago Blackhawks roster in 1954, and Andy Bathgate did it on the fifth of six Rangers in 1959.
The only player to achieve the feat in the post-expansion era was Mario Lemieux, who broke up Wayne Gretzky's nine-of-ten run with a win in 1987-88. Lemieux led the league in goals by 14 and points by 19, and leading his team in points by 89 (!). Interestingly, the Penguins missed the 16-team playoffs as the 12th overall team, due to a divisional format that allowed teams like second-last-place Toronto to squeak in despite winning 15 fewer games.
With that said, Pittsburgh was in the lower half of the 21-team league that year, which brings us to the next way of breaking this down: what about teams that were playoff-bound, but wouldn't be under the NHL's current system where 15 of 31 (soon to be 16 of 32) miss? Teams that are below the midway mark would get seen as not able to carry the MVP today, so can we apply that to the past?
As it turns out, giving the Hart Trophy to players that were on below average but still standing teams was super common pre-expansion. In fact, between 1929 and 1963, it happened in 10 of 35 seasons, where either a 5/6 seed in a six-playoff-team NHL would win the award, or a four-seed player in the Original Six era would win the silverware. Include Anderson, Rollins, and Bathgate, and that's 13 players on "bad" teams in 35 years, making up about a third of the Hart victors in that stretch.
This became much less common afterwards, as the award got hijacked by dynasties of then-considered generational talent. Between 1965 and 1987, the Hart was won by exactly eight people: Bobby Hull, Stan Mikita, Phil Esposito, Bobby Orr, Bobby Clarke, Guy Lafleur, Bryan Trottier, and Wayne Gretzky. Gretzky's first win, in his rookie year, was the first case of a bottom-half player winning the Hart since Gordie Howe in 1963, and something only repeated twice since, by Lemieux in the aforementioned 1988 year, and Jose Theodore in a controversial one-vote win over Art Ross and Rocket Richard winner Jarome Iginla in 2002. So, in contrast to 10/13 in 35, we've seen 2/3 in the past 53.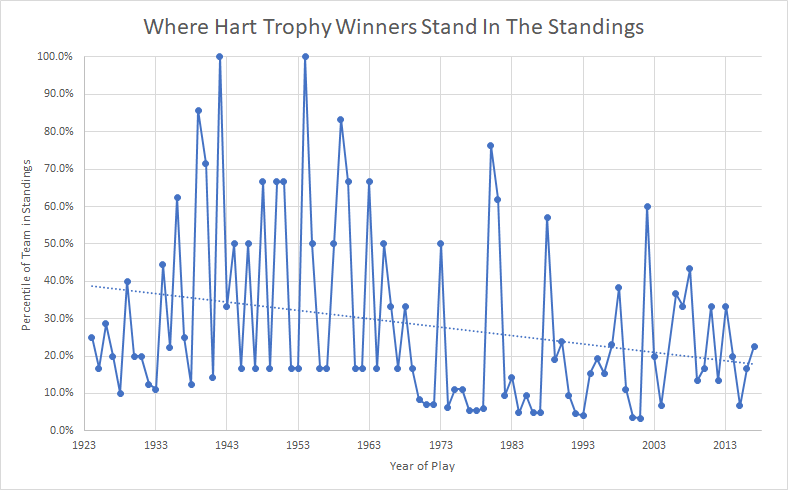 Interestingly, the Salary Cap Era has been somewhat of an inch towards exploring the rest of the NHL, even if it hasn't fully gotten there. Between 2006 and 2013, the award was given to five players whose teams finished 10th or lower in the standings, (Joe Thornton, Sidney Crosby, Corey Perry, and twice to Alex Ovechkin), though none of them dipped below 13th of 30. That in itself is a huge accomplishment, though: from the start of the Bruins takeover in 1969 to the 2005 lockout, only Clarke, Gretzky (twice), Lemieux, Dominik Hasek, and Theodore were able to win while finishing outside of the top 25% of the league in the standings.
How we got there is probably a little bit of a self-fulfilling prophecy. The winning class of the mid-late 60s to late 80s were foundational players for the sport in years of movement towards expansion; they were good enough to fundamentally change how the game was played, and. dominate the standings and playoffs with just a few extra good pieces, and through their extraordinary ability, help those teammates develop first hand faster than teams observing without foundational talent. This meant that a group of greats got the lion's share of the glory until the world focused itself enough to create players to give them a challenge and give other teams a chance.
Today, we still have players that stand out as goliaths, but their ability to control the standings and the long-term outcome of a team, while existent, isn't as obvious. Every team has a reasonable chance of keeping up with yours on any given night, and any competition in this league is, to some degree, tough to face and not a guarantee to get feasted on by a superstar. "Most stars wins" still more or less applies, but it's not a situation where there are only a handful of stars and half a handful of teams that have them anymore.
But because the best got to control dynasties for so long, it's still ingrained in to expect a dominant season and team success to be hand in hand. Consideration for non-contending players only seems to come when someone does something truly special, like Hasek's historical pair of years, Theodore's dragging of the 2002 Habs to the playoffs, Thornton's near-win of the Art Ross after a mid-season trade, Ovechkin crushing 64, etc. These cases are increasing in frequency as the odds of special players playing for special teams have simmered, but we still haven't gotten over the qualification hump.
Oh, And The Elephant Between The Pipes
Since we've already done a book chapter here, we should address one more thing.
One thing we can all agree on here is that relatively speaking, Connor McDavid's 2016/17 season was more dominant from a league-wide perspective than his 2017/18 season. The numbers match up with that thought: He got to 100 points in a year where no one else got to 90, and his underlying numbers were even more through the roof despite the Oilers being a 100-point, division-winning team.
According to Dawson Springings' goals above replacement model, best known on Twitter as @DTMAboutHeart, McDavid's 22.1 GAR led the league last season, and by a noticable margin. I can't really open up the black box there, unfortunately; Springings took his model with him to the Colorado Avalanche organization. But the specifics don't matter here: we just need that number of 22.1. War on Ice had their own similarly taken-down model; they concluded in April 2015 that Pavel Datsyuk's 2007/08 season was the highest ranked year of the cap era (at the time) with a 35.7 GAR.
Next, we'll go to a simpler stat; Goals Saved Above Average. It's for goalies, and it's easy to calculate: You compare a goalie's Save Percentage to the League Average, you stretch it to the amount of shots he's faced, and see how many more (or less) he's saved above if he was a middle of the pack NHL netminder. It is a simple, efficient, GAR-like substance for netminders.
Sergei Bobrovsky led the NHL in 2016/17 with a 33.45 GSAA. That's 50% more than McDavid's total. This isn't abnormal either; four goalies sit over 20 GSAA this season, with 2 or 3 more having a chance to get there in these final few weeks.
This lines up with the trope we all know, that a goaltender is the backbone of a hockey team. They can steal you wins on bad nights and cost you points on good ones, and everything in between; so much of the score, and in the long term, the standings, relies on how they stop the puck.
So, if you really believe that the Hart Trophy needs to stay strict to the Most Valuable Player To Their Team definition, and you believe that playoff status is key to this argument, we should probably throw skaters out of the conversation entirely. Goalies dominate in this regard; you're basically looking at the GSAA leader, or the goalie with the highest GSAA that keeps their team from going into a negative goal difference (or, a worse one if they have one already).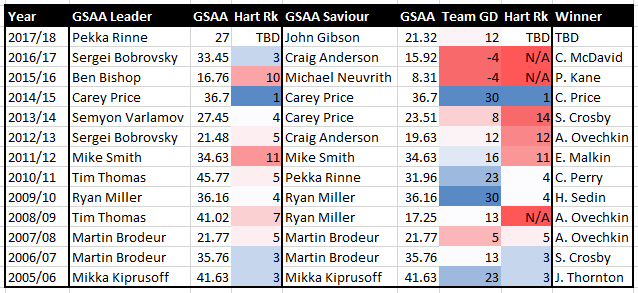 Almost every year, there's a goalie who keeps pucks out of the net in a way that is so far above average that it would be seen as generational from a skater. Most of the time, there's one who does that to drag his team into the playoffs singlehandedly. In one of these years, recognition was given; Carey Price was both the leader and the saviour and won the Hart as a result. But even then, you wonder if that's a case of him winning because of the lowest-scoring Art Ross race in a generation, rather than just his dominance.
Just look at the other goalies; they get votes as an "oh hey, he had a hell of a year too", but then you have guys like Tim Thomas having historically great, generational-level seasons and peaking at the Top 5. Craig Anderson was one of two players dragging the Senators' corpse around for years. Ryan Miller held the Sabres together kicking and screaming for years after their Presidents Trophy roster scattered around the league.
Do I necessarily think that the goalies need to be the winners every year? No. But you are going to force parameters of Value and Winning into the qualifications? Make it the Super Vezina, with wiggle room only given to historically great skater seasons. It's the only way the definition makes sense.
So What's Your Final Stance?
Years of pre-emptive thought, days of research, and thousands of words of open brainstorming… this award, and all the drama that comes with it, is a complete, total clusterf**k.
The intent of the award in 2018 appears to be vastly different from what it was in 1923. The voting patterns have changed multiple times, and and it appears that team success has shifted from being a byproduct of having the MVP on your team to a requirement to be MVP. And purists looking for value and contributions to success aren't looking at the correct position most of the time.
For me, I look at it this way: To get Hart vote I want a player that can be at least argued to be the most outstanding player in the league (broken up into forwards, defenceman, and goalies if you want), that makes a strong, noticeable impact on the team's outcome, whether you get a bubble team into the wildcard, push a 2nd place team into the Presidents Trophy, or stop a bad team from going into the history books of ineptitude. It's usually easy to find a player that does both in a way that stands out, but if that's not possible, the edge goes to the outstanding player, as you could likely find a number of teams that they would be game changers for if they were to have played their season elsewhere.
With that said, my current Hart ballot would look as follows. Keep in mind that we have about ten games left in the season, which is more than enough wiggle room for this to change.
Nathan MacKinnon, Colorado. It's hard to deny MacKinnon's individual dominance on the scoresheet, even with his time missed. Combine that with the fact that the Avs often still look like a lottery team when he's in the press box or on the bench, and he remains the front-runner.
Connor McDavid, Edmonton. When McDavid's on the ice, the Oilers still look like contenders, no matter who he plays with. MacKinnon is having the better season at the moment, though this could get close in the next few weeks, but Connor's ability to stay in the race with his surroundings and make magic happen regardless of situation or teammate is a welcome reminder as to why he's going to one day chase Hockey Mount Rushmore.
Taylor Hall, New Jersey. Hall doesn't have the production of MacKinnon and McDavid, but is doing so without a (yet) dynamic, star teammate, and in a way that still tilts New Jersey's game flow in their favour much more aggressively than most stars. He does it in a way that suits the Devils' system, and his point streak will go down as the best hot stretch for any NHLer this year.
Nikita Kucherov, Tampa Bay. While Kucherov has the easiest path and most support of the group of finalists, this is a two-way street: Like McDavid shouldn't be seriously dinged for his team being awful, Kucherov shouldn't for his team being stacked. He's still picking up points about as quick as you can blink, and is reminding every team that passed over him in 2011 (including his own!) that development happens in all nations, and that players of all sizes can score.
John Gibson, Anaheim. There might not be a player bailing out his team more in the NHL right now. The Ducks sit ninth from the bottom in possession, get outshot and outchanced routinely, and don't score a particularly impressive amount of goals. Gibson, (with the help of backup Ryan Miller, also having a stellar year), has been one of the top-performing goaltenders in the league this year (third in SV% among starters), and it means more to Anaheim than any other team with a goalie in the Vezina discussion.
Honourable Mentions (In a year full of great candidates): Anze Kopitar, Evgeni Malkin, Alex Ovechkin
But that's just me. If you've survived through this story long enough to get to the end, don't hesitate to let me know if there is something you feel can be added to the equation, as we continue to struggle to decide which player to say the nicest things about at the end of every June.