Whether or not he sees this era of the team through, James Van Riemsdyk will have left his mark on the Toronto Maple Leafs organization. Going into tonight, the winger has played the 67th most games (394, one more than Doug Gilmour), scored the 29th most goals (134), and scored the 42nd most points (279). Adjust the point totals for era, and he squeaks into the Top 40. His 42 powerplay goals sit 18th. He came through in one of the greatest one-for-one trades in the history of the organization, survived Game 7, Salute Gate, the Tank Year, and the start of the Big Three.
His accolades earned him a spot in the Leafs' Top 100 list last year, and his current performance has helped him remain in the present-day Top 9 and on the Top Powerplay unit. For his efforts, he sits second on the team in goals, fifth in points, and first in powerplay goals, much to the surprise of no one. He sits first on the team in relative shot attempt differential, having the second best possession season of his career. He scores primary points the third most frequently at even strength among Toronto's forwards, trailing only Auston Matthews and William Nylander.
He has a positive past and a positive present. He's a beast in front of the net, his teammates seem to like him, and he's been a good soldier over the years. The Leafs are in a position where they could go on a long playoff run this year. He seems exactly like the type of player that you'd want to have on the team for the run. But, even with all of that, I don't know if that would be the correct decision.
First, let's talk about what they can get for him.
Now, this conversation wouldn't be worthwhile if there wasn't an incentive to do it. I'm not looking to trade Van Riemsdyk just to clear a roster spot, or because I think it makes the team better in the immediate aggregate. He is a useful player to the current roster, so the reasoning would have to be really good if you're moving him.
Enter Darren Dreger on this week's Bobcast:
"I contacted a couple of general managers today, specific to James Van Riemsdyk. I asked, 'What would the market be for James Van Riemsdyk?' and the response that I got? He'd be top of class. He'd be the highest rental today. It would be a first [round pick], an 'A' prospect or a couple of prospects, and a conditional pick. You're talking about four key pieces."
That is.. a lot of return. If you trust your scouts and research team to do their jobs, its a return that could define the second wind of this build cycle, similar to what the Pittsburghs and Chicagos have had to do for so many years to keep themselves in the powerhouse conversation. Alternatively, you turn around and use these pieces later to acquire someone in a position of stronger need, like the ever so coveted right-handed defenceman that everyone seems to be fussed about.
Yesterday's trade of Derick Brassard should be a pretty good measuring stick of this. The cost to the Pittsburgh Penguins, when all was said and done, was Filip Gustavsson (a recent 2nd round pick), Ian Cole (a useful and flippable player), Ryan Reaves (a player who, like it or not, still has a positive net value in today's NHL), and a 1st round pick. Yes, a lot of that came from having to use Vegas as a salary-retention third party, and that Brassard has an extra year on his deal, but Toronto could directly retain on a deal and Van Riemsdyk is probably the more valuable player between the two. Even still, even if the deal was just a very good prospect and a 1st rounder, that's a lot of flexibility given to you for a forward who, in the most aggressive argument, is your fifth best at the moment.
Next, let's talk about keeping him.
Van Riemsdyk has scored at a pace of 0.7 points per game (101 in 144) between his Age 27 season (last year) and his Age 28 season (this year). That's pretty solid; 50 points a year is a quality second line forward, and given how even spread the ice time is, he'd probably be a top-line winger on quite a few teams! He's in his prime, and he helps the Leafs win, so why are we talking trade instead of extension?
Well, the "prime" bit isn't as true as the casual observer believes it to be. The late 20's prime is more a matter of minute trust than it is efficiency; players light the lamp most frequently at 23-25, slowly taper for a bit, and then fall off a cliff. Keep this in mind.
Van Riemsdyk has spent his entire career playing for below market value. He played three years under an entry-level contract in Philadelphia that didn't include Schedule B-bonuses, an unusual occurrence for a 2nd overall pick, and has spent his entire second contract, and by effect, his prime (Age 23-28) playing for just $4.25 million per season. This means that his current contract comparables are the likes of Mikkel Boedker, Adam Henrique, Andrew Shaw, Colin Wilson, Nick Bonino and Brandon Sutter. There are a few others (Wayne Simmonds, Matthieu Perreault) that are on UFA-age contracts in that general range that are in similarly below market value, but needless to say, Van Riemsdyk is due for a raise, and he's due to get term with it too. This will be his bread and butter, career-defining contract; upwards of $5.5 million per year and a full seven or eight years would not be out of the question.
Would it be worth it? Let's go back to that production benchmark. Here's the full list of players in the Salary Cap Era (minus Van Riemsdyk) who averaged 0.65-0.75 points per game between Age 27 and 28:
| | | |
| --- | --- | --- |
| Ales Kotalik | Antoine Vermette | Tyler Bozak |
| Marco Sturm | RJ Umberger | Bryan Little |
| Chris Kunitz | Jussi Jokinen | Nick Foligno |
| Jason Williams | Mikhail Grabovski | Mats Zuccarello |
| Alexei Ponikarovsky | Stephen Weiss | Bobby Ryan |
| Nik Antropov | PA Parenteau | Derick Brassard |
| Rene Bourque | Matt Moulson | Phil Kessel |
| Martin Erat | Valtteri Filppula | Wayne Simmonds |
| Alex Burrows | Dustin Brown | Cam Atkinson |
| Mike Cammalleri | Tomas Fleischmann | Kyle Turris |
| Jason Pominville | Brandon Dubinsky | Mike Hoffman |
| Dustin Penner | Patric Hornqvist | Joe Pavelski |
To a keen observer, this should look like a murderer's row of "was really good at some moment in time, then fell off a cliff", with the exception being the third column, which is largely full of players who just got to 27/28. But if these are just a bunch of names to you, let me show you the production of this group as they get older: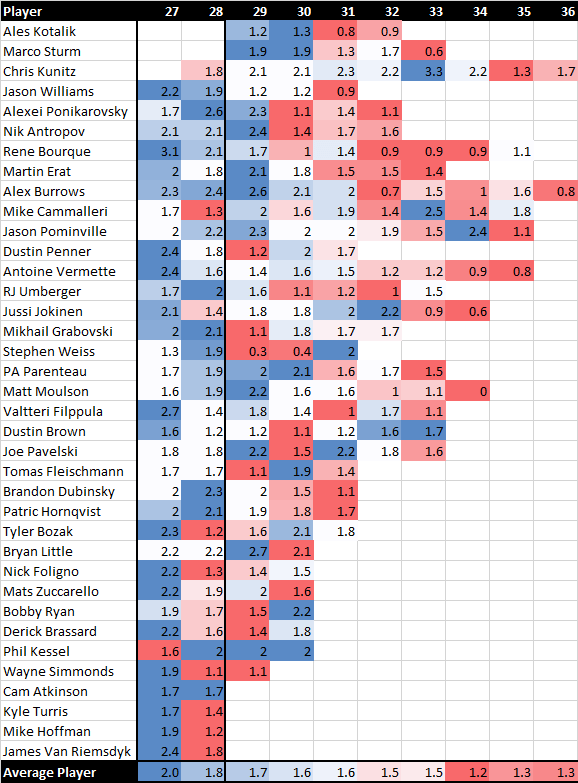 This is… extremely, extremely bleak. Basically, unless you have a shooting percentage bump or get placed on Sidney Crosby's wing, you taper off relatively quickly in this league. Almost all of these players rack up the bulk of their run in the first year of the pair, drop off 20% at 28, drop another 10% by 30, and are effectively role players by 34.
Again, an eight-year contract extension for Van Riemsdyk, who will absolutely ask for one if he stays in Toronto, will bring him to 37. Signing a player at this age is a high-stakes gamble with next to no reward; you're paying for past performance, with a highly unlikely chance that they'll be able to repeat it even in the short or medium term, let alone in the long haul. Even in the extremely unlikely scenario that you could convince Van Riemsdyk to take the same salary as he makes now, the final three years of his deal are likely to burn you.
Some players do exceed these age gaps, and put up Top-6 numbers well into their older age. Those are the ones that are abundantly clear stars, though. Van Riemsdyk's peak of 62 points doesn't quite get into star territory; we're talking about getting one more point than Mitch Marner and William Nylander did in their rookie season, in his best of nine efforts. That's a player you like to have on the team in the moment, but ultimately can't gamble on. No matter what happens, signing him to an anything longer than a 2 or 3-year extension, something he's unlikely to even consider, would be detrimental to the team in the long run, particularly when their core young players need extensions of their own.
Finally, let's talk about the pipeline.
The most obvious counter to the Van Riemsdyk point is a simple question: Who takes his place? Now, for what it's worth, I don't think there's a direct, one-for-one answer. When I brought up trading him in my Extremist Deadline piece, my prefered solution was to sell Van Riemsdyk high and to buy Rick Nash on the low and extend him short term.
Of course, the asking price for Nash appears to be stupid high as well, so much so that it's made a JVR trade so much more appealing. But could Toronto replace Van Riemsdyk internally?
https://twitter.com/JeffVeillette/status/934235145544126464
One option is Josh Leivo. Leivo has barely played this season; tonight is just his 13th game this season, which in itself ties an personal career high in NHL games played. That's pretty baffling, considering he lost waiver-exempt status in October 2016, meaning that he's simply been sat over 120 times in two years. It's not even for a lack of production, either; since 2015/16, Leivo has scored 18 points (8G 10A) in 37 games, which is a pretty modest, 40-point pace.
Soon to be 25 years old, Leivo doesn't exactly have much developing to do, and he wants to play to prove his worth. He's shown a capability to work along the boards and in front of the net, and while he doesn't completely replace Van Riemsdyk's skillset, he replaces a lot of his production; and all for under a million dollars both this year and next.
https://twitter.com/JeffVeillette/status/957649607173033984
If you've moved on from Leivo, though, another option is Andreas Johnsson. Drafted in the seventh round by the Maple Leafs in 2012, the 23-year-old is another player who is looking to get the clock started on his NHL career. In his case, he hasn't had a shot at the show to begin with, though between the SHL and the AHL, he's now in his 6th professional season in a Top-5 league. This year has by far been his best, scoring 23 goals and 26 assists in 49 games with the Marlies, leading the team in both points and points per game. His age is pushing the dime a dozen barrier, but on NHL teams with less depth on the wing, I'd imagine his 47-point effort last year, particularly with his 2015/16 concussion in mind, would have gotten him a look in training camp this year.
Johnsson's special teams proficiency, and special teams-geared play style might be what helps him leapfrog over Leivo. He's a strong two-way player, he's spent time on the Marlies' penalty kill, and he's been a lethal weapon on the powerplay. While Johnsson has creative assets to his game, he puts up numbers by getting to dangerous areas near the net and quickly pocketing goals. He might not have the size and leverage that Van Riemsdyk displays when he stands in the crease, but he uses the area in his own way, and I wouldn't be shocked if translated.
If you believe in neither player as much more than a short-term solution, there are still a few wingers hanging around the system that should be knocking on the NHL door sooner than later. Dmytro Timashov is improving by the day, Jeremy Bracco has had a strong second half to his rookie AHL season, Carl Grundstrom's SHL numbers are promising, and Yegor Korshkov, picked to much debate with Toronto's first Day-2 pick in 2016, has put up about half a point per game in the KHL for a second consecutive year; at 21, that's rather promising.
The point in hand here is that while none of these players are a sure thing to be as good as Van Riemsdyk is today, Toronto has a lot of bets of at least medium confidence. Can Leivo and/or Johnsson replace JVR's scoring today? Likely not, but they get you a lot of the way there, in a cost-effective way, and they are at least good enough that slotting in doesn't significantly alter Toronto's odds at success.
Let's Put It All Together
Now that you have all of this in mind, there should be three questions at hand:
Is a first round pick, a top prospect, and maybe more worth selling Van Riemsdyk early?
Is the difference between Van Riemsdyk and either Leivo and Johnsson the difference between a Stanley Cup and not winning one?
Is Van Riemsdyk a player you feel comfortable giving somewhere between 5 and 8 years to in a contract extension?
My answers here are yes, no, and no. You can't be the team that perpetually sells and never begins its championship window, but as productive as Van Riemsdyk is right now, I don't believe him to be the player that pus the team undoubtedly ahead of the pack. If you believe that the playoffs are the best team's to lose, the Leafs definitely aren't the odds-on favourite to win. If you believe that it's a bit of coin toss where you can only somewhat increase the weight of the coin, then what you gain from making this trade in the future vastly outweighs what you lose from swapping him out for Leivo or Johnsson (or even giving Kapanen higher-end minutes) now. Lastly, history implies that there's next to no chance that a long-term deal works out in this situation.
It's a tough sell, I know. Van Riemsdyk has been such a fantastic and valuable player for the Leafs over the past half-decade, whether the team has been good or bad. He still has a lot to bring to them now, but these are the types of tough decisions that truly test guts vs brains: Your brain knows that Toronto can still be contenders without him and that the value will help later, but the "what if" of him putting someone else over the top, or the replacement not working out well in a playoff series is terrifying.
Ultimately, my order of preference is as follows:
Trade before Monday
Keep, but don't extend
Keep, and extend
Whether or not management feels the same way? We'll find out in a few days.