Well, the "Woke Leafs" era is dead, at least for now. The Toronto Maple Leafs have made another alteration to their lines after Saturday's 4-1 loss to the Boston Bruins, subbing in a now-healthy Roman Polak for Connor Carrick, who for the first time in a while got to play ten games uninterrupted.
In fact, those ten games went pretty well. Toronto went 5-3-2 with him in the lineup, including wins in 5 of their last 7. Toronto returned to being a Top-10 league-wide possession team in that stretch, and Carrick's own performance contributed to that, as the 23-year-old finished the stretch with the Leafs earning 54% of the attempted shots with him on the ice, 55% of the shots on goal, and 63% of the goals. Due to an injury to Morgan Rielly, Carrick even got to play a little bit on the powerplay and showed that he's capable of, if nothing else, moving the puck around for his forwards while they worked their magic.
But Mike Babcock sees the situation differently. In his eyes, the team needs Polak in the lineup tonight, to help them on the penalty kill:
Mike Babcock on Polak: "We think Polak is an important and good player for us. He's a real good penalty killer; we gave up two power-play goals last game. We think [the Ducks have] a real good power play even though the numbers may not look like it … And so [Polak] fits in."

— Jonas Siegel (@jonassiegel) February 5, 2018
There's a tinge of recency bias in play here. Toronto gave up two powerplay goals on Saturday night against Boston, but were by-and-large dominated in all situations by the Bruins. Not to mention, it was just the first time in four games (and third in fifteen) that the team had been scored on while down a man, and just the fourth time this year that they've given up multiple goals to another powerplay unit. This isn't the only time that Polak has come into the lineup as a "safety valve", though: Toronto signed him almost immediately after their first somewhat embarrassing defeat of the year (a 6-3 loss to Ottawa in Game 8 of the season), and began his 27-game run of being dressed every night after giving up a then season-high 47 shots on goal to Carolina in November.
Today's excuse (and I feel no hesitancy in calling it an excuse) was as predictable as can be. There really wasn't much else to point at as an issue. Without him, the Leafs had outscored their opponents 10-4, only given up one even-strength goal in five periods, had their best back-to-back in team history, and gave up 30 or fewer shots in three consecutive games for the first time since, and I swear this isn't a mean joke, the three playoff games after he suffered his season-ending injury last year. But I suspect it's one that Babcock will rely on. So, is it true? Does Roman Polak make the penalty kill better? Let's use three different eyes to look at it.
The Fancy Sheets

For this, we're shunning the "for" and "percentage" data, because, well, there isn't a massive amount that a team's defencemen could (or even should) do about a team's offence on the penalty kill. Instead, we're looking mostly at what they're giving up and straight up differential, but mostly the concessions.
In this regard, Polak seems… fine compared to his higher minute peers? Of players who have played a regular PK shift, he's giving up fewer attempted shots, unblocked shots, and shots than his peers. The shots he tends to be giving up appear to be a bit more dangerous, though, and a decent chunk of them seem to be going in the net. He has managed to find himself on the ice for a few shorthanded goals, though, so his goal differential looks better than the pack.

If you instead want to look at where the shots are going, instead of how many of them are going through, you get a similar situation where he largely blends in with the regulars. More of them turn into goals than Hainsey and Zaitsev, and slightly more get through to Frederik Andersen and Curtis McElhinney, but he's about the same as them in terms of how many get blocked or miss entirely.
What we're seeing here that the players who have played over an hour on the penalty kill have… some swings, but largely the same core results. The expected swing between them (with Rielly being the best) is about two goals every 30 penalties. Jake Gardiner's process is a bit of a roller coaster (he lets a lot of shots through), but he's falling into the middle ground already at the half-hour mark. At the top we have a few players that many have argued would be successful penalty killers in Martin Marincin, Travis Dermott, Justin Holl, and Andreas Borgman, but admittedly the sample is very small, the player who has the best prior sample in Marincin is almost definitely not coming back up to the team, Borgman will likely be going down to the Marlies any minute now to get the roster under the maximum size, and Holl is stuck in the same conundrum. I'd love to keep Dermott in the conversation, but it seems like the trust level isn't there yet from Babcock, and the fact he was on the ice for the second powerplay goal on Saturday will likely do him few favours.
I'm not seeing anything in here that justifies playing Polak just for the penalty kill, though. Has he been capable on it? Sure. Maybe even a bit more than capable, maybe even pretty good. Good enough to merit dressing him over someone else for even strength play? I don't think so. But maybe the actual penalty kill results have something to say?
https://twitter.com/JeffVeillette/status/944728857265008640
The Basic Sheets
With that in mind, I broke down the Leafs' penalty kill performance into three different columns: how they perform when Polak is scratched or sick, how they perform when he's in the lineup and a part of the penalty kill, and how they perform when he's in the penalty box. After all, Polak has the worst penalty differential rate on the team, putting the Leafs on the PK more than anyone else that plays a regular shift. To his credit, he's been a bit more disciplined on paper over the past few weeks, now going seven games without taking a penalty of his own. But how do the results break down? Is the unit better with him on it?
| | | | |
| --- | --- | --- | --- |
| Situation | PK | GA | PK% |
| Polak Scratched | 75 | 13 | 82.70% |
| Polak Plays, PKs | 74 | 13 | 82.40% |
| Polak Plays, Takes Penalty | 13 | 2 | 84.60% |
It's… basically the same, across the board. Technically, they do their best when Polak is in the penalty box, though I imagine that's a sample thing. But generally speaking, the group floats around 83% regardless of his involvement, which means that you can't really point to long-term results as the reason for the decision either. No matter who they've put out, they've largely stuck in the lower-mid 80's percentage since Game 2 of the season, which gives credence to the idea that the penalty kill is more of a system than it is a byproduct of specially gifted individuals.
The Visual Eyes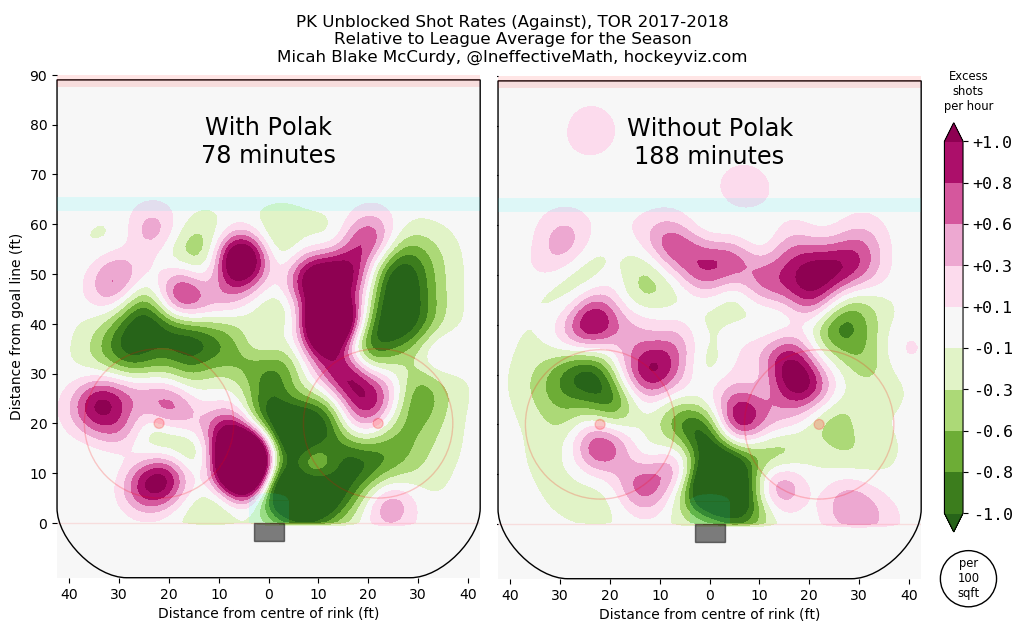 A bit of context can be found in the visuals, though, where you can kind of see Polak's niche become clear. His side of the net seems to be covered a decent bit better than when he's not on the ice (normally Zaitsev's spot), and there aren't a ton of shots coming from his side of the point, which I would guess comes from a little bit more luck in dumping the puck (more line holding = more attempts from the wall). As well, Micah's visuals do focus on Unblocked Attempts (Fenwick), meaning that there might still be volume coming from areas that Polak is getting in the lanes of.
Either way, there seems to be an element of positivity here, though I'd be concerned about the influx of clean looks that players are getting from the left side (could they simply be going around him?) of the slot, and that the hot area on the back side seems to be a little closer to "Ovechkin spot" territory.
Summed Up
When you look at Roman Polak's performance this year, it's hard to argue that he's been a detriment to the penalty kill while that unit is on the ice. Toronto's unit has found success this year, and he's doing about as good as the other regulars. In that sense, Babcock isn't completely off base to say that he's been a useful member of the penalty-killing unit.
At the same time, though, I can't imagine that's enough to continue to play him in the lineup every night. While relatively unproven, it seems like the team has a few younger, decent penalty killing options in Borgman and Dermott (if not another call-up of Holl or Marincin) that could step into those minutes and learn the systems for their own long-term benefit, which, even if they're not as immediately decent, is better than relying on a quick fix. Alternatively, the idea of playing Rielly in that slot while moving someone else to the powerplay is one that could also give the team more variety to work with at 5 on 5.
I also worry about Polak's penalty-taking being the biggest detriment to the PK unit. You kill 100% of penalties that you don't take, and while he's been on a decent run of discipline lately, his career gives little reason to believe that it will last.
Truthfully, I just don't see enough here to think that he moves the needle enough to make up for his even-strength play. In that regard, he remains a less mobile, less capable, less creative, and less viable for the long-term option for the Leafs than a long list of other defencemen, and unless he becomes a whole new tier of elite when down a man, it's going to be difficult to offset that; especially when those chasing a coveted third pair spot are playing so well. We'll have to see how Babcock reacts if he has a rough night tonight, but for now, it seems very unfair to several younger, more capable players to have their playing time in the balance for someone who is bringing less to the table.