As those who follow me on Twitter know, I was named General Manager of the Toronto Maple Leafs at some point this week. My first move was to take away Mike Babcock's toys and replace them with skilled players, effectively ruining the team forever.
Okay, not quite. The wean of Matt Martin out of the lineup has looked inevitable to those paying attention for a while, Roman Polak was sick, and as much as we harp on Babcock for being stubborn with his decisions, we also know that he is more concerned with winning hockey games than he is with being right, and has at times shown an ability to adapt. Realistically, last night's lineup was more of a perfect storm opportunity contributed to by injury, illness, and some acknowledgement of what wasn't working, but it's fun to dream that I stormed into the room and declared a coup, right?
It's the most fun. So let's pretend that I'm stepping in to take over the deadline and that all traditional rules about being conservative and patient are thrown out the window. Pretend I need no learning curve, and that the 200 Hockey Men have accepted me as their own. Maybe we don't announce this move and I just do everything in a Lou Lamoriello accent. I don't know; the point is, we're going nuts.
Before we dive into the transactions, I'm going to make two points here:
We are relying on tendencies. The object of these ideas is not to appease Twitter, /r/hockey, or HFBoards. The goal is to use what we know about these teams, and about how the league works, to build transactions that play to other teams' hands while making the Toronto Maple Leafs a better hockey club in the end. You may roll your eyes, but given that every trade of substance in the past couple of years has had a pretty clear-as-day winner and loser from an analytical view the moment it was made, trying to make a completely appealing, "everyone is happy" trade is probably more unrealistic than saying "yeah, I'm pretty sure this GM would do this".
At the same time, these are wireframe transactions. I'm not actually at the negotiation table here, and I'm not looking to have my proposal skills judged by the Internet, so I'm not going to waste several hours weighing down the difference between a 6th and a 7th round pick. If you think a transaction needs draft picks, add the picks you think they need into the equation. If you think a B prospect gets things going? Sure, why not. This isn't an exact science, but rather the general direction I'd like to see things go, the players I'd be okay with moving on from, the ones who I think can help. Got it? No? That's fine, we're starting anyway.
The Safe Play
| | |
| --- | --- |
| To Someone | To Toronto |
| Roman Polak | First Offer |
I'm leaving nothing to chance here. With no disrespect to Roman, the person, the safest play from a hockey standpoint is to get him out of the organization. His style isn't necessarily in conflict with the rest of the team's, but his ability to execute it is. He struggles to keep up with the pace at even strength, doesn't move the needle in a positive way on the penalty kill like many claim and he carries the brunt of the responsibility for Toronto's negative penalty differential. Keeping him as an emergency 7th defenceman gives Babcock a safety valve. Sending him to the Marlies slows them down and still allows for a call-up. Sending him down to the Solar Bears would be a step too far for a guy who is still respected in the NHL. If a team is offering me a pick, a prospect, a veteran who can help the Marlies after I make my call-ups I'll take it. I'll even go with future considerations. Trade him for a pre-season game in Buffalo or Ottawa or somewhere close so we don't have to go that far away from home in September. Just take him out of the equation.
https://twitter.com/JeffVeillette/status/954893855488401408
As for why another team would bite, I don't doubt that at least one of the other 30 teams sees a good pro in Polak. Some team without a lot of defensive depth will like the idea of snarl and veteran presence, especially if they're a seller and need a couple bodies to run out the clock on the season. His pro-rated contract at this point is about $30 (not actually, but it is just $385,000 and falling by the day). I don't think another team trying to win should take him, but someone almost definitely will now that he's proven that his leg has just slowed him down, not taken him out.
The Tough Decision
| | |
| --- | --- |
| To Calgary | To Toronto |
| Matt Martin | Garnet Hathaway or a pick |
It looks like Matt Martin's time in Toronto is inching towards a close. I wrote about why I felt that would be the case last week, based on how he was being used and how the team was playing. Since then, Bob McKenzie of TSN and Chris Johnston of Sportsnet, who are about as highly regarded as insiders as you can get, have both talked about Martin having a spot on the trade market. Not to mention, the Leafs have looked just fine without him, which makes a lot of sense; the other options aren't scared of playing along the boards in the same way that he does, and given that most of the enforcers in this league adhere to the "code" of fighting each other, not leaving them anyone to match up with typically means that they skate around for ten minutes trying to look busy.
Toronto is best suited to move on while he is seen as a positive asset. If they are going to scratch him for the rest of the year, that will most definitely go away, with two years remaining at $2.5 million per year. His real-world cost will drop after July 1st, which makes him easier to trade to a floor team, but Toronto still might be better off to move him while he's still seen as a player and not a financial transaction, which they risk turning him into.
https://twitter.com/JeffVeillette/status/935695009394946048
On the other hand, Elliotte Friedman has mentioned a couple of times that the Flames are looking to get "meaner". Martin would give them another strong forechecker, even if he's not as in-your-face, and he'd be able to be a bit of a backup plan if others on the team decide to get feistier. The return is tricky; Garnet Hathaway, who I figure he'd replace, would be a really awesome player to add to the Marlies as a call-up replacement, as he started the year lighting it up for Stockton. But they might struggle to get him through the waiver wire, given a decent fourth-line showing during his call up this year, his low cost, and his RFA expiry status. Alternatively, you could just keep him as the 13th forward. But hey, even if you lose him, getting the Martin contract fully off the books is likely going to be a win for everyone. It frees up space for you, it gives a good solider and good person a new home, and it shuts Brian Burke up for a solid 38 seconds.
Acquire Green 2018
| | |
| --- | --- |
| To Detroit | To Toronto |
| Kerby Rychel | Mike Green |
| Andrew Nielsen | |
| New! Josh Leivo | |
Oh, hush. Anyone who has read literally anything I have written in the past two years knew this was coming. An extremist trade deadline post that doesn't have Mike Green becoming a Toronto Maple Leafs defenceman was simply not going to happen.
To put it simply, I like Mike Green for all of the reasons that you don't like Mike Green. He's not a defensive stalwart but he isn't completely inept in his own end, he's offensively creative, he can get the puck up the forwards in front of him, and most importantly, he can play on the powerplay. Now, you might ask why the Leafs need another powerplay option; the short answer is that it means that they can take one of the powerplay options and place them on the penalty kill. That applies even if you only do this trade, and don't follow through with the rest of the extremist deadline; a Green trade that pushes Morgan Rielly to the PK pretty much eradicates the need for a lesser specialist to be in the lineup.
I'm going to imagine that I'll have to throw in at least a draft pick to the above offer, particularly if neither string together a hot streak heading into the deadline, but my starting point is Kerby Rychel and Andrew Nielsen. Both are young enough to be useful to a rebuilding team; Rychel is 23 and Nielsen is 21; both of them are early-season birthdays as well, so they're on the younger side of the hockey year. According to my AHL age breakdown, the Red Wings organization is particularly shallow in terms of Under 24 talent, which is something they'll have to harvest over the next few years. With that in mind, if they wanted to take the Michael Grabner approach to this offer, I'd probably be down to add a few more supplementary forward prospects that are long-shots to make this Leafs group, but are more likely to graduate in their system over time, but they might be better off swinging for a home run on the draft podium and accepting an additional pick.
https://twitter.com/JeffVeillette/status/959905066525315073
Rychel goes over as your ready for next year, emotional heart string return. The Red Wings are in a tough spot as an organization where this rebuild is going to have to keep fans used to winning emotionally attached to the team, or risk a half-empty new arena. In Rychel they get a player who could be a viable bottom or maybe even middle-six forward for them over the long haul, but someone that they can market as well. Not just because of his playstyle, but geography as well. Rychel was raised just outside of Windsor and played multiple years for the Spitfires, the OHL team that his dad part-owns and manages just barely across the border. Because he cleared waivers in the pre-season blitz earlier in the year, Detroit can play him with the Griffins for now or call him up if they manage to part ways with more of their forwards before the end of the season.
Nielsen, on the other hand, is a sell-high for the Leafs organization. Don't get me wrong, I believe that he's a viable prospect (I had him ranked 11th on Toronto's system-wide list this year, with Rychel in 12th, but I wonder if what he is isn't quite as much as what he's thought to be. Nielsen is a player who has many of the coveted scout tools (height, heavy shot, aggressive play style), and his AHL rookie boxcars were very impressive on paper (39 points in 74 games at Age 20). Prospect progression models like him a lot; Canucks Army's pGPS ranked him as Toronto's most likely prospect to graduate into the NHL, with comparables like Shea Weber, TJ Brodie, Keith Yandle, and Cody Franson given by comparing the numbers they've put up over the course of their development. Teams are using similar models to pGPS around the league, and if Detroit is doing similar, they've probably got Nielsen circled as a name to look out for.
https://twitter.com/JeffVeillette/status/959905409787158533
At the same time, though, Toronto is pretty strong on the left side already, and there are still some sore spots in Nielsen's game that might not mesh with their long-term play. His mobility is a particular concern, given the pace the Leafs play with, and if he continues to show a lack of skating progression in an organization that has had many players take strides in that department (shout out to Barb Underhill's work), that's not a great sign for his future. If I'm the Leafs organization, I take advantage of this current window to eliminate risk and sell high on his reputation as a prospect. We're not very far removed from people arguing him to be equal to or better than Travis Dermott (something that is definitely not true), and with Dermott's rise in the NHL, Toronto would be wise to spin this as an odd man out scenario.
Detroit is the type of team that can afford to take that risk, and if they put significant focus into him (something you can afford to do when the cupboards are bare and you're just beginning a rebuild), there's a chance they can win big here. In the meantime, Toronto gets better now and moves on from a high risk/reward type in a position that's slowly becoming one of strength, at least at the non-elite level.
EDIT: Tonight's edition of headlines included Nick Kypreos reporting a trade request by Josh Leivo. If there is legitimacy to that rumour, and my timeline isn't enough to keep him motivated (seeing where the final lines ended up, probably not), then I'd use him in this deal. Again, the Red Wings are short on younger forwards, and while he's slightly older than prospect age, he's young enough to still have a few years of being considered somewhat young, which the Red Wings don't even have the benefit of right now. If nothing else, he's a transition player that they can sell high on again next year after throwing him in big minutes. Toronto isn't going to get fair value for his ability, if what we've seen is really him, so they may as well use him in a trade that helps them get better now.
The Chiarelli Call
| | |
| --- | --- |
| To Edmonton | To Toronto |
| Nikita Zaitsev | Ryan Nugent-Hopkins |
| Tyler Bozak | |
| Nikita Soshnikov | |
It's not an insane trade deadline without taking advantage of the Edmonton Oilers being themselves. Despite being in the, uh, trenches to start the season, the Oilers seem to have found a new groove over the past few weeks, going 4-1-1 over their past six games. Cam Talbot believes that they're making the playoffs. If your starting goalie wants to go for it, how do you say no?
I mean, besides "buddy, we're 13 points behind with 30 games to go", obviously. In any event they might just believe in themselves that much; stranger things have happened, never say never to a team with Connor McDavid, and all that stuff. So let's say the Oilers want to hit the gas pedal now: how do you help them while getting something back in return? Simple: You attack their weaknesses, you accelerate their strengths, and you make yourself the next recipient of an inevitability.
A lot has been made of who the Leafs will add to the centre core to establish themselves down the middle long-term. Many are hoping that William Nylander will slide over eventually, but his chemistry with Auston Matthews has those same people wondering if it's worth breaking them up to do so. Tyler Bozak is the third line centre now, but he's a pending unrestricted free agent and there's a lot of debate about whether it's worth it to the Leafs to sign him.
Meanwhile, Ryan Nugent-Hopkins has been out of the Oilers' lineup since, well, around the time they started their hot streak due to a rib crack. The 24-year-old has been rumoured to be the next member of the "old core" to be moved since the beginning of this year, and while he was having one of his most productive seasons his career, the injury puts things at a standstill, with a lack of certainty as to whether he'll keep up his pace (a career high in SH% is also something that smart teams will be acutely aware of when making a trade offer).
With that said, he's still a pretty dependable option down the middle, finding himself mostly possession-neutral in his seven-year career, and good for about 50-55 points a year playing around 20 minutes a game. As such, he's not a slam-dunk steal at his current contract ($6 million/year through to 2021), but seeing as it brings him to Age 27, it's unlikely that you'll see a regression in his play in that time. He'll have to change his jersey number away from 93, but besides that, he seems like an ideal replacement.
To acquire him, you send back Bozak, who gets the Oilers a three or four-week head start on having a viable centre. You send them Nikita Soshnikov, giving them a 24-year-old forward that is very capable on the penalty kill, an area where the Oilers are desperately lacking right now. Lastly, to make this not seem like a pit of nothing, you send back Nikita Zaitsev. Zaitsev is another player who I do really like (a lot; I was a vocal proponent of signing him out of the KHL), but I am willing to admit is probably overvalued by the market. While playing against top competition hasn't helped him, he hasn't been great on possession in either season he's played, and both Morgan Rielly and Jake Gardiner have found more success without him than with him.
https://twitter.com/JeffVeillette/status/929156787684757507
But, because he's a sophomore in the NHL, people still see upside in the 26-year-old, his right-handedness boosts his value to most general managers, and many see "tough minutes and penalty kill ability" and salivate to this day. I can absolutely see a team like Edmonton, who are currently running Adam Larsson, Matt Benning, and Kris Russell on the right side, being totally up for adding a player like Zaitsev to their corps, especially if they believe he can help the penalty kill.
The Left Wing Swap
This is the layered move of the equation, as it requires one trade to be done if you want to pull the other off. Specifically, this is a move where you are making an indirect 1-for-1, selling to one side, buying from another, and trying to get a net gain out of the process.
The first step is to move James Van Riemsdyk. Despite playing only 14 minutes a night, JVR is having another great goal scoring season, playing at a 31 goal, 48 point pace over 82 games in about two-thirds of the minutes that most players of his calibre play. Dom Luszczyszyn's game score model ranks him 57th amongst forwards in the NHL in positive contributions per hour this year, his relative CF% of 6.76 sits 10th among regular forwards, (most of which are on struggling teams), and many see him as an elite net-front presence, especially on the powerplay.
Sounds like the type of guy you want to keep, right? Well, yes and no. The issue with keeping van Riemsdyk, as much as I like him, is that he'll undoubtedly be looking for a big 7 or 8-year contract on a team where he, on his best day, might be their 5th best forward. Not to mention that he is 28 years old, about to become 29; signing a net-front presence until 36 or 37 is probably not in Toronto's best interests, no matter how good he is now. Sure, you can front-load the contract to high heaven to make him seem like an option for a floor team in a few years, but there's still an assumed risk there.
With that in mind, I'd choose to move on. You could take the "own rental" philosophy and hold onto him until the deadline, or you could sell him now and get a player almost as effective as a stop gap, who you could either walk away from later without people being up in arms, or sign to a much shorter term if you're still not comfortable. That's exactly my plan.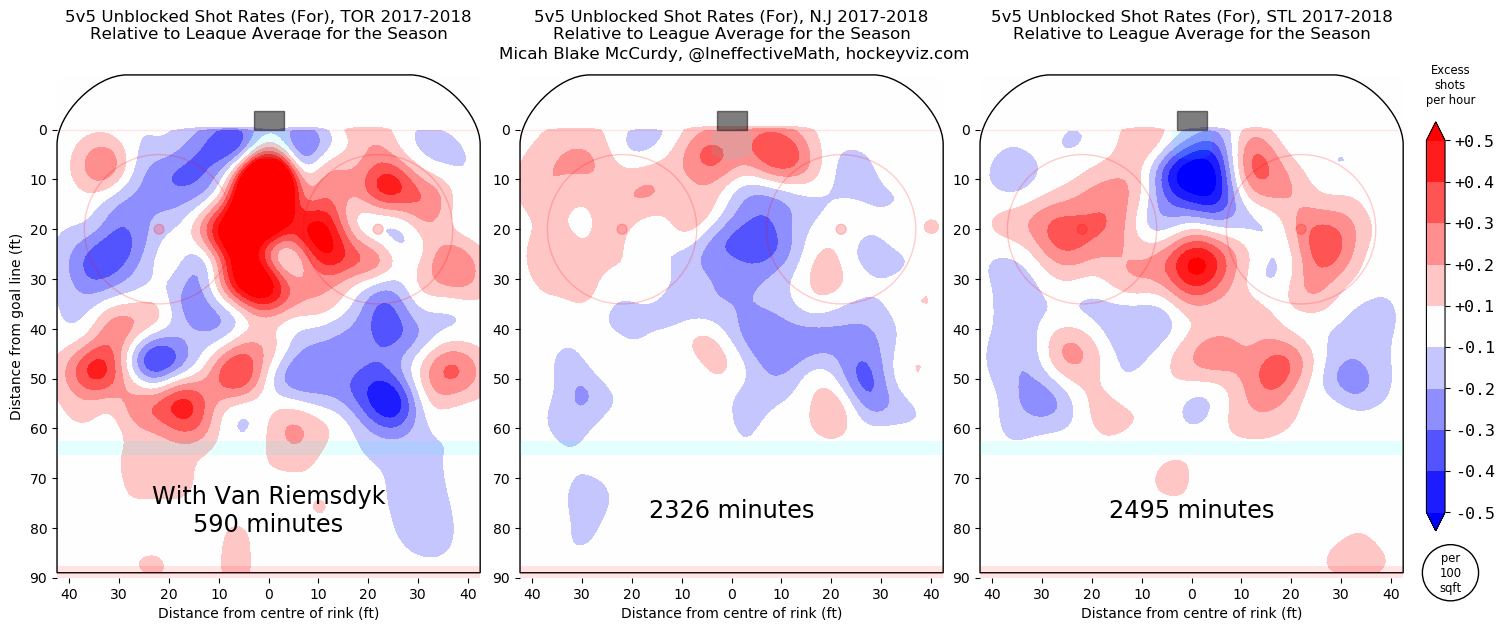 When looking for a suitor here, I opted to look for top teams (in points and possession) with disparities between Corsi and Expected Goals. Not in one direction, but in both, because there's a bit of chicken and egg that can be argued when you see a difference between shots and where they're taken. Is a top net-front team good because of their players, or their systems? Is a bad net-front team bad because they don't have the skill, or because they aren't trying to do it? If a good team is good because of systems, does a top guy make them score even more? If a bad team is bad because of lack of talent, does he make them good?
My targets as such would be the New Jersey Devils and the St. Louis Blues. Both are considered to be analytically savvy teams, so moving them a player that's a per-60 and relative darling this year and their rental shouldn't be difficult. Van Riemsdyk gets the home state factor with the Devils as well, and while the Blues might need to do some trickery to make the dollars work on this deal, New Jersey certainly would have no problem fitting him in.
Realistically, I'm going for "more picks than the other guy" on this deal, in an attempt to have more bullets in the chamber at the draft table this and/or next summer, or at least replenishments to account for the other moves. But if you are hell-bent on getting another right-handed defenceman after our last move, maybe you ask the Devils about Damon Severson. The 23-year-old Saskatchewan native (that's how we'll sell him to Babcock) has been a very strong possession player through his first four seasons and would theoretically be untouchable, but he's been healthy scratched a couple times this season. Maybe there's a tire to kick there, especially if we drop the "GM Jeffler" bit, put Lamoriello in my seat, and have him make the call. If there's not, though, that's fine, cash out for the best pick and/or prospect package you can get from these teams (or another; bidding wars are fun like that) and move on to the replacement.
The replacement is Rick Nash. Yes, we're going from a big, tall American with quick hands to a big, tall Canadian with quick hands. The New York Rangers are sellers, and according to Bob McKenzie, Nash would be on the table. At this stage in his career, he's a far cry from what he once was (his last big season coming at 30; again, a JVR warning sign), but he's still able to put 40-something points on the board, play on the powerplay, get pucks to the slot, and have a positive impact on possession. He could easily slide into the gap and give a JVR-lite experience, and I'd be certain that, with lower production over the past few years, his age, and the fact that his cap hit is currently nearly double Van Riemsdyk's, he'd be a much less in-demand asset. If you can get a 1st round pick for van Riemsdyk, you can probably get Nash for a 2nd. Teams won't be as desperate to have him and significantly fewer teams can afford to even be in the race with their current cap space.
Nash is an unrestricted free agent at the end of this year, and having made his money and then some over the past decade, he'll likely be an easier pill to swallow. Toronto can offer him easier minutes than most, a chance to win a cup, and a chance to play in his home market without the pressures that would've come with being the superstar here when he was last on the free agent market. It's not unreasonable to think that you could probably get him to sign for 1 or 2 years instead of going for the hail mary that JVR has attached to him. If, however, you decide to walk away, it's easier to walk away from a player that's been around for five months rather than one that's been around for six years.
Also, I'm sending Dominic Moore back to the Rangers for roster reasons. I'd imagine he'd like to continue to play hockey, rather than sitting ont he bench, and that historically seems to be a city he's happy to do so in. The Rangers will need bodies if they go through with their fire sale, so I imagine having a former fan-favourite fill the void for a few months as they initiate the process would be something they'd be interested in as well, even if his value in the deal is only slightly above zero.
Sell High on Ron
| | |
| --- | --- |
| To Columbus | To Toronto |
| Ron Hainsey | Conditional Pick |
This one is more of a personal direction move, rather than one I could see actually being considered by the real current group.
Ron Hainsey has exceeded the expectations of most in Toronto this year. When he was signed in July, the move was widely panned, as signing a support defenceman from a big-name organization that was approaching 40 years old seemed like a high risk of repeating the Stephane Robidas scenario. But most have been pleasantly surprised; the 2017 Stanley Cup Champion has played 22 minutes a night with various partners (most frequently Morgan Rielly), hasn't looked horrifically out of place in those big minutes, and has contributed to a strong penalty-killing unit.
https://twitter.com/JeffVeillette/status/933527495374237697
There's a lot to love there, right? In a sense, yes, but giving a 37-year-old big minutes, big matchups and PK responsibility feels like playing with fire, especially with another year attached to his contract after that. Not to mention, Hainsey hasn't exactly been a possession benefit to anyone that's played more than one game with them:
| | | | | | |
| --- | --- | --- | --- | --- | --- |
| With | TOI With | TOI Away | With | Without | Diff |
| Morgan Rielly | 648.7 | 136.0 | 50.7 | 56.6 | -6.0 |
| Jake Gardiner | 104.6 | 758.7 | 44.5 | 49.4 | -4.9 |
| Nikita Zaitsev | 49.6 | 509.6 | 34.5 | 47.5 | -13.0 |
| Roman Polak | 30.7 | 520.7 | 42.7 | 48.9 | -6.3 |
Now, I don't think it's completely fair to say that this is all Hainsey's fault. Rielly and Gardiner are likely playing tougher matchups when on with him, and Zaitsev and Polak's time with him at 5-on-5 is likely the few seconds following a penalty kill. But the point is that he certainly isn't driving any of these guys, and he probably won't be much better next year. That's llivableif you're certain he's on your third pair, but if you feel comfortable with putting someone else in his place, why not look to sell now?
I'm looking at the Columbus Blue Jackets here. Jack Johnson recently requested a trade, and assuming they don't get a defenceman back, they'll need someone on the left side. Hainsey has previously played in Columbus and had quality years there, albeit under a different core, coach, and staff. John Tortorella's style meshes with Hainsey's willingness to stand up for himself and get into lanes. I don't know what you get back for him, and in this case I'm not particularly seeking a roster player, but that's where I am my phone call.
Hello Brooklyn
| | |
| --- | --- |
| To NY Islanders | To Toronto |
| Leo Komarov | ???? |
| Calvin Pickard | |
This is a picking on opportunity deal. The New York Islanders are two points out of a playoff spot, and have a lot of things that they'd like to address. Notably, their penalty kill is a tire fire (73.9%, 29th in the NHL), and their goaltending has been well below league average; Jaroslav Halak is a 0.909 through 34 games, and Thomas Greiss is rocking a cool 0.887 through 22. Their problems cut deeper than the above, but if you're simply just trying to claw back into the race (especially in an effort to keep John Tavares in town while you sort things out), those are your quickest fixes.
Leo Komarov looks a little bit more in control of his own ability now that the pressures of playing on Toronto's top matchup line have come off his back. The 31-year-old skilled grinder had one of the worst half-season stretches I've ever seen from a Leafs forward in terms of productivity, and giving him large swaths of ice time where he was always chasing the play exasperated the issue. Once his usage came down, he started picking up points again, and he's added a jump in his step since going back to the bottom six.
I'm not sure whether he's a guy I re-sign given the pipeline, though, so if there's a club that can better use him and help begin the transition, I'm all for exploring it. The Islanders can definitely use his penalty killing ability, they have a history of favouriting guys who are capable of throwing the body, and Garth Snow hasn't been shy in the past about acquiring ex-Leafs (hello, Mikhail Grabovski, Nikolai Kulemin, and the 726 prospects from the Grabner trade).
Pickard gives them a chance at a home run swing. The Leafs acquired him from the Golden Knights earlier this year for a song (Tobias Lindberg and a 6th), but the 25-year-old has dominated on the Marlies, posting a 14-5-0 record, 1.94 GAA, and 0.928 save percentage. Those numbers put him 2nd in AHL GAA and 5th in SV%, which would make him a must-keep starting goaltender for the Toronto affiliate if it wasn't for the fact that Garret Sparks was 1st in both of those stats. I think Sparks is the player that Toronto would rather keep (upside and anchoring), and that Pickard is the one that NHL teams would be more willing to take a chance on, as he's already played 87 NHL games and posted a league average-ish 0.913 SV%. Even if Pickard were to post his "down" numbers of last year (0.904 over 50 games with 30th-place Colorado), he'd still be an upgrade on Greiss. If he got back to average, he'd be the Islanders undisputed starter and would take Halak's place next year.
https://twitter.com/JeffVeillette/status/936763687582552064
As for what comes back, I'm not quite sure. My shoot for the moon would be to wait until the next time someone in the organization is frustrated with Josh Ho-Sang and bring him on board. Getting defensive Sebastian Aho would be a fun option as well. Mark Hunter would probably ask for Mitchell Vande Sompel, and if I got fully emotionally attached, I'd ask for KHL star Anatoly Golyshev and do my best to woo him over in a year or two.
In short, I don't know what exactly I'm getting back here. I just think that this pair is a good fit to call the Islanders with and try to maximize return on.
The Duck Deal
| | |
| --- | --- |
| To Anaheim | To Toronto |
| Eric Fehr | Conditional Pick |
Lastly, the easiest deal of the bunch and the one that I'm pretty confident will happen at some point. The Leafs loaned Fehr to the San Diego Gulls, Anaheims AHL affiliate, earlier in the season, due to an imperfect fit for him on either the Leafs or the Marlies. Since then, he's been a positive contributor to the club, scoring 13 goals and 22 points in 27 games; the third-best pace on the team.
Anaheim would probably like to have him as a 13th forward option as the playoffs near, but also likely wants to pay as little for the service as possible. I wouldn't be shocked if that happens in future considerations, conditional 7th type way come the deadline, just to give the Ducks the ability to have him as an option if need be. At this point, I think the Leafs have moved on, so even on the off chance that it was their call to still have the ability to bring him back, they'll probably be happy to do it now.
Plus, I mean, you have to make a trade with the Ducks. You can't make eight trades and not have a Leafs-Ducks transaction. I'm pretty sure that's illegal.
The Reinforcements
Immediately following these transactions, the following decisions will be made:
Justin Holl will be called up on a full-time, non-emergency basis, barring the JVR-to-New Jersey trade
Kasperi Kapanen will remain with the team full time
Miro Aaltonen will be called up to play on the fourth line
Andreas Johnsson will be called up to play on the fourth line
https://twitter.com/JeffVeillette/status/957051323291086848
"Holl Stays" will probably sound like a short-notice reaction to some, but anyone who has regularly read my work and seen my comments on social media knows that I've on that bandwagon for a bit now. I'm not certain that the 26-year-old is a game-changing defenceman that is going to show up late and pick up a Norris trophy, but he's been instrumental in the Marlies' success as a do-everything, play-driving option over the past three years, and the initial look, even without the goals, looked good. I'd keep him as a six and make him a PK option unless, of course, the JVR-for-Severson longshot in this manifesto were to happen.
https://twitter.com/JeffVeillette/status/932384776128024577
As for the other three transactions, I'm simply dragging the Marlies first line up to the Leafs' fourth. I want that to be a line that feasts on easy competition, and I think that they can all help in some way, shape, or form on special teams. Aaltonen and Kapanen can both kill penalties and are sound defensively, and Johnsson is an effective powerplay option with a good nose for loose pucks and a deceptive shot. All three of them are NHL ready, and in the case of Aaltonen and Johnsson, probably don't have much developing left to do at 23 and 24 years old. Get them up and get them contributing.
The Final Lineup
Your extremist lineup is as follows:
Zach Hyman
Auston Matthews
William Nylander
Patrick Marleau
Nazem Kadri
Mitch Marner
Rick Nash
Ryan Nugent-Hopkins
Connor Brown
Andreas Johnsson
Miro Aaltonen
Kasperi Kapanen
Morgan Rielly
Mike Green
Jake Gardiner
Connor Carrick
Travis Dermott
Damon Severson / Justin Holl
Frederik Andersen
Curtis McElhinney
Extras: Andreas Borgman, Garnet Hathaway / Marlie to be Determined Later
So there we have it. The new look Leafs come with… not a significant amount of difference, but a pushing out around the margins. The bottom six is overhauled, but their concept stays the same. The goaltending is the exact same. The defensive corps loses a few names but mostly sticks with familiar ones. This group is younger, its faster, it's more skilled. It's slightly cheaper (or about the same if you do land Severson), but you've shifted your UFA commitments away from long time pieces who are due for raises, to new blood that are both due for pay cuts. Your long-term centre issue is solved. The Marlies get a fair bit worse in the immediate, but they're still a death machine of depth and in moving on from some guys that likely won't be part of the long-term equation, they get to give more responsibility to the Timashov, Bracco, Brooks, Valiev-type players more likely to come in as re-enforcements.
Is this long-winded scenario a realistic one? Absolutely not. Even if one got all the picks and moving parts tuned just right to get teams to say yes and create this lineup, the idea of a semi-contender making eight trades and putting their roster into a blender in the span of three weeks, especially without GMs raising eyebrows as to why you'd be making these transactions is beyond farfetched. Not to mention, no team would risk this many roster changes from a chemistry perspective at this stage of the year. even if I think this is the better team, trying to make it happen all at once, in the middle of February, will be a tough challenge. Then again, you have a coach who has done exactly that at the international stage multiple times, so maybe it's not impossible.
Either way, it's a fun idea, and if nothing else, it gives a look into my mindset on how I'd further shape what's been going on so far, and what types of methods I'd use to approach teams. Working the market is about playing to interests while still coming out ahead, after all; I'd be really interested in what kinds of similar thoughts may have already been considered by this group, and whether any of these individual moves can be executed. Even if you didn't do all eight of these, I think a handful of these could be done on an individual scale to help the current group.
But again, that's just me. I'm not the GM. Or am I?
a voice yells "no you aren't, stop saying that already"
Okay. I'm not.