Yesterday, Sportsnet analyst Corey Hirsch wrote a piece about the Vancouver Canucks that turned a lot of heads. In it, he suggested that the NHL's 28th-seeded team were in the midst of a "model rebuild". His evidence of this was the presence of Brock Boeser, Elias Petterson, Jonathan Dahlen, Adam Gaudette, Olli Juolevi, and Jonah Gadjovich, along with the fact that a few of Vancouver's veteran free agents (Sam Gagner and Michael Del Zotto) have proven to be good human beings to have in the community.
Now, of course, there's a lot to pick at here. The team is still losing, those free agent signings haven't been particularly lights-out on the ice (Thomas Vanek has and will probably get them a trade deadline haul), the idea of identifying Boeser as a sure thing franchise player while he's in the midst of a shooting percentage bender that would make the Stamkos' and Ovechkin's of the league blush still feels like an unfair expectation, and five prospects don't make a system.
That last point is particularly dear to me when discussing a "model rebuild". A successful build doesn't just give you a quick injection of youth; the plan is to sustain your team for an extended period of time. The Detroit Red Wings of old became a model franchise by routinely filling their cupboards and doing their best to develop prospects. The Chicago Blackhawks, Pittsburgh Penguins, and Los Angeles Kings have dominated the cap era with the same mindset, and while they haven't found the same frequency of victory, teams like the Boston Bruins, Tampa Bay Lightning, and San Jose Sharks have stayed in the conversation by continuously trying to build their next generation.
We're seeing that happen with some emerging teams now. As you all know, I mostly write about the Toronto Maple Leafs, and while the Auston Matthews, William Nylander, and Mitch Marner type players are obviously the hardest to acquire, picking them in the draft wasn't the truest sign that the organization was committed to rebuilding properly. The sign came from how they worked around the fringes, both at the draft podium and in their development ladder. In the three years leading up to their Front Office overhaul (2012 to 2014). Toronto picked just 14 times on the second day of the draft. In the two years that followed, they amassed 18 second-day picks, essentially doubling their annual attempts.
Meanwhile, the Toronto Marlies rapidly went from a team of veterans accented by "hanging around" fringe prospects to a team eager to give any looked-over early 20's player they could find a try, often taking advantage of AHL contracts to build a second-layer prospect system. These days, they're an annual contender in the league with one of the youngest rosters, and an NHL parent full of graduates.
That ability to supplement your NHL team, to give them low-cost call-up options that don't just fill holes, but have upside, is what separates the teams that get a few top picks from the teams that have a concrete vision. Having seen the rosters the Utica Comets, Vancouver's AHL affiliate have put out in recent years, I have no reason to believe the Canucks are at that stage, or even close to it, just yet. Last year's Comets, despite Head Coach Travis Green's efforts to make them structurally sound, not only missed the playoffs but missed with just four of their Top 14 players coming in under the Age of 24. With no disrespect to the players on the roster, there was absolutely zero way to look at that group and believe that it was likely to develop the supplemental future of the Canucks.
The Comets are in a bit of a better situation this year, dressing five AHL rookies that have played at least 25 games so far. None of these are the lights out prospects mentioned in Hirsch's article (Guillaume Brisebois, ranked by Canucks Army as the organization's 16th-best prospect in the summer, is likely the best, but it is a step in the right direction for a team that only had four rookies cross the 15 game mark last year.
But I was curious to how this stacked up to the rest of the league. I didn't want to go fully subjective, though, and I didn't want to simply draw the line at "which teams lead the league in rookie scoring". So here's the question I set out to answer last night:
Where are teams investing their AHL Ice Time? How much of it is going to youth, how much of it is going to last-crack players, and how much of it is going to veteran presence?
I separated players into three categories:
Development Age (18-23): These are your lottery tickets. The players that you want to grow into NHL-calibre players before they're at their athletic prime. In most cases, these players will be on their first or second NHL contracts, or on AHL deals coming out of Junior or College Hockey. Every single team in the league should have as many of these players as possible; rebuilding teams won't be able to establish a core without them, and for established teams, young, improving talent is the best way to avoid the salary cap ceiling and continue to stretch your window. There is simply put, there is no excuse for a low percentage here; if you aren't trying to bring useful youth in any way you can, you're wasting your resources. I cut this section off at 23 with the knowledge that skaters hit their prime at around this age and given Team North America's U24 age limit at the World Cup of Hockey, it's likely that those within the NHL agree with this as the Young Gun cutoff.
Bubble Player Age (24-27): Before the stats community began to sit down and really tackle ageing curves, the 200 Hockey Men (TM) had some very interesting ideas on what "prime age" was. It wasn't uncommon to hear 26-28 brought up for forwards, late 20's to early 30's for defencemen, and early to mid 30's for goaltenders. As teams have become more comfortable with graduating their kids (a combination of a byproduct of force via cap constraints and the rapid improvements in youth training/preparation that became evident with 90s born players), we learned that these primes were to an extent self-fulfilling; players had their best years once they built up the trust to get favourable ice time, not necessarily when they were playing their best hockey. With that in mind, this age group hasn't quite declined yet; they're just not developing anymore. While generational mindsets continue to shift, these will be the players most likely to get call-ups around the fringes from teams not immediately looking to test out prospects.
Veteran Presences (28+): These are the players that have largely seen their shot at the show fade away. They've put in their best effort, they haven't quite made it, but they still want to keep playing because, well, being a pro hockey player is sweet no matter which way you paint it, and you never know when a call from a big European league comes, or maybe, just maybe, a thank you call up that gives you another taste of the NHL. Teams like having the best of these guys because, well, you still want to win games, and they also like the wisest of them because they can prepare their youth for the journey ahead.
How you spread the latter two types of players, to come, comes down to team philosophy, and doesn't particularly come with a preferred choice. If you're working with a lot of very young players, or your best call-up options are younger having more veterans than bubble players is probably preferable, as they help with the education and development process as your leadership group. If you're an already good team that just needs some injury options without interfering with the final development stages of your slightly older kids, having more bubble players might be preferable. The key is to not have these two categories to take over the majority of your team, but how you spread them from there is up to you.
Because public access to Time on Ice Data doesn't exist in the AHL, I've looked at other methods of tracking their individual contribution. Specifically, I used Games Played, Goals, Primary Points, and Shots on Goal, and what percentage of those contributions those age groups have made to the team's total. The goal is to see which pockets get to be in the lineup, and which ones are contributing to the play. Odds are, if your youth are racking up a big share of the shots and points, those are the players you're trusting and emphasizing. Without further ado, here's how the league breaks down:
Development Age (18-23)
We're going to spend most of our time looking at this age group, as it is by far the most important of the bunch. There are a few things that jump out at you here, and we'll start at the top: I can't say I'm particularly shocked by the teams that are going all in.
Carolina, who sits atop, has been oft-praised for building a deep core of talent despite not spending a ton of money or particularly swinging for big names so that they'd extend their efforts to find bang-for-buck talent into the AHL isn't overly surprising. Defence is the NHL team's strong point (goaltenders notwithstanding, with apologies to Scott Darling and Cam Ward), so it's not a shock that Charlotte is the most aggressive team in terms of attempting to develop young forwards. Their rookie class of Janne Kuokkanen, Julien Gauthier, Nicolas Roy, Aleski Saarela, and Warren Foegele, all 21 years old or younger, are all looked to as contributors, which bodes well for their chances at graduating at least one or two forwards into the big club.
From there, you get a slew of teams that are known for being forever-builders to keep their window open: San Jose in 2nd in Youth SOG%, Chicago/Rockford in 4th, and Tampa/Syracuse in 7th. Tuscon sits third, which meshes with Arizona being a budget rebuilding team, Toronto sits in 5th, which meshes with their investment into joining the forever-builder club, and Calgary's quiet shift towards depth, with an emphasis on getting forwards to supplement a deep defensive core lands them the 6th seed.
https://www.youtube.com/watch?v=jIZP_7mJyZ4
Also worth noting positively here is Winnipeg/Manitoba (a prospective forever-build). They sit near the middle by percentage of participation but have the highest primary and total points per game rates out of the pack. This isn't totally shocking, with the Moose having players like Jack Roslovic, Nic Petan, Brendan Lemieux, and prospective 2015 draft steal Mason Appleton contributing to their push towards the top of the standings. Similar is happening with the Penguins, though many of their young scorers are very close to the edge of the age bracket (20-year-old Daniel Sprong is the exception, recently earning an NHL call-up thanks to his point-per-game start to his AHL career).
NY Islanders/Bridgeport's defensive contributions are worth noting too. They aren't the highest in games played, but are by far the most youth-involved d-corps, and most productive. This is largely helped by the fact that they've saved the shutdown play for their vets (Seth Helgeson and Kane Lafranchise), but Devon Toews, Sebastian Aho (the other one), Mitch Vande Sompel, and Kyle Burroughs have all been putting up points and contributing to the flow of play. Similarly, I don't think anybody is shocked that Milwaukee/Nashville are still trying to develop defencemen; it's a way of life there.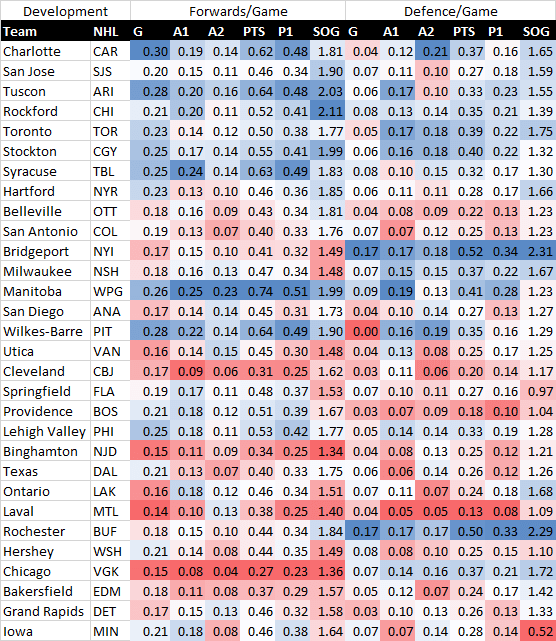 On the opposite side of the spectrum, there are quite a few teams that are neglecting to give youth a chance. It would be easy to rip on anybody not sitting at the 50% mark, but sticking to the bottom seven or so, most of these names don't jump out at you either.
Montreal has spent years struggling to graduate any of their AHL players into NHL talent, and that likely is helped by a lack of attempt to get them there. Nikita Scherbak looks good, but at 22, still hasn't made the jump. After that, there's not a lot to talk about here. Jeremy Gregoire and Daniel Audette look okay…ish, and Michael McCarron, perhaps the highest profile of the young names, doesn't look like he's going to pan out at all. There are several other players who make this cutoff on the roster, but none of them are doing anything noteworthy. Maybe poor usage isn't helping them, but with their forward primary points/game sitting at 29th and defence primary points/game sitting at 30th, the group might also just need to be scrapped and re-attempted at some point, a suggestion that many new-media Habs analysts have brought up in recent years.
Rochester and Bakersfield being at the bottom highlights many of the concerns that have been brought up about the Oilers and Sabres. Years of scorched-earth tanking with no attempts at developing support have left them very strong at the top of the organization, but a barren wasteland in terms of depth. To Buffalo's credit, the team made several positive steps in shaping up Rochester over the summer, both in terms of shoring up the coaching staff and in terms of adding some talent to the roster, and that's helped them climb to third in the league standings. But they're still in phase one of an overhaul; the goal is to be good and a pipeline at once. Also to their credit, Brendan Guhle looks like he's going to be a legitimately good defenceman down the line, but he can't be the only one there.
Bakersfield, on the other hand, doesn't have a ton to phone home about in any positive way. Their top eight scorers are all over 23, and the player that bucks that trend, Dave Gust, is an AHL-only signing that's a real long shot of getting an NHL deal. Jesse Puljujarvi was doing his thing down here for ten or so games, but he's gone now. All of this would be vaguely excusable if the team was at least good, but they're sitting 23rd overall and second last in their division. The Oilers have essentially hit a depth wall with absolutely nothing to support them at the AHL level, which is a critical failure for a team that is now on the clock to turn the world's best player into a champion in his prime years. If they don't start overhauling their support system as soon as this summer, they might throw their window away before it even begins.
Hershey and Chicago are not shocking. The Bears run themselves pretty independently, using and developing Capitals prospects when they can, but ultimately they attempt to win hockey games. If nothing else, they've at least attempted to engage Washington's younger defencemen, with Lucas Johansen, Jonas Siegenthaler, Colby Williams, and Tyler Lewington all being lineup staples in the age 19-22 range. Chicago is also a relatively independent team, and their affiliation with the Vegas Golden Knights makes them an awkward fit into a deep dive like this; Vegas doesn't really have a prospect pool yet, and sent down a lot of bubble aged players picked off in the expansion draft. Their only Vegas-owned prospects in the early parts of their 20's are Tyler Wong and Tobias Lindberg; Leafs observers will tell you that there isn't much to phone home about with either player.
Lastly, at the very bottom, we have Grand Rapids, who have been victims of the death of the Detroit developmental machine for a few years now (though they won the Calder Cup with a vet-laden roster last year), and the Iowa Wild, who seemingly only exist from a developmental standpoint to try to turn Minnesota 2016 first rounder Luke Kunin into a player.
Bubble Age (24-27)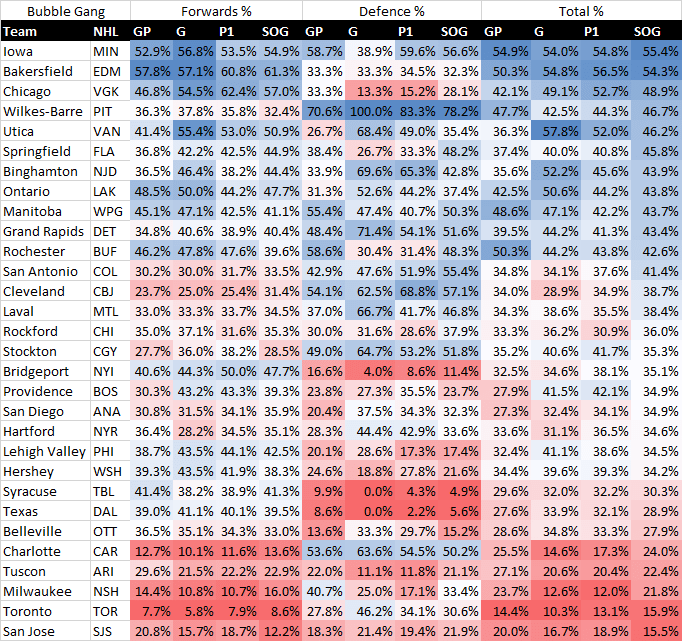 We're not going to spend much time breaking these next two groups down because the particulars don't matter as much as how they hook into the developmental group. A few short observations:
Iowa's lack of youth might be a byproduct of graduation. Sam Anas, Kyle Rau, Zack Mitchell, Ryan Murphy, Mario Lucia, and Gerald Mayhew are all examples of players that have at least 10 points for them that started the season just short of the cutoff, at 24 years old. In Minnesota's position, I'm looking to figure out who is graduating and who is being moved on from as soon as possible given the glut in the middle; there is absolutely zero use in mass developing longshots to barely make it.
Bakersfield also sits at the top. They're in the same situation, with players like Ty Rattie, Joey Laleggia, Josh Currie, Grayson Downing, and Patrick Russell near the top but in the 24-25 range. Rattie is probably the only one with even half a shot at graduation. Seriously, the Oilers need to do something.
Wilkes-Barre is carried near the top based on their defence corps, and that's not overly shocking given Pittsburgh's injury luck on the point over the past few years. They're likely looking to carry as many 7-8th defencemen as possible, which is why the team is littered with guys like Frank Corrado, Andrey Pedan, Jared Tinordi, and Kevin Czuczman, all in their last gasp and eager to take whatever games they can get whenever Kris Letang breaks his Belly Button, or whatever happens to those guys on the main Penguins roster.
The Marlies are near the bottom of this list. Miro Aaltonen, a 24-year-old who almost made the Leafs' opening night roster but barely missed, is the only reason they have a bubble forward at all, and their defensive minutes are almost entirely courtesy of Justin Holl (a 25-year-old who perfectly fits the entertaining, puck carrying, risk-taking brand of Marlies hockey, but would probably make every other NHL organization rip their hair out in a week) and Martin Marincin (an NHL quality defensive defenceman who doesn't fit the Leafs but is nothing short of elite at this level). That this is all they've got in this bracket isn't surprising; the team has several early 20's players on the cusp of graduation that they don't want to interfere with, and 24-27 is still too young to win "Tiebreaker goes to the Veteran" in Mike Babcock's books. Needless to say, I don't think the Leafs are looking much in this bracket, and I don't think players in this bracket are super hyped about choosing them either.
Providence is at the middle of this list (and pretty much every list), but not without getting the most of the bubble guys they have; Austin Czarnik, Kenny Agostino, and Jordan Szwarz are all in the 24-26 range and scoring over a combined point per game for the team, propelling them to fifth in the standings.
Veteran Presences (28+)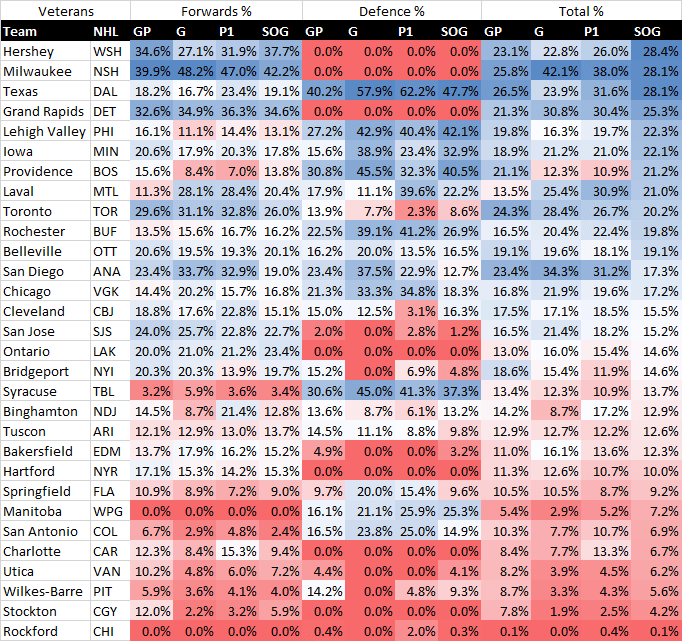 This list is pretty funny, if only because you can get a pretty good idea of where teams feel that plugging in veterans is and isn't useful.
For example, you can see that Hershey, Milwaukee, Grand Rapids, Ontario (Los Angeles), and Hartford (NY Rangers) don't mind using veteran forwards (heavily so for the first two; Hershey will always have a Chris Bourque AAAA vet type and Milwaukee seems to be filling in holes with a variety of players this year), but don't have a defenceman over 27. Toronto only employs Vincent LoVerde on the point, but use him enough for it his presence to be somewhat notable, while their forward core is bolstered by their C's and A's (Ben Smith, Colin Greening, and Rich Clune), along with Chris Mueller.
Teams like Syracuse (Tampa Bay), Lehigh Valley (Philadelphia), Manitoba, and San Antonio (Colorado) have instead plugged their presences in on defence while letting the young forwards take the wheel. Some, like Texas (Dallas), Iowa, Belleville (Ottawa), and San Diego (Anaheim) don't appear to have much of an emphasis, and many don't really care for veterans at all.
One team that deserves a massive shoutout there? The Rockford IceHogs. They rank fourth in development age participation, right in the middle of bubble player participation, and a very clear last place in veteran participation. Rockford's over-27 participation heading into last night of one Game Played, one assist, and one shot on goal, all from Cody Franson, who just joined the team three days ago after clearing waivers. Every other skater was a kid or a bubble player, which explains a lot about how Chicago built their dynasty, and even in their sunset, will likely continue to at least be decent or have the ability to swing moves to make themselves better down the line.
Summing it Up
I don't really have a direct conclusion here. This is a very baseline level of analysis that is surrounded by observation, but to be truly useful, people with access to more data, video, and time need to comb through these teams much deeper. I assume that there are a few NHL teams that are a few steps ahead in doing so, and they're probably the ones that are building young, deep AHL teams.
But, all things considered…
The standouts here are the long-standing model franchises and the teams looking to emulate the model. That's news that probably shocks no one. Chicago, Pittsburgh, San Jose, and Tampa Bay are all either dressing a ton of young players in the AHL, getting great results from the ones they do have, or both. Toronto, Carolina, and Winnipeg are all doing similar. Calgary has good things going in Stockton.
A few teams are due for referendums on their middling class: Ottawa, Dallas, Philadephia, and Boston probably need to make a few judgement calls on prospects soon.
As far the "shambolic" rebuild teams, it's all over the place. Whether Arizona has the resources and top-level IQ to make things happen at the NHL level remains to be seen (this year hasn't inspired many), but Tuscon seems to be a good starting ground. Rochester is still far from the finish line, but Buffalo seems to be moving things in the right direction. It'll be interesting to see how the Golden Knights handle the pressures of the Wolves organization once their first few draft classes are eligible to play. Lastly, and this goes without saying, something really, really needs to give in Montreal, Detroit, and Edmonton. We all knew this already, but their ineptitude has layers to it. Layers. They are devoid of prospect pools and the young players that aren't sitting on their NHL rosters aren't doing much. If you believe that you need young support to build a winner, and there's no reason not to believe that in this era, they have next to no hope to get over the hill without a complete re-approach of how they're handing their depth charts.
Oh, and to answer my original question, I guess Utica and the Canucks are doing fine-ish. They aren't the model rebuild. They aren't as behind the process as they were last year either though, which is sweet, I guess? But still, a lot of work to do there.